Musician Rae Morris interview: 'I don't label my sexuality 'cause I don't actually know myself'
Rae Morris featured on the BBC Sound of 2015 longlist, and the 22-year-old singer is already making waves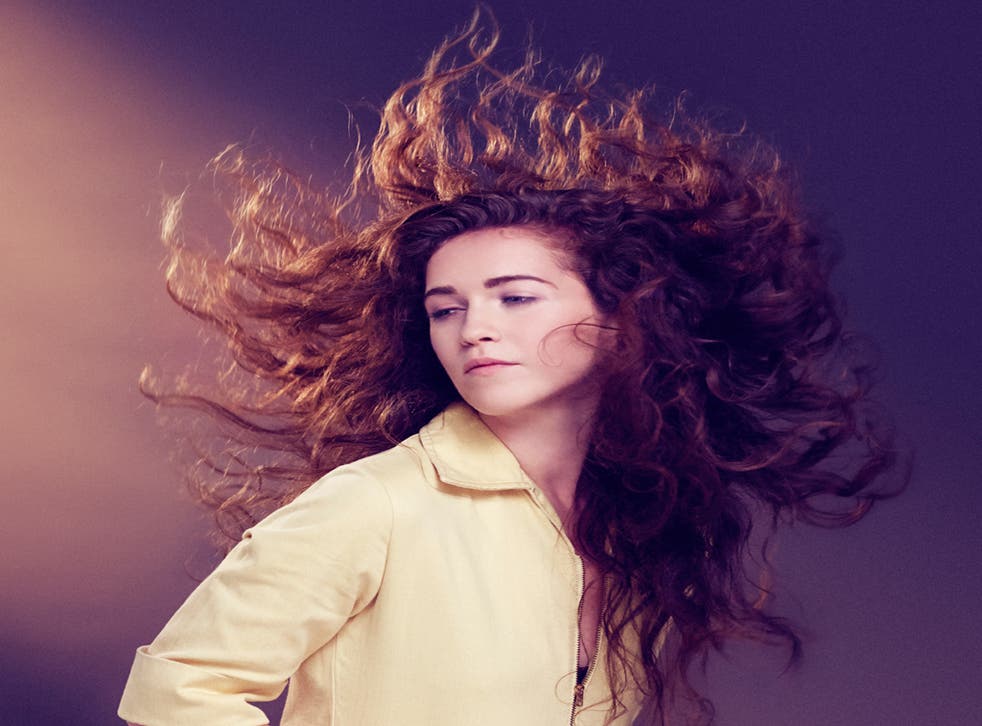 As below-the-radar, multi-media events in an edgy theatre space in London's hipster ground-zero go, it's thrillingly engaging.
Rae Morris is playing The Arcola in Dalston, in the east of the city. The singer-songwriter from Blackpool is sat in the pit-cum-stage, (wo)manhandling a grand piano with hair-tossing vigour. She's wearing a jumpsuit and exchanging simpatico looks with her bandmate Daisy Palmer, who's accompanying her on drums. Positioned above the pair, on a raised platform a dozen or so feet off the ground, is a string quartet. On the back wall, meanwhile, visual artist Rupert Newman is projecting a kaleidoscopic light display. It wheels in eye-popping swirls and fractals in time with the songs Morris is singing.
The 22-year-old's set is brief – six songs, 25 minutes – but the impact is mighty. The delicate, tick-tock beat of the aching "Skin" is an elegant jumping-off point for a light-touch, high-impact piano motif. And "Under The Shadows" – the single that is currently the subject of much love from the playlists at both Radio 1 and Radio 2, as well as XFM – is a punchy, emotional song about "bond[s] beyond the physical".
It also showcases Morris's glassy-but-soulful voice over a beat redolent of Kate Bush's "Running Up That Hill".
"I enjoyed it, but actually it was the first time I've been nervous through a gig from start to finish, and I think it it's because I knew it wasn't really a gig just for fans," says Morris of the intimate, invitation-only gig. It's a few weeks after the Dalston show, and we're talking over breakfast in a private members' club in another part of east London, near the flat this Lancastrian transplant shares in Whitechapel.
"And I knew how important it was – it was a moment to… not prove myself, but just be like, 'this is it; this is what I've been talking about for so long'. That's why the visuals felt so important – making sure it was still art rather than just a showcase. So I was really pleased."
I tell her that it felt a bit like an installation – but not as furrow-browed, rarefied, bloodless and, well, arty-farty as that term might suggest.
"That's good!" she laughs, loudly. "It was a northern installation!"
Her "so long" phrase is instructive, but also something of an understatement. Morris first started talking to record labels when she was 17. Having made a name for herself on the pub and open-mic circuit in Blackpool, Lancaster and Preston, she was signed to Atlantic aged 18.
In summer 2013 she spent three months in Los Angeles, recording her debut album with Ariel Rechtshaid. He has produced Haim, is working on Brandon Flowers's second solo album and Madonna's newie, and won a Grammy for Vampire Weekend's Modern Vampires of the City. But it would be another year (and then some) before the 12-track Unguarded was finally completed, mixed and ready for release.
Enjoy unlimited access to 70 million ad-free songs and podcasts with Amazon Music Sign up now for a 30-day free trial
Sign up
"It never felt like it was stop-start, but it did feel like a very slow, gradual incline," admits this warm, friendly, enthusiastic woman who recently featured on the BBC Sound of 2015 longlist. "There was a buzzy thing that happened around when I got signed, and it felt like a very exciting time. But I made the decision to go with a label that would take it slow.
"I remember speaking to Max Lousada," she says of the chairman/CEO of Warner Music UK. "He came to Blackpool, and we sat in this fish-and-chip shop called The Cottage, which is amazing. I was 18 at that point, and they came into my world, and they were the only label who said, 'you've got a lot of work to do, a lot to learn, and you haven't achieved anything yet'. And that's what I loved about them – they didn't blow any smoke up my arse."
Morris was happy to take her time. She could improve her songwriting craft – meeting London-born artist/producer Fryars, for example, who guests on Unguarded track "Cold", and "changed me from being completely acoustic, a singer-songwriter on piano, into [being in] a slightly more electronic [world]".
And she could hone her performance skills – she toured extensively, both on her own and supporting George Ezra and Bombay Bicycle Club (on whose last album she sang on three songs, including single "Luna").
"It's the balance of managing to do everything," she reflects sanguinely. " And it took three years, I guess, to do that and get to this point."
There was also an emotional journey to metabolise.
"I was in a relationship with a girl when I was 17, and she was a singer-songwriter."
Morris first saw her – Karima Francis – on an episode of Later... With Jools Holland. She was more than impressed, not least because Francis was also from Blackpool.
"It completely changed my whole…" she begins. "I think I actually remember watching that and crying. I was thinking, 'shit, that almost puts me under pressure. Because it has opened the world to me now – now I've got no excuse…' 'Cause I didn't think people from Blackpool could do things like that," she smiles.
Morris, her elder brother (a tour manager, who's married to singer-songwriter Lucy Rose, another former collaborator) and some friends went to see Francis play a tiny pub gig. Meeting her afterwards, a professional and then a personal partnership ensued.
"She taught me how to write. And the first song I wrote, "Wait a While", was a song that I wrote because she helped me to write it. It changed everything. And yeah, completely opened my life.
"I don't say that I'm gay because I haven't been in a relationship with a girl since then," clarifies Morris, who's currently single.
"And I don't actually label my sexuality at all 'cause I don't actually know myself. I was 17 when I fell in love with her, and I fell in love with a songwriter – a force of nature." With evident appreciation, not to mention fondness, she acknowledges that Francis "was a very big part of my life for a couple of years".
"But our music was too close to each other's, and it was a difficult experience in a lot of ways. But a lot of those early songs were about going through that, exploring that sexuality and those feelings for the first time. Then coming out the other side of that as well… I guess," Rae Morris smiles in thoughtful conclusion, "that's the album."
In this instance, the cliché is true: the heartfelt, intimate, glowing, tellingly titled Unguarded was worth the wait, and the pain.
'Unguarded' is out on Atlantic. Rae Morris's UK tour starts on Sunday
Join our new commenting forum
Join thought-provoking conversations, follow other Independent readers and see their replies