Mystery Jets interview: 'There's a real bond that you can forge with your fans from touring'
'Being a band for 10 years... it can be quite hard to shift people's perceptions of you'
Roisin Oconnor
Thursday 15 September 2016 15:48 Comments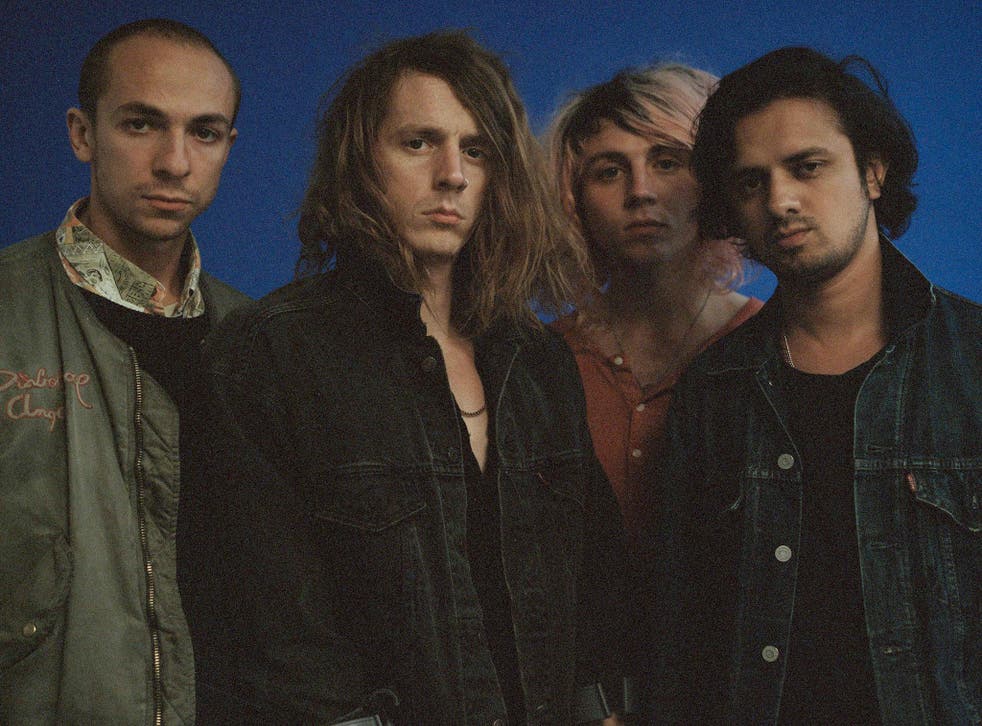 The Mystery Jets' studio used to be an old button factory, and you can see evidence of the building's former purpose around the rooms – in the detailed buttons on the sofa, and a framed photo of the then-manager (now studio landlord) in his heyday.
It's a cosy space – there are fairy lights strung up around the two rooms, a model aeroplane perched on a shelf above stacks of keyboards and the whole place feels wonderfully not-in-London.
Frontman Blaine Harrison used to live across the road from here, and describes it as a "revolving door" for other artists who have been using it as well. "There was this feeling of it being your house where people would drop in," he says. "Immediately following the tour we've got a couple of months where we'll probably be in here. We use this space for a lot of different projects. Maybe some writing…"
About a day before we're due to meet, the band drop a new track, "The World Is Overtaking Me". It's a surprise considering it feels as though they only just put out their latest album Curve of the Earth (it actually came out in January).
"That's part of the album sessions – there's a lot of material that we recorded," Harrison explains. "It's the Whole Earth EP, so it's kind of us showing the rest of the curve, really. This completes the circle."
Yet the song, and from the sounds of it the rest of the EP, has a different tone to the material on Curve. Where frontman Blaine Harrison's vocals sound not unlike Thom Yorke on opener "Telomere", "The World Is Overtaking Me" has a bluesier feel, with perhaps a little more of the energy on heard in some of their previous records.
"It's a bit more tongue in cheek in a way, and a bit less nostalgic and ponderous. Bit less heavy," guitarist/vocalist Will Rees says.
"Certainly three of the songs on the EP were written in the suite of songs that ended up on Curve of the Earth," Harrison says. "But for one reason or another… 'The World Is Overtaking Me'… that one was on the final tracklisting but didn't make it onto the album.
"We all came in here after spending two weeks completely apart, listening to the record over and over. And we were all slightly at odds over what the record should be. That song, sadly, was shaved off. Then 'Candle' and 'Centurion', they were very close as well. But I think, in losing those tracks, it helped us know what Curve of the Earth is about."
Enjoy unlimited access to 70 million ad-free songs and podcasts with Amazon Music Sign up now for a 30-day free trial
Sign up
Like many bands, Mystery Jets are enjoying the EP as a format to keep fans happy in between records: "I think albums disappear quicker and quicker these days. So the EP is a way of keeping people involved in the record," Rees says.
Currently they seem to be stretching themselves, not just in terms of the music itself, but also how that music is experienced. A Virtual Reality project is expected around or just after the EP, and there's even talk of the band having headsets brought to shows.
"Apparently it takes four weeks just to load everything up onto a laptop," Rees warns. (So don't get too excited just yet.)
"Really we're gearing up for autumn," Harrison says. "That's the tour – when the record came out, we really just did a very short set of shows, and that's why we're so excited about putting out the EP, because it's new material, we've gotta work out how to do it. It keeps us on our toes."
It's no secret that the band can be a tad reluctant to play a track like "Two Doors Down" at a live show, particularly when they're still testing out their new material: "But we've been busy doing festivals, so as much as we want to play the new record, we've got to honour our past."
"Curve of the Earth is a new chapter for the band," Rees adds, "and I think one thing we've certainly found being a band for 10 years is that it can be quite hard to shift people's perceptions of you.
"They heard Mystery Jets back in 2008 and think you're this Eighties pop 'Two Doors Down' thing. And we're not, and we haven't been – we've explored lots of different things since then."
"We cut the hair, we burnt the suits…" Harrison says, smiling.
They both get that much of the demand for those songs comes from a nostalgia that the band themselves evoked, of feeling perpetually youthful. It's not surprising that their longtime fans would want to feel that again.
"It's funny because I totally relate to that, and I have relationships with bands in the same way," Harrison says. "But for us, our fanbase seems younger than ever, and it does feel like the new record's connected with quite a young audience.
"People are crowdsurfing and moshing again. I've heard it speaking to other bands as well – kids are really going for it, and people are being turned on again by guitar music. So I can see kids potentially having this nostalgia for Curve of the Earth as well, remembering playing 'Bubblegum' at university, which is really exciting for us.
"There's a bond that you can forge with your fans from touring – a real bond, unlike what you have when a track goes 'viral', that's kind of hot air. People sharing a link… you can't have a personal experience with that. A personal experience is being in a room with that artist."
Mystery Jets have always been, well… a bit mysterious. They began pre-social media but do engage in it quite actively.
"I certainly feel very strange about social media and its purpose," Rees says. "Having Jack in our band – he's 23, and he sees it in a completely different way. I don't feel negative about it, but I don't always wanna do it. And no one's really sure about the worth of it."
"I think it's about approaching it in your own way," Harrison says. "There's a danger with feeling like, as an artist, in order to keep your fans constantly engaged, you need to keep drip-feeding them the story of who you are as an artist.
"Frank Ocean disappeared for three or four years, though, and that's his way of doing it, and it's great. It's common knowledge that mystique is just as sexy. So you always need to be holding back something, and that's the balance that we've tried to maintain."
The 'Whole Earth' EP is out on 16 September. Mystery Jets tour the UK from 3 October
Register for free to continue reading
Registration is a free and easy way to support our truly independent journalism
By registering, you will also enjoy limited access to Premium articles, exclusive newsletters, commenting, and virtual events with our leading journalists
Already have an account? sign in
Join our new commenting forum
Join thought-provoking conversations, follow other Independent readers and see their replies