Nails – You Will Never Be One of Us: Exclusive Album Stream
The power-violence trio stream their third album a day before release exclusively with The Independent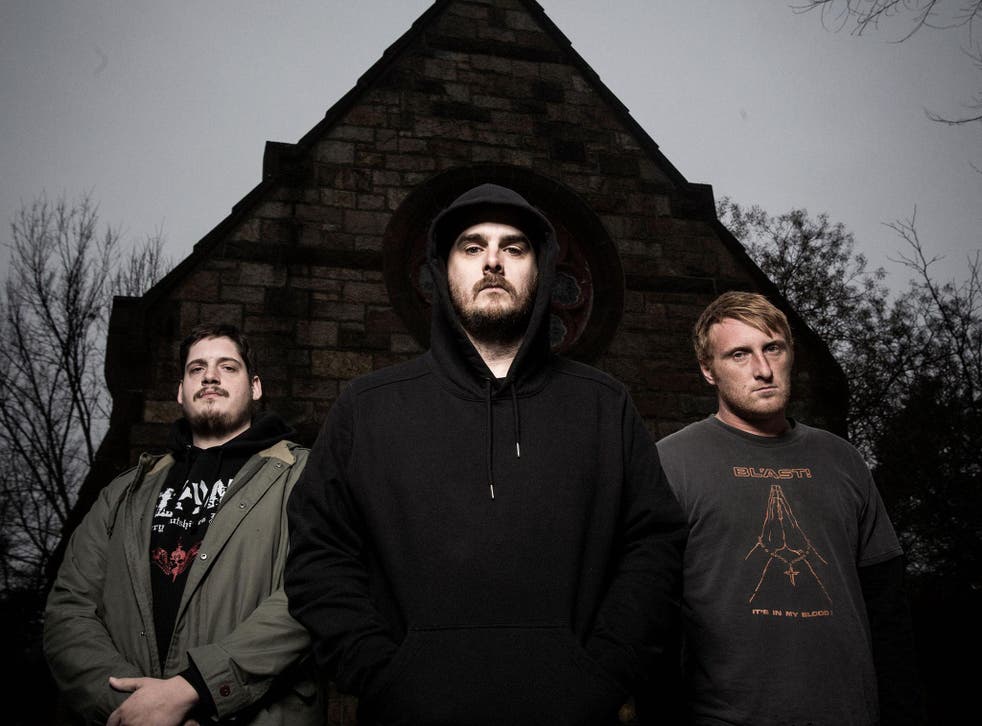 Since 2009, Nails have focused on one thing; capturing the sound of raw, untamed ferocity in the most succinct way possible. The southern Californian trio's blend of grindcore, metal and punk is a relentlessly intense, visceral cacophony ; if all sound is merely a vibration that proliferates as waves of audible pressure and displacement, then the music Nails make could demolish sky-scrapers. Their new album, You Will Never Be One of Us, has secured mass critical acclaim from across the spectrum of the alternative rock press, receiving the highest accolades possible from publications as diverse as Decibel and Kerrang. Released via Nuclear Blast on 17th June, the album is available to stream below exclusively with The Independent.
The music Nails make may deal almost solely in blistering aggression, but guitarist / vocalist Todd Jones is pushing the boundaries as far as he can within the limitations he has set for the band's music, asserting that there is room for melody in extremity. 'I think extreme music can be really catchy if you make it that way,' he says. 'I hear hooks in a lot of extreme metal and punk. It's certainly not pop music, but punk, metal and hardcore in their own right can all be very memorable. We went in to the studio with the intention of making our songs a little bit more catchy than those on our last record but I think they came out more intense as well; I'm not sure why that happened but we're pretty stoked on it.'
Nails are as famous for their brevity as they are for their brutality. Their second album, 2013's Abandon All Life, comes in at a concise 17 minutes and 14 seconds, whilst their 2010 debut, Unsilent Death, is just shy of 14 minutes. At 21 minutes and 51 seconds, You Will Never Be One of Us is positively epic in comparison, whilst still managing to remain ferocious and uncompromising throughout. 'It's hard to make an album that you can listen to from front to back without wanting to skip tracks and still maintain the urgency and flow of a record' says Todd. 'I wouldn't say we're a one-trick pony but we're very one dimensional which makes it a challenge to keep things interesting throughout a record. All our albums need to stand out and be clearly defined as their own entity, I wouldn't want somebody saying we put out the same record three times in a row. We're still attempting to channel rage but the challenge is to capture it a little bit differently than we did before.'
Whilst frantic, rapid, break-neck vitriol is Nails's bread and butter, each album has traditionally ended with a spectacular prolonged assault to the senses; songs that don't so much hammer you in the face as gradually steamroller over your twitching corpse. You Will Never Be One of Us is no exception, coming to a devastating conclusion with They Come Crawling Back, a sprawling work that showcases a different shade of savagery. 'I think when you're a band that roots itself in fast music and you have one or two slower songs per record, you need to make sure that those slower songs are really good because people are going to notice those a little bit more. We're no strangers to writing slower, hard riffs but the magic is really finding the right combination of good slow riffs that work together, that's the hard part. We used 3 or 4 layers of melodic, droning guitars for the intro to They Come Crawling Back; that sort of part wouldn't normally work with a Nails track, but we thought it would give the intro a really good contrast with the rest of the song. I have a lot of stuff like that which I'll just write and record in my bedroom. On that occasion it worked but you probably won't see a lot more stuff like that from us.'
As with their first two records, You Will Never Be One of Us was produced by Kurt Ballou, guitarist with seminal Massachusetts hardcore pioneers Converge and arguably the greatest living producer in extreme punk and metal. Ballou is extraordinarily prolific, with recent mixing credits including Every Time I Die, Kvelertak, Mutoid Man, Hesitation Wounds, Code Orange, Trap Them and of course, Converge. His work speaks for itself, but what is it specifically about Ballou's production that has encouraged Nails to work with him on all three studio albums? 'There are several reasons', says Todd 'the biggest thing is his guitar sound. He's very good at getting really violent guitar tones. His mix is always phenomenal and we feel comfortable with him as a person in the studio. If you asked ten people why they record with him you'd get ten different answers and they'd probably all be very valid points.'
Whilst the title of the record may be perceived as antagonistic, it's also meant to be a positive rallying cry for those passionate about music, whilst repelling the hangers-on that entrench themselves within some sort of heavy metal clique for their own personal gain. 'You Will Never Be One of Us is basically a statement that describes an emotion that I've felt ever since I got in to punk rock. It's aimed at various people I've had to work with that you can tell are not really interested in music at all, they're more interested in getting on a guest list or getting attention so that they can make some sort of name for themselves. They're not interested in fighting the good fight, they're people who want to label themselves as something which they don't really have any particular interest in. We're making a bold statement by calling our album that but I wouldn't want to attach it to a whole group of people. Good people come from all sorts of places, so it's a statement that I would attribute to individuals rather than taint a whole community. Quick judgements are often made on metal fans, someone outside of it might look at a mosh-pit and think it's a really crazy way to behave, but it's really not! So I'd find it a little two-faced to attach a statement like You Will Never Be One of Us to a whole group of people, it's very much aimed at specific individuals in my life.'
Todd has simply maintained that all he ever wanted to do with Nails was write music that his 15-year old self would respond to. Despite all the accolades and attention the band have received in the last seven years, it seems like Todd's harshest critic is his 15-year old self. 'That was always the goal but you know I can't say that we always achieve that. I guess there's some things that I would have responded to such as the style of the lyrics, they're straight to the point, they're direct and the topics deal with normal day-to-day frustrations. You don't have to be to smart a person to be able to relate to Nails stuff. And of course I would have responded well to the music, the urgency of it, and the mix of all the things I got into when I was a teenager, such as Youth of Today, Napalm Death, Discharge, Slayer, all those things rolled into one.' If Todd ever does manage to appease the 15-year old kid he once was, then we'll surely be looking at one of the definitive extreme bands of the 21st century.
You Will Never Be One of Us is released via Nuclear Blast on 17th June and is available to pre-order now. Nails begin a tour of the US, UK and Europe starting in Chicago on 17th June
Join our new commenting forum
Join thought-provoking conversations, follow other Independent readers and see their replies