The Independent's journalism is supported by our readers. When you purchase through links on our site, we may earn commission.
Interview
Nathaniel Rateliff: 'I just didn't see myself getting a call from Justin Timberlake'
The soul-folk singer talks to Rachel Brodsky about getting healthy and writing a new Night Sweats' album during the pandemic, his solo work, collaborating with Justin Timberlake, and why making it on to Saturday Night Live is 'a big deal'
Saturday 13 February 2021 08:02 Comments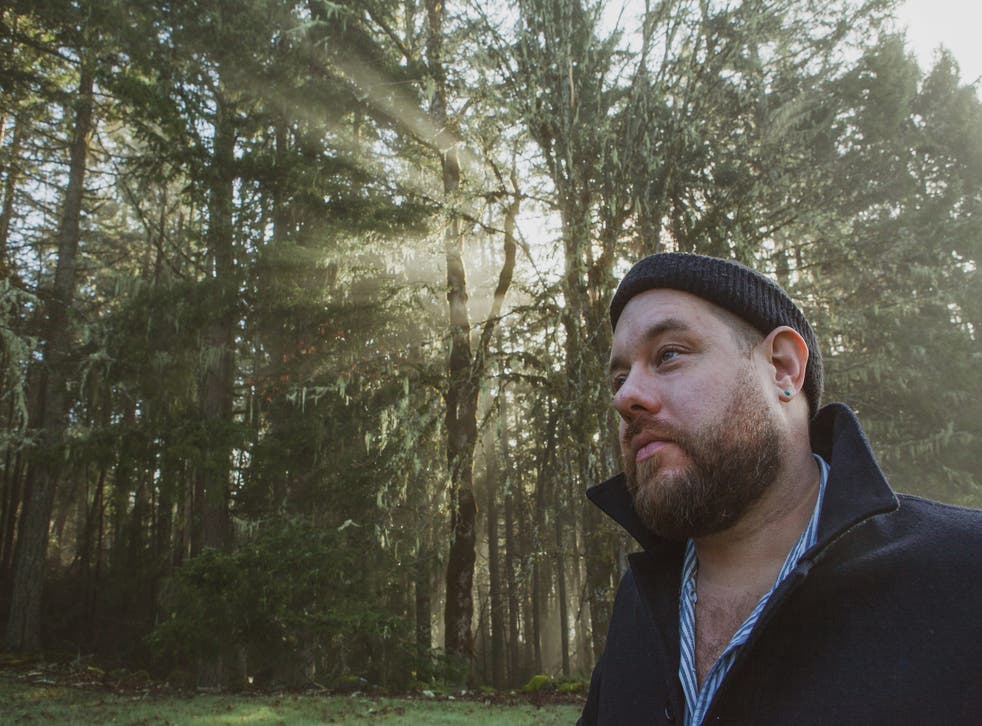 When he was 14 years old, Nathaniel Rateliff stopped going to school and got a job. A couple of years later, he and his best friend and musical collaborator Joseph Pope III left their homes in rural Missouri to join the Denver faction of Youth with a Mission, an evangelical outreach group. It wasn't long, though, before the pair began to seriously question their faith and defected. Bouncing back and forth between Hermann, Missouri and Denver, Rateliff found work wherever he could: at a plastic factory, then at a trucking depot, and eventually, as a gardener. All the while, even when Pope was battling cancer in his early twenties, Rateliff and he played music together.
Rateliff's eventual achievements (sharing bills with Bon Iver, Michael Kiwanuka, Mumford & Sons, and Rosanne Cash, plus gold and platinum record status, late-night spots on Later… with Jools Holland and The Tonight Show ) is hardly a contemporary American success story. There were no music theory classes or business connections to propel him forward; Rateliff's journey more resembles a bygone era of dustbowl-set outlaw country, where anyone hoping to make it as a musician had to bootstrap their way into local bars after punching out at work.
With his earnest tenor, travelling troubadour persona, and magnetic ability to spin personal tales of woe into contemporary roots ballads reminiscent of the Great American Songbook, Rateliff – with Pope and backing band The Night Sweats by his side – developed a loyal, grassroots following in Denver, yet things really took off in 2015 with the gospel-inspired viral smash "SOB", which currently holds more than 115 million streams on Spotify. Now, six years after breaking out and more than two decades after leaving Missouri, Rateliff is preparing for one of the most significant victories of his career: a musical guest spot on Saturday Night Live, the televised comedy institution airing on NBC for close to half a century.
Despite his 2020 solo album's title track earning more than 15 million Spotify plays and a "folk-pop hero" stamp of approval from The New York Times, this isn't something he ever expected to happen. While part of the reason, which we'll get into later, has to do with his band's fluctuating ability to manage itself through partying, drinking, and general on-the-road debauchery, Rateliff shares a lighter memory from a few years ago. In 2018, as the soul-folk performer was taping his and The Night Sweats' television debut on The Tonight Show, he wandered over to Studio 8H, which shoots in the same building, and ran into none other than SNL creator and producer Lorne Michaels.
"I remember Joseph, like, joked around with Lorne Michaels when we ran into him," recalls Rateliff, who is phoning in from his home in Denver, Colorado. "Joseph said something like along the lines of, 'Uh, when are you gonna have us on the show?' And I was like, 'He's never gonna have us on the show now!'"
Rateliff acknowledges, of course, that the famously intimidating TV exec probably doesn't remember such a hasty exchange, and it's definitely something Rateliff and Pope can joke around about now. Still, Rateliff appears relieved. "This is a very big deal for us," he says. "There's something really special about SNL, not just to other performers that have been on there, but I feel like the cast has been a part of my life since before I was born."
He's not being hyperbolic: combined with a recent high-profile song placement in the Apple TV+ film Palmer starring Justin Timberlake, Rateliff's SNL booking signifies a level of mainstream recognition that he's been slowly but steadily working his way toward for two decades. Think about it: how many artists make their SNL debut in their early forties? (Perhaps Willie Nelson, who appeared in 1977 when he was 44, but still. It's rare.) And between a backcountry upbringing, a history of substance abuse and depression, Rateliff has plenty of reason to feel like this moment would never arrive.
As word of The Night Sweats' rambunctious, party-hard live shows spread, it was around then that the band started booking TV appearances (which led to his aforementioned run-in with Lorne Michaels). While on the surface it appeared that everything was looking up for Rateliff, the singer's personal life was falling apart. After a period of separation, Rateliff and his wife filed for divorce; his good friend and producer Richard Swift had died after a drawn-out battle with alcohol addiction; and Rateliff's issues around alcohol were coming to a head. It didn't help that the entire band tended to enable each other's propensity for drinking while on tour. "I definitely had some years where it was Jack Daniel's from the time I woke up, like the entire day," Rateliff revealed to Esquire in March 2020.
Rateliff's response was to press pause on The Night Sweats (though he still works with a few members to back his solo material) and make another stand-alone album, 2020's mellowed-out And It's Still Alright – a singer-songwriter venture written to process feelings of profound loss and forward motion. As a songwriter, Rateliff cites country-folk icon John Prine as a major inspiration for his ability to compose songs that both tell a story and touch on something personal. "I love a good story. lt wasn't like [Prine is] creating a character to come up with these stories," Rateliff says. "He is the character."
Enjoy unlimited access to 70 million ad-free songs and podcasts with Amazon Music Sign up now for a 30-day free trial
Sign up
Speaking of traditional folk songs, is he following the sea shanty TikTok trend? Not really, but "maybe I'm missing out", he laughs. "I've always loved American folk songs – like, the folklore behind songs. Where they come from. I think people looking back at American folk songs is a good way to understand our history and ourselves."
Ultimately, what Rateliff aims for is for the listener to feel like they're hearing their story in his songs. "I always wanted to write that way," he says. "Like, when you hear a song and you're like, 'I can't believe this person wrote this because it seems like they have an insight to my life.' I always wanted my songs to feel that way to the listener. I want people to feel overwhelmed in a fantastic way."
One unexpected fan of his, Rateliff was pleasantly surprised to learn, was none other than Timberlake, who was playing the lead in Palmer. Timberlake and the film's producers were eager for Rateliff to write an original song for the film, about an ex-con (Timberlake) who befriends a young boy who's been abandoned by his mother.
"I had no idea I was even on the guy's radar," Rateliff laughs. "He was like, 'Me and my wife love your stuff!' I was like, 'What?'"
"I was surprised [Timberlake] wanted to talk to me," he continues. "Not because he's a bad guy. I guess I just don't see myself, you know, uh, getting a call from Justin Timberlake. But then, you know, when you had the conversation with the person, then you're just like, 'Oh.' We talked like we've known each other forever."
The result is "Redemption", a cinematic track that builds slowly and crescendos with a profound plea to "just set me free". The sentiment both reflects Palmer's narrative arc (an ex-con reintegrating into an unforgiving society) and Rateliff's own still-ongoing struggle to, as he sings, "find peace". These days, despite Covid-cancelled tour dates and never-ending lockdown, the singer has managed to keep busy: He's swimming laps, taking virtual piano lessons from Megafaun member Phil Cook, and he's even writing new Night Sweats material at his home studio. Fortunately, most of the band lives nearby, so they're all working in a "little pod".
"I'll know when it's done when all the songs are there," he says. "There's like 13 right now. I kind of allow myself to write and finish and record whatever feels good at the time. I just don't know what this record is shaping up to be yet, really."
It's a curious time for Rateliff to circle back to The Night Sweats; when he broke off to make And It's Still Alright, he and the band as a whole needed to hit reset, as they had been prone to enabling each other's hedonistic tendencies. With the locked-down Covid lifestyle threatening everyone's mental and physical health, why was this a good time to make another Night Sweats album? "I think as far as The Night Sweats [go], I don't ever question our relationship or friendship or even what we're capable of doing musically," Rateliff says. "When I put out a solo record, pretty much everybody in the band was on tour for that record for the 10 shows we had with the exception of the horns. And I think we all looked at it as an opportunity for us to grow musically and kind of step out of what we had been doing live.
"We're a band that sounds like we've played together for a long time. We've played a lot of shows, and that's how… kind of… that comes about," he adds, referencing the band's carousing reputation, "I think we wanted to take the opportunity to learn how to be softer and listen to each other."
Despite the pandemic, too, Rateliff has been mindful about his relationship with alcohol, describing how his girlfriend has been "encouraging me in a positive way".
"I'm still wanting to be more healthy than I am," he says. "I was just outside swimming laps and that kind of stuff. I'm trying to make that a part of my routine."
That isn't to say that he's feeling entirely at peace, as there's still no end in sight regarding when live music can safely resume. And despite sounding relieved that a new administration has been sworn into US office, Rateliff is cautiously optimistic yet mindful of the divisions facing the country – one whose rich musical legacy he regularly mines for inspiration. After all, his family and the people he grew up with in Missouri, as he points out, are quite conservative. "There's a lot of people that feel like they're not heard... How do we reach out to those people?" he wonders.
For now, it's one foot in front of the other, and Rateliff, a natural live performer, is "antsy" to get back out there, starting with SNL – a milestone he reasserts was unlikely to ever happen. Even looking back to three years ago, he never expected that his Tonight Show performance would take place. "I didn't know I was going to have a career... I remember we had started touring in the UK and Europe, and my manager called and told me I was going to be on Fallon. We were excited. But we were like, 'Is this band even gonna make it that long?'
"I think it's always been a surprise and a blessing whenever we get the opportunity," Rateliff adds. "We just try to, you know, put our hearts into it, really."
Register for free to continue reading
Registration is a free and easy way to support our truly independent journalism
By registering, you will also enjoy limited access to Premium articles, exclusive newsletters, commenting, and virtual events with our leading journalists
Already have an account? sign in
Join our new commenting forum
Join thought-provoking conversations, follow other Independent readers and see their replies