Naughty Boy interview: The dreamer who became the real deal
Winning 'Deal or No Deal' kickstarted Naughty Boy's career. Now he's the most popular collaborator in pop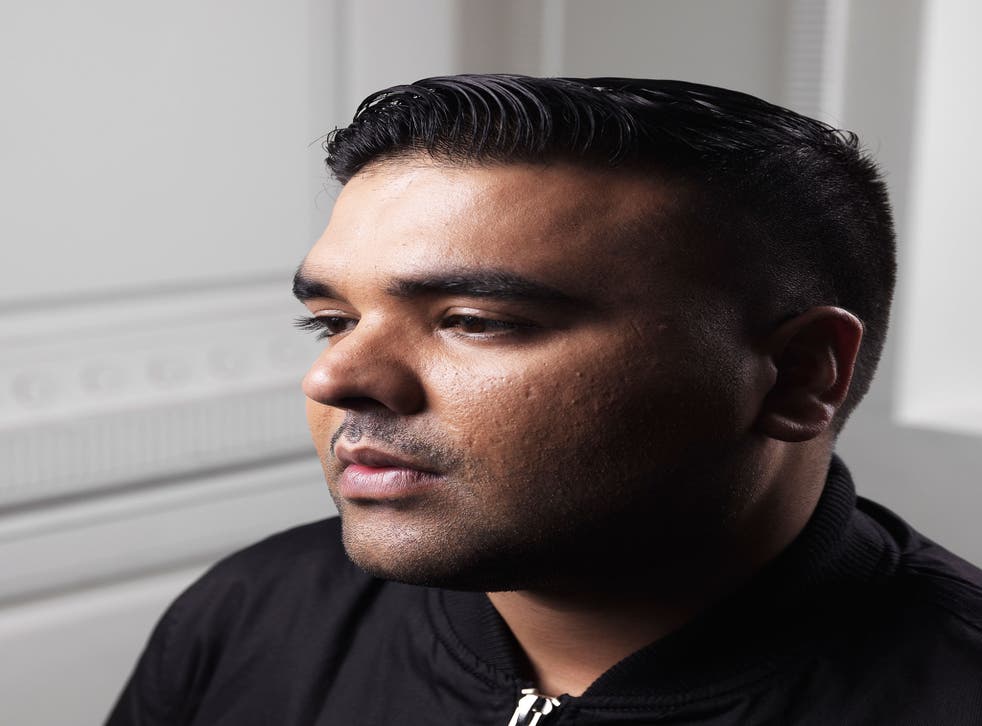 Emeli Sandé remembers her first professional meeting with Naughty Boy. It was 2009, and she was still studying medicine at Glasgow University. But the writing was on the wall.
"He paid for me to fly to Luton Airport, came and collected me, played the beat for "Daddy" in the car, and I just sang the first melody that came out. And he was like, 'yeah, remember that one'. I think we might have recorded it in the car. By the time we got to his studio, 'daddy' was the word that came out. And we built along that. We wrote three really good songs in that weekend."
A partnership, a hit single, the best-selling album of 2012 and the second-best-selling album of 2013 were born. And now, with Sandé off writing the follow-up to Our Version of Events, it's her producer/writing partner's chance to shine.
Naughty Boy's debut artist album, Hotel Cabana, released last August, was heralded by "La La La". Sung by another fast-rising star, Sam Smith, the single was a UK No 1 and a bona fide global smash. Its YouTube views currently stand at 350 million (that's more than Pharrell's "Happy"). He's about to release a repackage of the album, including a brand new single, electro-gospel track "Home", sung by Sam Romans, also a newcomer. It's all over Radio 1's A-list, and Radio 2's, and is a Top 10 airplay hit already.
True to the simpatico nature of their relationship, Naughty Boy is quick to credit his breakthrough vocalist collaborator with helping him step from studio to centre-stage.
"Emeli gave me the confidence to believe that things I think about, song-wise, are good enough," says the man born Shahid Khan. "'Cause I was always writing songs, in my head – I was just never writing them down. I didn't even have the confidence to make music, let alone be a 'pop star'," he shrugs, the quote marks hanging in the air.
He might still be a curious mix of shyness and flamboyance, but the 29-year-old lounging backstage at the Wireless festival in Finsbury Park, north London, very much oozes spotlit stardom. There's the small entourage of band members and associates, the unlit spliff clamped between his fingers, and the regally purple, monogrammed Adidas tracksuit.
The top-to-bottom leisurewear says "Naughty" on the front, "Boy" on the back. It's one-of-a-kind, a bespoke gift from a sportswear company "showing a lot of love". There's another, equally rare version, too, this one branded "Zaughty Boy". It's a nod to a hook-up Khan has in the pipeline.
"I've been working with Zayn Malik," he says of the One Direction-er, a fellow British-Asian Muslim. "I'm really impressed by him and his writing ability." Khan, Malik, Sandé and Romans have written a song, "One Chance to Dance", that he says One Direction are recording. "I spoke to Simon about it recently and it looks like it might be a single." Simon as in Cowell?
Enjoy unlimited access to 70 million ad-free songs and podcasts with Amazon Music Sign up now for a 30-day free trial
Sign up
"Yes, we text each other. Why not?" he twinkles. "And I think Zayn will probably sing a lot of it 'cause he sounds great on it. I haven't recorded the other boys yet, but I'm looking forward to it. I think it's gonna change the perception of them slightly. It's still One Direction but you can see there's a bit more... oh hi!"
Shah breaks off as Sandé approaches. She's his surprise guest at the festival later. "Nice tracksuit!" she says with a smile.
Growing up in a council estate in Watford, on the far outer boundaries of north London, music was always on Shah Khan's mind, but also far from realistic. His dad was a taxi driver, his mum a housewife, and money was tight. "I didn't grow up with any kind of music lessons, which is what I wanted. You've got to pay for these things. And the school I was in, music wasn't the main focus; there probably wasn't the budget. So it really had to come from within, this urgency."
Were his family sceptical about his aspirations? "In the early stages they were. I'm the youngest. I was the guy that was always borrowing a fiver, who always needed petrol money. So I don't blame them in some respects. I grew up in a Muslim house, and there's a sense of expectancy. Especially in the Pakistani community in Watford... 'Cause our parents want us to be the best we can be. They've come here as immigrants, so they don't want us just to do as well as them – they want us to do more. And sometimes that actually turns into them wanting to be like them, without even realising it."
Khan had that "urgency" to follow his own path. So he took part in Channel 4's Deal or No Deal.
"I just thought: 'I have to think out of the box. If what I want to do is ridiculous, then to get there I'm going to have to do something equally ridiculous. And a game show was that. But I didn't know I was gonna win £44,000!" he hoots.
He used the money to set up a studio in his parents' garden shed, and to fly unknown Scottish singers down from Glasgow. "Winning the show actually gave me the confidence to think, 'I can do anything'."
Sandé – who recently wrote for Rihanna's next album using tracks supplied by Khan – will forever praise his role in building her success. She sings on seven of the 18 tracks on Hotel Cabana. It's an ambitious, quasi-conceptual album that also features vocal contributions from Smith, Tinie Tempah, Professor Green, Ella Eyre, Ed Sheeran and Bastille.
Sandé and Khan run a publishing company, also called Hotel Cabana, and have signed a young four-piece called Chasing Grace, whose debut album he's executive producing. That aside, he has his own publishing company, Naughty Words, to whom Smith is signed. Given the American success of the singer-songwriter's debut album, Khan the businessman has already struck gold.
"I just want to change the game, but in the purest way possible," he says of his various activities. There is also a label, Naughty Music, a joint venture with Universal, to which he has just signed Thabo. And Khan is about to anchor a new ad campaign for Lynx. He has written a song called "Pardon Me" (which will also feature on his album repack), and Professor Green and Laura Mvula are among artists contributing to the track.
An hour later, Naughty Boy, his live band and touring vocalist ShezAr (the sister of fellow producer-artist Labrinth) take the stage. At the back, behind a raised console, he doesn't sound entirely comfortable when ShezAr asks him to speak to the crowd. He's still finding his feet as a performer – his first live performance was a year ago. But as a producer/writer Shahid Khan is already all the way there. I ask what his parents make of his success. "Mum and dad don't have to work any more. I take care of them, and I always wanted to do that. Especially being the guy that was probably least likely to."
Naughty Boy is the face of Lynx's 'Make Beats Not War' project. The single "Home" is out on 28 July
Register for free to continue reading
Registration is a free and easy way to support our truly independent journalism
By registering, you will also enjoy limited access to Premium articles, exclusive newsletters, commenting, and virtual events with our leading journalists
Already have an account? sign in
Register for free to continue reading
Registration is a free and easy way to support our truly independent journalism
By registering, you will also enjoy limited access to Premium articles, exclusive newsletters, commenting, and virtual events with our leading journalists
Already have an account? sign in
Join our new commenting forum
Join thought-provoking conversations, follow other Independent readers and see their replies