Nevermind 25th anniversary: Baby who appeared on Nirvana cover recreates pose in new photoshoot
Spencer Elden was the baby who appeared on the cover of an album that went on to sell around 30 million copies worldwide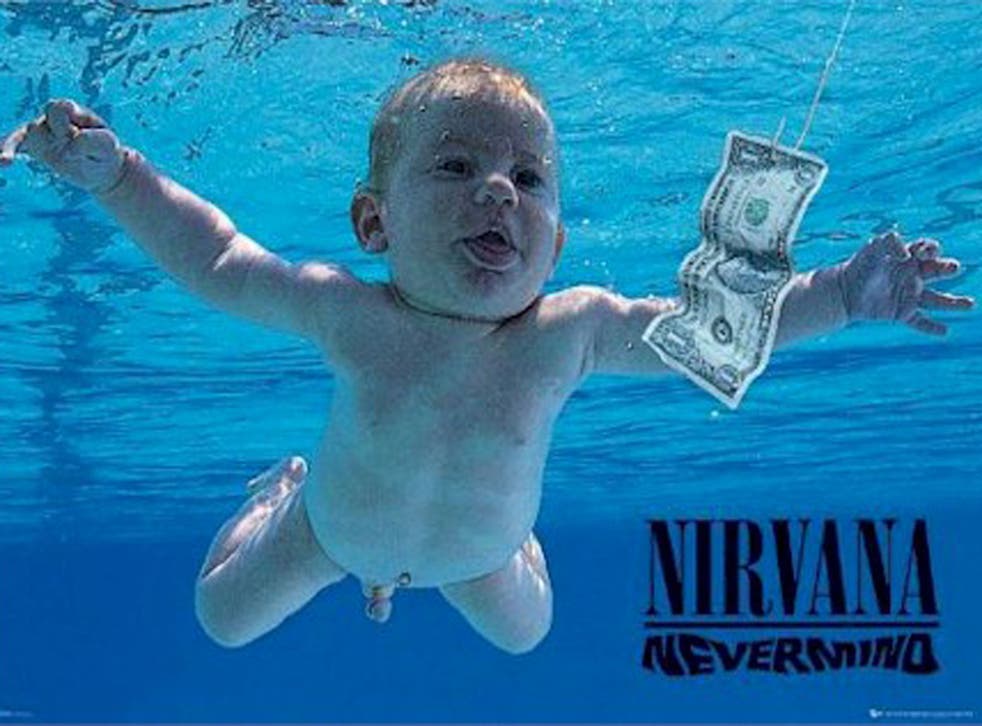 Remember the baby on the cover of Nirvana's Nevermind?
Of course you do – it's iconic – and said baby just celebrated that record's 25th anniversary by recreating it as a fully grown adult.
Spencer Elden was the baby who appeared on the cover of an album that went on to sell around 30 million copies worldwide.
On 24 September, 25 years after the record's original release date, he featured in a new photoshoot with photographer John Chapple which was covered in the New York Post.
In 1991 Elden was a few months old when his parents received a call from underwater photographer Kirk Weddle, who asked them if he could use their baby in a photoshoot for the second album of "an up-and-coming band called Nirvana". Elden's father helped with sets and props for photoshoots, which is how he came to be acquainted with Weddle.
Geffen Records had a specific image in mind and none of the previous images Weddle had taken of babies at a swimming class would work. Instead, one of the stills of Elden was chosen, and a fish hook with a dollar bill was added to make it look as though the baby was swimming after it.
Elden's parents were reportedly paid $200 for the shoot, which lasted around 15 seconds.
Weddle told TIME in 2015: "It was a great concept – a baby underwater, unable to breathe, going after money on a fishhook. After Nevermind was a big hit, they came back to me to shoot the band underwater."
Today Elden lives in Los Angeles with his mother, where he focuses on "art and growing tomatoes".
So far he has never met the two surviving members of Nirvana – Dave Grohl and Krist Novoselic – previous attempts to contact them were unsuccessful. Grohl was asked by TMZ in 2013 if he had ever met the baby from the Nevermind cover, to which he said: "I've never met him. We weren't there the day that they did the photo shoot, so I don't know. I've seen him in magazines and stuff."
(Interestingly, someone Grohl did meet up with recently was the actress who played the girl in Nirvana's last ever music video, "Heart Shaped Box".)
"Looking back, it feels kind of stupid doing interviews about it, because I had nothing to do with it but a lot to do with it all at the same time," Elden told TIME. "It's a really weird feeling being a part of someone else's momentum – being caught up in this wake of stuff."
Enjoy unlimited access to 70 million ad-free songs and podcasts with Amazon Music Sign up now for a 30-day free trial
Sign up
He recently (unsuccessfully) looked into whether he could take legal action against Geffen Records: "It's hard not to get upset when you hear how much money was involved. [When] I go to a baseball game and think about it: 'Man, everybody at this baseball game has probably seen my little baby penis,' I feel like I got part of my human rights revoked."
Elden has made some money from his 15 seconds of work, however. He recreated the famous photo for Nevermind's 10th anniversary in 2001, its 17th in 2008, and its 20th in 2011.
"Every five years or so, somebody's gonna call me up and ask me about Nevermind... and I'm probably gonna get some money from it," he told Rolling Stone in 2013.
Clearly he's still chasing that dollar.
Register for free to continue reading
Registration is a free and easy way to support our truly independent journalism
By registering, you will also enjoy limited access to Premium articles, exclusive newsletters, commenting, and virtual events with our leading journalists
Already have an account? sign in
Register for free to continue reading
Registration is a free and easy way to support our truly independent journalism
By registering, you will also enjoy limited access to Premium articles, exclusive newsletters, commenting, and virtual events with our leading journalists
Already have an account? sign in
Join our new commenting forum
Join thought-provoking conversations, follow other Independent readers and see their replies