Now Hear This: New music from Dua Lipa, Flohio, The 1975 and IDER, plus spotlight artist Laoise
In her weekly column, The Independent's music correspondent Roisin O'Connor goes through the best – and worst – new music releases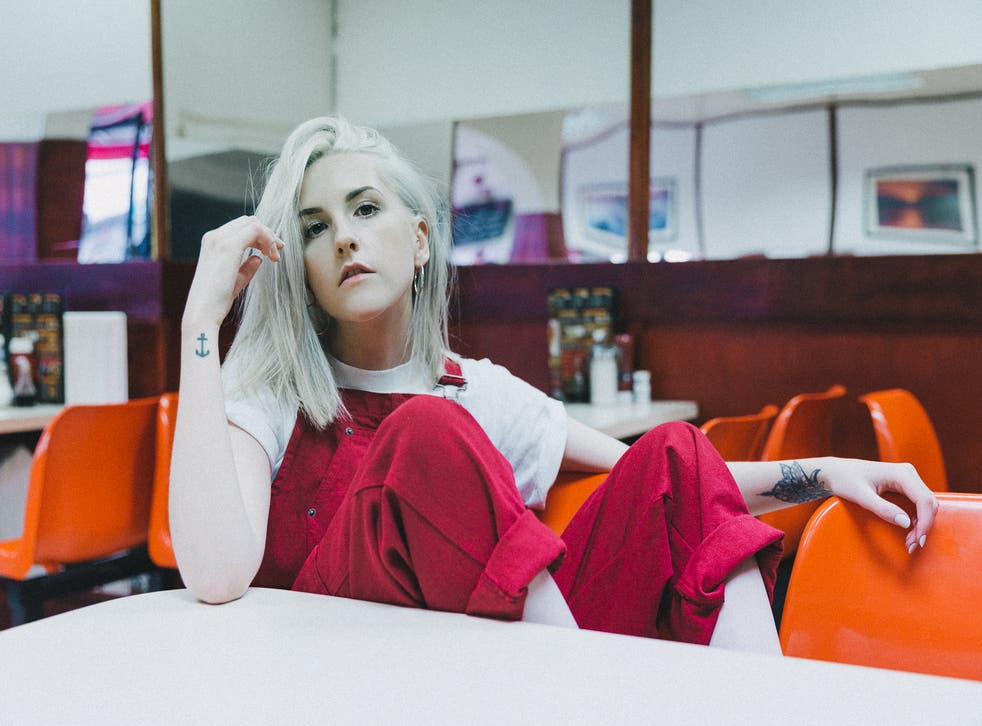 The 1975 are at it again. I spent a small chunk of this column a few weeks explaining why I loved just one of their then-four singles released from forthcoming album Music for Cars.
Then earlier this week they released a phenomenal video for that one track ("Love it if We Made it"), which felt a lot like this generation's "We Didn't Start the Fire" or "Man in the Mirror". I thought maybe, just maybe, I could grow to like the rest of this new material.
Now they've gone and released another dud of a single: "It's Not Living (If it's Not With You)". I mean, Jesus, guys, at least try to sound like you didn't just shrug in the studio and say "that'll do". It's a cobbled-together smush of Who-style piano, "anthemic" guitar lines, and some very hit-and-miss lyrics from Matty Healy.
In one respect, he's at his most appealingly sincere – the pre-chorus where he sings of how the object of his affection would "collapse my veins wearing beautiful shoes", which is pretty damn good. But then you have the second verse: "And Danny says we're living in a simulation / But he works in a petrol station (selling petrol) / He says it all began with his operation / And I know you think you're sly but you need some imagination." ?????????????
The women are out in force this week – there are fantastic tracks from electronic pop duo IDER, Neneh Cherry, Billie Eilish, Flohio and Poppy Ajudha. IDER's song "Mirror" makes the most of Lily Somerville and Megan Markwick's gorgeous harmonies, with traces of Sigrid's "Shots Fired" in the low-pulsing synths and fierce double drum beat that heralds and then drives the chorus. South Londoner Flohio is fast-proving herself as one the UK's most exciting new rap prospects. Her new track "Wild Yout" crackles with energy; her flow is sharp, unapologetic, and backed by gritty, industrial beats.
Subscribe to the Now Hear This playlist!
I love Daniel Caesar's slurry new jam "Who Hurt You?", and ZAYN's "Fingers", which is a similar vibe and a definite improvement on his earlier solo offering "Let Me" ("Too Much" ft Timbaland" and "Dusk Till Dawn" with SIA were excellent). Dua Lip with BLACKPINK on "Kiss and Make Up" is an absolute bounce for the weekend.
Luis Fonsi is being a little bit cheeky with "Impossible", which has a beat and timing that are both muy similar to his monster hit "Despacito". Fonsi is already king of the Latin bangers, so I hope he's not getting lazy, his friend Maluma is right behind him and more than willing to take his place.
Let's just skip over Cher Lloyd, shall we?
Former Nashville star Lennon Stella has returned after her Liam Payne/Marshmello team-up with a new single "Breakaway", which does exactly what it says on the tin. Where her debut single "Bad" clung on a little too hard to the simple singer-songwriter sound she had on the hit HBO show, "Breakaway" is a cool, electronic-tinged slow-burn.
Support free-thinking journalism and attend Independent events
There's a simple but lovely new song from Isaac Gracie, "show me love", which has a little of U2 about it (in a good way, honest). Rock band Nothing But Thieves have also released a new single that is a drastic switch-up from their very sexy last track "Forever & Ever More". "Take This Lonely Heart" has frontman Conor Mason building from a soft whisper to a rousing yell – the guy has one of the best voices in modern rock music.
Enjoy unlimited access to 70 million ad-free songs and podcasts with Amazon Music Sign up now for a 30-day free trial
Sign up
I've probably gone on about him enough but… my favourite new artist of the year has just released his debut album! Belgian-Egyptian artist Tamino is a 21-year-old prodigy who trained at the Amsterdam Royal Conservatory. His voice is just out of this world and really the best way to realise that for yourself is to check out the album, and maybe also read this interview I did with him.
My spotlight artist of the week is Laoise, an Irish artist from Galway who's making electronic pop like no other emerging artist – the closest comparison I can think is Robyn. Laoise wrote her latest single, "Again", ahead of the vote to repeal the abortion ban in Ireland: it's catchy but you absolutely pick up on the powerful lyrics behind it: "Throwing all your words around / They're just for show / Did it take you by surprise that I'm worth more? / And now the only thing you have is what you owe."
Check out the premiere of her colourful new video for "Again" and read my Q&A, below:
Hey Laoise! Having a name like Roisin, I'm going to guess people struggle with your name too. Do you want to tell our readers how to pronounce it?
Hello! Yes they really do, even in Ireland! It's 'Lee-sha'. It comes from Irish mythology and means 'light', but I've heard some variations of it too - 'torch bearer' being one which sounds badass so I'll take that. I'm fluent in Irish and I never thought much of it as I only spoke Irish in school, but it's when I moved from my hometown Galway to Dublin that I realised how some people struggled with its pronunciation, even though there's a county Laois (Leesh) in Ireland. Wild.
The Irish music scene is absolutely booming right now, it seems, what other artists should we be listening to?
It's an incredible environment to be creating music in and there are so many authentic musicians like Wyvern Lingo and Maria Kelly and so many more. I guess for me though, I've always loved pop and to be a minority making pop music in Ireland is so nice as there's only a handful of us really. It's funny that people from outside Ireland expect your traditional lad with a guitar playing a folk-inspired song, but that's definitely not me, and it's empowering to be a part of a movement that's breaking that stereotype.
Your new single "Again" reminded me a lot of the themes on Dua Lipa's "New Rules" – am I on the right track?
Aw that's so to hear as I'm a massive fan of Dua! Yeah I would say you're definitely on the right track because the song is about letting go of someone or something that was never on your side, even though it's scary. I guess I had to learn to choose myself over other people's crazy expectations of me. I had to remind myself of this a lot, especially this year, as women's rights were being debated everywhere you turned and some comments were awful to hear. I had just turned 21 and I still didn't understand what kind of a person, or even woman, I wanted to represent myself as. Writing 'Again' made me realise it's whoever I want to be, and I won't let anyone else stand in the way of that
Join our new commenting forum
Join thought-provoking conversations, follow other Independent readers and see their replies