Nikki van der Zyl: The Bond girl you've never seen who voiced some of the films' best known heroines
The German-born, Rada-trained actress was the voice behind one of the franchise's most magical moments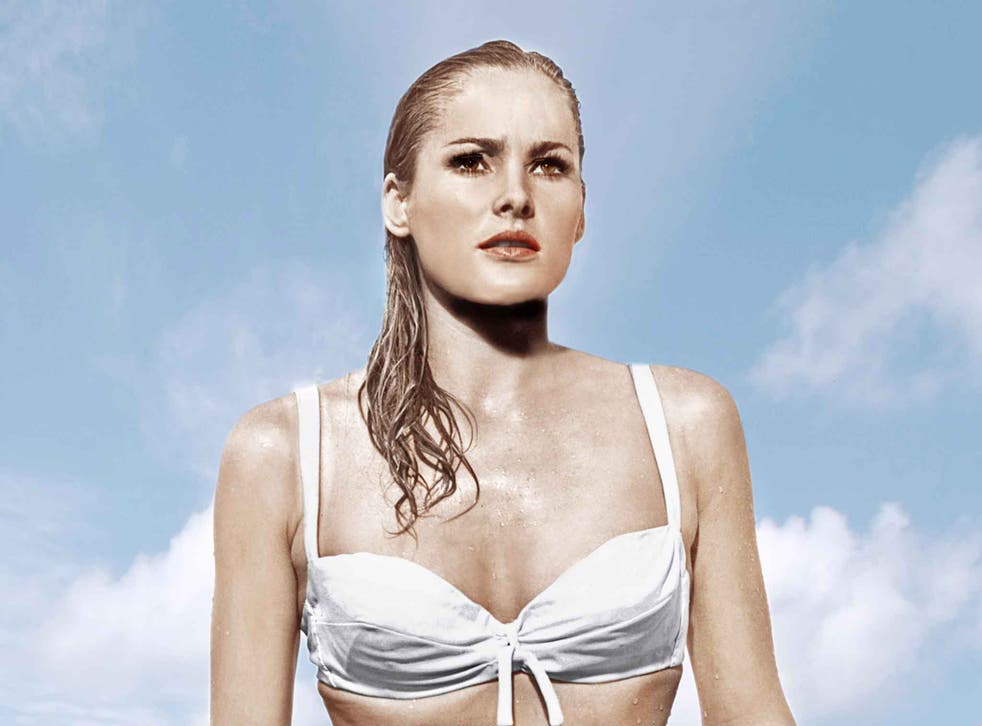 Whenever a new Bond movie is premiered it is always fascinating to return to Dr No, the one film that best replicates Ian Fleming's world. The limited amount of location work, shot during the last days of colonial Jamaica, captures the remittance-funded haunts of gin sling-quaffing expats and the picture displays just how much the early Bond films resemble the better Hammer and Carry Ons: imagination combined with a not-unlimited budget producing a whole that is greater than the sum of its parts. Dr No is a riot of unconvincing back projection in which villain's cars change marque mid-pursuit and Bond's Sunbeam Alpine elicits tarmac squeals from dirt roads. Yet the moment Ursula Andress as Honey Ryder emerges from the sea and sings with the voice of Nikki van der Zyl is genuinely magical.
Ms Van der Zyl, a German-born, Rada-trained actress, had previously voiced Shirley Anne Field in the comedy Man in the Moon. For a £25 recording fee, the Swiss-German dialogue from Andress was replaced by a more comprehensible accent for Honey Ryder.
"That's me both singing and speaking for Ursula on the film, although Diana Coupland sang on the follow-up record," says Ms Van der Zyl. "Voice actors did not see all of the film – just segments – and it is technically exacting work. The art of such acting is often much overlooked. You have to have to pay attention to the physical appearance of the person to ensure the character has an appropriate voice and actors speak with a blend of dialects, making it quite a challenge matching your speech to their lip movements."
Spectre in pictures

Show all 16
Ms Van der Zyl also re-voiced all the other actresses, apart from Lois Maxwell and Zena Marshall, including Eunice Gayson's Sylvia Trench. British cinemagoers of 1962 would have wondered why the clipped Gayson diction, familiar from 1950s Rank films, was replaced by a sultry purring of the immortal line, "I admire your luck, Mr ...?" in the best casino Pinewood Studios could provide. "Eunice had a very upper-class accent in real life," says Ms Van der Zyl, who went on to re-voice Shirley Eaton in Goldfinger.
In addition Claudine Auger in Thunderball and Mie Hama in You Only Live Twice were both granted fresh tones more appropriate to a Bond Girl. In between 007 assignments, the Van der Zyl versatility also provided "Raquel Welch's grunts in One Million Years BC".
Cubby Broccoli once said that the Bond Girl formula was to have "girl number one" as pro-Bond, only for her to be "bumped off by the enemy, preferably in Bond's arms". Girl number two had to work for the enemy, only to be bowled over by Bond's "sheer sexual magnetism". Girl number three must not allow 007 "to take any lecherous liberties with her until the very end of the story. We keep that for the fade-out". With new voices, they could all fall prey to the lure of Sean Connery's chest hair, murmur "Oh James" and be murdered by black roll-necked bit actors with greater assurance.
Of the 1960s Bond Girls – figures who decorated film magazines and arrived at premiers in hired Vanden Plas Princesses – there are two who are clearly not dubbed. Honor Blackman's line, "My name is Pussy Galore", is delivered in the brisk accent of a public-school headmistress and in a manner that implies prompt castration for Bond should he so much as snigger, while Diana Rigg's Countess Tracy di Vicenzo is angry, vulnerable and as intelligent and as resourceful as 007.
The scene in 1969's On Her Majesty's Secret Service where Bond is slumped in near defeat at the side of an ice rink only to be rescued by Tracy is far removed from anything involving Honey Ryder, who doesn't do all that much once she and Bond are kidnapped by the eponymous Nehru-suited nemesis. Miss Taro, the duplicitous "Eurasian" agent, is much more fun, hissing threats as she is dragged into a police Ford Consul.
Re-voicing talents, as Nikki van der Zyl says, would go uncredited, yet they are as essential a part of the early Bond pictures as Ken Adam's set design in creating a sense of palpable gloss on a budget that was far from Hollywood standard. To claim that knowledge of a Bond Girl not using their own voices somehow destroys "the magic" is as ridiculous as complaining that a bikini is not a practical of outfit for inflitrating a supervillain's lair in a dormant volcano. Ms Van der Zyl's last Bond film was Moonraker – after which she embarked on a new career as a barrister. But from the moment "Under the Mango Tree" begins on the Dr No soundtrack, her cinematic immortality was assured. µ
Register for free to continue reading
Registration is a free and easy way to support our truly independent journalism
By registering, you will also enjoy limited access to Premium articles, exclusive newsletters, commenting, and virtual events with our leading journalists
Already have an account? sign in
Register for free to continue reading
Registration is a free and easy way to support our truly independent journalism
By registering, you will also enjoy limited access to Premium articles, exclusive newsletters, commenting, and virtual events with our leading journalists
Already have an account? sign in
Join our new commenting forum
Join thought-provoking conversations, follow other Independent readers and see their replies