Nimmo interview: on dark thoughts, fashion and Fabric
Inspiring dancefloor moves to 'shake free from bad things in life' is the mission of this dance-pop band, led by two women mixing disco with depth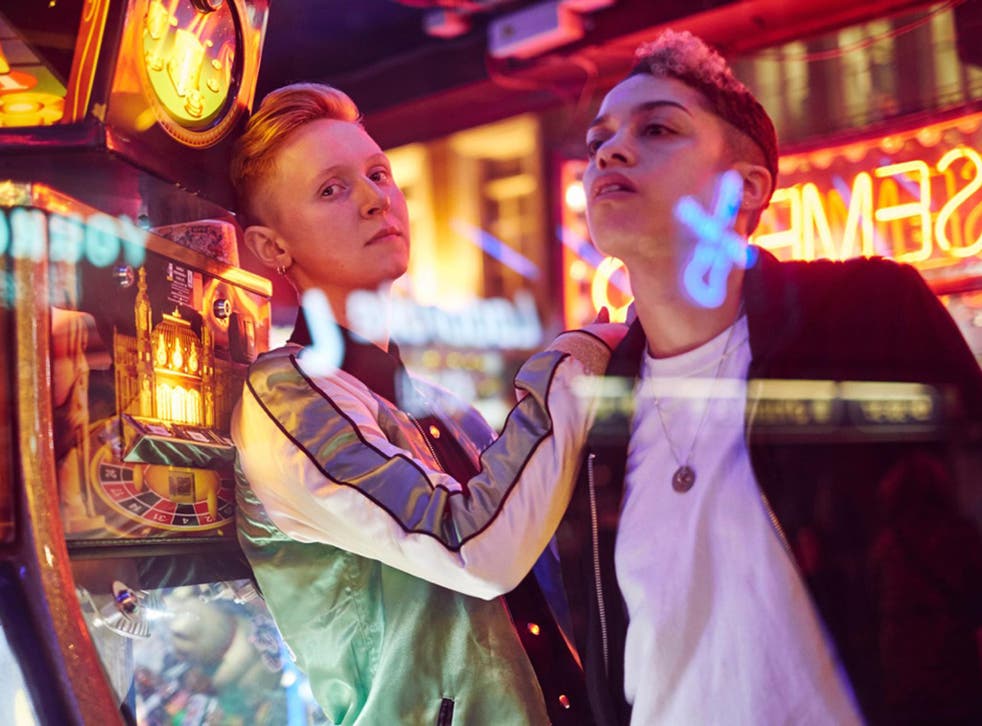 The announcement that Fabric was shutting down sent shockwaves through London's nightlife, and posed a host of questions about the future of club culture in the capital – namely, how many venues would be following the Farringdon institution in closing their doors.
So no-one was more pleased than London-based band Nimmo to hear the decision had been reversed in late November, as it showed a worrying trend could be halted, at least for now.
"It's a big concern for us. Without nightclubs to go to growing up, I don't know if we would have had a safe place to go explore our personalities and our sexualities," says Sarah Nimmo, one of the band's two frontwomen.
"In a way, we were both allowed to come out in gay clubs at 15 and 16 years old. It's so, so important especially if you're gay, to have somewhere to go and explore that without being looked at or judged.
"The more clubs close down, the less opportunities there are for people to do that. It's not just about discovering music."
The band's music sounds as though it was forged and sculpted in the nightclubs of Shoreditch and Camden.
Combining classic garage beats with widescreen electronic sounds, Nimmo and fellow frontwoman Reva Gauntlett are on a mission to create dance tracks that make you think.
They certainly subscribe to the notion that every great pop song has some form of dark undercurrent. While their music can sometimes seem like pure, joyful escapism, there's always a message of vulnerability buried underneath.
"Our lyrics aren't just about having a good time, though we like to disguise our songs in that way sometimes," says Gauntlett.
Enjoy unlimited access to 70 million ad-free songs and podcasts with Amazon Music Sign up now for a 30-day free trial
Sign up
"We try to relate to personal experiences, and using the physical act of dancing to shake free from bad things in life. There's a darkness that ties in with the good times, that's related to them on a deeper level."
On the band's 2015 single "UnYoung", Nimmo wrote about her father losing both his parents in his early 20s, a subject she had never explored previously. "I'd never really thought about how that impacted him, so I thought I'd write about it."
"As we started to build up the song, it became more of a celebration of life, allowing us to merge lots of feelings together. But there's always a message underneath that means something, whether it's personal or speaks to problems that everyone is facing."
Nimmo and Gauntlett met at school and quickly found they had a lot in common: "We first bonded over football, then when we were 13 we discovered UK garage and grime, and that completely changed the way we both thought about music."
"Our band is all about chemistry and working together," says Nimmo. "It would be really strange if we didn't have good chemistry, because we've known each other for such a long time – so it's almost a given. But we value it."
The pair have been touring regularly for almost five years, working their way up from sweaty gigs in pub cellars and friends' living rooms to huge supporting slots at Wembley Arena and the Roundhouse.
Nimmo, Gauntlett and their bandmates are currently putting the finishing touches to their debut album, due out in the spring, having just come off a few months on tour.
Nimmo's music is made to blast out live – it reaches a new level when played in front of an audience. Their shows are euphoric, colourful, often explosive experiences, and the venues are only getting bigger.
It's for this reason the five-piece much prefer being out on the road than being trapped in the quiet of the studio. "We're really good friends, and we're happiest and most relaxed when we're gigging rather than recording or editing tracks," says Gauntlett.
"We're enjoying writing at the moment, but overall we're definitely more suited to just throwing ourselves around and having a change of scene every day. It's so much part of our identity now that it feels wrong to stop doing it for a while."
Outside music, the pair have a long-running love affair with fashion, something which influences their every artistic decision. "The way we dress, and the way we look, has always been really really important to us. It's always been a big part of who we are," says Nimmo.
"What I find fun about doing videos is that it allows you to push it and see how much you can do, and how you can express yourself and the music."
Next stop: the new album and a whole lot more touring, something the duo are eager to get back to. "This record's been up in the air so long that we're really relieved it'll be out there. We just hope people will pick up on it and come dance with us."
Nimmo's new single 'Dancing Makes Us Brave' is out now. Their new album is set for release in spring 2017.
Join our new commenting forum
Join thought-provoking conversations, follow other Independent readers and see their replies