How a new generation of musicians are confronting OCD
The disorder has long been misrepresented in pop culture but now artists from George Ezra to rapper NF are opening up about their struggles. It gives sufferers hope, says James McMahon
Friday 03 April 2020 18:55 Comments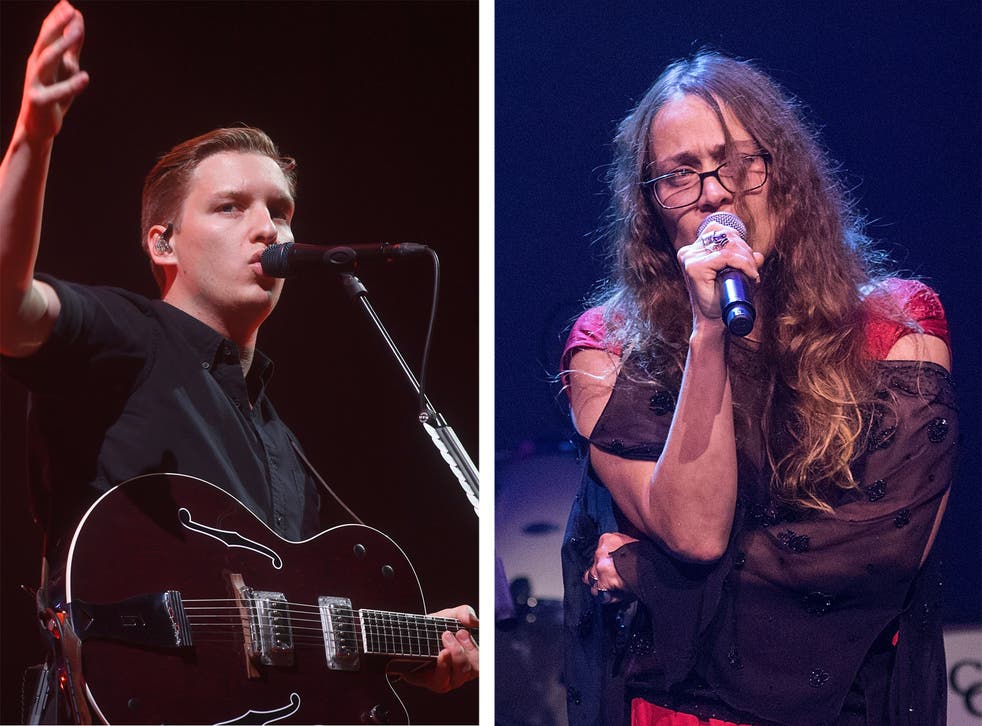 I'm not particularly fond of any of George Ezra's songs. I didn't find myself punching the air and shouting "yes George!" when the 26-year-old singer-songwriter won British Male Solo Artist at the 2019 Brit Awards. But the other day, reading a news story entitled "George Ezra opens up on his struggles with OCD", I couldn't help but think that I could have really done with a George Ezra when I was a teenager.
"Often OCD will come with physical actions that you have to carry out to silence the mind," Ezra said, explaining the disorder in layman's terms, while "Pure O" – which is the variant of OCD Ezra suffers from – "is the name given to somebody who just experiences the thought patterns without the physical part." Even though there is some debate within the OCD community as to the validity of the term Pure O – for many people, OCD is OCD – there was no question that this musician obviously knew intimately what it was like to suffer from the mental disorder.
Obsessive compulsive disorder is an extremely misunderstood illness. It ruins lives. The World Health Organisation lists OCD as one of the 10 most disabling disorders in the world. Not that you'd know it from the frivolity the term is bandied around with; earlier this week, in response to the Covid-19 crisis, none other than the Wall Street Journal published an article with the headline: "We All Need OCD Now". Lately, I've mostly been obsessing that the only way I can keep both myself and my family safe is to cut each of my fingers off. It's fair to say that I disagree with the Wall Street Journal's viewpoint.
I was 19 when obsessive compulsive disorder came into my life. I went to bed one evening fine. I woke up the following morning utterly convinced that I had contracted HIV from a tattoo I'd recently had done (I hadn't). I would call the NHS advice line so much that the poor on-call nurse on the other end of the phone would sigh when she realised it was me, again. Looking back, it had been there for years, festering, prodding, dictating decisions I made. I now know why I used to have to tap a door frame three times before walking through it or I'd feel physically uneasy until the next time I did.
In pop culture, as we know, visibility matters, and it's why it's so important that someone as well-known as Ezra has stepped forward. It took me years to find my own OCD idol. The Ramones had been my favourite band more-or-less from the first time the cool supervisor of my local youth club had played me a cassette of their seminal 1979 live album It's Alive! In 2011, almost 20 years later, I picked up an issue of Mojo magazine with the band on the cover. Inside told the story of the singer's battle with obsessive compulsive disorder. Joey's OCD was so severe, it read, that a doctor told his mother they didn't think her son would ever amount to anything. What's that phrase the kids say? "I feel seen…"
As an aside, some claim that OCD killed Joey Ramone. Sure, he'd had lymphoma. At the time of his death, he was in recovery. But he'd only encountered the icy eve that saw him slip and break his chemo-wizened hip – thereby leading to his readmittance at hospital where lymphoma was discovered to have returned – because of an obsessive thought. He was just looking for relief. Why did Joey head out on New Year's Eve, 2000? To quell the repetitive concern that he'd locked his door properly. He died on 15 April 2001, aged 49.
Music-making and OCD can be uneasy bedfellows. Obsessive compulsive disorder is an illness that feeds off fatigue, lack of routine, uncertainty; for many, certainly in the underground music sphere, touring can be an additional challenge. Chad Howat of Nashville's eccentric indie rockers Paper Route told Vice in 2017 about how his OCD has been detrimental to his experience of being in a band. "As a performer you need to be more in the present than anything," he said. "The way [OCD] manifests itself for me is that I'm worrying about some unknown future and what catastrophe can happen. I really regret having toured for over a decade and I don't have a ton of memories..."
Music fans who suffer from OCD, meanwhile, have played detective for years, hoping to find someone who reflects us within the shards of song. We've pored over the lyrics of Loyle Carner's "NO CD", Mitski's "Humpty" and Kid Cudi's "Trapped In My Mind", hoping to find some affirmation that someone understands. Few are explicit about their experiences with the condition in their work. A rare exception is singer-songwriter Fiona Apple, whose music is filled with nods to her obsessions and ruminations. "I had really bad obsessive-compulsive disorder," Apple told Elle magazine in 2012. "At its worst, I was compelled to leave my house at three o'clock in the morning and go out in the alley because I just knew that the paper-towel roll I threw in the recycling bin was uncomfortable, like it was lying the wrong way. I would be down in the garbage."
For years, OCD had otherwise felt either absent or misappropriated within the pop culture landscape. Sure, Martin Scorsese, Stanley Kubrick, Beethoven and Michelangelo are often rolled out on aggregation websites as OCD sufferers, but with the exception of Scorsese – who in 2004 made The Aviator, a film about the great film director and chronic OCD sufferer Howard Hughes – there was little to grab onto. That, however, does seem to be changing. New York-based comedian Jon Fisch excels at lampooning the ridiculous nature of the condition on his podcast Spiralling Up. Lena Dunham's amplification of her own OCD in HBO's Girls was the first time many of us had seen such an honest representation on TV. Last year we even got our own sitcom, Channel 4's six-part series Pure, based on the ground-breaking 2015 memoir of the same name by sufferer Rose Bretécher.
Enjoy unlimited access to 70 million ad-free songs and podcasts with Amazon Music Sign up now for a 30-day free trial
Sign up
In music, too, it's exciting to report that there's a new wave – crucially of a new generation – of artists who are talking about OCD without shame or fear. There's the Scottish emo band Vukovi, whose album this year, Fall Better, documents singer Janine Shilstone's traumatising experiences with the illness. "For as long as I remember I've thought that someone is following me," she tells me. "I never feel alone in a room, I always think that the 'thing' is there with me. If I do something bad it'll punish me. If I do something good it'll reward me. The way forward is trying to untangle all of that and see the thoughts as just OCD and not as… I dunno… magic?"
There's also the American rapper NF, who lays down the truth about his condition starkly in his songs. "Leave Me Alone", taken from his fourth album, The Search, released last year, actually describes the experience of receiving a diagnosis for OCD in verse. There's a great video interview with him on the German hip-hop channel 16bars, where the Michigan based rapper maps out his experience of cognitive behavioural therapy (CBT) and exposure response therapy (ERT), the "gold standard" for OCD treatment. It took me over 15 years to find this information. Now, there it is on YouTube.
And then there's the mathy, hotly tipped Brighton-based indie-pop band Orchards, whose music is increasingly being influenced by singer Lucy Evers's OCD. Their most recent single is entitled "Magical Thinking", taking its name from a form of OCD in which the sufferer believes that their thoughts can influence the external world. "I live for the idea that I can spare someone the confusion and the sadness I felt for so long before my diagnosis," says Evers, visibly emotional, in a video interview.
Evers isn't the only one who feels emotional about this. I remember the boy I was at the beginning of my journey with OCD and know how much I would have valued the honesty of people like George Ezra. The wave of new OCD voices is helping cut through an illness that has for too long sought to silence and shame its sufferers.
If you or someone you know is struggling with mental health, you can reach out for confidential support at OCD UK by calling 03332 127 890 or visiting their website
Register for free to continue reading
Registration is a free and easy way to support our truly independent journalism
By registering, you will also enjoy limited access to Premium articles, exclusive newsletters, commenting, and virtual events with our leading journalists
Already have an account? sign in
Join our new commenting forum
Join thought-provoking conversations, follow other Independent readers and see their replies