'Once in Royal David's City' and other traditional Christmas hymns are still popular, but composers are still writing new ones
Traditional Christmas songs are popular – but composers are busily writing new ones too, says Claudia Pritchard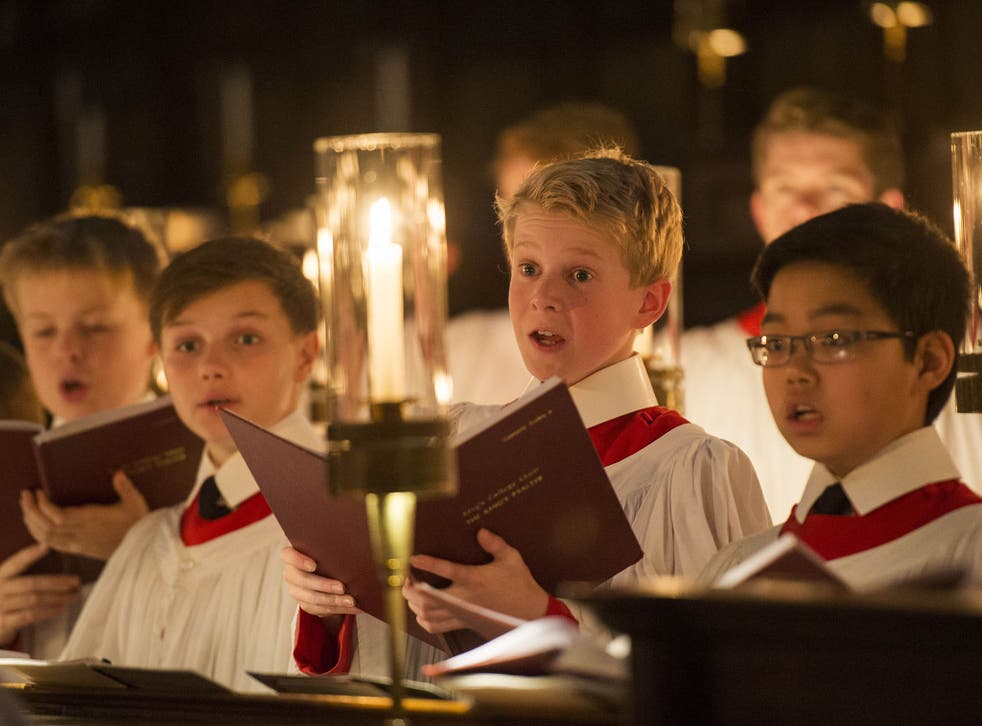 For many people, Christmas begins on Christmas Eve when a single clear-voiced treble from the Choir of King's College, Cambridge, sings the first verse of "Once in Royal David's City", a heart-wrenching moment, audible via the BBC World Service to a potential listenership of 40 million.
For others, with no intention of either attending a church service or hearing one broadcast, Christmas carols are nonetheless spun through the fabric of the season, with partridges and pear trees peppered over Christmas cards and advertisements, ad hoc choirs fundraising in shopping centres, or a boozy singalong dip into the lexicon of ding dong, wassail and in dulci jubilo.
The nationwide craze for workplace choirs, Gareth Malone, and singing generally is good news for composers and arrangers, for while the old standards hold their ground, every year new carols are sung – new arrangements of familiar words, or entirely new pieces. Some become favourites, many sink without trace.
King's College, Cambridge constantly updates the genre with new commissions; its Christmas Eve Festival of Nine Lessons and Carols has been broadcast on the BBC every year since 1931, although its roots lie in a tradition forged at Truro Cathedral in the 1880s by Archbishop Edward Benson, father of Mapp and Lucia author E F Benson. Enduring hits premiered at King's since the current director of music, Stephen Cleobury, made new commissions central to the event, include John Tavener's The Lamb (1982), and Illuminare, Jerusalem (1985), by Judith Weir, appointed Master of the Queen's Music last year.
That King's dominates the image of carol-singing is due, in part, to the popularity of its director of music over three decades, Sir David Willcocks, whose crystal-clear choral sound and user-friendly arrangements encouraged other choirs and singers to tackle harmonies that were demystified partly by his publication in 1961 of Carols for Choirs, still in print more than 50 years on, and augmented by many further volumes. Willcocks forged the King's sound from 1957, when he took over from Boris Ord, until his own retirement in 1975. His death in September, at the age of 95, served to remind lovers of choral music of his immeasurable legacy
Last year, the BBC's first carol-writing competition was such a success that it is running again this month. Weir was among the judges, and repeats that role this year, when entrants – amateurs only – will set words by Roger McGough. His "Comes the Light" harnesses the traditional carol's ability to straddle the secular and religious worlds, with clear references to climate change, terrorism and social inequality:
Sing out for the earth, its health and renewal
Its wealth universal, equally shared ...
For those who mock, lay waste and fight
For those who would put out the light.
Also currently setting a new text is one of the most prolific composers of choral music that is within the reach of amateur singers, Bob Chilcott. His cycle of eight carols, On Christmas Night (2011) includes a setting of "Adam Lay Ybounden" – but there are already at least half a dozen settings of the 15th-century text, one, possibly the most popular, by Ord. (It can sometimes feel as if all roads lead back to King's: Chilcott was the boy treble in "Pie Jesu" on Willcocks' 1967 recording of Fauré's Requiem, and his wife, Kate, is the daughter of Willcocks' successor, Philip Ledger.)
What is the attraction of going back again to this 20th-century text, the jaunty moral of which is that if it hadn't all gone pear- (or apple-) shaped in the Garden of Eden, there would be no Christmas?
"People are quite open to new settings of familiar words, and words from early texts are very strong and much loved," says Chilcott.
Enjoy unlimited access to 70 million ad-free songs and podcasts with Amazon Music Sign up now for a 30-day free trial
Sign up
"A few years ago I set a setting of 'In The Bleak Midwinter', because I had written a tune and found that those words fitted it. But it would be impossible to set, for example, 'O Come, All Ye Faithful' or 'Silent Night', which have such strong associations. Many early texts were broader in meaning, and could be sung at all times in the year. Only the later texts of the Germanic 19th-century influence are much more specifically about the Christmas story."
Chilcott is currently setting a carol called "My Perfect Stranger", with words by the poet Kevin Crossley-Holland, to be sung by the BBC Singers and Finchley Children's Choir in 2016.
"When a poet like Kevin is writing about something so well known, he has to come to it from a new angle. For most choirs, Christmas is the biggest time of the year: they get a big crowd. But amateurs and professionals alike are very open to new music. That's very good: people need a new take on things."
He compares our sense of ownership and cultural attachment to Christmas music with the respect and affection for the architecture of church buildings, even among those who are not religious.
With Willcocks gone, it is John Rutter, his mentee and regular collaborator and, like Chilcott, a prolific writer of accessible church music, who assumes the crown. He has just celebrated his 70th birthday, and his output of singable music is vast, with a remarkable capacity to conjure up smiles and tears.
Firm favourites, and with younger singers too, include "Donkey Carol" and "What Sweeter Music Can We Bring". His hectic Christmas schedule includes concerts at the Royal Albert Hall, Manchester's Bridgewater Hall and the Fairfield Halls, Croydon.
Matthew Morley, organist of St Bride's Church in London, today leads a day of singing with music largely by Rutter, The sing-in ends with a concert by the St Bride's Choir and Orchestra. Morley describes Rutter as "the musical equivalent of Charles Dickens – for both, it all took off with A Christmas Carol".
In Rutter's case, the carol was "The Shepherd's Pipe". That it was written when he was only 18 is a perfect example of why carols appeal to new and established composers, and to top performers as well as to those who can only sing three good notes: like the best family board games, they take a moment to learn, and a lifetime to master.
Christmas Concert, St Bride's Church, London, tonight at 6.30pm (stbrides.com)
Register for free to continue reading
Registration is a free and easy way to support our truly independent journalism
By registering, you will also enjoy limited access to Premium articles, exclusive newsletters, commenting, and virtual events with our leading journalists
Already have an account? sign in
Register for free to continue reading
Registration is a free and easy way to support our truly independent journalism
By registering, you will also enjoy limited access to Premium articles, exclusive newsletters, commenting, and virtual events with our leading journalists
Already have an account? sign in
Join our new commenting forum
Join thought-provoking conversations, follow other Independent readers and see their replies