One Direction songs ranked worst to best, from 'Perfect' to 'What Makes You Beautiful'
To mark 10 years since the record-breaking, world-dominating boyband formed on 'The X-Factor', Roisin O'Connor casts a critical eye over the 1D catalogue to see which songs have stood the test of time, and the ones that haven't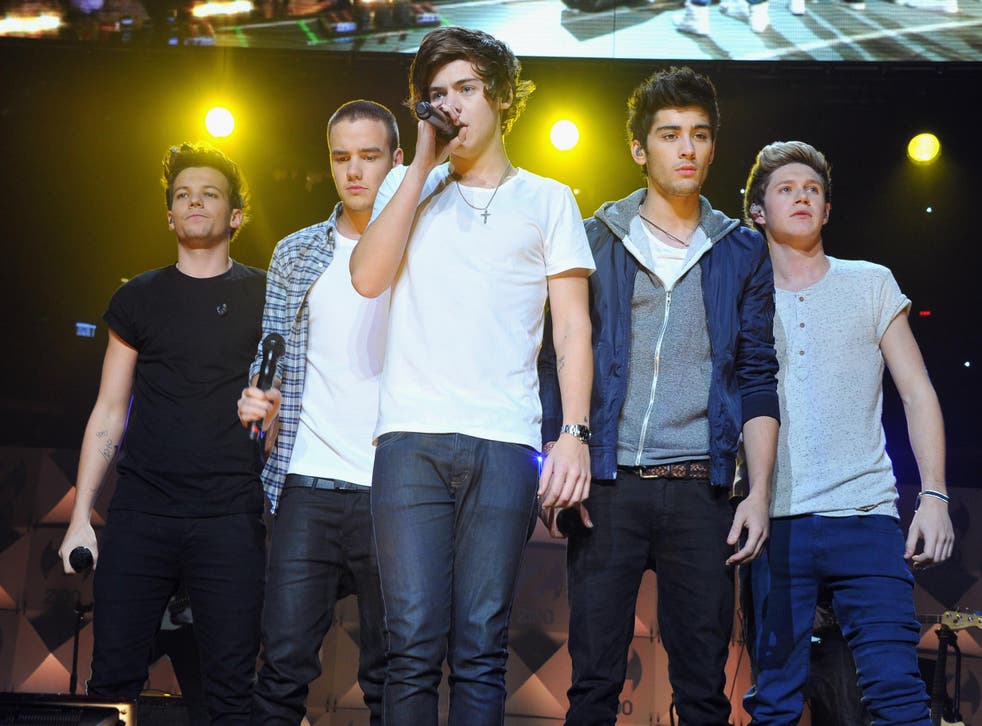 Ten years ago, five aspiring singers were grouped together by Simon Cowell to compete as a boyband on the then-popular reality show, The X-Factor. After initially auditioning as solo artists, Harry Styles, Niall Horan, Zayn Malik, Louis Tomlinson and Liam Payne became One Direction. While their potential for success was noted by many at the time, no one could have predicted the phenomenon they would become.
Over the course of five studio albums, "the boys" made music history on multiple occasions, smashing industry records previously set by The Beatles and achieving that rarest of feats: breaking America. They have sold 200 million records worldwide, and as recently as 2019, achieved 3.6 billion streams across Spotify, YouTube and other platforms. They won more than 200 awards, including seven Brits, four MTV Music Awards, seven AMAs and six Billboard Music Awards. Yet after five virtually non-stop years, it was clear that even these energetic young lads were beginning to run out of steam.
In March 2015, it was announced that Malik was quitting the group. "I wasn't 100 per cent behind the music. It wasn't me," he told Fader later that year. "It was music that was already given to us, and we were told this is what is going to sell to these people. As much as we were the biggest, most famous boyband in the world, it felt weird. We were told to be happy about something that we weren't happy about."
Just nine months later, the rest of the band announced they were going on an indefinite hiatus while they explored solo careers (a decision that had been discussed the previous year). These solo projects were met with various degrees of success – Styles and Horan are arguably the most successful of the five, with two No 1 albums apiece and a string of sold-out tours. Both have pursued a more classic rock sound inspired by artists such as The Beatles, Fleetwood Mac, Eagles and The Rolling Stones, in contrast to the pop leanings of Payne, Tomlinson's indie-rock and Malik's R&B and hip-hop influences.
This week, though, we're celebrating what the group achieved together, by ranking all of their 91 songs, worst to best. Many of One Direction's earliest cuts emulated the likes of Westlife, Boyzone, N*SYNC, McFly and Busted. Later down the line, each individual's tastes began to shine through certain songs, and they became more confident both as singers and as songwriters. Some songs still borrowed outrageously from the classics, but hey, imitation is the sincerest form of flattery, right?
Here's our ranking of One Direction songs:
91) "Na Na Na"
Plenty of One Direction songs are too irritating to sit through, but this one from their debut album, Up All Night, with its racing synth beats and mindless chorus, beats them all.
90) "Act My Age"
It wouldn't be surprising if this song from the band's fourth album, Four, was the final straw for Zayn Malik, who left shortly after the LP's release. Between the infuriatingly chirpy Celtic influences and a bizarre chorus that flirts with dub-step, it's a complete mess.
89) "Over Again"
Ed Sheeran's paws are all over this clunky ballad about wanting to get back together with an ex. Louis Tomlinson, the weakest singer of the group, is painfully off-key. And it's difficult to get past that first line: "Said I'd never leave her 'cause her hands fit like my T-shirt." Huh?
88) "Another World"
Just an awful, Nineties boyband rip-off from their debut. Bonus track? Hardly.
87) "Rock Me"
It's hard to take this song's refrain, and its heavy metal references, seriously when it's set to such a bland pop tune.
Enjoy unlimited access to 70 million ad-free songs and podcasts with Amazon Music Sign up now for a 30-day free trial
Sign up
86) "You & I"
The rock-influenced Midnight Memories saw One Direction become the first band in history to have their first three albums debut at the top of the US charts. "You & I" recalls some of Avril Lavigne's softer, acoustic guitar-driven ballads.
85) "Everything About You"
Another synth-based headache from the band's first album.
84) "Change My Mind"
Even the "Time After Time" melodies can't save this insipid ballad, nor the admittedly impressive falsettos.
83) "Stand Up"
"So put your hands up/ Cause it's a stand-up/ And I won't be leaving 'til I finish stealing every piece of your heart." I'm assuming they mean "stick-up"? Anyway, this song literally makes no sense.
82) "Save You Tonight"
I can take care of myself, thanks boys.
81) "Right Now"
A co-write between Ryan Tedder, Tomlinson, Styles and Payne, this is a merely passable attempt at a soaring anthem.
80) "More Than This"
Someone pass me the sick bucket. Or an East 17 CD.
79) "Midnight Memories"
The title track from the band's third album goes for a Rolling Stones "My Generation" vibe but ends up as more of a soggy mashup of "I Love Rock and Roll" and "Pour Some Sugar on Me".
78) "Stole My Heart"
Frankly, most of the songs on 1D's debut sound like the boys had too many sweets before going into the studio. The synths here are so saccharine, they might give you a toothache.
77) "End of the Day"
The Love Island cast said it better.
76) "Up All Night"
The title track from the band's debut is one of the least tedious, but it's not exactly a high bar.
75) "Still the One"
A track from Take Me Home that's so upbeat, it makes you dizzy.
74) "C'mon C'mon"
Also from Take Me Home, this features a similar beat with a marginally catchier chorus that sound a little like Shania Twain, who happens to have a song with the same title.
73) "I Wish"
A soppy but not unendurable song about unrequited love from their first album.
72) "No Control"
A surprisingly mature song born from a Tomlinson and Payne writing session, for their fourth album, Four (inspired, I know).
71) "Love You Goodbye"
Yawn. Some nice vocal work from Styles and Horan, though.
70) "Story of My Life"
This song is a noted fan favourite and one of the band's biggest hits – but I just can't get past the fact that the lyrics are virtually nonsensical: "She told me in the morning/ She don't feel the same about us in her bones/ It seems to me that when I die/ These words will be written on my stone." Nope.
69) "Wolves"
Really poor wolf impressions on this song.
68) "I Should Have Kissed You"
Yet another pounding, synth-driven track from their debut album, benefiting from some polish on the production but weakened by a bland chorus.
67) "Taken"
Another case of the band borrowing heavily from a famous song, in this case, the guitar motif, structure and vocal melodies from Tom Petty's "Free Fallin".
66) "Gotta Be You"
Nice vocal work, bland instrumentation.
65) "Half a Heart"
Steve Robson helped mastermind No 1 albums for boybands including Westlife, Blue and Take That. He recreated that success for One Direction's album Midnight Memories, which shows a more refined approach to their previously clumsy songwriting – this is probably one of the weakest songs on the album.
64) "Moments"
A moment of quiet among the more hyper tracks from Up All Night allows the boys to push themselves vocally.
63) "Illusion"
Some of the band's best harmonies transpire in this soaring track from Four.
62) "AM"
Apparently, this song was written while the boys were being driven around London in a black cab. I'm not sure what this adds to the song, but it's decent enough.
61) "I Want To Write You a Song"
Just bloody get on with it, then! (Lovely Beatles "Blackbird" guitar, very trite lyrics.)
60) "Something Great"
A fruitful collaboration between Styles, Jacknife Lee and Gary Lightbody.
59) "Alive"
The band went full-on rock with this one, and it alost works. The harmonies are great, and the whole song has a slick, Eighties feel. Shame they lift too heavily from the chorus of the superior "Keep On Movin'", by boyband Five.
58) "Back For You"
A catchy and upbeat pop jam reminiscent of Busted or McFly in their heyday.
57) "Ready to Run"
Soaring, anthemic, and perfect for those stadium shows.
56) "One Way or Another (Blondie cover)
Not terrible, but it obviously doesn't come anywhere near the original.
55) "Home"
Sadly dumped on an EP, when it would have slotted in nicely on Made in the AM, or could even have replaced a song.
54) "Little Black Dress"
An perfectly satisfactory Eighties style power-rock number taking cues from the likes of Bruce Springsteen.
53) "Don't Forget Where You Belong"
Another yawn fest about remembering you're not alone.
52) "I Want"
A surprising touch of baroque pop (with some Queen guitar references for good measure) in the vein of Panic! At the Disco, and one of the best songs from 1D's debut album.
51) "Loved You First"
This bonus track from Take Me Home emulates Journey in its big, euphoric chorus – perfect for driving with the top down.
50) "Clouds"
This rousing track from Four was a great choice to close the standard edition of Four with. "Will it ever end?" they sang. If only they'd known.
49) "Strong"
Another song where the band struggle to pull off some clumsy metaphors, albeit with some lovely vocals from Styles.
48) "Irresistible"
This track isn't even available on Spotify – it's a bonus track from the Target edition of Take Me Home – but it's a great (rare) early example of the band's knack for a great harmony.
47) "Where Do Broken Hearts Go"
Performed by Horan, the melody on the intro borrows outrageously from Bruce Springsteen's rousing "Dancing in the Dark", which perhaps explains why it's so damn catchy.
46) "Fool's Gold"
Simple yet effective.
45) "Walking in the Wind"
It's been noted before, but yes, Paul Simon deserves a credit for this.
44) "Same Mistakes"
Like "Moments", this is a chance to have a rest after all the hopped-up energy of the other songs on Up All Night.
43) "Best Song Ever"
Another, possibly controversial ranking. If they'd called it "Most Annoying Song Ever", maybe it would make it closer to the top 10 for sheer honesty.
42) "Long Way Down"
Some not-awful songwriting is the result of another Tomlinson/Payne collaboration, with additional help from songwriters Julian Bunetta, Jamie Scott and John Ryan.
41) "Last First Kiss"
One of the band's better anthems about love that goes the distance.
40) "Temporary Fix"
The band dipped their toe into Strokes-era indie-rock with this rousing number.
39) "Spaces"
A spookily prescient song that (in hindsight) appears to have predicted Malik would be the first one to walk away.
38) "History"
This Randy Newman-inspired number is cheesy and trite as hell, but you'll probably find yourself singing along to the chorus.
37) "Diana"
Not a Michael Jackson cover, but a driving Eighties-inspired song that makes you want to move. We'll thank a heavy dose of Don Henley's "Boys of Summer" for that.
36) "Nobody Compares"
Get past the clunky intro and you'll be rewarded with the very catchy chorus.
35) "Better Than Words"
This song is literally just the titles of other songs. Zero marks for originality, full marks for cheek. The band's pal and regular songwriting partner Ed Sheeran repeated this trick years later with Annie-Marie for "2002".
34) "18"
Speaking of Sheeran, this is one of the least awful co-writes he did with the band, starring one of Tomlinson's best vocal efforts.
33) "Little Things"
It's him, AGAIN. Ed Sheeran practically invented the genre of "insipid ballad that involves listing the things your partner hates about themselves and telling them, 'actually babe, that's what I love about you'". Kudos for actually managing to make this list of physical flaws sound like it was written by an actual serial killer, though.
32) "Happily"
Folk influences redolent of The Lumineers give this track from Midnight Memories a spirited, uplifting feel.
31) "If I Could Fly"
I'm not sure why this wasn't an album track, instead relegated to the Perfect EP. It's a very early example of Styles nailing the sentimental piano ballad.
30) "Infinity"
Another Styles offering, this has scored pretty low in other 1D rankings, but I'm a fan. It's simple but effective, reminiscent of some of Take That's later hits.
29) "Magic"
Classic bubblegum pop in the form of a bonus track from Take Me Home.
28) "Little White Lies"
While the lyrics to this song are unfortunately similar to the now-controversial "Baby It's Cold Outside", it's impressive for the propulsive drums and the band's attempt at a dub-step track.
27) "Heart Attack"
A high point from (arguably) their best album, "Heart Attack" is unapologetically pop, and I love it.
26) "Girl Almighty"
A sweetly sincere tribute to women, perhaps in particular the band's female fans, and without any ulterior motive.
25) "Truly, Madly, Deeply"
A subtle yet great bonus track from Take Me Home.
24) "Why Don't We Go There"
A slice of summer in amongst the rock stylings of Midnight Memories.
23) "Tell Me a Lie"
Kelly Clarkson handed this one over to the boys after deciding she didn't want to record it herself. It's not a patch on "Since U Been Gone", but it'll do.
22) "Does He Know?"
Essentially the sequel to Rick Springfield's Eighties hit "Jessie's Girl" (complete with that signature guitar riff), in which the narrators continue to sing the praises of the girl they know they can't have.
21) "Hey Angel"
Robbie Williams, is that you? This epic-sounding track is straight out of the former Take That star's Nineties-dominating songbook.
20) "She's Not Afraid"
Another one that seems to find little favour in 1D song rankings, but is a complete bop. There's a touch of Blondie's "One Way Or Another" about it, too, which is never a bad thing.
19) "Through the Dark"
One of the best guitar ballads in the 1D canon.
18) "What Makes You Beautiful"
It's hard to deny how catchy the band's debut single still is, or the effectiveness of the wholesome image conveyed by such sweetly innocent lyrics. Kudos, too, for the "Summer Nights"/Grease references.
17) "Night Changes"
Zayn Malik gazing into your eyes over a glass of wine (in the music video). Enough said.
16) "Stockholm Syndrome"
The lilting melodies in this recall Tears for Fears' "Everybody Wants to Rule the World", while the propulsive drum rhythms and driving guitars add to the Eighties rock feel.
15) "Once in a Lifetime"
Styles's classic rock influences are all over this dreamy, sun-drenched song, prescient of his later solo work on tracks such as "Lights Up" and "Watermelon Sugar".
14) "Live While We're Young"
The overall tone of this track is so upbeat, you'd be forgiven for missing the blatant Clash "Should I Stay Or Should I Go" guitar licks in the intro, especially during the sunny "Waka Waka" guitar later on.
13) "Never Enough"
Horan's fantastic instinct for a good groove comes into play on this major curveball in the band's catalogue. A similar sound crops up on his latest solo album, Heartbreak Weather.
12) "I Would"
A bit of silliness never hurt anyone, and the self-deprecation on this track is quite endearing.
11) "Olivia"
The band's most successful attempt at channelling The Beatles featured on Made in the AM, and emulates the Fab Four's habit of creating their own characters to address a universal feeling. Extra points for Styles and his Willy Wonka references.
10) "Steal My Girl"
Of course, we all know that you can't "steal" someone from another person, just as people don't "belong" to other people. But dammit if this isn't the most rousing, show-stopping track the band have ever produced.
9) "Change Your Ticket"
Is that a 1975 influence I hear? This song from Four arrived a year after the release of the Mancunian band's debut album, and appears heavily inspired by frontman Matty Healy's penchant for an Eighties pop guitar twang.
8) "Kiss You"
Just pure, unadulterated fun.
7) "Fireproof"
It's a shock to be reminded that Tomlinson and Payne were behind this song (plus co-writers), not Fleetwood Mac megafans Styles and Horan. But maybe they had more to do with that "Dreams" bassline that makes the song what it is. Horan couldn't help using it for "On the Loose", the opening track on his debut solo album, Flicker.
6) "Drag Me Down"
Ignoring the awkwardness of Styles trying desperately to rhyme "soul" with "boat" in the first verse, this is a straight-up banger that references The Police with its electric twang and reggae elements.
5) "One Thing"
The best song from 1D's debut album is like a peppier version of "I Want It That Way" by Backstreet Boys.
4) "What a Feeling"
There's that Fleetwood Mac bassline again! Another Payne/Tomlinson co-write, this song captures the heady rush of young love and shows the band still had plenty to offer, even in the absence of Malik.
3) "They Don't Know About Us"
A defiant song that has 1D paying proper tribute to all the great boybands who came before them. Malik's vocal performance here is particularly impressive, but each member gives the track their all.
2) "Perfect"
Harry Styles gets top marks for sheer audacity with this blatant riff on a classic song by his ex-girlfriend, Taylor Swift. He references knights in shining armour and a person "looking for someone to write your breakup songs about". Meanwhile that driving, synth-pop backing track is a dead ringer for "Style" – Swift's song widely believed to have been written about Styles himself (if the title wasn't enough of a clue).
1) "Summer Love"
Perhaps not the most obvious choice for number one, this enormously underrated track from Take Me Home has a title that belies its disarmingly mature approach, from the lyrics to the romantic production filled with sweeping violins and tender guitars. It doesn't really fit at the end of the album; on its own, it's an impressive and rather moving pop ballad with some of the band's best vocal work, including those superb harmonies on the chorus. The band's most favoured themes – nostalgia, bittersweet memories, young love, friendship – are all present and correct. All five members are credited with writing "Summer Love" – a surprisingly rare instance across their discography – and it feels fitting that one of their most truly collaborative efforts should turn out to be their best.
Register for free to continue reading
Registration is a free and easy way to support our truly independent journalism
By registering, you will also enjoy limited access to Premium articles, exclusive newsletters, commenting, and virtual events with our leading journalists
Already have an account? sign in
Register for free to continue reading
Registration is a free and easy way to support our truly independent journalism
By registering, you will also enjoy limited access to Premium articles, exclusive newsletters, commenting, and virtual events with our leading journalists
Already have an account? sign in
Join our new commenting forum
Join thought-provoking conversations, follow other Independent readers and see their replies