Only Echoes Remain – The Exigent: Exclusive Album Stream
London-based post rock quartet stream their debut album The Exigent, a deeply personal concept record, 5 days before its official release exclusively with The Independent
Remfry Dedman
Monday 12 June 2017 11:05 Comments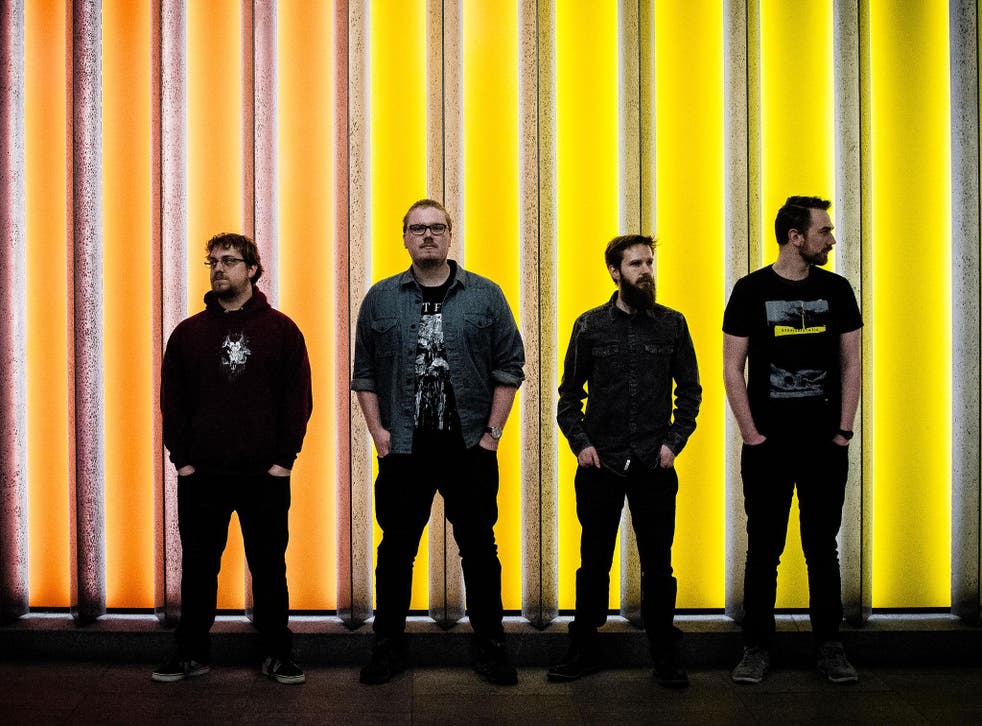 Formed at the beginning of 2016, London-based instrumental quartet Only Echoes Remain have managed to turn around their debut album in the space of just 18 months. By turns, epic, sweeping and elegiac, The Exigent takes the expansive panoramas of This Will Destroy You and moulds them to the cinematic scope of Maybeshewill to create an exciting momentous 43-minute exploration into the unknown. A deeply personal conceptual narrative weaves its way through the record, propelling the music to a cataclysmic finale that leaves as many questions open as answered. The Exigent is available to pre-order now before its official release on Friday 16th June, but you can hear the record in full 4 days before its official release below.
As a child, Only Echoes Remain guitarist Arran Oakes would rifle through his father's record collection where he discovered an early kinship with Genesis, Peter Gabriel, King Crimson, Pink Floyd and Led Zeppelin (in particular, Zep's sprawling double-disc idiosyncratic masterpiece Physical Grafitti). This tentative dip into prog's murky depths, with it's imaginative story-telling and uncontemporary song structures, gave the young Oakes a natural affinity towards movie soundtracks (he lists Thomas Newman, Hans Zimmer, James Horner and Philip Glass as amongst his favourites). He admits to sometimes directing a scene in his head when listening to music, a tangible link between audio and visual in his mind, even going as far as saying he 'views' music sometimes. It seems unsurprising then that The Exigent, the culmination of his years of emersion in soundtracks and contemporary avant-garde alike, feels deeply cinematic. Through his formative music years, his love for film scores intermingled with prog, although it took time for him to connect the dots between his own music tastes and the fusty box of wax that constituted his father's record collection.
"As I got older, Radiohead and Sigur Rós were the ones that I really started listening to a lot" he says "I was quite mainstream growing up, so Radiohead were the most experimental I got for a long time; they were my introduction to time signatures that weren't in 4/4, in contemporary music at least. Even though I'd grown up with a lot of prog, I kinda put that in a mental box and never really expected to hear it outside of that self-imposed 'prog box'. I thought that type of music was of a specific time and place, but then I heard Radiohead and I realised that it's actually something that's still very much going on. After that I started noticing it more often, and began to layer these ideas over a lot of the film composition that I love, which clearly had an effect on the music I would write."
A combination of film score and contemporary prog could almost act as a pretty neat definition of post rock, although bar Sigur Rós, Oakes was naïve to the fact that an entire genre already existed that essentially combined the two. It was the summer of 2013 that opened his eyes, when he was asked to manage one of the stages of a brand new festival operating in Bristol that was to focus on a nascent underground culture of avant-garde, experimental music. "When the concept of ArcTanGent was explained to me and I was asked to work that first year, I was very happy to help, even though I didn't really know what it was" Oakes admits. "It was watching the bands at ArcTanGent that made me realise that there's this enormous underground international scene for leftfield music. I hadn't known what to look for; no-one had ever said the words 'post-rock' to me before. Seeing that level of musical creativity and experimentation at ArcTanGent was definitely what inspired me to finally get a band together to play some of the music that had been in my head all these years."
He was particularly struck by the likes of 65DaysofStatic, Three Trapped Tigers, Nordic Giants and Maybeshewill, four bands who were making huge sweeping grand musical statements in their very own individualistic manner, although really, it was the scene as a whole that lured him in. "It was the entire atmosphere that got me, you're just so overwhelmed with this interesting, experimental, relatively avant-garde music, some of which is going to be way abstract and inaccessible but other parts are going to be inspiring by their very nature. It was about watching people push the boundaries a little bit and I recognised that this music, in the truest sense of the word, is the progressive rock of today! Realising that was almost like two synapses of my brain firing and linking."
Oakes does single out one festival set that acted as the gateway into more complex patterns and musical intricacies. "One of the first experiences I had that opened my mind to this music was seeing Tall Ships play at 2000Trees. The Chemistry EP and their Everything Touching album are just phenomenal records. They were doing interesting things that really intrigued me; the way they were marrying anthemic hooks with loops gave me the bug to try experimenting with those sorts of things again. They were one of the main reasons why I was so quick to say yes when ArcTanGent was being put together, because I knew that they were booked to play and their set did end up being one of the most memorable gig experiences I've ever had. The emotion in that packed tent was almost a tangible thing that you could touch!"
Emotional threads are rarely the sort of thing that spring to mind when one thinks of complex music (many mistakenly believing that in order to have technicality, you must sacrifice the humanity) but it's clearly a vitally important ingredient for Oakes. "I believe in writing honestly, and from the heart. When you write from the heart it's impossible not to leave a piece of yourself in the music, and I think it's this that gives truly emotive music it's feeling – and its authenticity."
With a few notable exceptions, a large part of The Exigent had its genesis in demos Oakes worked on himself over varying timeframes, with some passages, melodies and refrains having come from snippets of music written throughout his life. He coyly admits that the story is at least in part a metaphorical account of very personal circumstances in his life; while he won't be drawn on specifics, he does give an insight into how long some of these ideas have been floating around in his head. "This record is very personal for me" says Oakes "There are parts I can trace back to specific times in my life – for example, the piano motif in Prelude (We Must Move Forwards) and Interlude (No Turning Back) is something that I had a recording of on a Dictaphone which I found in the back of my wardrobe at home. I probably originally played that in the assembly hall of my school when I was about 15, and I've been playing various versions of it ever since, it never really left my head. It was from this motif that the grand concept started to form for the record, and it impacted on the way I fleshed out the more recent ideas I was working on and started to bring them together. Luckily, when I explained the idea of this concept to the rest of the band, this big picture narrative linking all these demos and song fragments that we'd been jamming, they really loved it and got right on board."
While the beginnings of the album may have come from these early demos, Oakes is quick to point out how they developed further once the rest of the band became involved. "We went into the studio with 5 core songs which the record is structured around. Dawn, Distant Echoes, Descent Impact and Of Stone and Stars were from the demos that I originally brought to the band in various stages of completion, but they really morphed and evolved with the influences of the other guys as we practised them. We also were able to play them live a reasonable amount, and they progressed further still on the road. Aurora, the fifth core song, had the most collaborative approach, being the last one we wrote before going into the studio. I think it's our best song at the moment – it really is greater than the sum of its parts, thanks to being a combination of ideas from everyone in the band."
Enjoy unlimited access to 70 million ad-free songs and podcasts with Amazon Music Sign up now for a 30-day free trial
Sign up
Whilst the band's plan was simply to work on a shorter 'concept EP' to introduce themselves to the world at large, it quickly became apparent that things were expanding in the studio far beyond what they'd imagined and that the band had a full-length album on their hands. The story became more front-and-centre, evolving from an emotional, personal thematic link between demos into a full narrative, telling the story of a lone space traveller wrestling with the gravity of his mission, the people he's left behind, the true awe of the universe and the ever-constant danger he faces. "The protagonist is in a constant internal emotional conflict during his journey. He's momentarily distracted by very practical real dangers but it always comes back to a mantra of fear, awe, wonder, isolation and adventure."
Lining a narrative arc through music is certainly in keeping with Oakes' love for the movies and their accompanying soundtracks. Naturally, he has a whole series of ideas that involve interlinking audio and visual for Only Echoes Remain, (he says he'd love to do an animated short movie with The Exigent as the soundtrack if he found the right animator to work with, although he admits he is constrained because it takes a lot of time). But he's most excited about where the band will go in future now having settled into their collaborative, creative dynamic.
"It's only been very recently, with The Exigent finished, that we've been able to start thinking about writing new material and it's very exciting, because that collaborative dynamic will be there from the off. That's what's got me most excited for the future of the band. For now though, we've really poured all our hearts and souls into this record and are enormously proud of it. It has been a deeply profound experience for me, being able to finally put some of the musical fragments I've had floating around my head my whole life not only into some semblance of order, but to also bring it all together in such an amazing way on this album. I'm incredibly lucky to have found a group of musicians who are not only incredibly talented, but have been so supportive of my original vision for this record and taken it to heights I couldn't have even dreamed of on my own. Making this record almost feels like a kind of cathartic closure for a lot of things in my life – and now I can't wait to begin a new musical, and personal, journey with these amazing people."
The Exigent, the debut record from Only Echoes Remain, is released digitally and on CD on Friday 16th June
Register for free to continue reading
Registration is a free and easy way to support our truly independent journalism
By registering, you will also enjoy limited access to Premium articles, exclusive newsletters, commenting, and virtual events with our leading journalists
Already have an account? sign in
Join our new commenting forum
Join thought-provoking conversations, follow other Independent readers and see their replies