Paolo Nutini interview: There's a guy works down the chip shop...
With his third album going straight in at No 1, the Scottish soul-man's journey from the family takeaway in Paisley to superstar status is complete
James McNair
Thursday 05 June 2014 15:18 Comments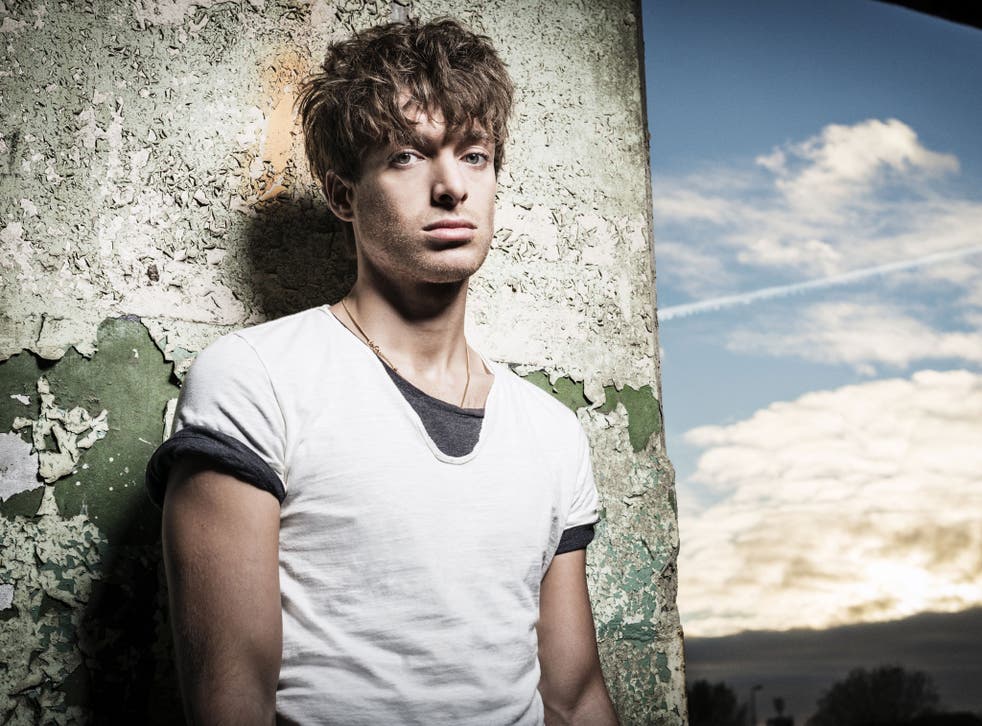 "A lot of people have been very dismissive of me," says Paolo Nutini. "I'm hardly the darling of the NME. It used to get me down a bit but you reach a point where you can laugh it off."
If Nutini is no longer fazed by his detractors, it's unsurprising. The 27-year-old singer's current release Caustic Love debuted at No 1 in the UK back in April, and is 2014's fastest-selling album thus far. His previous LP, 2009's effervescent, daringly eclectic Sunny Side Up, also topped the charts.
Nutini has the people's vote, then, but his fellow musicians clearly "get" him too. He has sung on-stage with The Rolling Stones, recorded as-yet-unreleased material with his hero Ben E King, and on Caustic Love's "Fashion", he shares a microphone with one of 2014's most enigmatic A-listers, Janelle Monáe ("she wiped the floor with me," he says).
When Nutini signed to Atlantic Records back in 2005, he also won generous praise from Ahmet Ertegun, and the late, charismatic founder of the said label quickly became his mentor. Tellingly, Ertegun saw Nutini as an old head on young shoulders; a kid hearteningly, manifestly in touch with the legacy of Atlantic/Stax artists such as The Drifters and Otis Redding.
Today, Nutini and I have met in Dublin. All stylishly unkempt hair, skinny jeans and bottle-green designer shoes, he's possessed of the sort of good looks you might mistakenly think were the primary cause of his success. You soon realise that he hasn't taken his charmed career for granted – and this largely because it could all have been so different.
Growing up in a Scots-Italian family in insalubrious Paisley, the singer at first seemed fated for the family fish-and-chip business, a long-standing concern first established when his paternal great-grandparents emigrated from Barga, Tuscany in the early 1900s.
"It was grey, but Santa always came," says Nutini of his modest Paisley upbringing in the 1980s. "My parents worked very hard for me and my sister. I think we were quite ignorant about la dolce vita, what life might have been like in Italy. I remember I wanted to be Zorro, but I also wanted to be a Teenage Mutant Ninja Turtle. I obviously had ideas above my station."
Re his musical development, Nutini says his nonno – his piano-playing Italian grandfather, Jackie – was key, and Paolo's trademark on-stage tic of singing with his eyes closed comes from him. "One of my biggest sadnesses is that my nonno never got to see me sing before he passed," adds Nutini of the beloved relative who would play him records by Enrico Caruso, The Drifters, Fats Domino and Scots folk duo The Corries.
"My dad told me that I was probably closer to my nonno than he was. I think Jackie was quite strict with him." Nutini studied at St Andrews Academy in Paisley. He says he became known as "that guy who sings" after tackling "something really cheesy; I think it was [Eric Clapton's] 'Wonderful Tonight'," at a school talent show. He'd previously felt invisible to girls, but now they wanted to date him.
Enjoy unlimited access to 70 million ad-free songs and podcasts with Amazon Music Sign up now for a 30-day free trial
Sign up
Having recorded a couple of his early songs with the assistance of his school music teacher, Nutini, then 16, started demo-ing songs at Glasgow's Park Lane studios, writing with Jim Duguid, the drummer of local pop-rock band Speedway. Paolo says he would often run into his fellow Scots-Italians Giuliano and Dante Gizzi of the hard-rock band Gun. "I was always the youngest and for a wee while I was the fall guy. That all changed when I got up the ladder a bit."
It was in 2003, at a homecoming reception Paisley held for Fame Academy winner David Sneddon, that Nutini was first talent-spotted. Sneddon was late, and Paolo leapt up on stage to assuage the crowd with an impromptu rendition of an Elton John song (some say it was "Candle in the Wind", but the curtains of discretion have long since been drawn). Also present that day was Brendan Moon, then head of radio promotion at Mercury Records. Moon went on to co-manage Nutini, and the singer later joked that he owed his fame to reality TV. Alas, the quip helped spark lazy and misguided assumptions that he was an evanescent pop-puppet; the kind of cannon-fodder regularly fuelling shows such as The X Factor and Pop Idol.
In truth Nutini is and always was a gifted singer-songwriter and a non-conformist. But when he was making his 2006 debut These Streets, largely comprised of songs he wrote while still at school, he was still a tad damp behind the lugs.
"When I got my first publishing deal I felt some responsibility to try to write with the people that they were asking me to write with," he says. "I hadn't mastered the art of saying 'no', they way I have now, which is important. I'd have an idea and someone would go: 'Okay – that's a co-write. You wrote it on my time in my studio.' Back then I would bite my tongue. These people had really high-powered lawyers."
After the unmitigated success of Sunny Side Up – an album Nutini opted to self-produce with engineer Dani Castelar after one "name" producer they'd approached deemed Paolo's music "not quite my demographic" – the singer was well-placed to call the shots on Caustic Love.
Online, you can find forecasts of the album's imminent arrival from three years ago, and though we'll probably never know the full story, it's clear that Nutini tested Atlantic's nerves and patience, writing many songs in many different styles, then finally settling on an eclectic-enough set that's broadly loyal to his classic-soul roots.
"There's was a song a bit like 'Everybody's Happy Nowadays' by The Buzzcocks," he says of the material that never made the cut. "I was also listening to a lot of Richard Hell and the Voidoids, a lot of Squeeze. If you could hear all the different musical threads and where they got us to, you'd see that the experiments weren't as mad as they might sound."
Of the songs that did emerge, meanwhile, two that are key are the fine, old-school soul nugget "Looking For Something", which Nutini has dedicated to his mother, Linda, and the politicised, Marvin-Gaye-goes-Portishead-like "Iron Sky", which samples the closing speech from Charlie Chaplin's classic 1940 film The Great Dictator.
"The world throws up new meanings for that one every day," says Nutini of the latter song, "but it's mainly that man-versus-machine thing. You know: you go into WH Smith these days and they steer you to the electronic checkout. I always think: 'Why so calm?' Don't you realise that thing that doesn't have a family to feed is going to have your job?"
Elsewhere, on the self-critical Caustic Love song "Numpty", Nutini grapples with relationship issues , singing, "all of the talk about the ring and the baby gets me every time". He says he would love to get married and have children when "he can build the right foundations", however. The singer has been guarded about his private life since his well documented on/off relationship with childhood sweetheart Teri Brogan finally ended, but he was recently spotted out and about with Irish MTV presenter Laura Whitmore.
Nutini still keeps a house in his native Paisley, but says that "it does get quite intense" if he tries to have a night out there these days. His fame has other ramifications too. He says "some cheeky bastard" has opened a copycat fish-and-chip shop just up the road from that of his father, even using the same eponymous business name, Alfredo's.
Did Paolo do shifts in the family chippy as a teenager?
"Oh aye," he says. "Though my dad would probably say I just stood around, checking my hair in the mirror," he laughs. "But that was when I got a real sense of respect for what my father had sacrificed for us. There could be trouble after the pubs came out, and he worked very long hours. Christ, you'd never even catch him buying himself a shirt...
"Now I try to treat my mum Linda and him," adds the singer. "Anything that's good about me is down to them. When we played the Hard Rock Hotel in Vegas I took them along, and all these beautiful, golden-haired women were sunning themselves by the pool. My dad was like, [furtively] 'I'm just off for a wee swim, Linda...'."
By Nutini's account, his parents have enjoyed mixing with the great and the good as much as he has. Still, there's a reason why Linda is on first-name terms with Chic's Nile Rodgers. "When I supported Led Zeppelin at the O2 [in 2007], Nile was at the after-show," explains Nutini. "The security guys were trying to usher him to the back of the queue, and my mum went: 'Do you know who this man is? He will not be going to the back of any queue!'
"I saw Nile at a showcase in Miami recently, and he was immediately like, 'how's Linda?' At the O2, they were up dancing together."
In the best Italian tradition, family is clearly paramount to Nutini. And it's a primarily a fresh realisation of this, he maintains, rather than any "difficult third album" shenanigans, that explains the five-year gap between Sunny Side Up and Caustic Love.
"My phone was off for most of that time," he says. "I wanted to be around for the people that mattered to me; for my family and my mates, the people who have always been around for me. That's what I have to nurture – never mind a career." Still, Nutini is also honest enough to admit that, for him at least, even tenancy at an imprint as prestigious as Atlantic can have challenges.
"There seems to be an awful lot of ceremony attached to every release," says the singer, "so I'm not led to believe it would be okay for me to throw out EPs of diverse material all the time the way I'd like to.
"That's gonna be the case for another two albums, but after that I want to put out new stuff while I'm still into it and feel like I can drive it."
'Caustic Love' is out now. Paolo Nutini's new single, "Let Me Down Easy", is out on 16 June. He plays Glastonbury Festival on 27 June
Register for free to continue reading
Registration is a free and easy way to support our truly independent journalism
By registering, you will also enjoy limited access to Premium articles, exclusive newsletters, commenting, and virtual events with our leading journalists
Already have an account? sign in
Join our new commenting forum
Join thought-provoking conversations, follow other Independent readers and see their replies