Passion Pit's Michael Angelakos on speaking out on mental health: 'People just want me to shut up and make music'
Singer on struggles with trauma, touring and how he's trying to change an industry that doesn't seem to care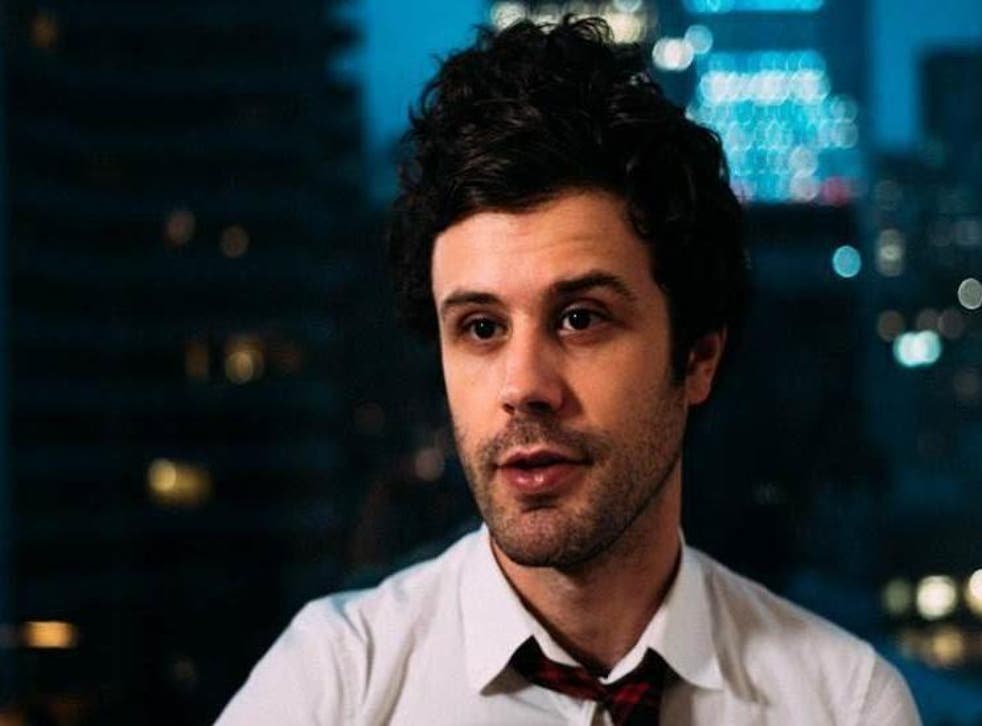 Passion Pit's Michael Angelakos is perhaps the most candid of artists when it comes to mental health. At 18, he was diagnosed with bipolar disorder – something fans were privy to three years after his debut album Manners. In 2012, Angelakos needed to take time off from touring to focus on getting healthier, stepping away from promoting his album Gossamer. That was the first time he really spoke out about what he had been dealing with for years: the reality of being hospitalised, his multiple suicide attempts and the PTSD he faced from childhood. After experiencing the challenges of bipolar disorder that bled into being a touring artist, Angelakos sought to use his platform not just for music, but to make the music industry a better, healthier place for artists.
By 2015, Angelakos released his third studio album Kindred, came out as bisexual and announced his separation from his wife and best friend Kristy Mucci. Since then, Angelakos has put out two records, but most significantly, he's been trying to get better himself and dedicate his time to making changes in the music industry when it comes to mental health. He's been doing this with his company The Wishart Group, alongside co-founder Bianca Campuued and neuroscientists Michael Wells and David Haggerty: a part nonprofit and part for-profit organisation dedicated to bringing mental health programmes, services and clear solutions to the arts.
On Tuesday, Angelakos began his first tour in over two years to promote his latest record Tremendous Sea of Love, but more importantly to work on creating a system for touring that helps protect the artist – something he'll be gathering through data.
Before going out on the road, Angelakos filled us in on losing everything, the difficulties of touring and how The Wishart Group is trying to make the world a better place in 2018.
You've had a lot going on in 2017. Tell me about your year.
I suppose that I began 2017 speedily. I was a bit high from doing something that I simply wanted to do – developing a world or, maybe more specifically where I could more safely develop projects like [holiday-themed video album] Merry Christmas, Mr Fields, which in more ways than one, was one large stretch of the imagination. It was a stretch to believe that anything as layered and comprehensive as that was just going to hit the ground running.
The project became a bit of shell for what was first wishful thinking and then eventually was easily one of the most difficult, strangest, and scariest undertakings of my life. That's because in many ways I had been a bit reckless with the spending and budgeting for the project. At a certain point, when the project had become my life, that recklessness in regards to spending and budgeting was not just about the project, but my life. But the problem was that I had a hard time identifying that it was technically a problem because it was such a project from my heart; it was a project that helped me confront a lot of the problems in my life, from childhood trauma to issues with my artistic values as I was going to turn 30.
How did you find out the creative output that was successful, was at the same time "a problem"?
Merry Christmas, Mr. Fields was a record that felt like a medicine but was really a product of something else, and the same goes for Tremendous Sea of Love. In early 2017, I was going on my third year of being manic. I wasn't fully aware of it, and I was also able to manage it at times, which deceptively made me feel as though I had it totally under control. But like most people who are manic, you kind of never want to turn it off, or you feel like if you turn it off you're going to lose everything in your head or something.
I had been oscillating between hypomanic and manic for quite some time. I had a depressive period around the time my grandmother died in April of 2017, which gutted me. It was bumpy up until I decided to release Tremendous Sea of Love on streaming services, which was when I resumed to a mostly manic state. It ruined a lot. I was scared a lot of times when I was able to be relatively self-reflexive. A few weeks ago, my former wife finally intervened and helped me to the hospital where I stayed for a little over a week. I received electro-convulsive therapy, which I've obviously done several times before [namely before Gossamer].
It was humiliating, and I realised I had really made a mess of my personal life and a lot of other things while trying to take on really ambitious and near impossible goals. I was getting to the point where I felt like no one understood me, that advocating for my mental illness actually only made my life harder and made people more afraid to trust me and made it harder for them to help me. The truth is that no matter what anyone says about me, I can tell where I was in an episode based on what someone could be saying. It's sad, it's lonely, even when people are around you or willing to help. You feel like a disease, you don't want your problems to bleed into other people's lives.
Enjoy unlimited access to 70 million ad-free songs and podcasts with Amazon Music Sign up now for a 30-day free trial
Sign up
This is all just the nightmare going on in my head as I was trying to repair relationships, trying to find a more stable and satisfying line of work that didn't make me feel so dissatisfied. After Kindred, the industry seemed to not necessarily be the safest place for me. But I have great friends, and Kristy went through all of it with me during my twenties. It's especially hard for people like her, and it's harder when they see that I was only trying to do good things, to take steps in a better direction, but I just was sick and I needed help.
I was surprised to hear you were touring again.
I got back on my medication, but I didn't know if I could do the tour. It's against the medical advice of nearly every doctor, but if I'm to be perfectly frank, years of touring in my life has been against the advice of many doctors, psychiatric or not. I didn't want to cancel. I didn't want to let anyone down. And in a way, this is not nearly as hard of a test as other things have been this past year. I just hope one day I can stop allowing history to repeat itself – doing psychiatric treatments and then jumping on the road is no small feat. I'm proud of myself but, I should say I'm extraordinarily grateful to Kristy, my best friends and band who made this possible at all, and to anyone that comes to these shows. I don't know if I'll be able to tour like this again. Shows, sure, but things will have to change to really tour again, and so we're working on that.
You've said in the past that you don't enjoy touring. So why do this tour?
I may have worded that the wrong way, because touring has the potential to be fun. It's just that Passion Pit shows are actually really complicated, and if you're then to add the layer of health issues, I think it's fair to say that I've spent the majority of my life touring despite my health. There has never really been much of a system or a fail-safe approach to making tour a healthy option, especially in this current climate where it's virtually the only way the majority of artists make their money, me in particular.
I've decided to do this tour to because there is an opportunity to get together with some of my favourite people I've ever played music with, surely. But mostly I decided to do it because I need money to be able to afford my treatments, to be able to afford the myriad costs of living with my disorder that have nearly ruined me. That doesn't make the tour less sweet, but I am not going to lie and say that tour is necessarily where someone like me belongs right after a hospitalisation. It wasn't in 2012, and it isn't now. But after years of doing it, I figured that if I were going to do this tour then I'd get the most out of it that I could, as in I'd use the tour as a way to push a few of the pilot projects for Wishart.
What do you plan to achieve with this new tour? There seems to be a higher purpose to it.
Well, we certainly plan on putting on a good show and begin premiering Tremendous Sea of Love material. But if I am to have a future in touring in any capacity, we need to use this tour to actually create a safer environment for touring, and that requires doing a bit of research. The band and I are working with Wishart to begin collecting data and developing a system to accurately grade touring environments, stressors, pre-existing and tour-specific conditions for a pilot project that, upon completion of the tour, we intend to bring to academic partners. The only reason there aren't really any checks and balances in the music world is because there's no one really willing to accurately collect the data required to develop them in the first place. This is one of the few things we'll be doing while also hopefully just having a good time together and with our fans each night.
There's been some silence on the Wishart front. What have you been working on with regards to the company?
I must admit that the interest in Wishart was a lot at first. Many people reached out to me on social media, as well as my colleagues in different ways. When it began a little over a year ago, when we announced the opening of the fund, I had done next to no real preparatory work. That's because, of course, I was manic, but I also knew all of that – anything logistical would follow. I was far more interested in the reaction from people that would be either interested in what we were doing at a higher level or that were and still are essentially involved in absurdly unhealthy [behaviour] and, if not currently, [behaviour which] would be considered unlawful insofar as mental health is concerned.
I really had this feeling that we'd pique the interest of investors and people at the helm of companies and industries who were and are still involved with tech or media that is going to actually be taken to task for doing nothing to care for their workers and the sustenance of their business. They refer to this as their cultural brand, and I have come to see it just as great packaging for, you know, cigarettes or something. I was really interested just to see who of the many who are so concerned with mental health and the safety of their users, their employees, etc. I would see the commonalities – the things that artists and music professionals have in common with engineers in Silicon Valley, or scientists in academia, and so forth. It was mostly a shot that I called, knowing well what the next two years would look like. It's something I wouldn't do necessarily the same way today, I tend to be a bit braver (or reckless) when I'm manic. But it was a fascinating, shocking period for me. One would think that with such data being made readily available and with the rumblings of movements that are now full-steam-ahead brewing, that people would do more than just express how interested they were in what we've been doing. One would especially think this particularly of those with blisteringly obvious histories of indefensible and contradictory behaviours, talking about the wellbeing of their cultures while being horrifically guilty of fostering mentally unhealthy work environments, and even the mistreatment of those with mental illness. I simply didn't realise how much people openly benefit from the destruction of humans, and how little we understand that mental health is not a benefit, but a human right.
How did that affect your vision for The Wishart Group?
After the initial onslaught, and then the release of Tremendous Sea of Love, I kept playing around with different ways of really controlling the narrative. I began to feel a bit terrified, and it was because I kept thinking maybe we aren't ready for mental health. Maybe they were right, maybe living with a mental illness is something I'm going to have to keep to myself. That's because I kept trying everything to appeal to the powers that be, from people within the music industry to venture capitalists and Silicon Valley. I thought that was a safe thing to do. It wasn't. So we began more quietly constructing the Wishart infrastructure and timeline, and that was when I also had essentially lost everything, betting everything I have, not on the products or the work everyone told me to keep doing, but on working to build a future for myself in making the world that I were to do any of that work in safer. I still cannot believe so many people to this day argue for me just to shut up and make music after all that I've been through – and then, after all we have witnessed this year alone and all that we've been discussing, still, to this day, there is an irrational dismissal.
Has that changed the way you approach advocacy work?
The fear of that has subsided. I may have lost a lot, may have been far less than pragmatic, but I will never put my convictions or beliefs behind my art, money or anything. I still felt compelled to work towards something publicly, but I fell silent when the thing I had been talking about more prominently really hit me in more ways than financially. It's the danger of advocacy in the age of social media – not just social media, but the world of advocacy itself, the shocking money poured into encouraging people to discuss it instead of helping them afford better care or any care at all – that hurt me directly. I became silent because I was unwell, from dedicating my life campaigning behind the scenes and forming alliances in the name of mental health, to advocating in public. I suffer from a lethal mental illness. It's hard enough to take this task on in the first place. I am proud of the work I've done, but quite frankly, until someone asks for our help or for me to help do something constructive, what people will get from me now is silence. I cannot condone simply speaking up – we need safer systems to protect those that do. Now, Wishart has become exactly what it is required for – a financial and power apparatus to help those who know how and truly want to make the world a safer, healthier place.
Can you explain what The Wishart Group has evolved into?
Wishart is part nonprofit and part for-profit. We're developing a nonprofit to provide mental health programmes and services to bring real-world, non-addictive and clear solutions to arts, science, and tech communities – the creative class – and then utilise those services to begin addressing more macro-level ones apart from merely the creative world. However, we currently do specialise in preserving and protecting creatives who desperately need better systems. The future is screaming at us to take better care of the creative world, and we believe a lot of these services shouldn't exclusively be for-profit. However, I've also understood that there is no greater way to promote the unbelievable costs of the mismanagement of mental health today than in the for-profit world. So, we are officially opening a new fund to help finance and protect people who are taking on industries and world problems that most financiers, tech giants, and industries seem to have a real problem financing, because the way they look at it right now is that it would cut into their profits. And they're not the ones to really make these changes accurately or well at all. They're in extremely compromising positions that we are reading about every day, assuming changes are being made: they're not.
There are people developing products and systems outside of Wishart that need help, too. We intend to develop our companies and help finance and protect other pioneering creatives and companies that are changing the way we perceive mental health and integrate the very notion of mental health into company cultures that, without these ideas and products, will face more than the massive annual losses and bad press. We're talking about millions of lives lost needlessly, and there's a lot that we can do about it. We have several pilot projects and potential partners who we know could change the world if they were given a chance. We're trying to combine social good venture capital, nonprofit practices, and biz development to make headway in the mental health space. In a way, it's almost like a collective.
With so much strife from the #MeToo stories and artist pressures, how does the music industry become accountable from artists who are suffering and don't feel like they have the support system they need?
The music industry becomes accountable when it shows that it is interested in the health and safety of its artists. So, I hate to say this, but I'm not really holding my breath as we've seen more than enough horrific examples that should have justified massive overhauls. Most of the time, the reason we haven't seen a lot of success in the music industry when it comes to sexual harassment and so forth is because it's really just about who is financially behind what: how deep they are in the pockets of large institutions directly informs the outcome. This is very clear to see, I don't have to really make a stretch to argue this. Although we've seen this exact setup function against the perpetrators and actually account for swifter, more dramatic falls from power, the music industry is better at protecting itself from these behaviours than any other industry. In fact, it profits from them.
Moreover, in other industries, there are guilds, unions – there are certain organisational powers that exist to help field and take care of some – maybe not all, but some – of the #MeToo stories, so that's why there's been more of a reaction and a response, even if it's still a work in progress. It is an amazing thing but it also shouldn't be considered so remarkable. It should be a given: this is illegal and highly destructive behaviour that ruins people's lives and careers. I know from personal experience, but I can never speak to what it's like to be a female in these situations – but I've witnessed enough to tell you that I'm appalled that so little has happened within music. Those who have adequately addressed the problems should be applauded but still, at the end of the day, I worry terribly about people that go out there and advocate for themselves and others. To me, it still all boils down to providing better mental health services, particularly in the realm of trauma. This is about trauma. I don't think people really understand that because trauma is a complicated and difficult thing to discuss, to say nothing of how much of a nightmare it is to recover from.
Do you want to keep making music or are you doing it to help the music industry through The Wishart Group?
Talking about making plans with music is like talking about gambling. I will make music if I can afford to, and that's what I am always trying to do. But again, my convictions always lead me to whatever it is I feel I need to do. Sometimes that's music. Sometimes that isn't. I want to fold everything I do under the Wishart umbrella as it's all connected in a way. I have plans for music, as I'm the kind of person that needs to be doing multiple things all of the time, I need balance. But creating a better world to be creative is my answer to anyone who has ever accused me of putting the cart before the horse. Call it age, call it stubbornness; whatever it is, I think the world needs people who are capable of contributing in many ways to push to live a multi-contribution style of life. Don't think there's ever been a more important time to live like that, at whatever price and however hard it may be.
Join our new commenting forum
Join thought-provoking conversations, follow other Independent readers and see their replies