Paul Rodgers: He will rock you
He is best known for singing the lead vocals on Free's 1970 hit All Right Now and Paul Rodgers tells John Walsh that he still enjoys being in the spotlight 40 years on
Wednesday 07 April 2010 00:00 BST
Comments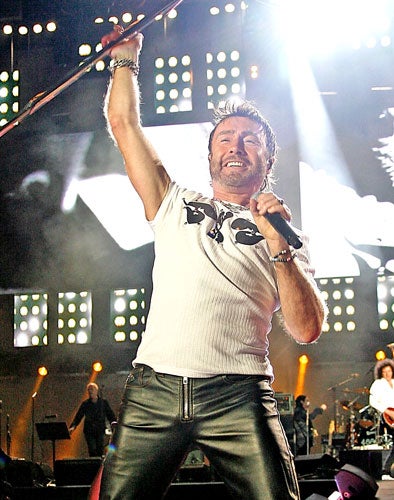 In 1970, when the Beatles finally broke up, the Woodstock hippie dream was over and heavy metal was just beginning, two frontmen stood out. One was Robert Plant, a tall, skinny, Apollonian figure with tumbling gold curls, unfeasibly tight jeans and a powerful falsetto screech. The other was Paul Rodgers, a tall, skinny, saturnine figure with a cloud of black hair, unfeasibly tight jeans and a damaged, bluesy growl that belied his 21 years. The former fronted a four-piece rock band called Led Zeppelin that was to set the template for British blues-rock in the decade that followed. The latter led Free, a four-piece blues band who had more chart hits than Led Zeppelin but broke up in disarray after only three years.
For a while they looked like the kings of prog rock. The heavy riffing of "Wishing Well" (a favourite of Tony Blair's in his Ugly Rumours days and after), the jugband pub piano of "My Brother Jake" and the title track of their excellent album Fire and Water were exceptional songs at an exceptional time for British rock. But some of their releases fell to the ground like stillborn calves, and internal tensions were worsened by the guitarist Paul Kossoff's prodigious drug use. Free were, many commentators agreed, exceptionally talented but bizarrely hit-and-miss. They seemed unlucky.
They're best known to music history for the 1970 single "All Right Now". No 2 in the UK charts, it became No 1 in 20 territories and kept re-appearing over the next 40 years. In 1990, it soundtracked a TV commercial for Wrigley's chewing gum, and returned to the charts on the back of the shy-drifter-meets-babe-on-Greyhound-bus scenario. It was covered by, among others, the Who, Mike Oldfield, Rod Stewart, Christina Aguilera, Steve Miller, the Runaways and, um, Pepsi & Shirlie. "I can't keep track of where it's turned up," says Paul Rodgers ruefully. "Island Records owned the publishing rights to all our songs in perpetuity. In theory, they're supposed to call me and ask, 'Can we use this song in this way?' but they often don't. I think if the money's good enough, they just go, 'Yes! Wrigley's? YES!!'"
A low point came when his song was used to advertise a foot-odour powder on television. "You use this stuff on your feet and the song comes on to signify that your feet are All Right Now, you see," he said acerbically. "I rang Chris Blackwell about it. He had it taken off pretty smartly..."
Rodgers doesn't seem a man to bears many grudges. As veteran rockers from the golden age go, he's a youthful 60, trimly bearded, charming, anecdotal and funny, and sings lines from his back catalogue with little encouragement. His equilibrium is partly explained by the presence, at our meeting, of his wife, Cynthia, a warm and humorous Canadian, who acts as both his foil and information source. His is quite a story. How, after Free broke up, he and the drummer Simon Kirke linked up with the guitarist from Mott the Hoople and the bassist from King Crimson, to form Bad Company, and produce a string of hits in the 1970s: "Can't Get Enough" , "Rock Steady", "Rock'n'Roll Fantasy" and "Shooting Star". How they took the US by storm, rivalling but never eclipsing the Led Zeppelin juggernaut.
Rodgers' stage look – shirt undone to the navel, hairy chest, ever-tighter white jeans, neckerchief – was a more macho version of Robert Plant's rock god, with similar pelvic thrusting and mic-stand wielding. For five years, they could do no wrong.
Then in 1982, Rodgers (aged 33) left to re-gather himself, to spend some time at home with his young family. There he composed a solo album, Cut Loose, on which he wrote all the songs and played all the instruments. It was a total, inexplicable flop. Undismayed, he linked up with Jimmy Page to make two albums as the Firm, and later formed the Law with Kenney Jones of the Faces, to record "Laying Down the Law," a No 1 hit in the American Billboard chart. For the last few years, he's been singing with Queen, belting out the hits immortalised by Freddie Mercury, and keeping the memory of his early bands alive by a judicious salting of "All Right Now" and "Shooting Star".
This week, a 15-track greatest hits collection comes out from Rhino Records entitled The Very Best of Free and Bad Company Featuring Paul Rodgers, complete with an iTunes digital sampler of bonus tracks showing his laryngeal dexterity with the Firm and the Law. And a reformed Bad Company are currently on a UK tour, which ends with a valedictory bang at Wembley Arena on Sunday.
As with so many rockers of the late 1960s, music offered Rodgers an escape. "I come from a working-class family of seven children. My dad worked on the Middlesbrough docks. He always said to me, 'Whatever you do, get a trade.' In those days, if you didn't get a trade between 16 and 21, you'd had it. I don't know why they said that but everyone said it's vital, at 16, to go straight into the works and get a trade as a fitter's apprentice or whatever. By that time, I'd discovered music and it was telling me there was another way."

Enjoy unlimited access to 70 million ad-free songs and podcasts with Amazon Music
Sign up now for a 30-day free trial
Sign up

Enjoy unlimited access to 70 million ad-free songs and podcasts with Amazon Music
Sign up now for a 30-day free trial
Sign up
Perhaps surprisingly, it was soul and Motown that drove him: "The Temptations were in the charts, and the Four Tops and Otis Redding. When I heard, 'I Just Wanna Make Love to You', I thought, wow, that's a very different from 'She loves you, yeah yeah yeah'. Then I discovered Muddy Waters, Howling Wolf, Elmore James, all those guys. I also heard a lot of music on the radio, and movie soundtracks. At Saturday morning pictures, I'd hear this guy sing 'Champion, the Wonnn-der Horrrrse' and think, 'Wow, that singer must live in, like, Heaven or somewhere, to have all that echo on his voice.' I was conscious of vocalists from an early age."
He was also inspired by a local club owner called John McCoy, who regularly went to London to talent-scout new bands and book them to play at the Purple Onion in Middlesbrough. "He used to have some fantastic names in there – the Who, the Spencer Davis Group, Steampacket with Rod Stewart..."
Rodgers formed a band called the Roadrunners, re-named the Wildflowers, and came to London – "where we promptly starved. It got too tough for the others and they went home. But I stayed, checked the small ads at the back of Melody Maker, and answered one looking for a singer". Destiny took the band, named Brown Sugar, to a club one night, charmingly called the Fickle Pickle, where the young Paul Kossoff of the Black Cat Bones ("You should have seen him – flared Levi's, and hair down to his ass") watched the first set, and asked if he could jam along. "People came up afterwards and told us that time just stood still. I've never had such a strong reaction from a gig." Rodgers said to Kossoff, "You and I are joining a band." Kossoff told Rodgers there might me an opening for him in Black Cat Bones. "I said, 'No, it must be a new entity. We're gonna get a rhythm section, and write our own songs like Cream and Hendrix. It's gonna be very professional. We're not going out to work.' And that's how Free was formed."
They were given the band's name by the great Alexis Korner, godfather of British blues, and Rodgers' mentor. "It was great having someone my dad's age telling me about music. He used to say, 'Have you noticed that the space between the notes is more important than the notes sometimes?' and "Have you noticed that there's music everywhere – in the wind and the wheels of a car?'"
The decline and fall of Paul Kossoff, who died of a drug overdose in 1976, still pains Rodgers. "I miss him. I don't miss him any less now than when he died. He was such a great talent and had so much more to give. In the band, we all smoked hashish but that's all we smoked. When I left the band, he was in great shape. When I saw him a couple of years later, he was in a dreadful state. He was sitting in a recording studio, falling asleep in the middle of a take." He frowned. "Moving into a house in Portobello Road was dangerous for him, because lots of people came knocking on his door saying, 'Hey, man, try some of this.' His new band was away. I was out of the country. He needed professional medical help, but it wasn't there for him and we lost him and it's a shame."
To this day, Rodgers can't understand why Free failed to turn into a Zeppelin-style supernova. "Perhaps it was bad management. I could point fingers, but what's the point now? Look on the positive side – in the three years we were together, we had an influence on the music business that's still felt today. I think that's amazing."
He's now spent longer – four years – singing with Queen than he spent in the Free line-up. That partnership recently separated, amicably, and may yet re-assemble for more gutsy recitals of "We Are the Champions", in his trademark leather trousers. But for the moment, Paul Rodgers, at 60, is enjoying the freedom to bask in the knowledge that he's been a rock star for 40 years, without dying, losing his voice or seeing his capacity to write songs diminish. He may have encountered some harsh caprices of fortune in his career. But it's safe to say he's all right now.
'The Very Best of Free and Bad Company Featuring Paul Rodgers' is out now. The tour continues to 11 April ( Badcompany.com )
Join our commenting forum
Join thought-provoking conversations, follow other Independent readers and see their replies