Interview
Pee Wee Ellis: 'America was built on slavery and exploitation – but change is coming'
The former James Brown collaborator talks to Martin Chilton about growing up in segregated America, wangling saxophone lessons from Sonny Rollins, and how his civil rights anthem has had a resurgence in the wake of Black Lives Matter protests
Wednesday 17 June 2020 07:25 BST
Comments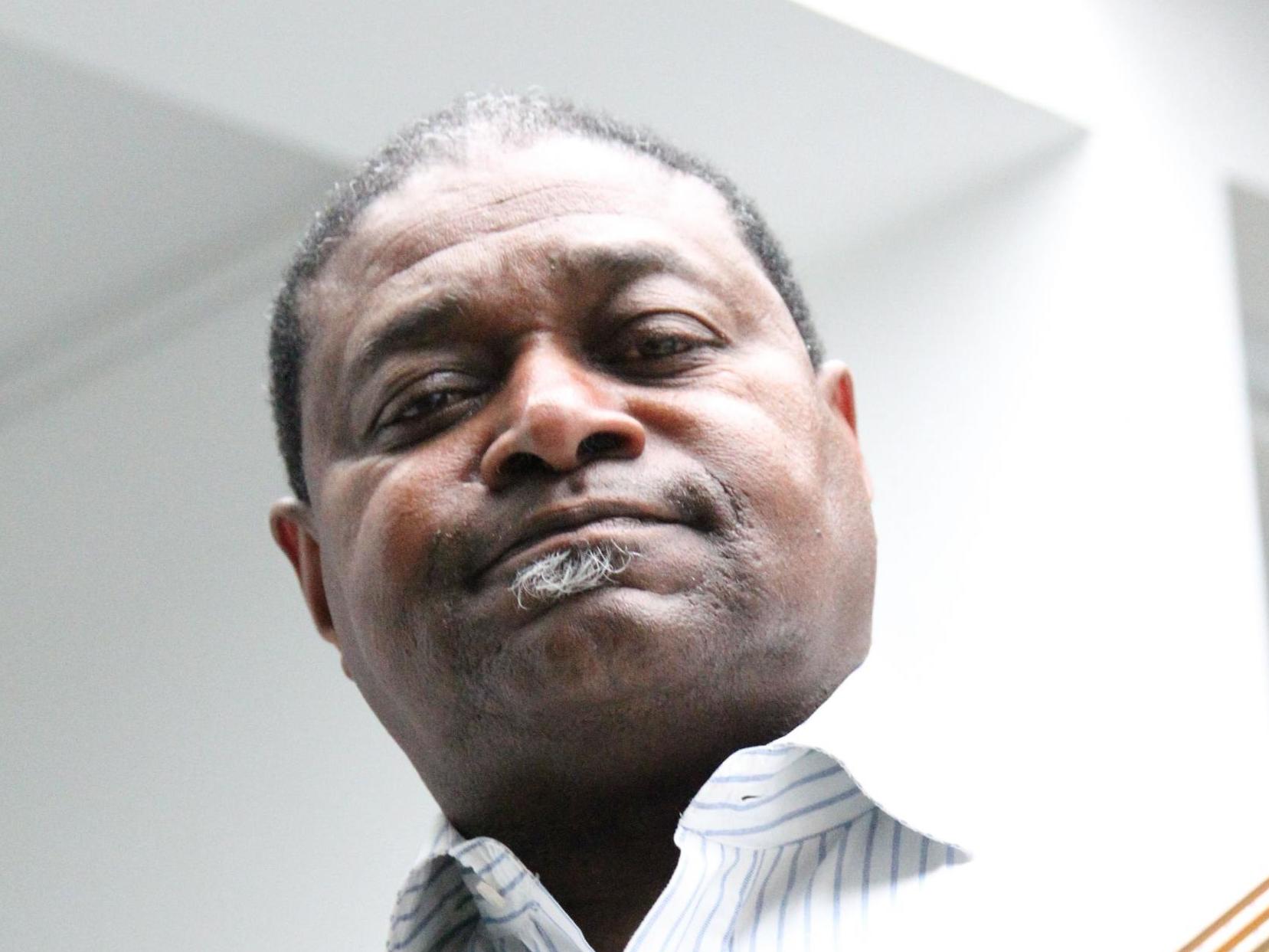 In the first week after the death of George Floyd, as Black Lives Matter protests swept the world, nearly half a million people streamed "Say It Loud (I'm Black and I'm Proud)". The civil rights anthem, co-written by Pee Wee Ellis and James Brown, has once again become a symbol of defiance. "I'm deeply proud," says Ellis, "to have played a part in creating a song that is inspiring young people today."
The former musical director for Brown and later Van Morrison, Ellis turned 79 in April. His extraordinary life started in segregated America – a place where his stepfather was brutally murdered in a shocking racial attack in 1950s Texas – and brought him to settle in a quiet English village, from which he is speaking to me over the phone.
Alfred James Ellis was born in Florida in 1941 and moved to Lubbock, Texas, in 1949 after his mother married Ezell Ellis. Lubbock was "a highly segregated town", says Ellis. His stepfather organised bands for local dance halls. It was the musicians who stayed at their home who first dubbed the youngster "Pee Wee". "I don't know who gave me the name," Ellis says. "I was about 10 and actually little at the time, and 'Pee Wee' in America means small. I grew bigger but the name stuck. It's lasted a long time."
In 1955, a white woman at a Texas dance hall insisted that Ellis's stepfather join her for a dance. A racist customer became enraged and stabbed Ezell. When the local hospital refused to treat him because he was black, he died. Ellis "still carries the pain" of his stepfather's murder with him. "He was left to die on a gurney in a hallway. Yeah, I'm still working on that," he adds quietly. "The case did not get any publicity, not to my knowledge, but it doesn't disappear. I always say 'what doesn't kill you makes you stronger'."
Soon afterwards, Ellis's mother moved him and his two young sisters to upstate New York to live with Ellis's aunt. With the help of a loving family and community solidarity, they absorbed the terrible shock and rebuilt their lives. For Ellis, then approaching 14, it was a test of fortitude. "It was a real culture shock," he says. "I was uprooted from my school, my friends and my bandleader in Lubbock, Mr Roberts, who had been my mentor and got me playing clarinet and saxophone."
Ellis, who believes he was "headed into music" as a matter of destiny, had a stroke of good fortune at 16 when he took his saxophone to a repair shop on Broadway. In front of him was famous jazz musician Sonny Rollins. Ellis cheekily asked the saxophone star for a lesson.
"I don't know what possessed me to think it was OK to ask Sonny to teach me, but he was very forthcoming and generous," says Ellis. "We went around the corner to the studio and I spent a couple of hours soaking up every word. Every Wednesday, I would go to the airport and fly upstate to meet Sonny in New York, have a lesson and then fly back. He didn't charge me much. I was earning $90 a week at The Pythodd Club in Rochester and the flight was $55. It was worth it. Studying with Sonny was amazing." Can he remember any of the advice Rollins gave him? "Yes I can…" he replies, very slowly, with a cackle, "but I'm not telling you. I could tell you, but then I would have to kill you."
After working throughout America as a musician and bandleader, Ellis had his big career break in 1965, when he hooked up with soul singer Brown and forged a partnership whose dynamic sound revolutionised soul and R&B music, and transformed pop, too. Ellis is now credited as "the man who invented funk", with his innovative arrangements inspiring scores of musicians, including George Clinton and Sly Stone.
Ellis and Brown wrote 26 songs together. Their first big success was 1967's "Cold Sweat", for Brown's label King. Brown would often call Ellis into his dressing room after a concert to talk about an idea for a song. They were a hard-working band and the only time Ellis got to work on a song was on the tour bus, travelling to the next gig. Ellis would write the music and arrangements and then rehearse with the band on the bus – many of the rhythm section players didn't read music – and run it by Brown the following day. That's when the singer would, says Ellis, "add the magic of the words".

Enjoy unlimited access to 70 million ad-free songs and podcasts with Amazon Music
Sign up now for a 30-day free trial
Sign up

Enjoy unlimited access to 70 million ad-free songs and podcasts with Amazon Music
Sign up now for a 30-day free trial
Sign up
"Say It Loud (I'm Black and I'm Proud)" was created in the volatile aftermath of the assassination of civil rights leader Dr Martin Luther King in April 1968. The day after King's murder, following a night of riots, Brown played the Boston Garden and was hailed for helping maintain calm in the city. "Just another day in the office," says Ellis, deadpan.
The issue of black pride was on Brown's mind in those months. Later in 1968, he told Ellis that he had a powerful new song in mind to collaborate on, which became "Say It Loud (I'm Black and I'm Proud)". "The song was written the usual way," recalls Ellis. "I rehearsed the band through that song – getting the horn parts right and guiding the bass player through his lines – and the next day Mr Brown showed up. He had the words he'd written on a napkin he'd kept in a brown paper bag. By the time we played it through a couple of times, we knew it was working."
The song was recorded on 7 August 1968 at Vox Studios in Los Angeles. Brown assembled the band facing each other, so the musicians could respond to his hand cues. The musicians – who included Waymond Reed on trumpet, Maceo Parker on tenor saxophone, Fred Wesley on trombone and Ellis on alto saxophone – were joined by a choir of about 30 children from poor areas of Watts in south Los Angeles. The children arrived in an old school bus and were paid $10 each by Brown's manager Charles Bobbitt.
"Having the children sing the call-and-response choruses was a good idea," says Ellis, "and gave future audiences the idea of what to do." They began performing the song on their west coast tour and two weeks later received an incredible reception at The Apollo Theatre in New York. Although lyrics such as "Now we demand a chance to do things for ourselves/ We tired of beatin' our heads against the wall" struck a chord, it was the reaction to the chorus that sent chills down Ellis's spine.
"Oh man, that was amazing," he says. "As soon as James Brown shouted 'Say it loud', the whole audience chanted back, 'I'm black and proud'. In two weeks, it was like it had swept across the country. We were doing three shows a day at The Apollo and people queued around the block every day for every show. The black music industry was small then, but James Brown had a network of people he sent out to disc jockeys to get the records aired on radio stations."
On 7 September 1968, "Say It Loud (I'm Black and I'm Proud)" went straight into the Billboard Hot 100. Five weeks later, it entered the top 10. It was No1 for six weeks on the more black-oriented R&B chart and quickly became an unofficial "black anthem" during civil rights campaigns. Ellis believes the song boosted the black community's sense of self. That sentiment is echoed by white singer and songwriter David Byrne, who has described it as one of the most important protest songs ever – one that "fights the power through celebration of who one is".
The song has been sung again recently during protests against racial injustice and police brutality. In the first week of June, there was also a huge spike in streaming protest songs by Kendrick Lamar and Childish Gambino – though none of these modern icons quite matched the power of "Say It Loud (I'm Black and I'm Proud)" which, according to Billboard, jumped by 15,740 per cent in one week.
Ellis, who has lived in England for nearly three decades, keeps in touch with his family in Tampa, Florida and upstate New York, and with close friends in San Francisco, and has followed the stories of global protests about racism. He is happy that young people are showing the way forward. "America was built on slavery and exploitation," Ellis says, "but I feel optimistic that change is coming and it's about time, I say. It is going to be painful and take work, but I think progress can happen and people can change."
Although Ellis and Brown did not stay in touch much after Ellis left the band in 1969, they did reunite in June 2000, when both played a concert for the launch of the Experience Music Project in Seattle, a $240m project funded by Microsoft co-founder Paul Allen to honour the history of funk. Ellis has kept Brown's music alive in other ways, including the "Still Black, Still Proud: A tribute to James Brown" tours, which presented an African tribute to Brown's work and featured musicians such as Afrobeat drummer Tony Allen. "In those live shows, we also had white people singing 'I'm Black and I'm Proud', because the song is also about being proud of yourself."
Jazz, though, will always be Ellis's first love. That is evident in the tale of him meeting another saxophone hero as a youngster. "I was working in the carnival circuit with Great American Shows and John Coltrane was playing in Chicago," he recalls. "On my day off, I pawned my diamond ring so I could see Coltrane. The next day, I went to his hotel and he came in the door with a saxophone round his neck. That was memorable."
Ellis grew up listening to greats such as Sidney Bechet and Johnny Griffin and says that working with Brown "was an opportunity to earn enough money to afford to play jazz". In the early 1970s, he worked as an arranger and musician in New York, including with his friend George Benson, and recorded with jazz greats Sonny Stitt and Shelly Manne.
His next major career move came in the late 1970s, after he'd moved to California for a break. "I was living on a houseboat, somewhere between Sausalito and Marin County, along with my friend David Liebman," he recalls. It was the same houseboat in which saxophone player Cannonball Adderley lived – and the one Otis Redding was living in when he wrote "(Sittin' On) The Dock of the Bay". "David and I were fishing, golfing and bowling, just enjoying life, when the trumpeter Mark Isham asked if I could play on a track for Van Morrison."
Morrison was recording his 1979 album Into the Music in Sausalito and Ellis wrote the arrangement for the funky "You Make Me Feel So Free". "Van loved it and said, 'Let's do another one.' Pretty soon, I was doing the whole record with him. That led to becoming his music director for the next eight years. We've remained friends. Van was fun to work with. Oh man, he's got a good sense of humour."
Ellis kept busy in his seventies. He worked regularly with the late Cream drummer Ginger Baker and as an arranger for Paul Carrack, as well as touring with jazz singer and broadcaster Clare Teal. "Clare came to see me and my wife Charlotte in lockdown recently," says Ellis. "We sat apart in the garden, having tea and cakes and wine. She's a lovely person and a great singer." Before coronavirus struck, Ellis was planning a reunion tour with Liebman. "I'm looking forward to getting back on stage," he says, "and hopefully doing some special things for my 80th birthday next April."
Ellis has started writing his memoir – getting writing tips from his friend, National Book Award-winning American author James McBride – and switches off by listening to his favourite singer-songwriters. "I've been playing a lot of Bob Dylan, Art Garfunkel, and the live album Bill Withers cut at Carnegie Hall. I used to hang out with Bill in New York. He was an awesome musician, and it's an amazing album."
As our early morning conversation closes, I ask what the day will bring. "Ah, no big plans," Ellis says. "I'll have some breakfast, practise my saxophones and do a bit of bird-watching… and maybe think about the journey that has taken me from Florida to Dorset."
Join our commenting forum
Join thought-provoking conversations, follow other Independent readers and see their replies