House music: The performers who are now staging gigs in living-rooms
Never mind the Royal Box ... Richard Mackichan bags a seat on the sofa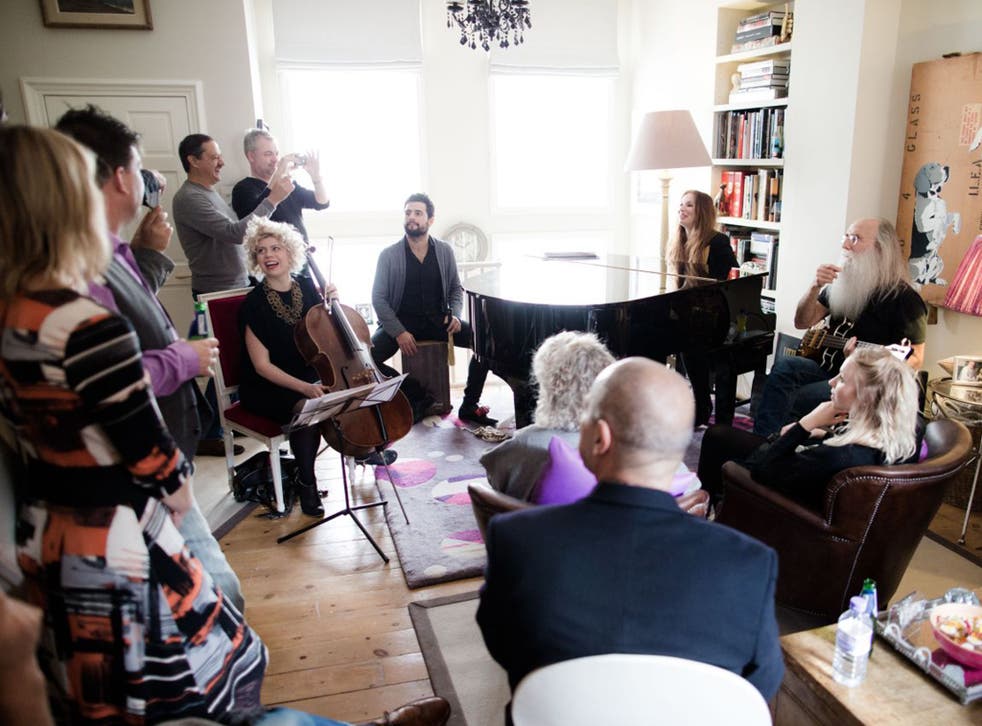 It would've been the Albert Hall had Bryan Ferry not fallen ill and cancelled at the last minute. Instead, singer Judith Owen, who was supposed to be opening that night, took a crowd back to her Notting Hill home.
"That's not normally how I am, I'm kind of OCD! But actually what happened was one of the most fun evenings of my life. People rarely get to be involved in that if they're not musicians. It felt looser, more focused on the songs and the camaraderie"
In fact, Owen enjoyed it so much, she's doing it again. About 30 of us are crammed into her living-room, drinking beer, eating Haribos and getting the chance to hear tracks from her new album in the very space they were written. "Is anyone still eating pizza in my kitchen?" she yells, by way of introduction.
Culture news in pictures

Show all 33
People are hooked. You can see why The Libertines inspired such devotion for taking a scuffed Chelsea boot to the conventional barriers between artist and fan; throwing impromptu gigs in Pete Doherty's flat and inviting audiences to join them on after-party adventures. And now you've got social media addictions and an obsession with pop-ups, a conventional gig these days seems a little, well, passé.
Rafe Offer of Sofar Sounds would definitely agree. Founded in 2010, Sofar (Songs From A Room) brings up-and-coming – and, occasionally, very-much-arrived – acts to front rooms and other unconventional spaces for free, secret shows. It's now spread to 60 countries, with more than 150 shows every month, ranging from tepees in Austin to crypts in Milan.
"Most gigs, especially for new acts, are still full of chatting punters, clanging beer bottles and a sea of smartphones," explains Offer. "We give them a quiet room with a respectful audience."
Not that it's all earnest troubadours, mind. "One of my favourite recent shows was grime artist Afrikan Boy playing to 50 guests in a living-room in Finsbury Park while the host's six-year-old daughters danced in the corner. The most unexpected result is that it's turned into a real-life community. One person at a gig in Brooklyn a month ago turned to me and said: 'Hey man, I was at a gig in your house last year! How's it going?'"
There are dance-music roots to all of this, of course. Those who spent their weekends "all under one roof raving" didn't care if it was the roof of a car-park, an abandoned airport or someone's mum's house, so long as the police were the last to find out. And Red Bull sought to bring back some of that spirit in 2013 with a series of we'll-tell-you-on-the-day bashes with electronic duo Bondax on the decks in fans' living-rooms. Supplies of the energy drink were presumably used to placate neighbours.
But you don't need commercial backing or the culturally curious spirit of well-connected urban millennials to make a success out of "house music". Sharon Loughrin opened the doors to her home in Cookstown, Northern Ireland, in 2009. "We hosted our first show in response to an appeal from an American country singer with a free night to fill," she says, "and from there it snowballed. At one stage this year we hosted five bands in five weeks, with fully booked seats each time."
Enjoy unlimited access to 70 million ad-free songs and podcasts with Amazon Music Sign up now for a 30-day free trial
Sign up
Apart from a whip-round for the band, what is now called the Red Room is strictly not-for-profit. So why give up your personal space? "For us, as well as getting wonderful music in our home, we've made great friendships, we've introduced people to bluegrass and old-time music and we've hopefully shown visiting musicians the good side of our wee country."
It can be just as infectious for performers. So taken with his first house gigs was singer Josh Savage that he's starting a 43-date living-room tour of Europe tonight. There are the occasional downsides, however: "One place had cat poo everywhere and a decomposed chicken in the oven; and I've had a song interrupted by two dogs humping…"
Still, the change of perspective seems to be an eye-opener. When psych-laced indie foursome Gengahr were booked to play Brighton's Great Escape, they tacked on a front-room after-party for good measure. "Because it's probably the closest you will ever get to being in the crowd at your own show," said frontman Felix Bushe.
And the fast-rising singer-songwriter John Joseph Brill played at a flat in Liverpool shortly after performing at this year's Reading Festival. The difference? "It might seem counter-intuitive but it's actually a lot more daunting to reveal so much about yourself to a few people in someone's living-room than in front of a big crowd, on a stage, in full view."
"Oh yeah," agrees Judith Owen. "It takes balls to do it." Though pizza helps.
Join our new commenting forum
Join thought-provoking conversations, follow other Independent readers and see their replies