Perfume Genius interview: 'Everything I do is rebellious'
Mike Hadreas talks about his latest album No Shape, sexuality, and how just being happy can be a form of protest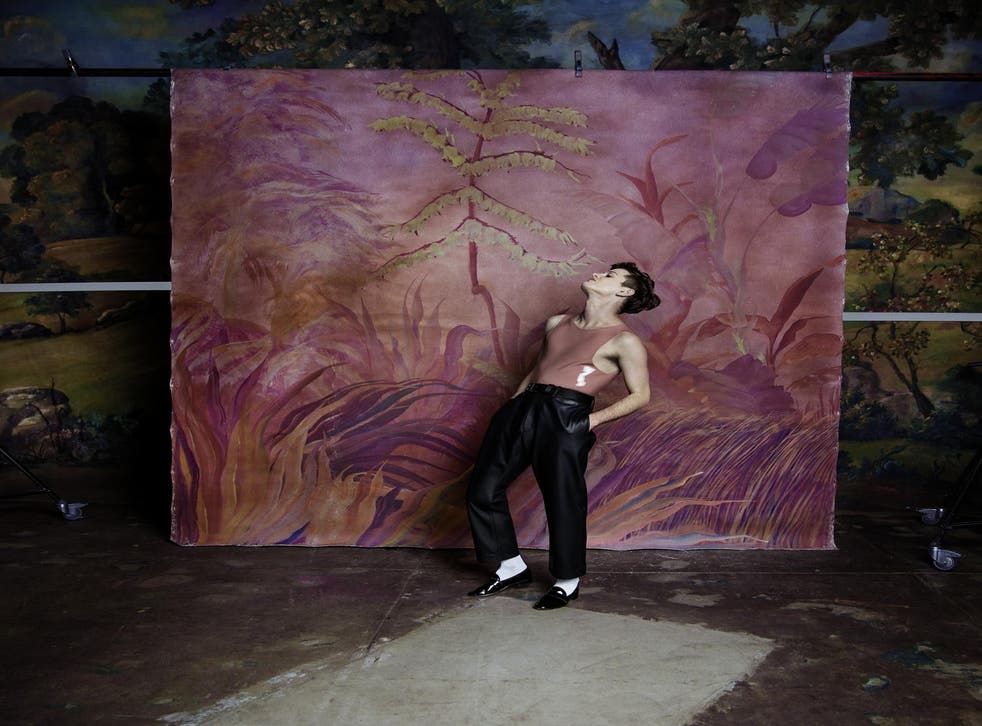 When Mike Hadreas makes music as Perfume Genius he often pictures his younger self: confused, frightened, seeking refuge from a daunting world through his record collection.
"Music helped me growing up, it very much felt like a companion and made me less lonely," Hadreas, 35, says. "I felt like an outsider, so listening to a bunch of outsiders' music like Bjork and Patti Smith made me feel better. But at the same time I didn't have anyone singing specifically 100% about things I could relate to.
"I think that's why I'm hyper specific about my sexuality and addiction in my songs. I wish I'd have had someone singing directly to me, so that's what I try to do." He pauses for a second. "I'm just taking it to another level."
He lets go a cute, nervy laugh, as he does whenever he reveals something personal, or makes a grandiose statement, or sometimes both at once (" I really resist being present most of the time. I really don't like the idea of being in the moment.")
Hadreas has indeed taken candidness to extremes. Past interviews have been visibly painful as he recalled his struggles growing up gay in Seattle and his subsequent depression, with his songs evocatively documenting those ordeals.
His first two albums, 2010's Learning and 2012's Put Your Back N 2 It, tortured piano balladry about substance addiction and sexual abuse, are records of such fragility listening had the effect of snatching forbidden glimpses of someone's personal diary. One song, "Mr Petersen", details an inappropriate relationship with a teacher who kills himself jumping off a building.
But Hadreas has found contentment, of sorts. You can sense it in his easy, self-effacing manner as much as you hear it in No Shape, the wonderful new Perfume Genius album.
The clues were already there: by 2014's strident Too Bright, Hadreas, finally unshackled by demons but unsure where and how to direct "the flood of emotions you get when you stop drinking", re-emerged as a reluctant queer-pop provocateur. Astounding single "Queen", a bold, head-on take down of homophobia ("don't you know your queen/cracked, peeling, riddled with disease/no family is safe when I sashay!") was the track that "made me see I could shake off the thoughts in my head that hold me back and I could be the performer I wanted to be."
No Shape is the sound of an artist working a full capacity: panoramic, sonically expansive, ceaselessly imaginative. Within Grammy-winning Blake Mills' opulent production, its restlessness captures the compass of human feeling: ecstasy, hope, despair, beauty and self-doubt.
Enjoy unlimited access to 70 million ad-free songs and podcasts with Amazon Music Sign up now for a 30-day free trial
Sign up
Exuberant pop and "my version of Bruce Springsteen stadium rock songs" sit alongside phantasmic balladry and cinematic soul to present, fittingly enough, an amorphous flow of sound. "The songs are a lot more how I felt in the moment when I was writing, which I guess is all over the place day to day (laughs). I'm moody I guess! But I was completely open to the sound being raided in the studio. As long as the original spirit was there I wasn't attached to any specific idea."
It would be easy to assume from his creative growth that Hadreas finds life much easier. "Well kind of… I don't exist on that level all the time," he says with that panicky laugh. "I definitely feel like that when I perform or sing or write, somehow I'm able to turn off the noise in my head, the stuff that keeps me down. But it became clear in my daily life I wasn't applying a lot of that. All these good things were happening, I was pushing myself creatively but I was still nervous to order at a restaurant."
He starts to sound resigned. "I have this idea of myself that I decided when I was 12 about who I am and how I come across and what the world is like. And if I have changed or the world has changed I don't even notice sometimes because I'm holding on to these old ideas. I am more confident - the music is proof. But I can see the change there much easier than I do as a human."
With several illusions to transcending his own body - "I wanna hover with no shape/Until my body gives way" he sings on "Wreath" - there are still moments of heart-stopping anxiety in No Shape. But Hadreas' focuses are generally more prosaic. Sober for eight years and in a relationship for nearly as long with boyfriend and creative collaborator Alan Wyffels, Hadreas is now concerned with the everyday: his partner, paying the rent, looking after his dog, not eating too much cake.
There are snapshots of unbridled joy - "if you never see them coming/you never have to hide," he sings buoyantly to Wyffels on "Slip Away" - but the realisation being settled, sober, and successful isn't a silver bullet for total happiness preoccupies No Shape. "And that's an embarrassing thing to admit. You think circumstances are going to change the way you feel. And they definitely should have more than they have for me. But I also liked the idea of taking a feeling bubbling underneath and dramatizing it into a big thing."
The way he writes about Wyffels, with me-and-you-vs-the-world affection but an acceptance of the mundanity long-term relationships can bring, is rarely heard in pop music. Whereas in the past Hadreas wrote about his sexuality with a mix of trauma and defiance, now he is a picture of stability.
"Sometimes you forget to just let me in a bit," begins the Weyes Blood-featuring "Sides", while on the astonishingly beautiful "Alan" he conjures up an image of domestic bliss as something of wonder. "I'm here" he sings. "How weird".
"We both totally feel like that. He came from a similar background (Wyffels is also a former addict who helped Hadreas get clean) and we're both still surprised that we are nice to each other (laughs) or we haven't fucked it up and that we pay our rent on time. It's surprising that we're like that. I've been with Alan a long time, and the voice in my head can lead me in taking him for granted.
"I just wanted to write about when you've been with someone that long that love is gentler, less obviously dramatic, something that showed how beautiful and sacred it can be. A lot of love songs are about new love or the beginning of love, I wanted to write something that powerful but about something that had been going on a long time."
Far from taking it for granted, Hadreas sees his ongoing contentedness as act of rebellion. "Everything I do is rebellious. Sometimes even against myself. But things are super messed up in America right now. I have zero optimism.
"It's hard to figure out a way to steal some love and joy but not at the expense of being outraged and aware and calling to act. It's hard to figure out a balance, and I'm not sure that I have. But you have to find a way to exist.
"And just existing - sometimes your happiness can feel like a protest against what's going on."
No Shape is out now on Matador Records. Perfume Genius plays Heaven in London on 8 June

Join our new commenting forum
Join thought-provoking conversations, follow other Independent readers and see their replies