Petrol Girls – Talk of Violence: Exclusive Album Stream
Raging feminist post hardcore quartet release their debut album Talk of Violence and stream it 3 days before official release exclusively with The Independent
Remfry Dedman
Tuesday 15 November 2016 12:03 Comments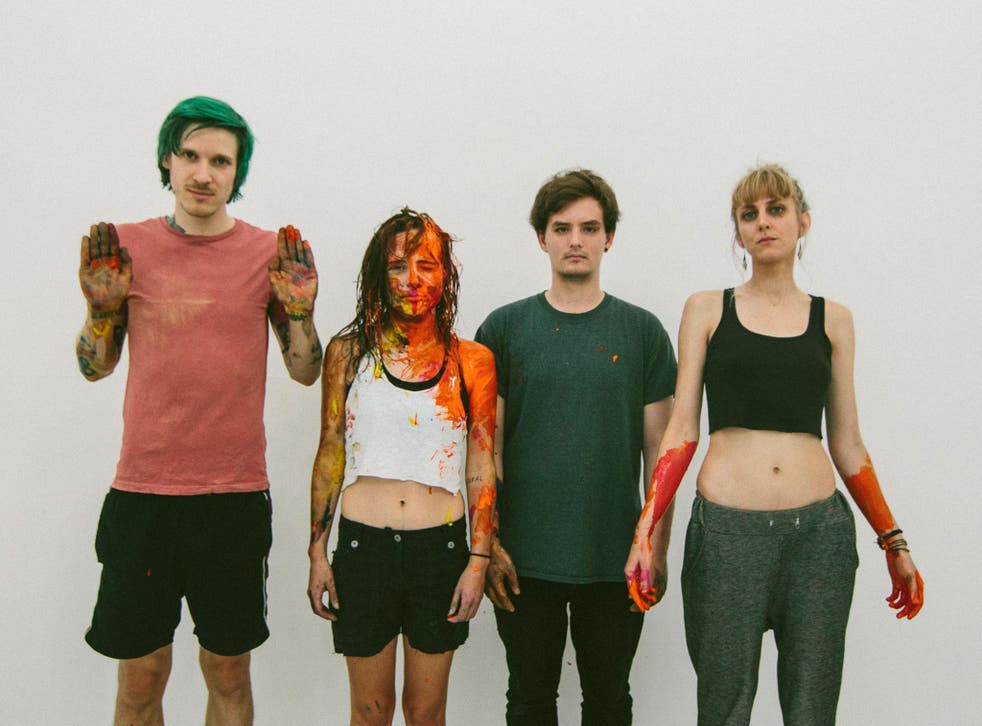 Emerging with a mission statement to challenge and ridicule sexism, whilst also exploring wider political themes such as alienation, mental health and the current anti-austerity movement, Petrol Girls are due to unleash their debut album Talk of Violence through Bomber Music on Friday 18th November. Recorded in May earlier this year, the album is a ten-track tour-de-force of savage vitriol directed at capitalism, greed and ignorance. Talk of Violence is available to stream exclusively with The Independent 3 days before it's official release below.
Petrol Girls derive their name from the myth of Pétroleuses, a group of women from the Paris Commune who allegedly set fire to private property with Molotov cocktails made out of milk bottles in a deliberate act of spite against the government. Taking this anarchic spirit as inspiration, the band formed and played their first show in 2012 after just two practises at a house party hosted by vocalist / guitarist Ren Aldridge to celebrate International Women's Day. This explicitly feminist context was essential for the band's formation, providing them a safe space to nurture their musical direction.
Setting out its stall immediately, Talk of Violence begins with a sample from a demonstration led by Sisters Uncut, a direct action group opposed to the cuts the British government is making for domestic violence victims. From the pummelling intro of False Peace to the accusatory cries of What do you care about / Have you asked yourself on final track Rewild, the malevolence doesn't let up for a single second of the 1,726 that make up the record. 'The first lyric of the record We will disturb the false peace is taken directly from a call out for a no borders demo in Freiburg' explains Ren. 'I think 'the false peace' is a perfect way to describe the way resistance gets silenced and inequality maintained in the name of a 'peace' that only protects the wealthy. The chorus lyric I'm feeling disobedient is something I've wanted to get into a song for ages as a way of psyching myself up for civil disobedience and direct actions on demos. It's a good thematic start to the record as it exposes various forms of violence used by the elite to maintain their wealth and power; and threatens that dominance.'
Sexual political themes are explored throughout the record, with Harpy looking at the different inconsistent attitudes towards men and women. 'Harpy's after an experience I had when my side of an argument was dismissed because I am 'bolshy' or 'feisty' – both of which are incredibly gendered words. If you disagree with my side of an argument, that's fine but it's not fine to dismiss what I'm saying because of how I say it. I thought a lot about why this had pissed me off so much, and realised it was because this is something that happens to me a lot as a woman who consistently stands up for herself. Society still seems to want damsels in distress; men get respect for asserting themselves whereas women just seem to get vilified. I thought about this in the context of women in mythology and the way that women with any kind of power or charisma about them have been treated over centuries: the whole history of witches, harpies and mermaids. These ideas were constructed by a patriarchal society that couldn't deal with powerful women.'
Treading Water focuses on the current European migrant crisis and how society's perceptions of those seeking asylum is shaped by the media. 'Joe (York, guitar / vocals) came up with initial lyrics that used both the literal meaning of 'treading water' and the idea of treading water financially' says Ren 'Obviously it alludes to the current genocide in the Mediterranean sea – I feel completely justified referring to it as genocide, as it is state manufactured slaughter of people on the basis of their national identity; some are allowed safe passage whilst others are not, based purely on where they happen to have been born. But this idea of treading water financially is also massively important, as it is often in economically deprived communities that fascism grows as people are manipulated into scapegoating migrants and other minorities, when its bosses, austerity and capitalism that are the real problem.'
Fang explores how the state uses mental health to control the populace as Ren explains, 'Liepa sent me an article by Laurie Penny just after the Tories won the general election in the UK that described depression as 'anger defanged' and pointed out that a depressed population is much easier to control than an angry one. I think women especially are pushed to deny their anger, but I've found embracing mine essential to getting some control over my mental health. If depression is anger with its teeth taken out, maybe anxiety is fear with its eyes gouged out.
The final lyric of the song If you don't give us space, then we will take it is a direct quote from a feminist intervention that occurred at the Refugee and Migrant conference in Hamburg. A massive group of women and trans people lead by refugee women took over the main stage and started chanting this phrase over and over. I nearly cried because I felt like I was experiencing true solidarity when I joined them; I felt so personally empowered by their action.'
Talk of Violence, the debut record by Petrol Girls, is released through Bomber Records on Friday 18th November and is available to pre-order now. The band play a free show in London at Birthdays on 14th December
Register for free to continue reading
Registration is a free and easy way to support our truly independent journalism
By registering, you will also enjoy limited access to Premium articles, exclusive newsletters, commenting, and virtual events with our leading journalists
Already have an account? sign in
Join our new commenting forum
Join thought-provoking conversations, follow other Independent readers and see their replies