'Wish you weren't here': The Pink Floyd feud shows no sign of easing
The row between former bandmates David Gilmour and Roger Waters has roared back into life after an extraordinary attack from Gilmour's partner and Floyd lyricist, Polly Samson. Ed Power delves into a decades-long feud that's incorporated everything from liner notes to Russia's war on Ukraine
Tuesday 07 February 2023 15:41 GMT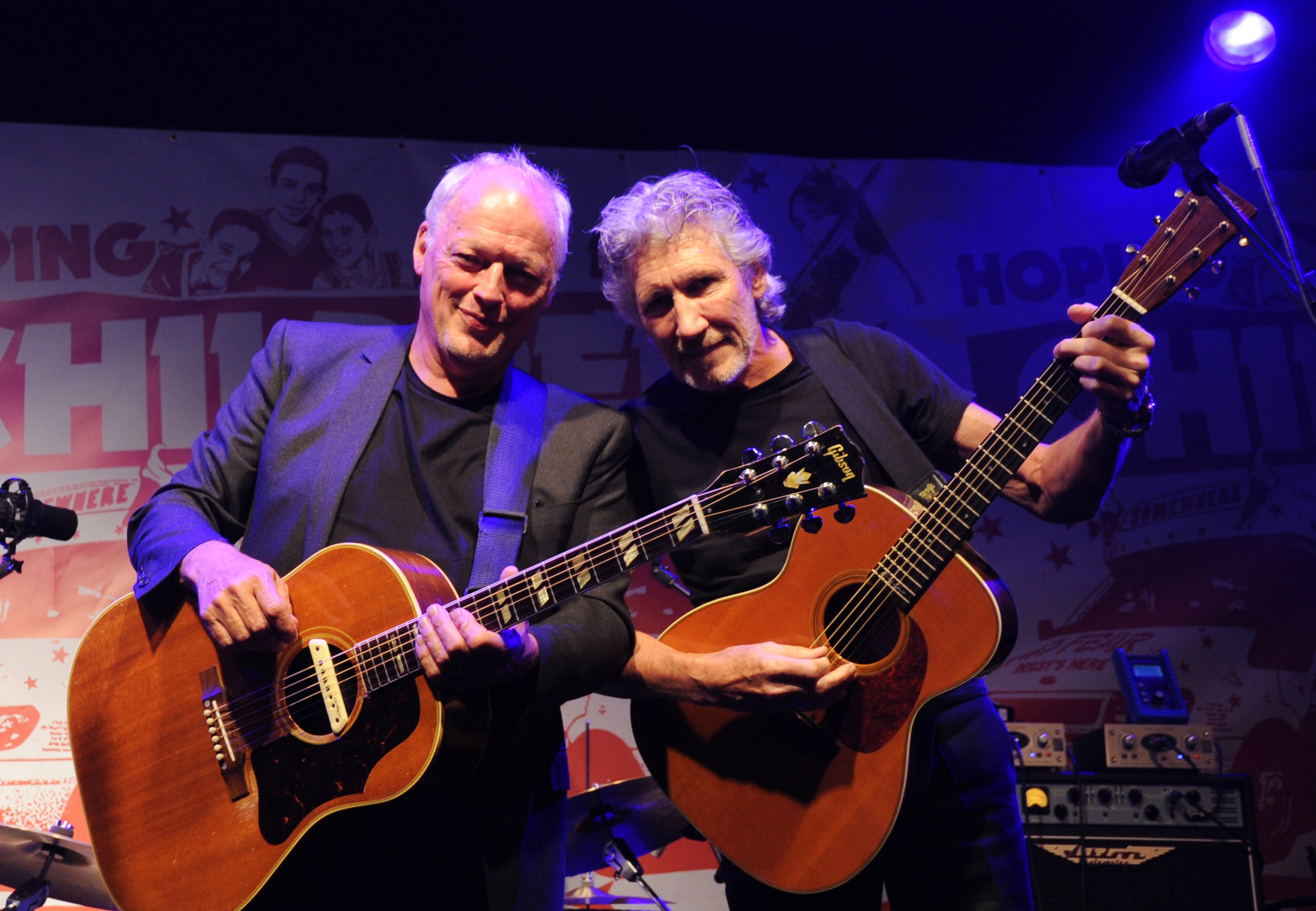 Brick by brick, the feud between Pink Floyd's Roger Waters and David Gilmour has become one of the great tragicomedies in rock history. This week, a quarrel that has raged on and off (mostly on) since the mid-Eighties took another lurid turn when Gilmour's wife, novelist and lyricist Polly Samson, accused Rogers of being "a Putin apologist".
Waters has been catching flak over his repeated calls for the West to stop arming Ukraine in its war with Russia – and for his claims that he's on a Ukrainian "kill list". Just so nobody was in any doubt where Gilmour stood, the guitarist later backed his wife, tweeting: "Every word demonstrably true."
Waters, who in 2020 accused Samson of using the Pink Floyd website as a platform for her literary career, hit back. "Roger Waters is aware of the incendiary and wildly inaccurate comments made about him on Twitter by Polly Samson which he refutes entirely," said a statement from his official Instagram. "He is currently taking advice as to his position." The whole thing is bizarre, appalling, grimly hilarious. It's Spinal Tap meets Shakespeare.
Pink Floyd never did things by halves, so it is horribly apt that the group should spawn one of the most embittered fallings-out in popular music. Indeed, the bad blood between these visionary talents has the larger-than-life quality of a rock opera. The sort with which the Floyd became synonymous in their late Seventies heyday.
What a fantastic concept album you'd get out of it. Two musicians overcome ferocious odds to conquer the world – only for their relationship to flame out in a white heat of bitterness and pettiness. In old age, they cannot let go (Waters is 79, Gilmour 76). Finally, their hatred threatens to consume them.
Waters and Gilmour have overcome obstacles before, most memorably the departure of their original lodestar, Syd Barrett. He was the driving force in Floyd's early days – a once-in-a-generation seer whose work drew in AA Milne and Tolkien yet whose drug-fuelled eccentricity forced his exit with the band on the cusp of success.
Waters, who had co-founded Pink Floyd in 1965, stepped in as leader. That's how he saw it at least. He was still of that opinion in 1985, when he pushed Pink Floyd to complete The Final Cut, an album that is today remembered not for its music but for a title that foreshadowed the unhappiness to follow. Waters and Gilmour were strong personalities who had long-butted heads. However, it was with The Final Cut that their relationship unravelled for good. Gilmour concluded that Waters's ego had finally got the better of him, and that his bandmate was determined to make a glorified solo record.
It didn't help that Waters was determined to turn Pink Floyd into a pulpit for his political views. He had conceived of The Final Cut as unabashedly political: it was an attack on Margaret Thatcher and the Falklands War. "The Final Cut was about how, with the introduction of the welfare state," he later said. "We felt we were moving forward into something resembling a liberal country where we would all look after one another ... but I'd seen all that chiselled away, and I'd seen a return to an almost Dickensian society under Margaret Thatcher. I felt then, as now, that the British government should have pursued diplomatic avenues, rather than steaming at the moment that task force arrived in the South Atlantic."
Such sloganeering unsettled his bandmates. Decades later, Gilmour would confess that he perhaps could have done more to get the project over the line. However, he also accused Waters of stuffing the LP with filler when the rest of Pink Floyd were urging him to slow down. "I'm certainly guilty at times of being lazy, and moments have arrived when Roger might say, "Well, what have you got?" And I'd be like, 'Well, I haven't got anything right now. I need a bit of time to put some ideas on tape,'" he said, according to Mark Blake's 2008 book, Comfortably Numb: The Inside Story of Pink Floyd.

Enjoy unlimited access to 70 million ad-free songs and podcasts with Amazon Music
Sign up now for a 30-day free trial
Sign up

Enjoy unlimited access to 70 million ad-free songs and podcasts with Amazon Music
Sign up now for a 30-day free trial
Sign up
He added: "There are elements of all this stuff that, years later, you can look back on and say, "Well, he had a point there." But he wasn't right about wanting to put some duff tracks on The Final Cut. I said to Roger, "If these songs weren't good enough for The Wall [the predecessor to The Final Cut], why are they good enough now?"
It truly was the final cut. Waters felt that Pink Floyd was creatively spent and invoked a clause in his contract by which he could exit the project. He assumed that, with his departure, Pink Floyd was over. However, Gilmour and drummer Nick Mason had other ideas. Waters sued to stop them from carrying on as Pink Floyd, leaving all involved in limbo for two years. An out-of-court settlement that allowed Gilmour and Mason to continue as Pink Floyd was reached in 1987, in a deal signed on Christmas Eve at Gilmour's house-boat, the Astoria.
Waters would come to regret his bloody-mindedness. "I was wrong," he told the BBC in 2013. "Of course I was." He did however add, "Who cares? It's one of the few times that the legal profession has taught me something."
Gilmour cared, and the bad blood would continue to fester. Pink Floyd were convinced by Bob Geldof to reunite for a stunning set at Live 8 in 2005. But even as they closed with a rhapsodic performance of Waters'"Comfortably Numb", it was clear something was off. As the applause swirled, Waters put his arm around Gilmour – whose body language screamed "get away from me". The guitarist waved to the crowd yet did not acknowledge his bandmate.
After Live 8, Pink Floyd were offered a rumoured $150m for a reunion tour. But Gilmour refused to have anything to do with Waters. In 2014, he came close to losing his temper when the subject was raised by Rolling Stone. "Why on Earth anyone thinks what we do now would have anything to do with him [Roger] is a mystery to me. Roger was tired of being in a pop group. He is very used to being the sole power behind his career."
Rogers, he continued, simply didn't play well with others. "The thought of him coming into something that has any form of democracy to it, he just wouldn't be good at that. Besides, I was in my thirties when Roger left. I'm 68 now. It's over half a lifetime away. We really don't have that much in common anymore."
Roger Waters says David Gilmour 'thinks he owns Pink Floyd'
Epic their feud may be. But it has been marked by breathtaking pettiness too. In 2021, the two bickered their way out of a vinyl reissue of the 1977 Pink Floyd LP Animals amid a difference of opinion over… liner notes.
"Gilmour has vetoed the release of the album unless these liner notes are removed," said Waters in a video posted to social media. "This is a small part of an ongoing campaign by the Gilmour/Samson camp to claim more credit for Dave on the work he did in Pink Floyd, 1967–1985, than is his due." He claimed that Gilmour continued to overstate his contribution to Pink Floyd: "Yes, he was, and is, a jolly good guitarist and singer. But, he has for the last 35 years told a lot of whopping porky pies about who did what in Pink Floyd when I was still in charge."
His very-much ex-bandmate hit back in Rolling Stone. "A very lovely Animals remix has been done, but someone has tried to force some liner notes on it that I haven't approved and, um, someone is digging his heels and not allowing it to be released," said Gilmour.
Waters has also accused Gilmour of running Pink Floyd as his private fiefdom. In 2020 he went on Twitter to complain that his version of Floyd's Mother could not be watched on the website. You can guess who he blamed. "Nothing from me is on the website – I am banned by David Gilmour from the website," he said. "David thinks he owns it. I think he thinks that because I left the band in 1985, that he owns Pink Floyd, that he is Pink Floyd and I'm irrelevant and I should just keep my mouth shut."
Already unbridgeable, the gulf between the pair widened further when Russia invaded Ukraine. Gilmour has a Ukrainian daughter-in-law and felt strongly that Pink Floyd should speak out. Hence the single "Hey Hey Rise Up" – a collaboration with Kyiv-based musician Andriy Khlyvnyuk that raised money for the Ukrainian Humanitarian Relief Fund.
"The practicalities of having an extended Ukrainian family is part of this," he said at the time. "My grandchildren are half-Ukrainian, my daughter-in-law Janina is Ukrainian – her grandmother was in Kharkiv until three weeks ago. She's very old, disabled, in a wheelchair and has a carer, and Janina and her family managed to get her all the way across Ukraine to the Polish border and now they've managed to get her to Sweden."
Waters had a different perspective, saying that the demonisation of Russia in the Western media was all "lies, lies, lies". Which brings us to this week and Samson's rebuke of Waters's stance on the conflict.
Where will it all lead? The longer the feud rages, the more absurd the hope that these two progressive rock warhorses might mellow with age. If anything, they have grown more antagonistic with the passing of the decades.
"I think the problem is Roger doesn't really respect David," Pink Floyd drummer Nick Mason told Rolling Stone in 2018. He added that Waters had never forgiven his bandmates for carrying on without him in 1985. "It's a constant irritation, really, that he's still going back to. It's really disappointing that these rather elderly gentlemen are still at loggerheads."