Meet Plastic Mermaids – the brilliant Isle of Wight band as indefinable as they come
The kaleidoscopic five-piece talk to Alexandra Pollard about their new album, 'Suddenly Everyone Explodes', recording in a barn in the middle of nowhere, and their origins in 'horrendous thrashy punk'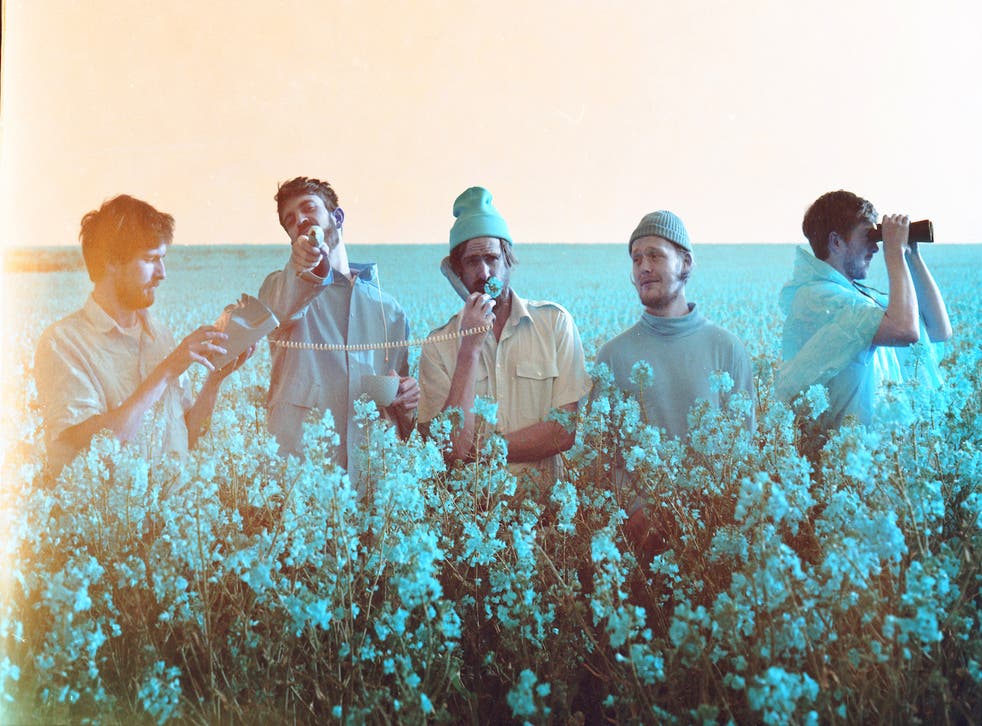 If you met Plastic Mermaids in a bar and asked them what kind of music they make, you'd probably be there until last orders. Not because the Isle of Wight five-piece are especially loquacious – if anything, they seem to find self-promotion rather embarrassing – but because when it comes to genre, their music is as skittish and indefinable as it comes.
Over the course of our conversation – which begins in the beer garden of an east London pub before a downpour forces us inside – the band use the following words to describe their sound: folk, jazz, prog, psychedelia, electronic, classical, dance... Each new suggestion prompts a brief squabble over its accuracy. "Folkadelic dream pop?" suggests vocalist Douglas Richards. "I wouldn't say it's dream pop," says his brother Jamie. "Choir chamber pop?" "That's not what it is," says guitarist Chris Newnham. "Our tastes are so different," says Jamie eventually, "that we generally pull it in so many different directions that the music ends up… not any of those things."
Listen to "1996", the brassy, syncopated lead single from Plastic Mermaids' new debut album Suddenly Everyone Explodes, followed by "I Still Like Kelis", whose twitchy guitars bely a gracefully languid melody, and you'll have an idea of the breadth of the band's influences. The Flaming Lips are the most obvious point of comparison – as much for the theatrical on-stage showmanship as the psychedelic sounds they make – but that only partly covers it. Organic and synthetic sounds collide together; video game noises meld with classical violins; vocoders play over an old dulcitone keyboard; a pipe organ Jamie found in a charity shop kicks into gear. Anchored by acid-soaked guitars and special effects pedals, theirs is a sound that is both kaleidoscopic and carnivalesque.
Jamie built most of the band's equipment himself – at least, the stuff he didn't unearth in the dusty corner of a charity shop. "It started out as necessity," he says, "realising if you made something yourself, you could get something that would cost a thousand pounds for maybe a hundred quid and a couple of days of time and effort. Then it got a bit out of control." He created a mixing desk, an analogue synth, microphones, three amps, and several guitars. He's currently making a customised effects pedal for The Flaming Lips' Wayne Coyne, who came to watch the band at Blue Dot Festival in Cheshire.
All that equipment found its way into a huge barn in the "middle of nowhere" on the Isle of Wight – lent to the band free of charge by a generous acquaintance. Recording the album there affected it immensely. "There's no way we could have done that in London," says drummer Chris Jones. "We could make as much noise as we wanted all through the night," adds Jamie, "there was no background noise, we were a mile from another building. Someone would have lost out on half a million pounds lending us that in London."
In person, Plastic Mermaids have the kind of easy camaraderie that only happens when you've known each other for years. Their formation was a "long and complicated process" – so complicated, in fact, that even they can't agree on most of the details – but it involves meeting at music college, before splintering off in various directions for a while. Douglas, Jamie and Chris Newnham eventually put together a "horrendous thrashy punk" outfit called Magic Octagon. "We'd wear no shirts, we didn't have any pedals or tuners, we'd just turn all the setting up to full and that'd be that." Shortly afterwards, they renamed themselves Plastic Mermaids. Chris Jones was at that band's first gig, and joined shortly afterwards. Bassist Tom Farren, who's at home on the Isle of Wight today, joined too. They must have been impressed by what they saw that night. "Oh it was rubbish!" laughs Chris J. "But the ambition and what they were going for was like nothing I'd ever seen before. I've never seen anything quite like it since."
They might have long-since abandoned the thrashy punk and the semi-nudity, but the band's experimental ethos remains. "We try and do stuff that feels like it means something," says Douglas – though that doesn't mean they're all furrowed brows and lofty lyrics. "Warmed up like yesterday's kebab in the microwave is how I feel for you," they sing on "I Still Like Kelis", "But in a microscopic way, we're tangled up eternally." The album's opening track, the Laurie Anderson-esque "Glow", is about the time Chris Jones mass-deleted a series of profound but compulsive texts a friend had sent him. "I tried to write them all down because I want to make a book of it one day and give them back to him," says Chris. "But I'd write them down and go back to my phone and there'd be another 14 messages, and I started to feel really down about the fact I couldn't get them all down. And then I f**king deleted the lot and I felt so good, I felt so alive."
The best albums of 2019 (so far)

Show all 67
Some of the band's songs are deeply introspective – the spoken word refrain on "Yoyo" is about when Jamie and Douglas's mother was dying of cancer. "I don't really believe in God or heaven," says Douglas, "and I guess I was thinking about how energy moves, and what a life is, and how a person isn't just their physical thing, how they're also the effect they have on the world around them. And when they die, the effect kind of lives on." Others, though, such as "Taxonomy" are "complete gibberish".
Plastic Mermaids were up at 5am to make it from the Isle of Wight to London in time for our rainy beer. The tiny island, which sits off the south coast of England, has its pros and cons. "There's a lot of 90-year-olds, and a lot Brexit voters," says Douglas, "75 per cent or something horrible." "It's great though," adds Jamie. "There's also a bunch of hippies who came to Isle of Wight Festival in the Seventies and never left." Some of the music world's most enduring icons performed at that festival's famous 1970 edition – T Rex, Bob Dylan, The Who, Joe Cocker. "Joni Mitchell used our friend's toilet! They've got the farm next to the site, and she came in and used the loo."
Besides, living on the island allowed them to record their album in that enormous barn. "Because of the space, we were able to set up all of our instruments that normally sit squeezed into cupboards and things, and then play around," says Jamie. "It was crazy having this Abbey Road-sized place to record in."
They hope that people can connect with the record. "It's not an album you can put on in the background, it's an album that you need to listen to," says Douglas. "We'd probably be better off if we had more of a definite direction so people would know how to deal with us." "But maybe not," says Jamie. "Haphazard, I like to call it."
Register for free to continue reading
Registration is a free and easy way to support our truly independent journalism
By registering, you will also enjoy limited access to Premium articles, exclusive newsletters, commenting, and virtual events with our leading journalists
Already have an account? sign in
Register for free to continue reading
Registration is a free and easy way to support our truly independent journalism
By registering, you will also enjoy limited access to Premium articles, exclusive newsletters, commenting, and virtual events with our leading journalists
Already have an account? sign in
Join our new commenting forum
Join thought-provoking conversations, follow other Independent readers and see their replies