Public Service Broadcasting interview: Band explore Brexit, Trump and coal mining on new album Every Valley
For the band's third abum, frontman J Willgoose Esq decided to explore the lives of ordinary people who persist against great odds. The journey took him to the heart of the Welsh valleys, where the end of coal mining can still be felt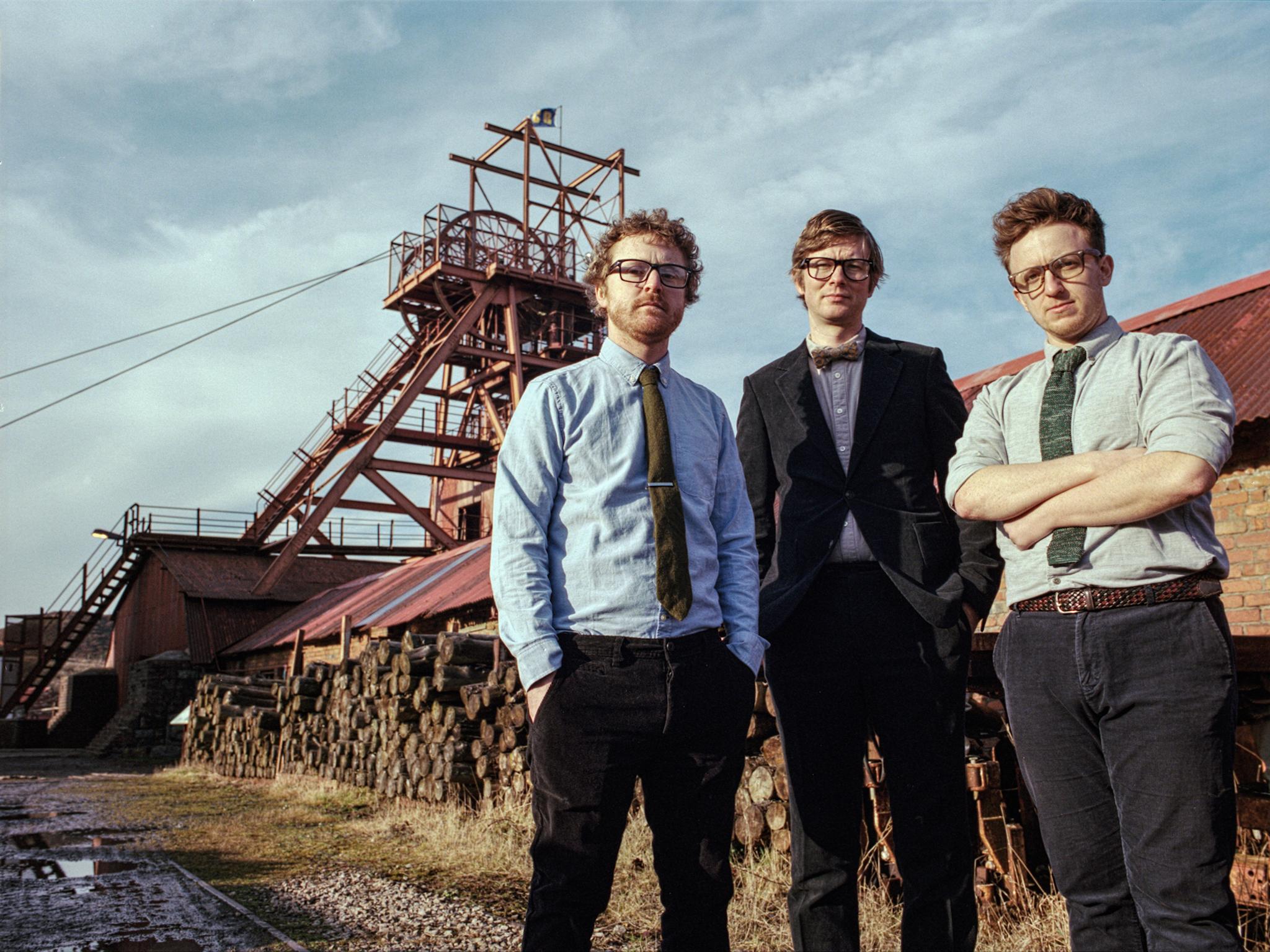 J Willgoose Esq, frontman of the band Public Service Broadcasting, had never visited the mining communities of South Wales before he decided to write an album about them. Then again, he'd never visited the outer reaches of the galaxy when he wrote the band's second album The Race for Space in 2015.
He has, however, spent years exploring the limits of human achievement by sampling archive recordings from the British Film Institute and setting them to music. For his latest project, he decided to turn his attention to the lives of ordinary people who persist against great odds. "I wanted to write about everyday heroic deeds," he says down the phone from his home in south London. "This album is about mining in one way, but it's also about community and loss and dealing with the vanishing of something that previously defined you."
After settling on the valleys, Willgoose worried about barrelling into close-knit village communities and attempting to tell their story. Disaffection about the decline of manufacturing, including the closure of coalmines and steelworks, runs deep in South Wales.
He was reminded of it during the referendum, just a few weeks after he contacted the Ebbw Vale Institute, an arts centre built in 1849 by the local steelworks company, looking for a place to rehearse and record.
The day after the vote, a national newspaper splashed that Ebbw Vale, a town "showered with EU cash", was the also the place with the highest proportion of leave voters in Wales, at 62 per cent. It lamented that EU funding was behind local roads, railway links and apprenticeship schemes trying to make life better despite unemployment at 40 per cent.
Willgoose says: "The referendum got me thinking about young people [who are] so disenfranchised that they would roll the dice on their own future,"
When he visited he found a pretty Welsh village in a state of disrepair, where teenagers rode BMX's round the carpark at the local Tesco on a Friday. "I probably did the equivalent in south London when I was a teenager," Willgoose says. "But I can't help thinking there were more opportunities."
"It's a bit of a bleak industrial town," says Chris Phillips, events organiser for the Ebbw Vale Institute. "Parochial, really. We've been forgotten for so long, we've developed a siege mentality." Phillips caters for local taste by booking Nirvana and Thin Lizzy tribute acts to play at the 300 capacity venue in the Institute, which has become home to yoga classes, a cafe and youth drug and alcohol services. "They are quite busy," Chris says.
When Public Service Broadcasting said they wanted to record somewhere in Wales, their management suggested plush Welsh studios like Rockfield, where Queen recorded "Bohemian Rhapsody", or Monnow Valley, which has hosted the likes of Oasis, Manic Street Preachers and Iggy Pop. But Willgoose wanted something more DIY. They struck a deal with Phillips to build a studio in the gig venue for the whole of January. Phillips says they jumped at the chance: "We had to move the Zumba classes and the patchwork quilt classes and kept everyone sworn to secrecy."

Enjoy unlimited access to 70 million ad-free songs and podcasts with Amazon Music
Sign up now for a 30-day free trial
Sign up

Enjoy unlimited access to 70 million ad-free songs and podcasts with Amazon Music
Sign up now for a 30-day free trial
Sign up
In the meantime, Willgoose started digging at the South Wales Miners' Library at Swansea University. He wanted to find the unsung heroes of the miners' strikes, the ones who held the community together as their local economy collapsed around them.
Sian Williams, assistant librarian, helped Willgoose discover an interview with Christine Powell reflecting on the strikes of 1984 and 1985. She can be heard blazing a trail for women in "They Gave Me A Lamp": "I didn't see any reason why I shouldn't be out there doing what I was doing, why I shouldn't be in the support group."
Williams, assistant librarian, talks animatedly about how Public Service Broadcasting are helping with the library's aim of sharing their material with a wider audience, particularly in the current climate. "If you look at some of the fantastic orators and listen to their messages from the 1920s onwards, many of them are the same things we are hearing today, just in a different context," Williams says. "I hope it will give people strength."
Willgoose sourced as much as he could from library recordings and film archives in Bristol and London, but he needed something more. "The material wasn't really there for the stories we wanted to tell. I wasn't going to find a reading of Idris Davies's poem that would have been as good as getting James Dean Bradfield to sing it," he says. He was made up when Bradfield, frontman of Manic Street Preachers, recorded the version of "Gwalia Deserta" by the Welsh poet Idris Davies that became "Turn No More".
Public Service Broadcasting returned to the Ebbw Vale Institute in June, after the record had been sent off for pressing, to play two sold out shows. Phillips and Williams were both there. "I was actually very emotional," Williams remembers. "I just was so overwhelmed by the sensitivity and the reaction from the miners, some of whom had travelled quite far."
Wayne Thomas, an ex-miner who worked down the pits for 20 years, was also there. Thomas became the director of a nearby colliery when the miners brought it into community ownership. He remembers striking as young man with a family to feed.
"Ending mining is one thing, but the real thing was smashing the union. It wasn't worth what it cost my community," he says. "For us it was a case of how desperate people were, they would go into cleaning jobs, stocking shelves, waiting for things to crop up."
Thomas says all of a sudden, without offering alternatives, the Government pulled the plug on the mining industry: "Guys in their forties who were well respected in their industry were on the dole for the first time in their lives. They didn't know how to cope with it."
On the song "Progress", Tracyanne Campbell from the Scottish band Camera Obscura repeats the line, "I believe in progress," over a rousing instrumentation inspired by Kraftwerk, the metal machine musicians from Germany who celebrated all things industrial.
Willgoose knew this album had to explore the complexities of progress, balancing the inevitable decline of fossil fuels with the need for progressive social ideas. "It's the ultimate double-edged sword, the relentless drive behind the human race," he says. "You can't stop progress, even when whole communities are affected in a negative way. But you can view view society as a whole and take care of the people who are left behind."
Christine Powell's voice returns to tell us about those left behind on "Mother of the Valley". She laments the demise of the industry and its impact on the town: "You get to realise what you mean about the death of a village and about the pit being the mother of the village. Its sounds romantic, but it's not romantic at all. It's true."
Willgoose says this is how disenfranchised communities, desperate for alternatives, fall prey to the kinds of populist messages peddled by Nigel Farage and Donald Trump. Wayne Thomas agrees. "For me the fight isn't over," Thomas says. "This album reminds us that this is not a bygone era. Not when old farts like me are still dealing with the consequences."
'Every Valley', the new album from Public Service Broadcasting, is out on 7 July via Play It Again Sam
Join our commenting forum
Join thought-provoking conversations, follow other Independent readers and see their replies