The Independent's journalism is supported by our readers. When you purchase through links on our site, we may earn commission.
Queen Kwong: 'When #MeToo started happening, most women were like, 'well yeah, duh'
US rocker on her long-awaited second album, her dynamic live performances, and misogyny in the music industry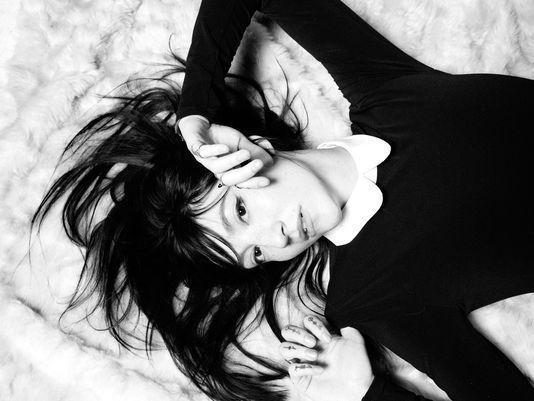 ​"Right now I don't really know how I feel. I'm OK. I'm trying to focus on the record."
Queen Kwong, real name Carré Callaway, is calm and determined ahead of the release of her anticipated second album Love Me To Death. It's remarkable, really, just how much. Someone with less of an iron will might be distracted, or nervous, or even tearful. Queen Kwong sounds steely.
When we speak on the phone, she's still waiting back for an official diagnosis months after being rushed to hospital because she was coughing up blood in the middle of the night. She later posts a status update on Facebook: it's cystic fibrosis.
"Turns out that I am one of very few people in the entire country who is Asian and has CF," she writes. "It's a rare disorder in general, it's extremely rare in Asians, and it's rare to be diagnosed as an adult. I've always been told that I'm a "rare bird..."
"It's not the most glamorous disorder to have, and the average life expectancy for those with CF is currently around 40 years. However, because I have a rare, mysterious form of it, there's a great chance of me living longer. So, you likely have many more years of putting up with my noise! I just have to take extra precautions to not get sick."
Of course, she won't let this stop her from touring, and she won't get rid of her cats, she says. But she will be going "full Asian" (wearing a mask on the plane; at the merch booth at her shows). "Making pictures with me all the more fun."
Callaway landed on the music scene after a chance meeting with Nine Inch Nails frontman Trent Reznor; at 17, she was enlisted as a support act on the band's 2005 With Teeth tour, performing as a solo artist under her real name, then again as Queen Kwong on the band's Wave Goodbye outing.
Some years later she released her debut album Get A Witness, to critical praise, and scored a slot at Reading and Leeds Festivals. At that time in her life, she says, she really had nothing to lose. She'd never been able to record a full album, so on her first one she just went, "f**k it", and unleashed. Get A Witness didn't so much capture as wrestle with this maelstrom of feelings Callaway poured out of herself: it was like the Three Witches from Macbeth decided to ditch the cauldron and form a band.
Another three years and the follow-up, Love Me To Death, is about to be released via Edison Sound. After the release of her debut, Callaway took a break from writing and recording music because she wanted to remove herself from the pressure of a "Sophomore Slump" (aka "Second Album Syndrome"), and try a creative writing course instead. Then in 2017, she began to work out ideas for Love Me To Death.
"I think actually just taking a minute to work on something… the first record there was no thought to it at all, and at that point I really had nothing to lose," she says. "It was a dark time in my life. I didn't revisit lyrics or structure or anything. We did it in two takes and that was it.

Enjoy unlimited access to 70 million ad-free songs and podcasts with Amazon Music
Sign up now for a 30-day free trial
Sign up

Enjoy unlimited access to 70 million ad-free songs and podcasts with Amazon Music
Sign up now for a 30-day free trial
Sign up
"So this time I really just decided to focus, to really flesh out the songs and actually finish it.
"I took the demos to Joe [Cardamone, Queen Kwong's producer] in LA, then back to Detroit, and I brought out a really good friend Hayden Scott who plays the drums brilliantly. He and I recorded the final track, with live drums, and I played the bass where I think I really found my tone. It was a much tighter way of making a record, I think. This one, it's the full picture of who I am."
Love Me To Death has the same dangerous energy as Callaway's debut; squalling, distorted guitars, snatches of muttered conversation in the background, screams, ghostly chimes, menacing drum beats … but it's much more refined. There's an explicit message in each song, whereas before it was often a burst of pure rage. This time Callaway has channelled it into something more coherent, but still as bold and brave.
"People were saying that first record was very limiting. And I've been hearing stuff like that my whole life, but I did feel like I could challenge myself on the next record by making something I spent more time on, but that doesn't compromise my vision as an artist or my abilities. But I also wanted to make songs that were more well-rounded and could reach more people."
Live shows are where Callaway really goes "off the wall", she says, and it's helpful to have Scott there because "he can read my mind".
"I feel like I'm connecting to people in my natural state. I am totally off the grid and spontaneous; I'll sing half the song and add a chorus or something…" she laughs. If she's honest, she adds, she's never had a complete lineup that's fit: "Hayden is the only person who's totally got it."
It's easy to become jaded, as a music fan, if you're constantly at live shows. Bands often seem to go through the motions: too often the hair-flicks, guitar solos, jumping into the crowd, seems about as spontaneous as a flash mob.
"As a listener and an audience member and a fan of rock 'n' roll, the bands I've seen in the last several years I've been disappointed by because it didn't seem genuine, it seemed choreographed," Callaway agrees. "It's the same moves at the same time. That's not how rock is supposed to be.
"I gravitated towards that genre because of the aggression and the rawness and the visual aspect, so when I started live shows I was like I'm gonna do what I want. Some people play songs how they sound on the record and I am not like that at all."
When she comes to the UK and Europe in May she'll be bringing "a totally different lineup".
"It's really important me to play shows with people I connect with, and I'm also an adrenaline junkie so I can go off without having to think 'am I doing everything perfectly'… I embrace imperfections."
Callaway had alluded to some kind of incident with a local Detroit act on Twitter, and she hesitates slightly before talking about it. Moving from LA to Detroit, she found herself confronted with what sounds like a particularly hostile reaction, particularly within its local rock scene, when she tried to integrate herself with it.
"It's very bro-y and very exclusive. It's a really terrible mindset because it doesn't benefit anybody. It's like, 'if you're not from Detroit then you shouldn't be here'. There are a lot of great things about the city but the rock scene – not all of the bands of course – seems so bitter."
It was such a casual thing, she felt, to say yes to a request for her to play a smaller festival. But another band, who'd never met her, who'd never seen her play before, who she'd never heard of, took exception.
"They decided to make it their mission to rip me apart in every way possible," she says. "There was a blog that seemed dedicated to it. These were grown men, not teenagers. And they wrote the most vile stuff about me, which after so many years being in this business I'm kind of used to… but it's one thing when it's people commenting on YouTube, and another where the people involved know where you live."
They found topless photographs of her, taken by a professional 10 years ago, and used them as their avatars on social media, "as proof that I was just a slut and that's how I got to where I was".
She still sounds perplexed at what went down: "It's really nothing, that's why it was so strange. Especially in the rock genre, how is a photo of a topless girl even a big deal?
"I kept blocking them and they made fake profiles, it was absurd. And then they started saying some racist stuff. I'm Asian, and I've never really had to deal with racist stuff like that. As a woman, I deal with sexism nonstop. Forever. My entire life I've dealt with that, and I think all women do, especially when they're in a male-dominated industry."
What was most frustrating, she says, wasn't the band. "They're just f**king losers." She felt more let down by how the local rock community responded. She decided to pull out of the festival ("then it was, 'oh she has such thin skin!') and found herself in a board meeting, of course mostly filled by men, who offered their takes on what had happened to her.
"It was like Twilight Zone," she laughs exasperatedly. "I actually took the topless picture of me that they used and I printed it on T-shirts, and I played the show, sold the shirts and gave the money to a women's shelter. And I said I was never going to play Detroit again and I didn't."
Her video for "One Lung", directed by Tammy Sanchez, was a response in-part to that incident, but more generally a response to the harassment and abuse Callaway receives all the time.
"Throughout much of history, we as women have been told what to do with our bodies, what to think of our bodies, what our bodies are for, what they should look like, who should view them and when, and in what light," Sanchez said in a mission statement for the video.
"Society and culture send these messages, but more particularly, the ones at the top of the power structures issue these mandates to us. This piece is not about them.
"This visual piece is about reclaiming autonomy over our own bodies. This video was made by women and is about the female body belonging only to itself. This piece is not about sex. It is about power. It is about beauty. It is about strength."
Callaway credits having to deal with such a barrage of misogyny through her career for why she doesn't suffer from stage fright: "I'm not afraid of f**king up. So for me there's no second thought.
"I'm not apologetic, I've said some things that have upset people or made them uncomfortable. Like 'you're not supposed to be doing that, you're a woman'. It's really hard for me to comprehend how this can be an ongoing thing in society, but at the same time it's not surprising at all. When the #MeToo stuff started happening, most women were like, 'well yeah, duh'. Everybody was shocked by this behaviour, except women."
Most irritating of all is when her art is credited to other people: a guitar line she wrote is attributed to the man playing it at her live shows; or music writers feel compelled to list the achievements of the men she works with, rather than her own.
"Those guys were credited for stuff I wrote. There were even reviews for the last record that praised so-and-so's 'sonic guitar sound'… and it's like, 'they're not even on the f**king record'. If you're fronting a band as a woman and you're singing, nobody believes you wrote the music."
She stays in touch with Reznor, and while they don't operate within the same genre, she welcomes his feedback: "I think we approach making music slightly differently, so I don't go to him expecting him to be a fan of everything I do," she says, "but the advice he gives me is always something I take to heart.
"Our connection from the get-go has been because we have the same work ethic, we have a lot of the same ideas in terms of what music should be and what it is to us, and what we want it to represent it."
There were two pieces of advice Reznor gave her that stuck: Firstly, that her band is not a democracy ("It sounds harsh, but it's my vision and it's what I want to do, and if people want to be part of it then great, but it's something I started.")
And, secondly, not to pander to trends in music. "That is something I've had to focus on and really commit myself to, and it's been the biggest struggle for me," she admits. "I've had to put faith into it, and even though sometimes I feel like it's hindered my immediate success, I hope that it will pay off in the long run where I can have a big body of work that is truly representative of me."
Labels now seem more comfortable with women-fronted, or all-female bands, she suggests, whereas five years ago people told her it had "been done". "And I ignored it and grew into the artist I am now. Now the 90s are cool again, and part of me was like… wait, I was doing this three years ago!"
"I'm a different artist now," she adds. "I still question my decision, only because it's scary as an artist when my success isn't determined by how hard I work or how good I am… it's other people's taste. But I just go back to Trent's advice and hope people get it and connect with it, and that's all I can really do."
'Love Me To Death' is released on 13 April via Edison Records. Queen Kwong plays the Shacklewell Arms in London on 9 May