The Independent's journalism is supported by our readers. When you purchase through links on our site, we may earn commission.
Rammstein interview: 'It's close to unbearable harmony in this band at the moment'
The colossal German metal industrialists discuss 'Paris', the most visually arresting document of their explosive live show to date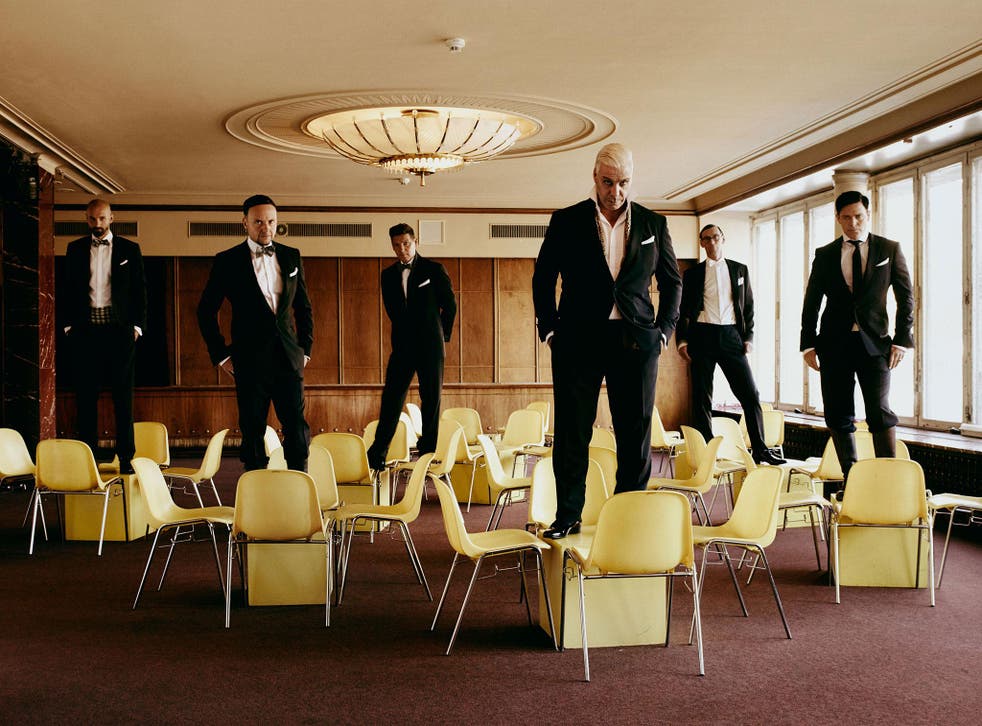 Rammstein are a sterling example of a band that have reached internationally renowned heights, whilst steadfastly refusing to compromise their vision or pander to any pre-conceived notions of what a stratospherically successful band should do.
Pioneers of the mid-Nineties "Neue Deutsche Härte" (new German hardness) movement, alongside Oomph!, Megaherz and Stahlhammer, Rammstein's blend of alt-metal, groove and electronica was the only example of the genre to reach a truly seismic global audience.
Notoriously shy of the press, the band are today entertaining the idea of performing promotional duties for the release of their jaw-dropping live spectacle Paris, in London's swanky Soho Hotel. Featuring 22 songs from the band's entire repertoire over a 2-hour+ running time, the resulting film provides a startling and vivid visual portrayal of the most successful German rock band of our time.
Paris is a modern masterpiece of music cinema: a live concert filmed with the all the flair and elegance of a music video. Shot by renowned director and ex-member of Swedish black metal band Bathory Jonas Akerlund, the film uses rapid cuts, close-ups, dramatic colouring and CGI effects to create an experience more vibrant than reality.
Utilising 25 cameras and shot across two nights at the Palais Omnisports de Paris-Bercy, Akerlund explains his concept for Paris as "shooting a live show (whilst) trying to translate the energy that you get in the room to film".
He explains: "I try with every trick in the book to make as much impression on the audience as I can."
Rammstein: Paris

Show all 13
Watching Paris is certainly a visceral and bewildering experience, as if a show featuring giant spurting penises, enough pyro to destroy a small country and keyboardist Christian 'Flake' Lorenz being cooked in a fiery pot wasn't visually stimulating enough.
Akerlund's background in music videos no doubt helps with the striking aesthetic having worked with the band previously on their video promos for "Ich Tu Dir Weh", "Mein Land" and the controversial porno parody "Pussy".
"It was mainly Jonas's vision and visual ideas" says Rammstein drummer Christoph Schneider. "We handed creative control over to him and said: 'It's your film, you are a great filmmaker and editor, so you do it how you see it.'
Enjoy unlimited access to 70 million ad-free songs and podcasts with Amazon Music Sign up now for a 30-day free trial
Sign up
"He has a good eye for detail and focusing on things that you are not seeing when you're in the audience. So Jonas started to cut things together very fast and make it very edgy; when we saw it for the first time, we were quite shocked at how fast the cutting was and how difficult it was to follow and digest.
"To have this quick cutting and heavy editing seemed too much over the length of an entire show, so we got a little bit involved and changed things here and there, but we didn't change it all that much really."
Despite some reservations with the final edit, Rammstein have nothing but respect for Akerlund and his take on their live show. Guitarist Paul Landers praises his visual fluidity, and puts the patience demanded for a project of this magnitude down to the technical proficiency of the Swedes.
Schneider and Landers admit that they were tempted to tone down the film's magic-realist flashes of CGI, but acquiesced when Akerlund said he was fond of them. "We were very careful with adjustments and our influence" says Landers. "We made them, but in a way that would not destroy Jonas's vision."
While this may seem an entirely normal procedure for most bands, loyal Rammstein fans will know that they rarely give up much creative control. All six members of the band feel a responsibility that all things branded with the Rammstein banner fit in with the vision and mythos they've created.
Allowing Akerlund to run rampant with his creative vision has led to the most arresting visual representation of Rammstein to date – no mean feat, considering that there are already 4 DVDs featuring live footage commercially available. So why did they feel the need to make another one?
"You make them for the history," says Schneider. "If somebody 20 years in the future wants to know what Rammstein was like, here's a visual document to look at."
Rammstein are currently in the process of writing their seventh as yet untitled studio album. Little is known about the album outside of Rammstein's inner circle, but considering the eight-year gap since their last record, anticipation is at an all-time high for new music from the band.
Things we do know: 28 song ideas have been sketched out for the record, 24 of which already have lyrics. Landers describes them as "not ready to record, but live!" Some of them are bare-bones of songs, some are practically finished.
But don't expect a sprawling, epic double album effort; if an overall theme is coming to the fore during these early stages of the record's inception, it's cutting the fat and honing things down to essentials.
Schneider points out: "It is kind of a secret of Rammstein's music to make it clear and get rid of the ballast and focus on what is there, which makes it harder and have more of an impact. This time it feels easier because we've been getting along very well in the last few years.
"Maybe that comes down to age; you're trying not to change your friends or colleagues anymore, so you accept them more as they are and give them the space they need."
"It's close to unbearable harmony in this band at the moment," Lander chips in with a mischievous grin.
A sense of euphony has been established in part due to the assignment of a producer to oversee not recording but the writing sessions. Olsen Involtini has previously worked with the band arranging strings for Mutter and Reise, Reise, creating remixes and engineering their live sound; his history working with the band makes Involtini a perfect mediator to throw creative ideas between.
"He's a good friend of ours," says Schneider. "He produces hip-hop and pop music in Germany and he also plays guitar. He has a lot of good qualities so we brought him in to lead the rehearsal and work through the songs with us.
"If two of us disagree, we take the direction that he likes. Often we would get lost in the making of something; there would be 20 different versions of a song and he would help us to focus on what was working and what was not."
Landers quickly adds: "The writing in Rammstein is always democratric ... not easy, but democratic. We are like eager dogs. But with Olsen there leading rehearsal, we don't have to fight so much – we just follow his lead. He's helping us to get focused and avoid unnecessary fights."
That last part in particular is likely a crucial part of Involtini's role; tensions in the studio whilst creating 2009's Liebe ist für alle appear to have been the main impetus for Rammstein taking such a long hiatus. (Landers describes writing the album like making a collage next to an open window; the wind keeps scattering the pieces, making it hard to fit them all together.)
Rumours began to surface around 2014-15 that the band were splitting up – no doubt fuelled by select members of the band working on various musical projects outside of Rammstein.
"We heard this rumour too," says Landers, "but it was never really the case. But that rumour continued because we didn't put a record out, but Till (Lindemann, vocalist) and Richard (Kruspe, guitarist) both did and that fuelled the fire even more.
"But we weren't really in any danger of breaking up; we just had a couple of years off. For me, the future of Rammstein was never in question, not even a little bit."
So what was the catalyst for getting all six members of Rammstein together to commence work on their seventh album?
"The way I tend to put it," says Landers, "is the four of us who hadn't made a record in that time were hungry. Till and Richard didn't want to go to the restaurant because they had already eaten, but the four of us said, 'We're hungry!' So then they agreed to come in. We made a compromise and said 'Let's just do three or four songs first and see how it feels with no pressure.' And it felt good, and now we have 28 song ideas."
"The band had particularly bad memories on the last production," Schneider adds, referring to Liebe ist für alle. "It took a long time and there was a lot of arguing. We would lose track of things very easily and nobody wanted to leap straight back into that situation. Everybody was afraid that if we get into writing another album, we would start all that petty fighting again. But it's changed now, and with Olsen's contribution, we are not fighting so hard anymore – no one is killing each other to get their part in over any of the others. "
Whilst the majority of the band's songs are written in their native tongue, their music transcends any language barrier; Rammstein are one of a small smattering of groups who are able to sell out arenas across the globe without the aid of songs written in English.
Their overwhelming international popularity far surpasses the expectations of most bands outside of the Anglosphere, and is proof (if any were needed) of music's power to communicate on a universal playing field.
Landers succinctly summarises the band's broad appeal when describing his approach to writing Rammstein's deliciously simple yet tastefully executed riffs: "One thing I try to think about when we're writing songs is how it will feel to play live. If you're standing at home and you play a loud chord that rings out, it feels good, you feel powerful! But if you're sat down and gently finger-picking, it doesn't feel so good.
"We try to have more moments in Rammstein music that make you feel good; if it looks good, then it also sounds good."
This relatively simple formula, alongside an all-conquering show that many will attest is one of the best spectaculars in the world of live music, ensue that Rammstein will continue to beat all the odds and remain one of the most celebrated, unique propositions in metal.
Often the show is so (literally) explosive, it seemingly overshadows the quality and sheer boldness of the German sextet's songwriting. But that is to underestimate the acerbic wit of "Mein Teil", the orchestral audacity of "Mein Herz brennt", the delicate beauty of "Ohne Dich" or the sheer aural gutter punch of "Sonne", a song 16 years old that sounds as vibrant and powerful as it did in 2001.
Is it irritating that the band's intricately crafted song writing gets overshadowed by the sheer dominance of their fiery live show? "We put as much effort into the music as we do the show," Schneider says. "Just as we put as much effort into the photos, the lights, the videos because we know that they all belong together. Every element has its part to play and supports each other."
"You can't force people to react a certain way to what you put in front of them," adds Landers. "We live in a free world and people have every right not to listen. We know that sometimes the show overshadows the music, and we try to not let that happen. But the music is very good in my eyes, and we try to have a balance between both.
"If you meet a nice woman with blonde hair and big boobs, you might start talking to her because of her appearance, but then you find out that she is clever and funny and kind-hearted. We are trying in Rammstein to be the blonde with a brain."
Paris is available now on DVD and Blu-Ray through Spinefarm Records. Rammstein's as yet untitled seventh album will likely be released next year
Join our new commenting forum
Join thought-provoking conversations, follow other Independent readers and see their replies