Ray LaMontagne interview: From tortured soul to Ray of sunshine
Singer-songwriter Ray LaMontagne is a changed man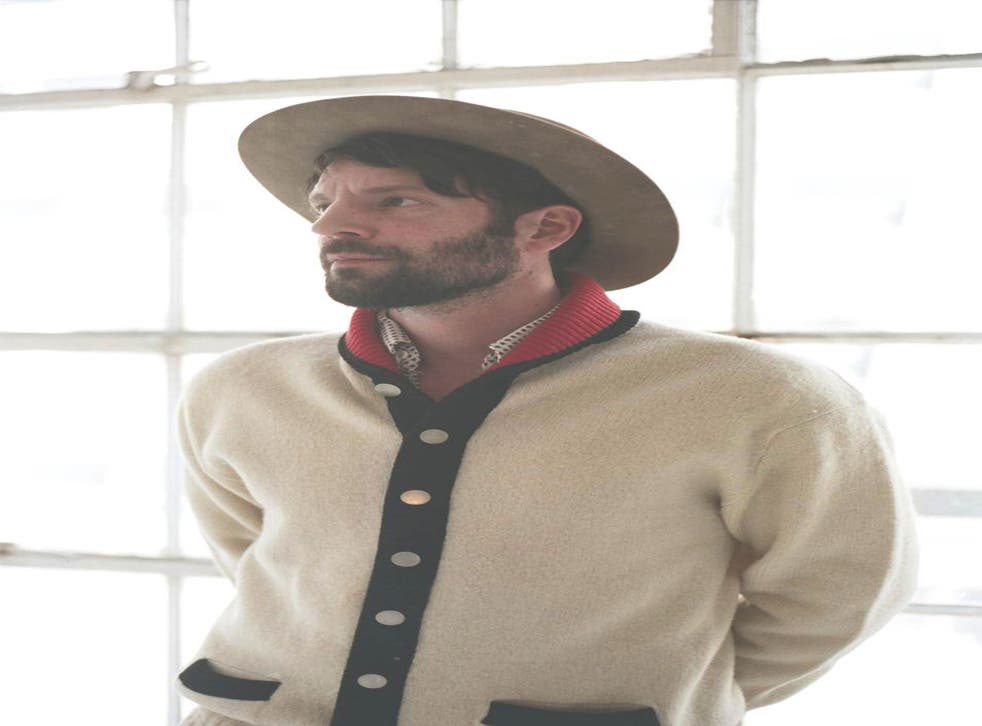 Has Ray LaMontagne shaken off his demons? If his new album, Supernova, is anything to go by, the answer is yes. The least-fraught record of the singer-songwriter's career to date, it is summery and, in places, positively patchouli-scented, suggestive of a man with, if not quite flowers in his hair, then fewer woes than were implied by his most famous song, 2004's "Trouble". True, there is an unrequited love song here called "Pick Up a Gun", in which he talks about shooting the TV set in anger, but as he will later insist, "my songs aren't autobiographical. It's just storytelling, universal truths".
LaMontagne and I are speaking on the phone, because he's in America, and I'm not. I had originally suggested we speak via Skype, but he wasn't keen. This was hardly surprising: over the decade since he hit the spotlight, the 40-year-old has garnered a reputation as a tormented soul, whose big bushy beard has seemed as much something to hide behind as a nod to the hirsute folk troubadours – Van Morrison, The Band, et al – he so admires. And if, as I know from past experience, interviews with the man have tended to the torturous, with answers delivered in mumbled monosyllables, he has appeared little more at home on stage, often electing to play in complete darkness.
But something has evidently shifted since we last spoke. Perhaps it's the fact that his last album, 2010's God Willin' and the Creek Don't Rise, was his most commercially successful to date, and won him a Grammy, but the man has now lightened up, both in song – the title track of his new album is something to whistle to – and also in conversation. He now speaks in full, flowing sentences, and sounds engaged throughout. Oh, blessed relief.
Right now, he's telling me about his home, which he shares with his poet wife Sarah Sousa and their two teenage boys. He's always liked rural spots: at the time of our last interview, he was living in the middle of nowhere in Portland, Maine; now he's based in Western Massachusetts. "It's a beautiful old estate that once belonged to the first US ambassador of Russia," he says, adding "we've got 100 acres of fields, and another 16,000 acres of woods beyond."
He has spent the past half-decade renovating it. "I love saving old houses. This one had lain empty since 1960, and all too often when they do sell, people tear them down to build something new. That's sad. All that history, gone." He pauses for a minute, suddenly self-conscious. "But this isn't what you called to talk about, right?"
It's been four years since his big Grammy win; LaMontagne says he felt no pressure to swiftly produce a follow-up album, initially at least. The right songs would come when they were good and ready, he thought, and not before. In the meantime, he was content pootling about his estate, fixing up an old car or riding his motorcycle. Last year, he took a blacksmith apprenticeship, and built himself a smithy alongside the house. "I like to mess around in there," he says.
However, in 2012, when the right songs continued to elude him, he decided to seek help. He wrote to Elvis Costello, a friend, for advice. "He's a hero of mine, and such a gentleman. He told me simply to trust in my voice." This, it seems, was all the encouragement he needed. The songs now flowed, each drenched in a Neil Young-like, 1970s California vibe, LaMontagne high on what seemed like his own, possibly new-found, happiness. The recording process, he says, was "joyful". "The songs suddenly came to me, and I felt lucky to get them. Every songwriter is dying to find themselves the kind of songs people can sing around the house. That's what I was aiming for here, melodies that endure."
It is fair to say that LaMontagne hasn't always described the songwriting process in such exultant terms; in the early days of his career, each song sounded like a small exorcism. Perhaps they were, for while he claims not to be an autobiographical songwriter, his tumultuous upbringing must have offered plenty of inspiration. His parents split shortly after his birth, leaving his mother to drift across America with him in search of work. There were several prospective stepfathers along the way, and as a result he now has five half-siblings. The itinerant life clearly appealed to him, and after school, he began to make his own way around the US, picking up part-time jobs. By his mid-20s, he was working in a shoe factory in New Hampshire, married with two small children. Shoes were never his passion, but, inspired by listening to Stephen Stills' album Manassas, he thought that writing songs might be. The fact that he'd never considered this before didn't matter. The sad, reflective songs he wrote made for intimate, uneasy listening.
"I decided to give myself five years to see if I could get an audience for my music, and to tour enough without, you know, destroying things at home," he says. He started in 1999, and come 2004, approaching his own self-imposed deadline, he released Trouble, a bleakly beautiful record of harrowing intimacy that became a word-of-mouth bestseller. No more shoe factory. His next album, 2006's 'Till the Sun Turns Black, proved bleaker and more beautiful still, while 2009's Gossip in the Grain's spectral folk hue confirmed him as a rare breed. But success brought attention, and his social awkwardness just made everyone all the more curious. Horrified, he retreated, gradually cutting out interviews and public appearances, "because they upset me". "I can't pretend it's ever felt natural," he elaborates. "I don't like to be noticed, or even looked at."
Enjoy unlimited access to 70 million ad-free songs and podcasts with Amazon Music Sign up now for a 30-day free trial
Sign up
These days, LaMontagne operates on his own terms: dabbling in music when he so chooses, and in blacksmithery when he doesn't. We talk about his children, about how they love all that wide open space, and about how he finally feels happy with his lot. "I'm comfortable now. I've managed to carve out a niche in a very tricky and uncertain business."
Presumably, then, when he does play live, he no longer does so in darkness? From down the line I hear the rustle of whiskers. I do believe the man might be smiling. "No, I no longer play with the lights out," he declares, almost triumphantly. "If anything, more lights than ever."
'Supernova' by Ray LaMontagne is out now
Register for free to continue reading
Registration is a free and easy way to support our truly independent journalism
By registering, you will also enjoy limited access to Premium articles, exclusive newsletters, commenting, and virtual events with our leading journalists
Already have an account? sign in
Register for free to continue reading
Registration is a free and easy way to support our truly independent journalism
By registering, you will also enjoy limited access to Premium articles, exclusive newsletters, commenting, and virtual events with our leading journalists
Already have an account? sign in
Join our new commenting forum
Join thought-provoking conversations, follow other Independent readers and see their replies