Rhodri Marsden's Interesting Objects: The Joey Ramone street sign in New York
The idea for the sign was first mooted by a 20-year-old fan in 2001
Rhodri Marsden
Wednesday 12 August 2015 15:28 Comments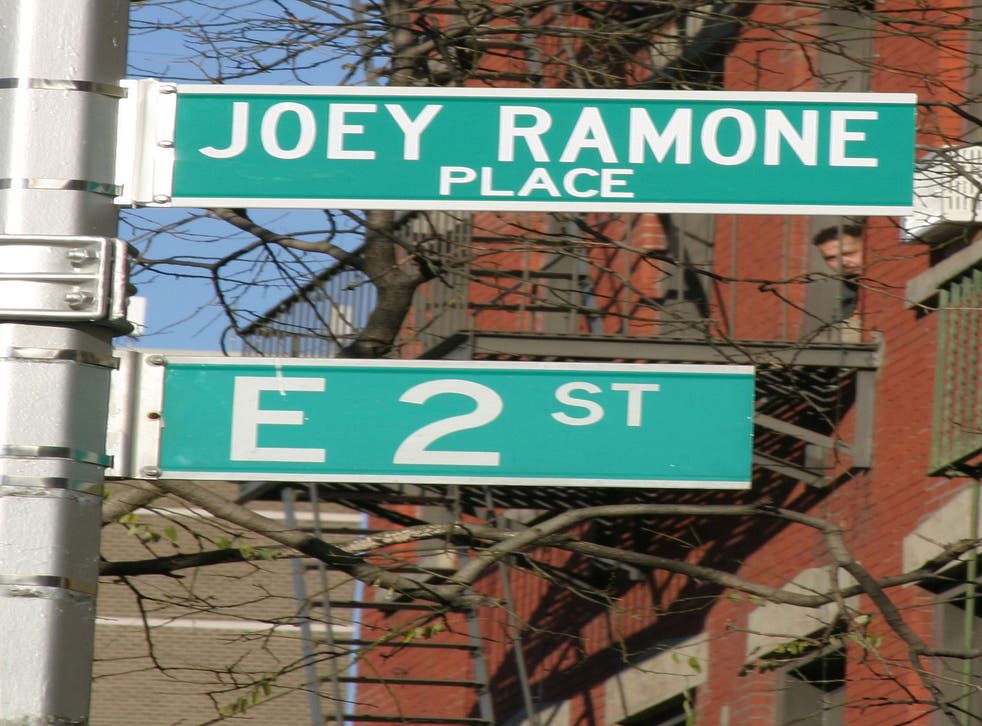 This weekend in 1974, punk legends The Ramones played their first show at CBGB in New York. In time, the band, fronted by Joey Ramone, would come to be closely identified with that part of town. The photo on their debut album was taken near the venue, and the area around Bowery and Bleecker Street became, as one journalist described it, "the nexus of Joey's downtown world". The junction of Bowery and East 2nd St is now named Joey Ramone Place, and is the most frequently stolen street sign in NYC.
The idea for the sign was first mooted by a 20-year-old fan, Maureen Wojciechowski, at what would have been Joey's 50th birthday party, in May 2001 (he had died of cancer a few weeks earlier). Accompanied by Joey's mother, Charlotte, she proposed the idea at a community board meeting that October; however, only two of the eight members of the board had heard of The Ramones, so she was encouraged to gather signatures in support. It was approved at a second board meeting, in November, and was unveiled two years later in late 2003.
According to a 2010 statement from the New York State Department of Transportation, other regularly stolen signs in the city include Broadway, Wall Street and Love Lane. Joey Ramone Place, however, needed replacing four times between 2003 and 2010, with the most recent replacement situated almost 20 feet off the ground to deter would-be thieves. Nick Carr, a movie location scout residing in New York, reports on Twitter that it's currently "weirdly bent, from a recent failed attempt".
Replica Joey Ramone Place signs appear to be available on eBay for £9.57 + £9.79 postage from the US. This may or may not be a bargain, depending on how much you love The Ramones.
Register for free to continue reading
Registration is a free and easy way to support our truly independent journalism
By registering, you will also enjoy limited access to Premium articles, exclusive newsletters, commenting, and virtual events with our leading journalists
Already have an account? sign in
Join our new commenting forum
Join thought-provoking conversations, follow other Independent readers and see their replies