Rock Bottom: Poor sales devalue music's Number 1 spot
As Rihanna's album returns to the top of the charts despite record low sales, Chris Mugan asks if the LP is doomed?
Rock Bottom: Poor sales devalue music's Number 1 spot

Show all 6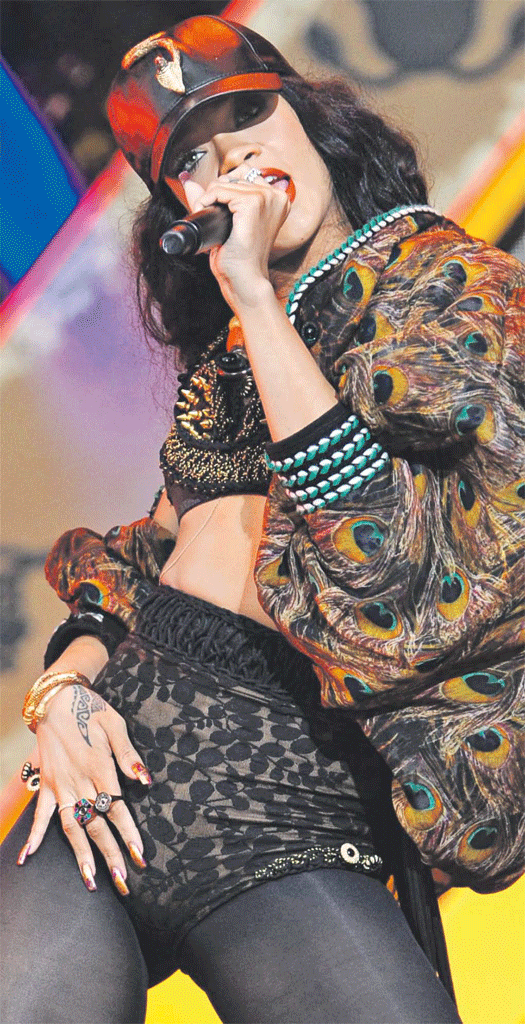 News that Rihanna has returned to the top of the UK album chart with a record lowest week's sales of 9,578 CDs and downloads suggests that the once-coveted position is increasingly devalued – and that the long-player as a pop artefact should be seen as an endangered species.
The Bajan star's sixth album, Talk That Talk, was originally released last November when it immediately debuted at No 1, staying there just for one week before it was displaced by the second album from laddish X Factor runner-up Olly Murs. That was a disappointing showing by Rihanna's standards, especially given the success of her previous global smash, 2010's Loud.
In June, the Official Charts Company noted Rihanna had notched up 20 million sales in this country, including six million albums. Yet to return to the top spot in its 38th week while shifting less than 10,000 CDs and downloads represent s a paltry amount of support to reach that position. Compare that to the 347,000 copies of Oasis's 1995 No 1 album What's The Story Morning Glory? shifted in its first week on sale. Even Christina Aguilera's 2010 album, Bionic, when it became the lowest selling No 1 album in eight years, sold 24,000 copies – considerably more than 10,000.
It also highlights a certain amount of stasis in the countdown. Newcomer Emeli Sandé has spent much of the year in the chart with her debut album, Our Version of Events, while Ed Sheeran's + continues to lurk in the Top 10 48 weeks after release and Adele's 21 clings on at No 9 a year and a half since it began its domination of the charts. As these long sojourns suggest, this is not a recent phenomenon.
Sales have been declining steadily for a decade or so. And lower sales figures take some of the shine off Adele's record-breaking exploits in terms of chart longevity. June figures from the BPI show that album sales from the first half of the year were down 13.8 per cent on 2011. Industry spokespeople are quick to point out that the summer is a quiet season for new releases and the Olympics have taken attention away from the music scene, though there are signs of unease among record companies.
One telling piece of evidence is that some labels want to see plays on streaming services such as Spotify count towards chart totals as well as sales. This would come in the wake of fans already being able to cherry-pick album tracks to download rather than a full package. This has helped make a once moribund singles chart a more intriguing proposition, as record companies have found it harder to propel an artist to the top of the hit parade, which could mean a bewildering number of acts taking turns week after week in the number one spot.
Instead, genuinely popular artists such as Adele have been able to dominate the singles chart for longer periods. That this dents the album's cultural cachet is without question. We have already seen one act, namely Ash, vow never to record a long-player ever again. That was back in 2007 when they released Twilight of the Innocents and the Northern Irish trio have, since then, only put out a Best Of album and two compilations of their A-Z Singles releases.
At that time, the integrity of the album was upheld by older artists. The Beatles' remaining members had kept their back catalogue out of iTunes' clutches, partly due to disputes with Apple (the technology company) and EMI, but still preventing fans from buying individual tracks. That was resolved in 2010 when their albums and tracks went on sale online. The next January, Pink Floyd won a court case over the same label's right to sell individual tracks on the band's behalf.
A judge ruled that the company needed the group's permission, with the band then happy for standalone tunes, among them "Money" and "Wish You Were Here", to be made available. Karl Wallinger, who came to fame in the nineties with his group World Party, is clear which way the wind is blowing. Earlier this year, he put out Arkeology, a 70-track compilation of unreleased material that included demos, covers and live tracks from his glory days, but also tracks recorded last year.
Wallinger was happy for fans to pick and choose what they liked – while he cocked a snook at his label. "The record company was talking about boxed sets but that meant a remastered version and asking people to buy the same records again, something to sit on a shelf beside the atlas. I just don't think the album is made for these times, whether it's to do with downloading or short attention spans. People are not in the mood to accept the format."
Such angst makes you wonder why an artist should go to the trouble of writing a dozen or so songs of reasonable quality and with a degree of cohesion. It is no wonder Ash's Tim Wheeler had had enough, though surprising that more acts have not followed the same path. Simon Raymonde, head honcho of Bella Union and former member of Cocteau Twins wonders if the format is being carried on by acts brought up on long players.
"Artists born in the era of the album format may not give it up willingly. But that's no surprise," he says. "Would you really expect Woody Allen to make a series of three-minute films instead of a full-length movie?" One young band wedded to the album are Mystery Jets Their guitarist William Rees believes the decline in sales should have no impact on its future, as the joy is in the process as much as the outcome. "An album is a collaboration between any number of people... What you come up with is more intense than if you simply recorded a single song together."
*This article appears in tomorrow's print edition of The Independent's Radar Magazine
Join our new commenting forum
Join thought-provoking conversations, follow other Independent readers and see their replies