Rolo Tomassi – The BBC Sessions: Exclusive Album Stream
The nigh-on-impossible to define quintet rake through their BBC sessions and stream them exclusively with The Independent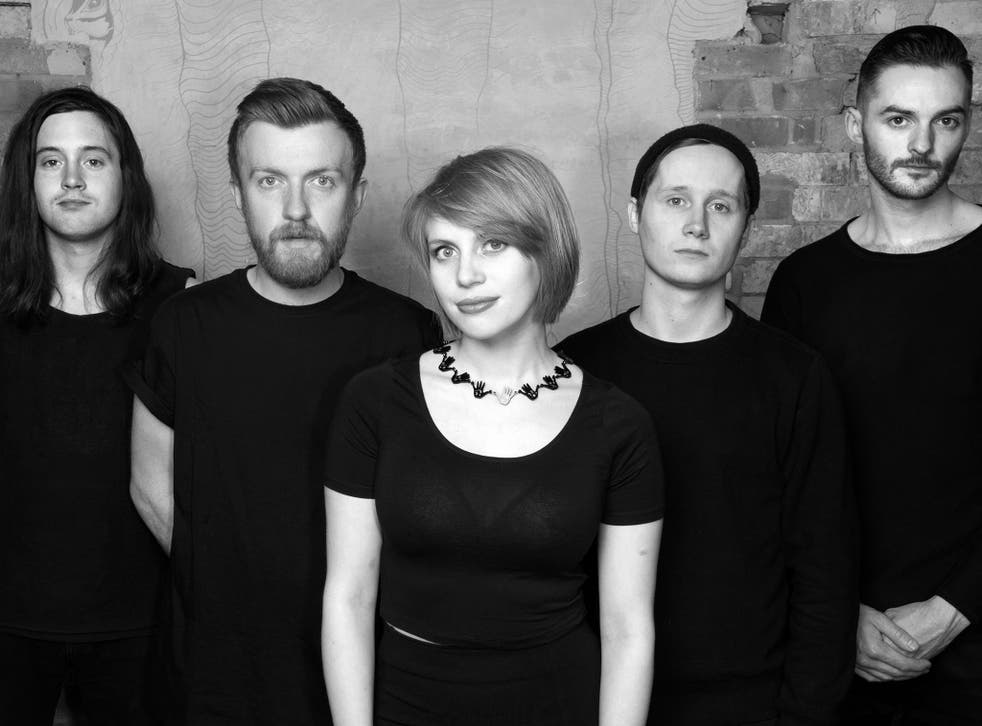 Revered as one of the UK's most intrepid and idiosyncratic bands, Rolo Tomassi have collated their BBC Sessions and are set to release them on vinyl, CD and digitally on 27th May through Holy Roar records. But if you can't wait that long, the sessions are available to stream below exclusively with The Independent.
Recorded and mixed at the eminent BBC Maida Vale studios, the release presents two separate sessions, with the songs arranged in reverse chronological order. Tracks 1- 4 were originally aired 5th February 2013 on Daniel P Carter's Radio 1 Rock Show, showcasing three songs from the band's third album Astraea, plus the addition of standalone single Old Mystics. Tracks 5 – 9 were originally recorded for Huw Stephens and aired 4 months prior to the release of their debut album Hysterics 8th May 2008.
Rolo Tomassi have been pushing boundaries and subverting expectations since forming near Sheffield in early 2005. These two distinct sessions showcase the irrefutable progression the band made between 2008 - 13, evolving from the schizophrenic polyrhythmic chaos of their earlier days (I Love Turbulence, Film Noir) to the beautifully evocative sprawling haunted masterpieces (Illuminare, Empiresk) that litter their later work. James Spence (vocals / keyboards) provided us with an exclusive insight into the two sessions that make up the record ...
HUW STEPHENS SESSION
I Love Turbulence
Digital History
F**k the Pleasantries, Let's Rock
Beatrotter
Film Noir
I think the first thing you feel going into Maida Vale is the history. As you enter the studios, the photos on the walls remind you of that history and I'd spent plenty of time listening to live sessions bands had recorded for Steve Lamacq, so I could visualise all these bands I'd loved being in that room which was very exciting. It didn't feel like we should have been allowed in!
If I remember correctly, there was a load of graffiti on the walls as you entered MV4, the studio we were in, which The Mars Volta had done (specifically, their drummer at the time Thomas Pridgen) and gotten into a lot of trouble for. As young, impressionable fans of the band, we thought it was amazing. Maybe more due to the fact they'd been there recently, not the graffiti element of it...
We were told we could only record X amount of songs and at that point, a lot of our material was around the 1 minute mark, so we asked if we could do more songs if we played them faster and back to back. I hadn't listened to this for a while before Alex (Fitzpatrick, head of Holy Roar Records) re-started the conversation about releasing it and I can't get over how fast we play some of those songs. I genuinely can't remember how to play most of them now.
ROCK SHOW SESSION
Howl
Old Mystics
Empiresk
Illuminare
This happened a few months after we'd released and started touring our third album Astraea. I still have a pass for the building you get given on entry as part of a framed collage of Rolo souvenirs I've kept over the years.
My standout memory from this trip was nervously asking one of the engineers if we could use the piano for our track Empiresk. I was glad I did in the end as that track came out as the best one we've done there (in my opinion) and it was a treat to get to play a piano live with the band, something I'd never been able to do before.
We've incredibly grateful of the support we've had from the BBC and numerous DJ's there over the years. It's a real honour to have had the opportunity to do these sessions and we're pleased to be able to make them available for people to listen to again.
The BBC Sessions is released on Vinyl, CD and Digital on 27th May through Holy Roar Records. Rolo Tomassi are playing a select few dates around the UK including HRX, an all-dayer celebrating 10 years of Holy Roar Records
Register for free to continue reading
Registration is a free and easy way to support our truly independent journalism
By registering, you will also enjoy limited access to Premium articles, exclusive newsletters, commenting, and virtual events with our leading journalists
Already have an account? sign in
Register for free to continue reading
Registration is a free and easy way to support our truly independent journalism
By registering, you will also enjoy limited access to Premium articles, exclusive newsletters, commenting, and virtual events with our leading journalists
Already have an account? sign in
Join our new commenting forum
Join thought-provoking conversations, follow other Independent readers and see their replies