Royal Blood interview: It's Drum and bass, and this time it rocks
They're are a duo without a guitar, but that hasn't stopped the comparisons with Led Zeppelin and Muse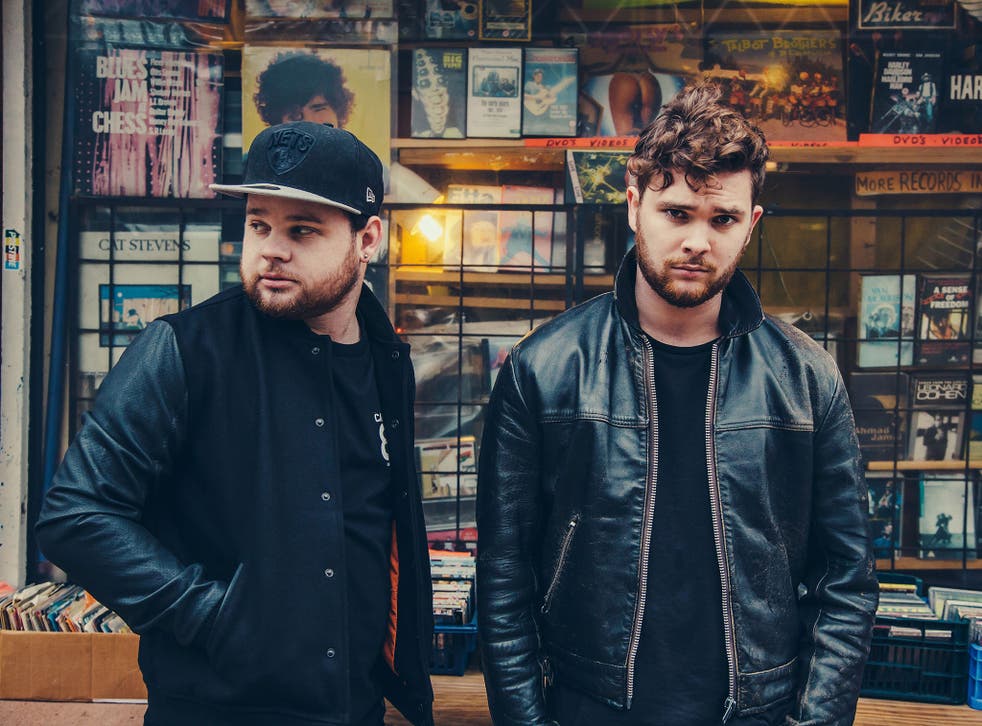 There has been much talk of a UK rock and grunge revival this year, as Radio 1 and XFM teem with the sounds of young bands thrashing at their guitars and drums and festival bills are packed with the likes of Darlia, Wolf Alice and Marmozets. And at the forefront of them all are Royal Blood.
Considering their short lifespan, which began late 2012 in Brighton, Royal Blood have enjoyed a whirlwind stream of accolades that most rising bands can only dream of. They've played Jools Holland's TV show, this weekend they play Glastonbury, and in August their Reading and Leeds slot is followed by the release of their much-anticipated album. Signed to Arctic Monkeys' management, they were the only rock band to be nominated on the Sound of 2014 tastemakers' poll in December, when they had just one single to their name. Some would already have come across their name last summer, when the Monkeys' drummer Matt Helders was seen sporting a Royal Blood T-shirt as his band headlined Glastonbury. The duo were invited to support their famous champions on their May tour.
"They've been really supportive, which is amazing," says 23-year-old singer bassist Mike Kerr, when we meet after a typically frenzied performance at SXSW in Austin, Texas. Unsurprisingly, they were one of this year's most-hyped bands. "It's weird when bands that you're fans of come up to you." Dressed head to toe in black, Kerr is too cool to relish talking about the bands championing them, yet too new to the game not to be sincerely grateful. Jimmy Page is a fan, as are Foals; when the duo took part in a Channel 4 programme supporting new bands, Yannis Philippakis volunteered to be their ambassador, saying, "it's about time there was something heavy again that's relevant". And when they were mingling at their label Warner's Brits after party this year, they were approached by Muse frontman Matt Bellamy.
"That was a bit of a shock," says the more enthusiastic drummer Ben Thatcher, who's married and 26. "He came over and said he'd been watching some stuff of ours on YouTube." Kerr continues: "He said he was a big fan. He was a big influence on me, especially his earlier stuff. We were talking a lot about distortion and pedals and amps because what I do probably echoes the kind of sounds that their bass player makes."
Channelling Queens of the Stone Age, Led Zeppelin and early Muse with their ferociously energetic blues-rock, Royal Blood had crowds at SXSW enthralled. When I saw them, single "Out of the Black" and "Blood Hands" were highlights. "That's based around guilt," explains Kerr. "A lot of our songs, especially lyrically, are quite inward and based on personal experiences, relationships..." The duo make such an astonishing amount of noise that you find yourself doing a double take to be sure you're not missing some hidden guitarist. It's no wonder that Kerr's bass playing has been the subject of praise; he plays as if it's a guitar.
"There's nothing recorded or being looped," says Kerr. "We're very resistant to the idea of backing tracks or having any sort of hidden members on stage so what you hear is what's happening." But the exact method of achieving such a full force of sound is closely guarded. "We've kept the whole thing a secret – we're doing pretty well at it." It's a form that suits them perfectly, and one that's in vogue if you look at the current wave of rock duos (Drenge, The Black Keys). But being a duo was never on the agenda when they met as teenagers on the close-knit south-coast music scene, performing in various bands together at everything from weddings to bar mitzvahs. They grew up in seaside villages on the outskirts of Brighton; Kerr in Worthing, Thatcher in Rustington.
"It's such a small music scene and everyone's from the same college so you end up playing every weekend with the same bands. We've played every genre of music together," says Kerr, "But I never thought I'd be in a two-piece. It was never planned. It just started off as the two of us and the idea of adding anyone else would mean taking away something." There are, they explain, just as many pros as there are cons to playing as a duo. There's the limitation to what they can play, granted, but it makes things that much quicker. And with the chemistry they have due to playing together throughout their teenage years, there's an innate understanding. "We're on the same page," says Thatcher. "If there's something that works we'll know instantly. There's never a compromise." Kerr adds: "It's all off-the-cuff, spontaneous and of the moment. There's never a moment where we're at our desk with a pen. It's very primitive and we keep playing together until we find something. It's kind of like throwing jokes at each other until the other person laughs."
If they had to compare themselves, Thatcher says he's "more OCD" than Kerr. "He's got a creative mind, a different way of thinking to a lot of people, he's very intelligent."
"I'm definitely a show-off," adds Kerr. "I was one of the kids where the mum says 'stop showing off' at Christmas time."
Thatcher reckons it's big-family syndrome: "We wanted to stand out."
Both have played music since childhood. Thatcher, surrounded by older musician brothers, claims to have started drumming – or at least attempted to – at the age of eight months. "As soon as I was crawling, I grabbed pots and pans and set them up. There are pictures," he insists. "I got my first proper drumkit on my sixth birthday and haven't stopped playing since." Kerr, however, began on piano aged six. It was only when his bandmate was doing a drum session for a punk band that was in need a bassist, that Kerr stepped up to the challenge. The piano playing comes in useful when writing the melodies – ferocious their sound may be, it's never at the cost of a tune – and the singing came later.
When they were first playing gigs, before forming Royal Blood, Thatcher worked in a local pub, taught drums in a school and played in function bands, while Kerr was a chef studying hospitality and supervision at Northbrook College.
He points out the similarity between being a rock star and a chef. "It's all about standing out among 15 people." When he wasn't in college, he was working 18-hour days in kitchens including the fine-dining vegetarian restaurant Terre à Terre in Brighton. Music was a side-project, but it became unsustainable.
"As music got better for me, the establishments I was working in were decreasing. We'd play a gig in Chichester and I'd have no sleep and it got to a point when I said, 'I'm going to make my priority music'. That's when I thought 'I'm going to use my chef-ing to make money and run with the music'." Still, they insist, music was only ever intended as a hobby. "We agreed, 'let's have fun, and not expect anything more'," states Kerr. "Our hobby has become our profession for the time being, that's all it is. And we're obviously going to work as hard as possible to maintain that." It doesn't look like they're going to need to try hard – Royal Blood are only set to keep rising.
Royal Blood play Glastonbury today. The album 'Royal Blood' is released on 25 August
Join our new commenting forum
Join thought-provoking conversations, follow other Independent readers and see their replies