The Saturday Interview
Rufus Wainwright: 'Me and my father almost killed each other'
The singer-songwriter talks to Roisin O'Connor about trying to emulate the 'older, wiser' albums of Sinatra and Leonard Cohen on 'Unfollow the Rules', deciding to be a proper father to his daughter, and the 'pretty hairy times' he had with Loudon Wainwright III
Saturday 29 February 2020 09:05 GMT
Comments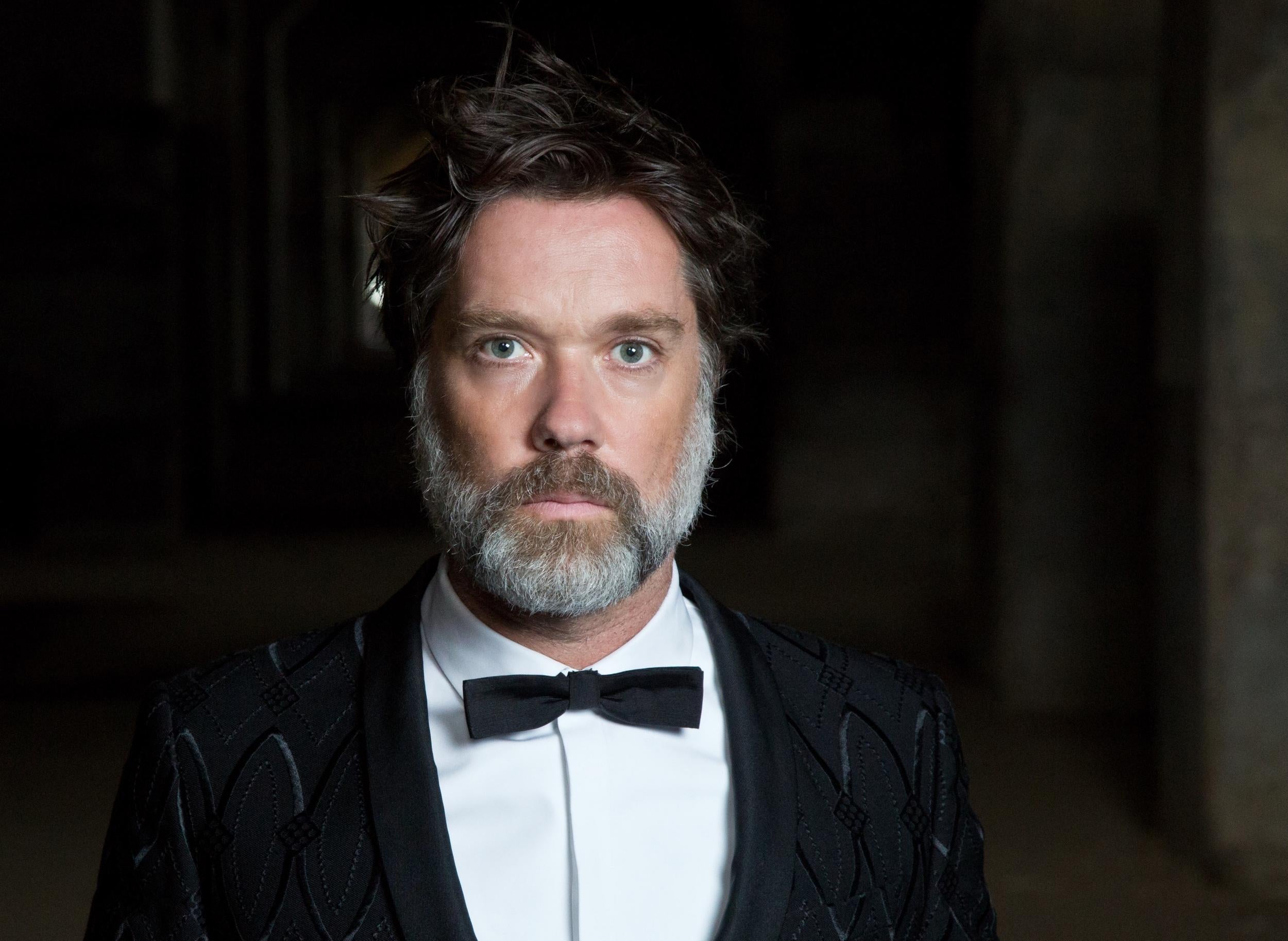 Two decades ago, Rufus Wainwright was a cult singer struggling with addiction to everything from crystal meth to ketamine, ecstasy and cocaine. Being the son of two famous folk artists – Loudon Wainwright III and the late Kate McGarrigle – didn't seem to make much difference to cool New York, where he lived, and where his Oscar Wilde eccentrics didn't go down so well either. On one infamous night, he took so many drugs that he went blind. For an hour, when he could neither see or speak, he thought it was the end.
But look at him now. At 46, with a career spanning eight studio albums and two operas, Wainwright – now based in LA with his husband, German art director Jörn Weisbrodt – has a full head of dark, glossy hair and a carefully groomed beard the colour of burnished silver. I struggle to find anything but the faintest of laughter lines around the corners of his eyes, which are grey-green and set beneath expressive, copper-coloured eyebrows. I'm actually annoyed at how clear his skin is.
He's feeling great, too. "What I'm realising right now is that in your forties, there's this wonderful movement if you've taken care of yourself, which I have," he says, sprawled on a sofa at his publicist's office in St John's Wood, London. "I've worked on that – I got off the highway and here I am, in this very sweet spot. You know death is coming, you can sense it. But you're in good health, you're still vaguely attractive, one of your parents is alive, people buy tickets to your shows, and your husband's still gorgeous." The forties are where it's at, apparently, I say. He chuckles: "That's because I'm here."
Wainwright wanted his ninth studio album, the just-announced Unfollow the Rules, to emulate classic periods of artists such as Leonard Cohen and Frank Sinatra, who redefined themselves as "older, wiser and (as a consequence) more attractive individuals". Wainwright is certainly a wiser man these days. Pulling himself up from his hard-living twenties, he went to rehab on Elton John's advice. Today, he is regarded as one of the finest songwriters of his generation – a baroque-pop artist with a penchant for opera and French chanson; the human incarnation of a velvet smoking jacket.
The new album title suits Wainwright perfectly, but it was actually his nine-year-old daughter, Viva, who came up with it. ("She just walked into the living room and stated to everyone she would like to unfollow the rules, and then promptly marched out. I immediately took my quill and scribbled it down.") She was conceived during a tumultuous time in Wainwright's life, when his mother was dying of cancer. Viva's mother is Lorca Cohen, daughter of Leonard Cohen, meaning she is heir to a rather extraordinary musical dynasty (Weisbrodt is "deputy dad").
McGarrigle had actively encouraged Wainwright to have a child, having apparently "caught wind" of his growing broodiness – "I think she knew she was on her way out and she wanted me to have someone," he says with a smile. "The other thing was the thought of having a Wainwright-Cohen union was kind of formidable." It was Lorca's idea to have a child together, he says. "She was the driving force behind it, and I thank her every day for that. I'm really, really indebted to her."
While he is clearly a doting parent, Wainwright was living with Weisbrodt between New York and Toronto when Viva was with her mother in LA – until he had what sounds like a stern talk from Chrissie Hynde.
"I went on this rather lavish trip to Vietnam with Chrissie and a bunch of people – we were on this ship and it was all very Fellini," he drawls, waving one hand with a flamboyance that recalls the Italian film maestro himself. "At one point I was talking to her extensively about the situation with our daughter, what to do next and so forth, and at the end of it she said: 'Rufus, you have to move to LA. You have a child there, you have to be a father. That's what you need to do, there's no ifs, and or buts about it.' It clicked. So, Jörn and I packed up and bought a house in Los Angeles."
It proved to be a positive transition for the family but also creatively, as Wainwright decided he wanted his next record to mark the end of an era: "I had this sense of nostalgia matched with a new-found wisdom from turning 40." It dawned on him, as he drove down Sunset Boulevard, that this had to be "a great LA record" in a similar vein to his first. Having moved to the New York club circuit from Montreal, where he'd lived with his mother for most of his youth, Wainwright settled in LA in 1996-98 for what he describes as a "torturous" experience making his self-titled debut. Dreamworks executive Larry Waroncker, who signed Wainwright, paired him with musician and producer Jon Brion; together they spent around two years working on more than 50 songs. The cost of recording was reported to be between $700,000 to $1m.

Enjoy unlimited access to 70 million ad-free songs and podcasts with Amazon Music
Sign up now for a 30-day free trial
Sign up

Enjoy unlimited access to 70 million ad-free songs and podcasts with Amazon Music
Sign up now for a 30-day free trial
Sign up
"I admire Jon wholeheartedly as an artist," Wainwright says. "As a producer he was a total nightmare, and had no concern for budget whatsoever." Brion, whose other production credits include Fiona Apple, Kanye West, and film soundtracks such as 2017's Lady Bird, has previously admitted that he found working with Wainwright to be difficult, telling The New York Times: "Rufus had all these beautiful songs but every time the vocals would kick in, he'd write some complicated keyboard part, so you couldn't hear them. He wasn't interested in listening to ideas about simplifying arrangements."
The opening track, "Trouble in Paradise", was initially composed for a musical Wainwright was working on with Dutch designers Viktor Horsting and Rolf Snoeren; this particular song was inspired by Vogue editor-in-chief Anna Wintour. "I had this quasi-villainous person who, in the end, everybody loves," he says. "But Viktor and Rolf didn't want to piss off Anna." He's met Wintour before, and is convinced she won't mind: "I wouldn't be surprised if she's slightly flattered as well."
The video, which shows Wainwright dressed as Wintour and gradually removing his wig, pearls and sunglasses, concludes with an eerie shot of the hills above a city on fire. Wainwright asked his team to pick some stock footage of a train crash or some kind of disaster, "so they picked the fire footage at the end [of the video], and it was right when LA was on fire".
He's concerned about climate change: "Being an Angelino… we live on the forefront of the climate question, in a way, and wildfires have been part of our lives for three years." He worries about his daughter's future, but frets just as much about his own, "because it's happening a lot faster than we all expected".
"I worry about my daughter with the political landscape in America," he adds suddenly. He's aghast at an abortion bill passed last year in Oklahoma, where women are informed they have the right to listen to the fetal heartbeat before having an abortion: "How traumatic that must be for someone who's in that predicament, I can't imagine."
Since Viva was born, Wainwright's relationship with his own father, songwriter Loudon Wainwright III, has shifted dramatically. "We had periods where we almost killed each other," he says. "I wish I was speaking figuratively but it was pretty hairy at times." He says they've had therapy together, but also thinks Viva has given him a new perspective of "what it's like when your kid refutes you, or doesn't want to give you a hug, or is lost in their own world".
"It's frightening as a parent," he says. "[My father and I] were hanging out not too long ago, just a couple of years ago, we went for this walk and then at the end of the walk I said: 'You know dad, being a dad now myself, I'm aware of how wonderful it is when a child voluntarily hugs their parent. Yeah, so I'm going to do that to you now.' And I gave him a big hug and a kiss, and I think it was a good move."
I interviewed Loudon in 2017 for his brilliant, no-holds-barred memoir, Liner Notes, in which he admits to being jealous of his children for their own musical talents, something Wainwright has noted about his father in the past. I ask him what he made of the book.
"I am constantly blown away by my father's ability to resurrect himself from some fairly dark places," he begins. "It's funny being in England because he lived here for 10 years [after he and McGarrigle divorced in 1976] and I think he was fairly depressed, and I didn't see him that much. But he managed to pull himself out of it, and with this book as well, I think it shows he's an example of a sturdy individual.
"He wrote the book that he wanted to write, he didn't want to upset anybody, yet it's very entertaining and it is very revealing. There are many other stories, which may or may not be told, and that is either his choice or my choice or Martha's choice."
"He's still Loudon," he decides with a shrug. "You got to understand, Loudon is one of the great WASP-y father figures of all time. He has firmly implanted his persona in this male, white, heterosexual zone."
I tell him I've been enjoying his "robe recitals", Facebook videos of him playing the piano in his dressing gown. These rare glimpses of Wainwright at home are genuine, he says, but as a general rule social media is something he steers clear of, "unlike certain social media… I want to say 'whores'…" He makes a passing reference to Kim Kardashian.
"You can't focus on anything else [on social media]," he explains. "You don't write songs that are good. You don't make great art. All of your energy is spent managing your so-called private life. It's a total distraction and even I can admit to being a victim to that situation. You look at your phone, and you're like, 'How much time have I spent on here, how many hours?'"
At the end of Unfollow the Rules, there's a wildcard of a track called "Hatred". It throws you out of the groove of the previous songs, gathering speed as the piano and violin race one another before colliding into a dystopian space-opera. All as Wainwright sings in that rare tenor, with its strange tipsy beauty, as though he's only just mustering the strength to sound the words.
"I want people to listen to that song, then go and vote," he says, referring to the forthcoming 2020 presidential race. He supported Barack Obama in the 2008 and 2012 elections, then Hillary Clinton. "I think it's going to get really wild."
He feels there's a sense of discouragement around this election, which is "troubling". Hope scares him. "Someone once told me, on a Greek island in the middle of the night, that hope is the same thing as fear," he says. "They are synonymous. I stay away from hope, for now, but I am emboldened nonetheless to fight."
'Unfollow The Rules' is released on 24 April on BMG. Wainwright will play two intimate shows at Islington Assembly Hall on 27 April
Join our commenting forum
Join thought-provoking conversations, follow other Independent readers and see their replies