Interview
Sam Fender: 'Poor northerners are confused by the idea of white privilege'
The singer-songwriter putting North Shields on the map talks about the state of the nation, overcoming a life-threatening illness, and his 'crippling insecurities', with Ellie Harrison
Tuesday 10 September 2019 07:00 Comments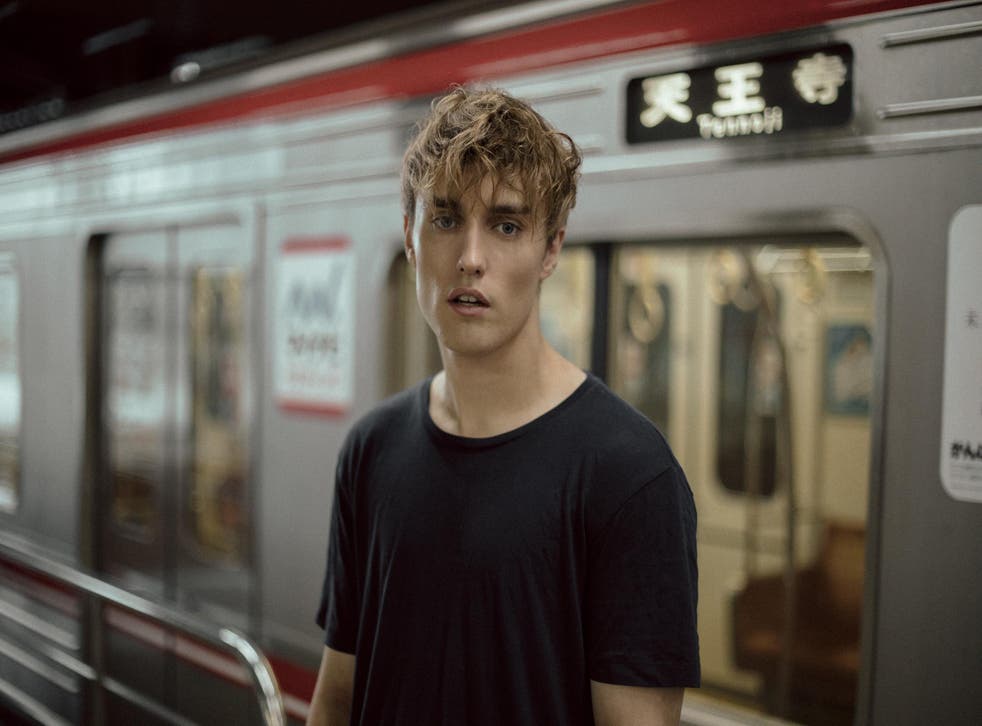 Sam Fender has his head in his hands. "You've had my life," he says. "I've told you more than I've told my f***ing therapist."
The 25-year-old sitting across from me in a Camden pub is like a coiled spring. He leans right into his words over the table, thumping his fist on his chest to add weight to his points and wringing his hands. He's handsome and intense; thoughts tumble out of him like lyrics over a relentless riff.
Fender is not like every other white boy with a guitar. His debut album, Hypersonic Missiles, lives up to its name: it's a medley of brooding anthems that ring in your ears for days afterwards, his words a searing, uncompromising commentary on male suicide and towns neglected by government. His voice, big and sonorous but with moments of vulnerability, rises above driving guitars and saxophones. The result is a thrilling patchwork of Americana, post-punk and pop rock, nodding towards everyone from Bruce Springsteen and The Killers to Funkadelic and Jeff Buckley.
Fender, quite rightly, won the 2019 Brits critics' choice in December, an accolade previously awarded to the likes of Adele, Sam Smith and Florence + The Machine. He's been to Elton John's for tea and Stormzy is also a fan, with the pair hanging out at the GQ Awards the night of our interview.
The 35 best debut albums of all time

Show all 35
Hailing from North Shields – where he was spotted by Ben Howard's manager at the Lowlights Tavern – Fender has come a long way in the past two years. "When I was 23 I was sat on the dole in my mum's council estate flat in Chirton, f***ing scratching my nuts watching Jeremy Kyle," he tells me, in a typically colourful anecdote, before the thought of Kyle sends him on a tirade about the state of the nation (he does this a lot): "I feel like all of those shows are part of the problem with the whole Katie Hopkins generation, ripping the s*** out of working-class people, making them some sort of performing f***ing monkeys."
With the money Fender has earned so far from his music, he's moved his mother out of their shared flat on the estate. He says it was "hugely" emotional to finally be able to help her out financially after everything she had been through. "She had three tribunals, the DWP (Department for Work and Pensions) were trying to get her to go back to work when she wasn't well enough," he sighs, revealing that his mother was suffering from fibromyalgia, a condition that causes unexplained pain all over the body.
When Fender goes back to North Shields between touring – "I live in a bus right now, I'm never home" – he lives with his mother, but he's keen to get his own flat soon. "I need to get myself some security, because there's nothing worse than not being secure. I don't ever want to feel that ever again. I don't ever want to be in a place where me and my mum are struggling to pay the rent like we used to."
Fender had a tumultuous childhood, moving back and forth between his parents' houses throughout his teenage years. His father moved to France shortly after Fender had a major health scare, aged 20, the details of which he is not ready to disclose for, he claims, fear of being accused of looking for the sympathy vote, or becoming an "X Factor case", as he puts it.
The illness had an immense impact on Fender's outlook on life. "Fear of death makes you do a lot of things," he leans forward, hands clasped so tightly his knuckles turn white. "Facing my mortality rewired my brain." He reveals that when he received his diagnosis and realised he might die, his first thought was: "I'm not going to be a f***ing dad, this is bollocks."
Enjoy unlimited access to 70 million ad-free songs and podcasts with Amazon Music Sign up now for a 30-day free trial
Sign up
"There's a lot of me that yearns for a strong family unit," he explains. "My family's been pretty mental and split apart and I want to build a family, I want to build a nest. Because our nest went all over the shop after the divorce when I was a kid."
Fender is quite preoccupied with what he perceives to be his own selfishness. "I will admit I've had a lot of very selfish moments in my adolescence," he says. "But I think that's born out of having to be. You fend for yourself to the point where you become selfish."
But it's not just his upbringing he puts this down to: he's also incredibly aware of the impact of fame and how it can make people egotistical. "This job has a tendency to make you feel very self-centred because you spend your entire life talking about yourself to the likes of you," he says, gesturing at me. "And when you go back home, the only thing people want to talk about is you, because you're the most interesting thing happening there.
"I have to make a conscious effort to make sure I'm not being a complete selfish c*** all the time. It sends you insane."
Ever self-aware, he adds: "You have to have a level of ego to do this job, I'm not a f***ing idiot. I'm very loud and extrovert to people when I'm confident in what I'm doing, but that's always been a front to hide the crippling insecurities…" he breaks off to bellow with laughter, "…that I've held all my life. It's a very strange way to be."
One thing that truly sets Fender aside from his peers is the lack of love songs on his album – the closest he gets is "Will We Talk?", a track about a one-night stand – but the singer reckons his self-proclaimed selfishness will "hopefully one day give me a good love song".
Has he been in love? "Yes," Fender nods vigorously. "I've been in love a few times. I've broken hearts and had my heart broken. I've been an utter arsehole before. I've been let down and I've let down others."
Fender believes that if he was in the position of some other singer-songwriters in the industry – "already extremely rich middle-class white boys who are bankrolled by their parents" – he'd probably have about four albums out by now and most of his songs would involve him "crooning over some lass like everyone else on the planet".
He does, however, recognise his own entitlement in his song "White Privilege", in which he sings about being a "white male, full of shame".
"I've got as much as privilege as you can have," he says now, "apart from the fact that I come from quite a humble beginning in North Shields which is a predominantly white town anyway. Multiculturalism is only a recent thing for the northeast really, so I think that's why you get a lot of racist people up north going, 'There's no such thing as white privilege,' because if they're the only white people in their town and they're the poorest people in that town, it can be quite confusing.
"My white privilege has affected my success, definitely, white boy with a guitar, f***ing great, original, here comes another one."
He adds: "I've got to prove that I'm different."
And Fender certainly succeeds at that. Another repercussion of his diagnosis was the urgency it brought to his music – he realised he wanted to write songs that really mean something to him.
"I'm never going to overestimate the clout of my job," he says. "I'm a singer-songwriter so I'm primarily an entertainer. I'm not going to save the world, start revolutions, I'm not John Lennon. But there are moments that have happened with my music like 'Dead Boys' [written after two friends from Tynemouth killed themselves] where it's connected with people on a level and done positive things." One of those people is Stormzy, who left Fender a nine-minute voice note about how he thought it was an important lyrical message to be sharing.
Fender then tells me about a man who was going to kill himself by purposely crashing his car, but while driving he heard the singer giving an interview on BBC Radio 5 Live about "Dead Boys" and he turned the car around, went home to his family and told them: "I need help." Months later the man emailed Fender to tell him what had happened.
Talking about one of his friends who took his own life and inspired the song, Fender says: "In a bittersweet way it made me feel that my mate saved him, in a strange butterfly effect.
"That moment is the moment where my songs have clout. It gives my job more meaning and doesn't make it feel as vacuous and self-centred."
Fender is certainly not vacuous, but he is very aware of the media's preoccupation with how attractive he is. When I raise the topic, he looks completely petrified. "I try not to buy into any of that," he says, "because I'm the most pathetic boyish-looking excuse of a man. I've got no f***ing facial hair whatsoever, I'm still waiting on puberty for f***'s sake, it's bollocks.
"The whole 'pretty' thing doesn't help me, I don't think. I was brought up in a really blue-collar town, kids were hard, and I was soft as s***. I guess I've got an inferiority complex from all of that." He catches himself. "I mean I'm glad people don't think I have a face like a sniper's elbow, but at the same time I try not to pay attention to it. It's a dark road to go down.
"We're all caught up in that s***. It's bile. It's everywhere. The tabloids have been doing it for f***ing years. They thrive off it, because we're all pathetic and addicted to it as well. I say I don't buy into it but look, I just did."
He lets out a huge sigh of relief. "I just bared my soul there."
Hypersonic Missiles is released on 13 September on Polydor
Register for free to continue reading
Registration is a free and easy way to support our truly independent journalism
By registering, you will also enjoy limited access to Premium articles, exclusive newsletters, commenting, and virtual events with our leading journalists
Already have an account? sign in
Register for free to continue reading
Registration is a free and easy way to support our truly independent journalism
By registering, you will also enjoy limited access to Premium articles, exclusive newsletters, commenting, and virtual events with our leading journalists
Already have an account? sign in
Join our new commenting forum
Join thought-provoking conversations, follow other Independent readers and see their replies