Sam Smith interview: 'I'm still trying to figure s*** out'
Singer talks his new album 'The Thrill of It All', that Oscars speech, relationships and self-image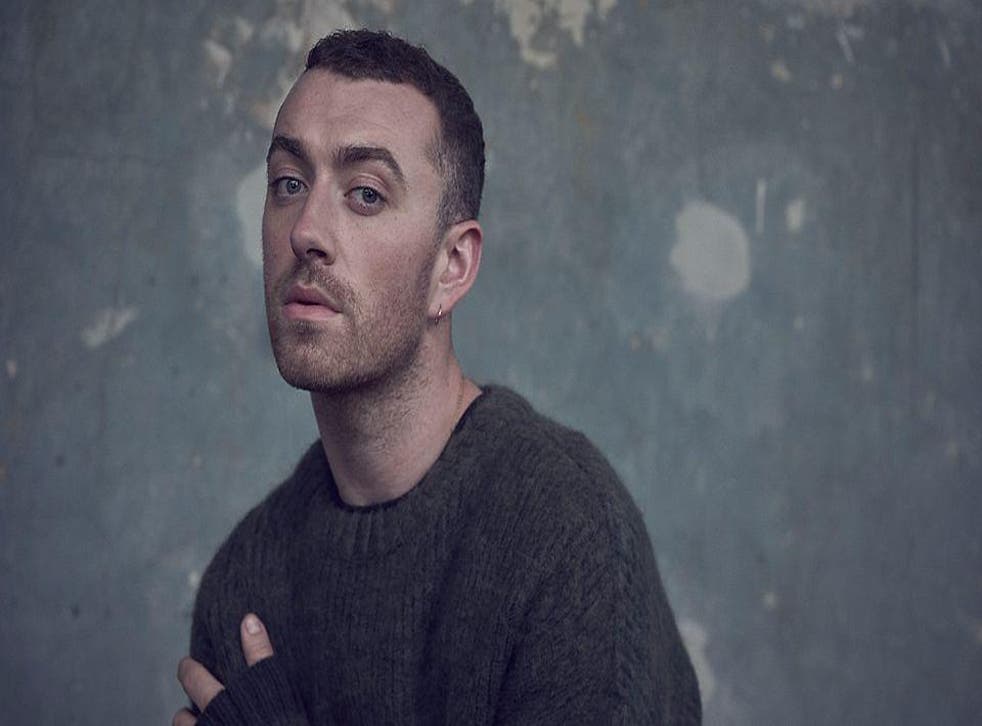 This is a mostly complete inventory of the times that sweet, sad Sam Smith cried over the course of two hours on a couch here at the Chateau Marmont hotel on a recent Friday morning: He cried when he talked about the house he grew up in; when he reminisced about a crush who turned on him; when he talked about his first voice teacher.
He cried when he talked about writing "Pray", a song from his new album The Thrill of It All. He cried when he talked about the children he met in Mosul, Iraq, on a recent humanitarian mission, and then he looked down at the sparrow tattoo he got on his arm when he returned home, with "Be good, be kind" written in Arabic beneath it, and he cried again.
He cried talking about how much he cried when he watched the movie Inside Out. And he cried when he talked about love. When he talked about love, he leaned back on the couch with his limbs splayed and looked upward as if he died momentarily just considering a concept so big.
Yes, the floodgates really opened once Smith began to talk about love – big, delicious tears that coated and magnified his sad, glorious blue eyeballs but never quite leaked out onto his cheeks. He's fine with his crying, what choice does he have? His father used to cry at a sunset, or after an argument. He encouraged his son to be emotionally expressive. It worked. The superhighway that runs between Smith's amygdala and his tear ducts is deep and well worn. He's been in love, he said, but it was unrequited. Meaning he's never been loved back. He was crying again.
It's been more than three years since his first studio album, In the Lonely Hour, flung the planet's brokenhearted face down upon their beds anew with its wet-pillowed, dark-soul despondence. It's been that long since his lovely voice called out to the bereft, the forsaken and the rejected and announced itself as this generation's avatar of romantic despair. It's been almost that long since he became a real, live pop star: a four-time Grammy winner with five Top 10 singles, an Oscar winner all with one measly LP, less than an hour's worth of music, to his name. And – when Smith tells me this, his eyes dampen again – it's been just about that long since it seemed like there was anything he could do right.
He had been trying. Lord knows he'd been trying. He wanted to be open with the world; he wanted to share his truest self. He wanted to be known. His only goal with his music is to get closer and closer to who he really is, even though that's sometimes hard when you're in your young twenties. He's 25 now. He is trying to bare his soul. But a 25-year-old soul can be a volatile thing. He doesn't always know how to articulate what he thinks. He doesn't always realise the implications of what he says. It feels to him like every time he opens his mouth, he gets tazed. The soul can be sloppy is his point. The soul can be under construction. Please pardon his soul's dust during renovations and maturing and figuring things out. This is new to him too.
In 2014, Smith did something revolutionary. He came out publicly as gay just as soon as his album was released. He was not going to leave the question of his sexuality to guesswork or rumour. He thought this was very enlightened, a gay pop singer just integrated into stardom without the waves and the hand-wringing and the controversy. The handful of out gay pop stars before him – including his idol, George Michael – mostly endured lengthy "are they or aren't they?" periods before they publicly acknowledged that they were gay. Banking on pop stardom as your whole and complete admitted self wasn't something that happened every day.
In The Lonely Hour was a little more than a half-hour crying jag about longing for a man – a straight, married one he was in love with whom he never so much as kissed. Nearly every song was about this: "Stay With Me", the sad song about wanting a man to stay even when it's clear he's not in love; "Good Thing", the sad song about deciding that he's stayed too long waiting around – that one begins with a vision of him getting mugged outside the man's door and dying in his arms like Éponine. And, on the deluxe edition of the album, a cover of Whitney Houston's "How Will I Know?" which was not a sad song until he sang it.
He told Rolling Stone that he "had to be careful" so that straight people could sing along with his music, too. "I am not Sam Smith, the gay singer," he said at the time. "I am Sam Smith, the singer who happens to be gay." He gave an interview where he talked about Grindr and Tinder, the hook-up apps, and how sad it was that all the possibility behind love and serendipity came down to a swiping culture, and saying this offended some in the gay community too. He accepted the Oscar for best original song for "Writing's on the Wall", from Spectre, the James Bond movie, referring to an article he'd read in which Ian McKellen had "said that no openly gay man had ever won an Oscar. If this is the case – even if it isn't the case – I want to dedicate this to the LGBT community all around the world."
Enjoy unlimited access to 70 million ad-free songs and podcasts with Amazon Music Sign up now for a 30-day free trial
Sign up
Well, he woke up the morning after the Oscars to an assassination's worth of ridicule, including from an openly gay man who had won an Oscar. The Verge called Smith's statement "vague" and "inaccurate", saying: "If you're going to stump for a cause on stage, you need to come correct." Gawker, in an essay about Mr Smith's "gay conservatism" wrote: "His philosophy is, in short, to be gay, but not too gay."
He quickly realised, the Oscar thing was wrong – he'd meant to say that there'd never been an openly gay lead actor winner – but the other stuff: why was it taken so badly? So what if he didn't like hook-up apps? Why was that surprising? Hadn't people seen him, dressed like a 1950s lounge act, complete with a pompadour? Hadn't they heard his retro soul? What exactly about him seemed modern? So what that he wanted his music to be a universal experience? He never said he was the spokesman for gay people.
The vitriol of the Oscar incident surprised him. His heart was clearly in the right place. He was a proud gay man. How could that not mean anything? "I'm not the most eloquent person," Smith says now. "I didn't get the best grades in school. I mean, I'm just good at singing."
It felt like he was getting hammered every time he opened his mouth. All he wanted was to remind people that love is love is love, particularly his brand of young adult love: heart-eye emoji love, cupid-arrow love, the love from The Notebook and Titanic. That's how big love is. Once again, on his favourite subject, he pretend-faints on the couch in swoon and desire. He clutches his heart and makes his eyebrows almost touching a near-steeple of longing. This was the thing we all had in common. Why talk about the things that make us different?
You have to understand what it was like for him. Smith was raised in Great Chishill, a village in Cambridgeshire with a population of less than 700. He wore a full face of make-up to school – to Catholic school – and fake eyelashes, too, and elaborate arrangements of flowers pinned to his lapel, along with the occasional all-over sprinkling of glitter. Some kids were mean to him about his sexuality, but it was the making fun of his weight that bothered him. His sexuality was not a negotiation; his weight was.
He grew up with two younger sisters in a pink house; there's a tattoo of its address around the C6 vertebra of his cervical spine. His bedroom walls were painted a shiny gold and his bed had a red silk duvet. He applied cheap, clumpy mascara each morning and on the gold wall next to his mirror, he dabbed his mascara wand to rid it of excess. One day, in detention, someone told him about dream boards, and so he spent the hour making one to put up on his bedroom wall. There was a sketch of a Grammy there. He drew the back of his head performing to an arena.
He came out when he was 10. Literally someone at school said: "Are you gay?" and he said, "I am!" His mother said she'd known since he was three. He'd always had very short hair, but when he was young, he used to make the gesture of pushing strands behind his ears, like it was long, or flicking imaginary hair off his shoulder. In the car, when the windows were open, he would pretend he'd gotten a hair stuck to his lips and pick it away.
And it was all totally fine, even when it wasn't, even when the first boy he had a crush on said nasty, homophobic things to him that still make him cry. But he had a lot of friends. There were no other (openly) gay boys. He fell in love with straight boys. He could barely picture a future when one of them would look back at him with lust or sexual curiosity, let alone love. And still he was happy. He grew comfortable in his longing. People sometimes made fun of him, but so what? He understood who he was. He thought that if you know who you are, and if you're confident in that and you don't make a big deal of it, people will accept you.
His parents signed him up for voice lessons when he wouldn't stop crooning throughout the house. He had a manager from the age of 11, then another, then another, each promising him that he would become very famous very soon. It didn't happen. He moved to London, where he worked as a bartender. One day, he met Jimmy Napes, who introduced him to his eventual managers, who in turn introduced him to the electronic duo Disclosure, with whom he recorded the vocals for "Latch", Disclosure's single – and his breakout – in 2012.
The rest – the album, the tour – it all happened fast. He woke up the day after the Oscars, saw the chaos online, apologised, and slunk off. Why wasn't this working? People loved his music, but they were turning on him. He couldn't bear being thought of as a traitor to his people – he was so open about everything! Sure, he didn't like Tinder, and it's mostly true that he didn't like it because it isn't romantic, but it is maybe truer that he was afraid he would be swiped away. Believe it or not, he did use Grindr, but he didn't want random hookups so he arranged dinner dates with several very confused men.
Then, one day, he went to Australia for a show, and afterward had a talk with his publicist there, a gay man who lives with his partner of 18 years. The publicist took Smith to the Stonewall, a gay bar in Sydney, for a drink one afternoon. He decided to help educate him, taking him to a gay bookshop. "My mind just went," Smith said. He read the memoir Holding the Man, which blew his mind. He watched Paris Is Burning. He still has Tales of the City on his night table. Next, the Australians introduced him to drag. They crammed his feet into thigh-high, high-heeled boots. They draped a red sequin dress over his 6'2" body. They had barbecues and played Madonna and danced.
"I lived in a village in the middle of nowhere as an openly gay man from the age of 10," Smith said. "I didn't meet another gay man until I was 19 when I moved to London. I just went gay clubbing a few times with some straight friends and with some girlfriends of mine, and then I became famous. I never got an opportunity to find my people in the gay community and find my friends."
He decided not to drink or smoke or be with a man, even just kissing, for a long time, while he was figuring all this stuff out. He was trying to understand how he fit into the gay community at large. "I just really sat with myself and got to know myself and started to just like my stretch marks and not be so hard on myself and stop watching perfection everywhere."
He began seeking out the art that struck him as truest. He stopped watching Titanic and The Notebook. OK, he watched The Notebook again last week but he also watched Weekend, the gay indie film, so it balanced out.
Then he found George Michael. He had always been a fan of his music. He was 15 when he saw him in concert. But now, reading and watching interviews with him in his last years, after Michael came out, Smith found him to be a great mentor. "I just feel like I'm going to offend someone every time I open my mouth," he said. "I feel like George Michael had a way of being authentic to himself and honest in a way that was warm."
Back at the interview in west Hollywood, he leaned back on the couch, looked up at the ceiling and blew a stream of breath out through pursed lips. "People forget but no one learns about gay history in school. Nothing. So I didn't know anything about my history as a gay man and then words like 'spokesperson' are being thrown at me when I've just brought out my first album," he said. "It scared me because I was like, I don't know anything about being gay, really."
He realised two things. One was that he was ready to make a second album. The other thing was that coming out as gay wasn't enough. He now understood that every visible gay person still had a leadership role. He now understood that he wasn't operating on his own, but that he lived in context to a community whether he'd realised it or not. No, having come out as a gay singer, he realised it was now time to come out as a gay man.
The next afternoon, Saturday, he rode to the Hollywood Bowl, where he was performing at a breast cancer benefit that included Lorde, Kesha and Harry Styles. He was wearing a pastel, airbrushed silk, short-sleeve button-down shirt and olive silk pleated pants. "I can tuck them in now," he said proudly. "I'm a tucker."
Since he left the public eye for the studio, which is where he'd been since the end of his last tour, in 2015, he'd lost a ton of weight by doing something called "intermittent fasting", meaning he waits five hours after eating to eat again (and which is also called not eating between meals). A trainer. A nutritionist. He stopped eating bread. Probably being a man in his twenties helped.
His transformation was sparked by seeing a tabloid picture of himself on the beach without a shirt, and that was not the self he wanted to be. He was also concerned about his health. He gets acid reflux, and it's bad for his voice. He knows other stars "mime" as he puts it, but he doesn't want to. His voice is his whole thing, his whole bag of tricks.
Smith had also cut off his pompadour, which he called his "quiff", his short hair now reminiscent of George Michael's on his 2011 Symphonica tour. His hair was thicker than it's been recently. After the Oscars, it had started falling out from stress, he thought. He began to use Rogaine and take Propecia, and it worked. Men need to talk about hair loss, he thinks.
If In the Lonely Hour was the myopic look into the heart of a boy helplessly in love, then the new album, The Thrill of It All, is about a man who turns his gaze outward. "Midnight Train" is a sad song about ending a relationship that was inspired by friends; "Palace", a sad song about whether or not love is worth it if it ends; "HIM", a sad story of an imagined boy in Mississippi coming out to his father. Some of the tracks are about Smith himself, including "Burning", a sad song about pining for a man who has left; and "One Last Song", a sad final ode to the man who was the subject of In the Lonely Hour. The new album won't be a surprise to anyone familiar with the first one: The old-time soul is still there. Smith decided long ago that his voice was the instrument: melisma, whispered baritones, surprise out-of-nowhere ultra-high falsetto, even a haunting, beautiful croak of longing sprinkled here and there. It is still prime music for "having sex with your sadness" as Smith said.
But he can now recount actual relationships in his songs. He's still never been in the kind of magical Notebook love he longs for, he said, but about a year ago, he had a five-month relationship that took three break-ups before the break-up took and which is the subject of "Too Good at Goodbyes", the first single off the new album, which is in the Billboard Top 10 at the time of writing. He's been dating the actor Brandon Flynn, from Netflix's 13 Reasons Why, seeing where that goes.
Backstage at the Hollywood Bowl, Smith drank a cup of Throat Coat, and then took a Gaviscon for acid reflux. He sang through a cocktail straw while holding up a tissue to make it move with his breath to strengthen his throat muscles, something he learned from an opera singer. He motor-boated his lips. He was ready for the show.
The next day, the news media would pick up a statement he made about feeling as much like a woman as a man, and social media would get on him for being too casual about gender fluidity when he identifies as a gay man. One day he will get it right, he said, his eyes shiny with big, sad Sam Smith tears.
"The only thing I'd like everyone to know is I'm really sorry if I say the wrong things," he said. "I don't want to offend anyone and my intentions are genuinely pure and good. I'm still trying to figure s*** out and I'd like to be treated like a human. If I make mistakes, don't kill me."
Yes, one day. One day when he's old, he said, he's going to know what to say. He's going to be someone who can figure out how to think his words through before he says them. He'll get older, and as he does, he's going to stop using his falsetto so much, he said. It's a sound that can't age with you, and even on the new album, he's started to sing more in his regular voice.
Eventually, he's going to be like Joni Mitchell and just use the lowest registers. He's going to come out on stage like Joni on the cover of "Both Sides Now," with a glass of wine and a cigarette (yes, by then he'll be drinking and smoking again). He's looking forward to that, when his voice starts to get breathy and broken like Judy Garland's when she sings "Over the Rainbow" at Carnegie Hall. Eventually he'll retire and open up a flower shop in the English countryside, he said.
He'll get really into cooking, he'll have a pet pig named Kong or maybe Flo, and he'll live forever happily, surrounded by his husband and children and his closet full of drag. His funeral will call for fancy dress, and the men will have to dress like women and the women will have to dress like men. Drag queens wearing big black hats with veils and high heels will carry his coffin out. Then disco music will play. That's nice, isn't it? Yes, it's nice to think of a time when he'll know for sure just how to be.
© New York Times
Join our new commenting forum
Join thought-provoking conversations, follow other Independent readers and see their replies