'We'd become a household name – so we injected major queerness': How Scissor Sisters' Night Work became a cult classic
By the time Scissor Sisters were one of the biggest bands around, frontman Jake Shears worried that their subversive streak was being sidelined, writes Nick Levine. So he decided to bring back the danger
Saturday 27 June 2020 13:10 Comments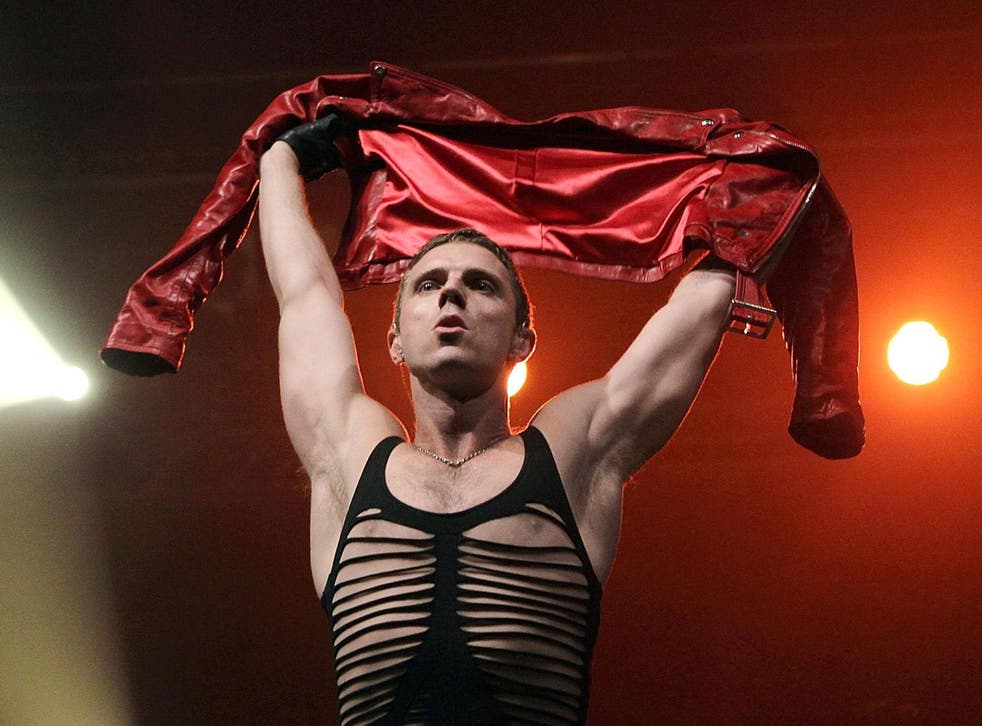 When Scissor Sisters chose a homoerotic photo by Robert Mapplethorpe as the cover art for their 2010 album Night Work, they were warned they were making a "huge mistake". There was "a lot of pushback from the label", says frontman Jake Shears, as well as "from inside the band itself". But Shears stuck to his guns and insisted that Mapplethorpe's 1980 photo of dancer Peter Reed clenching his butt in tight-fitting cotton leggings absolutely had to be the album cover. "I can't imagine another sleeve for this record – it's the perfect, perfect sleeve," Shears says, "which is why we're on the phone talking about it 10 years later." The band's third album, released 10 years ago today, is now considered a modern queer classic.
Mapplethorpe's beautiful and, yes, somewhat provocative photo suits an album that found the New York band leaning into their queerness with a suggestive glint in their eye. "Don't point that thing at me unless you plan to shoot," Shears sings on swaggering glam grind "Harder You Get". He calls the album "a left turn" for the band, but it was also a serious commercial risk: by embracing the sex in their sexuality and essentially taking Scissor Sisters from hen night to leather bar, would they alienate the straight portion of their fanbase?
Because they've been on an "indefinite hiatus" since 2012, it's easy to forget how massive Scissor Sisters were. Their ebullient self-titled 2004 debut went nine times platinum in the UK – it's still one of the 40 best-selling albums ever – and 2006's patchier follow-up, Ta-Dah, yielded "I Don't Feel Like Dancin'", a chart-topping stomper co-written with their hero Elton John. They'd formed in New York's queer underground scene in 2001, playfully naming themselves after a lesbian sex position, but became arena-filling superstars in the UK (their appeal in the US remained more cult).
At the 2005 Brit Awards, this tremendously likeable five-piece – Shears, fellow singer Ana Matronic, multi-instrumentalist Babydaddy, guitarist Del Marquis and drummer Paddy Boom (who quit in 2008) – performed their Elton-esque bop "Take Your Mama" surrounded by giant Jim Henson puppets, including dancing eggs and a singing barn. Scissor Sisters had a flamboyant theatricality that tipped a wink to the Seventies glam era. Their music offered a dazzling recalibration of classic rock; they even got away with covering Pink Floyd's prog nugget "Comfortably Numb" as a delirious disco banger.
But by 2010, Shears felt that the queer subversive streak that manifested on early single "Filthy/Gorgeous" – which had a suggestive video set in a sex club directed by Hedwig and the Angry Inch creator John Cameron Mitchell – was becoming sidelined. "In the UK we'd become such a household name and so friendly, so I thought it was really important to inject some major queerness into what we were doing," he says, adding that in a way, this was simply a return to the band's roots in the scuzzy New York underground. Babydaddy, who co-wrote all of Night Work's songs with Shears, acknowledges that Shears felt a "responsibility" to show a different side to his queerness.
"He didn't want to be this caricature of what a fun gay person should be," Babydaddy says. "He never was, but I think that's what he was concerned the world saw us as. 'Safe' is a good word to describe the way the first two albums felt – it was a little bit dangerous in the beginning, but by this point we had Muppets on stage with us and kids were coming to our shows with their nans. That's a lot to handle."
Though Shears and Babydaddy realised the band needed to reconnect with their queer roots, they didn't initially know how to do this. And when they started writing their third album in 2008, Shears wasn't in a great place mentally. "I went through a major depression between the first two albums, so at this point I was slowly coming off the antidepressants I'd gotten on a couple years earlier," he recalls. "I thought I was fine for a little while, but I can vividly remember being on the phone to Elton and he said: 'What's wrong? I can hear something different in your voice.' I didn't know what he was talking about, but then in a matter of days this new depression hit me like a ton of bricks."
Shears says he "worked through" his depression while working on new material with Babydaddy, but though he began to feel better in himself, he wasn't creatively engaged. "I just didn't care about what we were doing," he admits. "I remember waking up one morning and thinking, 'If I don't do something really drastic and make a big change in life right now, I'm going to be in a lot of trouble.'"
So the band scrapped the music they were working on and Shears decamped to Berlin, where he knew almost no one, on a whim. It was here that the concept for Night Work really took shape. Shears began hanging out with Pet Shop Boys, who'd recently bought a flat in the German capital, and Neil Tennant made a brilliant suggestion: Why didn't they hire Stuart Price, who'd helped Madonna to channel her disco roots for 2005's Confessions on a Dance Floor, to co-produce the next Scissor Sisters album?
Enjoy unlimited access to 70 million ad-free songs and podcasts with Amazon Music Sign up now for a 30-day free trial
Sign up
Already a friend of the band, Price was the ideal producer to give Night Work a contemporary, club-ready sheen without losing their glam, classic rock and disco influences. Then Shears had an "epiphany" while partying at Berlin nightclub Berghain on Easter Sunday. "It was really the most debauched thing I've ever seen," he recalls. "I'll never forget I had this pair of Marc Jacobs sneakers that I had to throw into the dumpster before I went back into my apartment. It was so gross, but also so amazing to see this freedom and this kind of free-for-all – I think there's a lot of value in that for queer life."
The overarching idea for Night Work came to Shears when the DJ dropped the 16-minute Sex Mix of "Relax" by Frankie Goes to Hollywood. "In that moment, it felt for me what it must have felt like back in the day in the early Eighties," he says. "There was so much going on artistically and creatively in New York, and it was all just stopped short by Aids. It wasn't about erasing Aids – it was about thinking about what might have happened next if these men's lives hadn't been so tragically snuffed out."
The result is a consistently thrilling album that captures the hedonistic thrills and spills of queer clubbing. "There's a lot of butt-f***ing on Night Work," Shears says plainly, while pointing out that some of his lyrics are "pretty full-on" whereas others are "more campy and tongue-in-cheek". "Skin Tight", a heady celebration of condomless sex, is made especially poignant by the knowledge that Aids made this impossible for many gay men for years. But Night Work isn't just about sex; it's also a celebration of club culture as a haven for anyone who doesn't fit in. As Shears sings on the fizzy penultimate track "Night Life", "You can find your life in the nightlife."
Night Work culminates in "Invisible Light", a swirling six-minute disco epic featuring a gloriously grandiose spoken-word part from Sir Ian McKellen, whom Shears says was "totally down from the start" to deliver lines like "painted whores, sexual gladiators, fiercely old party children all waked from their slumber". Shears thinks it's the best thing Scissor Sisters ever recorded, and should have been the album's lead single instead of the safer, soft-rock-flavoured "Fire with Fire" – the label's choice.
Like so many cult classics, Night Work's cherished status was probably cemented by its relatively poor chart performance – it went gold in the UK, instead of multi-platinum like the band's first two albums. But Shears and Babydaddy both say it's the record they're asked about most frequently. If Scissor Sisters' debut provided a glitzy soundtrack to many folks' coming out experience, Night Work, which arrived six years later, was a lusty accompaniment to us confidently owning our sexuality.
It strikes a particular chord at a time when nightlife around the world has been paralysed by coronavirus. "When we were making Night Work, we were thinking about tragedies like the Happy Land fire [which killed 87 people at a Bronx nightclub in 1990] and what you give up in terms of safety to actually go out to clubs," says Babydaddy. "I think that idea is going to feel very relevant in the coming months."
In a way, this makes Night Work feel even more vital now than it did a decade ago. Until we can find our life in the nightlife again, this album is a galvanising reminder that inclusive, open-hearted dance floors are always going to be worth fighting for.
Register for free to continue reading
Registration is a free and easy way to support our truly independent journalism
By registering, you will also enjoy limited access to Premium articles, exclusive newsletters, commenting, and virtual events with our leading journalists
Already have an account? sign in
Register for free to continue reading
Registration is a free and easy way to support our truly independent journalism
By registering, you will also enjoy limited access to Premium articles, exclusive newsletters, commenting, and virtual events with our leading journalists
Already have an account? sign in
Join our new commenting forum
Join thought-provoking conversations, follow other Independent readers and see their replies