Sean Paul: Uptown top ranking
Sean Paul has taken dancehall to the world. Ian Burrell meets the most high-profile Jamaican musician since Bob Marley
Friday 02 September 2005 00:00 Comments
Sean Paul: Uptown top ranking

Show all 2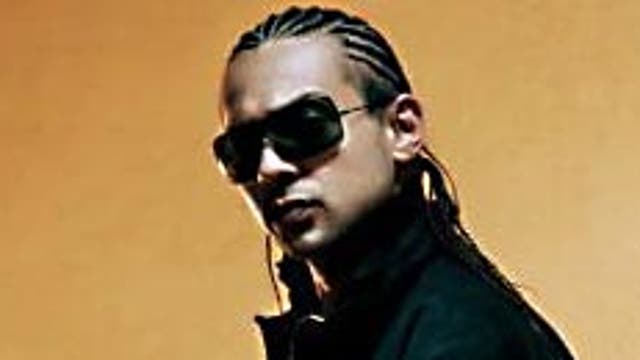 The well-mannered former water-polo star has somehow encapsulated the Jamaican party spirit and fused it to the hottest of the island's digital rhythms by means of his honeyed lyrical flow and saucy innuendo. Hit tracks such as "Get Busy", "Shake That Thing" and "Like Glue" helped his second album, Dutty Rock, to bring the sound of Jamaican dancehall to the worldwide pop masses in a way that no one had managed before. This achievement took him from Mexico to Zanzibar but presented him with the challenge of how to follow it up. His response is The Trinity, released this month and so named because it is his third album, it took three years to make, it was recorded in a country considered part of the "Third World" and because the artist believes it represents three distinct elements of his musical style.
It is an offering that, all at once, gives his fan base more of what it has come to expect; shores up his credibility in the cut-throat and ever-evolving Jamaican dancehall culture (by using hot producers such as Steven "Lenky" Marsden); and yet still introduces listeners to a new Sean Paul, one that has a greater concern for deeper issues such as social injustice and bereavement.
This last element offers the potential for lasting relevance and a longevity of career usually denied to Jamaican "DJs" and rappers, their American equivalents. It is also this more complex side to his personality that he chooses to focus on during a frank meeting at London's Sanderson hotel, two days after he unveiled The Trinity inSoho.
Sean Paul Henriques was born in St Andrew's hospital, Kingston, Jamaica, and grew up in the middle-class district of Norbrook. The Henriques name is a noted one in Jamaican society and Sean Paul was enrolled in the private Hillel Academy, a Jewish "uptown" prep school (though he is not Jewish, his father is part Portuguese-Jewish and part African-Caribbean and his mother is a mixture of Jamaican-Chinese and English).
As his ancestry is complex, so was his early home life. "My father was a hustler. He came from a good family but didn't do a lot of schooling," he says. "We had to go and get him and pick him up from the ghettos where he would be burning a chalice [marijuana pipe] with his friends. That kind of stuff happened regularly when I was a kid."
Sean (only ever called Sean Paul when his father was scolding him) admits he was "not very good at school" and at the age of 13 he was moved to Wolmer's, a "ruffians' school" further downtown, where he was quickly identified as a wayward rich kid and forced to fight the bullies. "Wolmer's was a culture shock. There was a lot of fighting. There was 40-odd students in a classroom. It shocked me because public school was not taken care of. In private school I had taken that for granted."
Barely had he started this new phase of his life than Sean's father, Garth, was sent to prison, and served six years.
During his difficult teenage years Sean Paul looked to the swimming pool at the National Stadium to give him a sense of order and ambition. Garth Henriques had been a champion long-distance swimmer and national water-polo player (making his fall from grace all the more painful). Fran, Sean Paul's mother, before she became a respected watercolourist, had been Jamaica's 100-metre butterfly champion. Sean was at the heart of Jamaica's swimming set. "That was my life as a kid. It taught me a lot of discipline. Exercise does a lot for the mind. Knowing that my father and mother were champions meant that I had a lot to look up to, to try and be a champion for Jamaica for myself," he says. "I'm still a swimmer and the swim team are my closest friends."
In what was clearly a poignant moment, he participated in Kingston's Across the Harbour swim, a two-and-a-half mile race in the shadow of the General Penitentiary, where his father was being held. Garth Henriques had, as a teenager, been an Across the Harbour champion. "He was in prison and the prison is right on the harbour, so he could see me. I got a call to him and he said, yeah, he saw us diving in and he was watching but he couldn't see the end of the race because it went round a corner. It was jellyfish everywhere and everyone got stung. I was 13 and I came 13th." Sean Paul (a freestyle and backstroke specialist) broke into the Jamaican swimming and water-polo teams, enjoying the glamour and prestige of leaving his classes with a sports bag to fly off to Mexico or Barbados for international events.
Enjoy unlimited access to 70 million ad-free songs and podcasts with Amazon Music Sign up now for a 30-day free trial
Sign up
Meanwhile his aunt had established a sound system, Sparkles Disco, and Sean Paul, who helped her by carrying speaker boxes, developed a taste for partying and music. He was drawn to the dancehalls downtown, spotting musical heroes such as the gruff-voiced Shabba Ranks at the famous outdoor club House of Leo, a venue where an elastic-limbed dancer called Gerald "Bogle" Levy was making a name for himself.
Fran Henriques had enlisted her son for piano lessons but Sean Paul persuaded her to buy him a Casio keyboard from a flea market and he attempted to recreate some of the digital rhythms characteristic of Jamaican dancehall music. "I pleaded for it," he recalls. "She was trying to encourage me for the piano lessons and I would try to build back these riddims. Moms was like 'Forget that, forget that.' She's an artist and it was hard for her. She has two kids and was alone and was trying to paint. When people don't accept your work as an artist, it's very emotional. She didn't want that [rejection] for me and my brother." He was still sharing a room with his younger brother, Jason (aka Jigzag), who appears as a producer on The Trinity.
Sean's first attempt at music bore the stamp of a serious young man. Aside from his father's imprisonment, he had experienced bereavement when his first girlfriend (a fellow swimmer) died from a brain tumour a year after they split up.
During our interview, he sings an early lyric a cappella. "It's an alarm dis, it ah di ghetto story, you read about in the Star, watch it 'pon TV. It's an alarm dis, di ghetto story, you read it in magazine watch it on movie. Pamela she well hungry, only have enough money to feed pickney, she send Steve and Johnny to find dem daddy, daddy him drunk and spend di money, they haffe walk 'pon the road and beg fi money..."
It was Garth Henriques, emerging from jail, who gave his son his first break, introducing him to his friend Cat Coore, the bassist of the reggae group Third World and getting him into the recording studio. An old schoolfriend - a Wolmer's table tennis champion - had become a rising artist called Don Yute and had formed a "crew" with his friends Kid Kurrup and Daddigon, the latter having grown up around Bob Marley's Hope Road home as the son of a Rastafarian. The crew was called "Dutty Cup" (dirty cup) and Sean, who was allowed by Daddigon to join, became known as "Sean from Dutty" and coined his dancehall catchphrase "Dutty Yeah!" The crew hung out at the recording studio of Jeremy Harding, the son of the Jamaican senator and former foreign affairs minister Oswald Harding. Now one of the hottest producers in reggae, Harding has become Sean Paul's manager.
Sean Paul started to be in hot demand for dub-plate special recordings from big sound systems such as Renaissance and Stone Love. He developed his stagecraft and his work took him to New York, where he worked tirelessly. Dancehall fans realised that as new rhythms such as Bookshelf and Street Sweeper swept Jamaica it was invariably the Sean Paul cut that did most damage on the dancefloor. Women were particularly responsive to his smooth flow. "My friends would say, 'DJ to the gal - the gal dem love your voice!' The producers would say the same thing. The songs I'm making [then] are all about ladies. I was coming with a different style, my name was simple. I blew up in Jamaica."
By 2000, Sean Paul (he chose the stage name because it was more girl-friendly than a classic dancehall moniker such as General something) had scored so many Jamaican hits that the New York-based reggae label VP released his first album, Stage One, which sold 25,000 copies. But that was nothing compared with sales for 2002's Dutty Rock. For the first time, an American audience was ready to accept a Jamaican dancehall album on its own terms (attempts to crack the US a decade before by Sean Paul's heroes Shabba Ranks and Supercat had been defeated by big label insistence on hip-hop hybridisation). Suddenly Sean was on international TV, Bogle's dances were being replicated by girls around the world and Jamaica was enjoying its highest musical profile since Marley.
Though celebrated for party hits such as "Gimme the Light", Sean Paul has long nurtured a desire to deal with more serious material, only to be knocked back by a Jamaican public that sees his background as distant from the island's social problems. In January, Daddigon was shot dead in Kingston in an apparent case of mistaken identity. Days before, Bogle, an icon of Jamaican culture for more than a decade, was slain in a drive-by shooting. The dance Sean Paul performed at his record launch, the Willie Bounce, was Bogle's last contribution to the dancehall. Paul's response is the haunting lament "Seasons (Never Gonna be The Same)", the most powerful track on The Trinity.
"My music has to have these moods and show this growth. I can't be always saying, 'Just shake that ass', because to me that's not life," says Sean Paul. "I also need to say things to the world and to my fans about what I feel deeply. It's very unfortunate that it was about my friend. Daddigon was always the one in the group that did conscious songs."
But the Sean Paul party is not over. The Trinity has a string of "bangers", such as first single "We Be Burnin'" and "Ever Blazin'". Things are looking up too for Mr Henriques senior. "He called me New Year's Day four years ago, drunk as a skunk, and said, 'I'm going to stop drinking.' I was, 'Yeah, yeah', but he did. It has been four years and he hasn't drunk or smoked cigarettes or nothing," Sean Paul says. His father is once again a respected figure in the Jamaican sporting world. "When Pops came out of prison, I only saw him sporadically and that's how it's been most of my life. But he's a big influence, my Pops. I hope a lot for him."
'The Trinity' is out on 27 September on VP/Atlantic
Register for free to continue reading
Registration is a free and easy way to support our truly independent journalism
By registering, you will also enjoy limited access to Premium articles, exclusive newsletters, commenting, and virtual events with our leading journalists
Already have an account? sign in
Join our new commenting forum
Join thought-provoking conversations, follow other Independent readers and see their replies