Interview
All is full of love: The gospel according to serpentwithfeet
The Baltimore musician has made one of the albums of the year, blending his choir upbringing with sensual R&B. He talks to Kate Hutchinson about celebrating queer Black romance, embracing himself and being mentored by Björk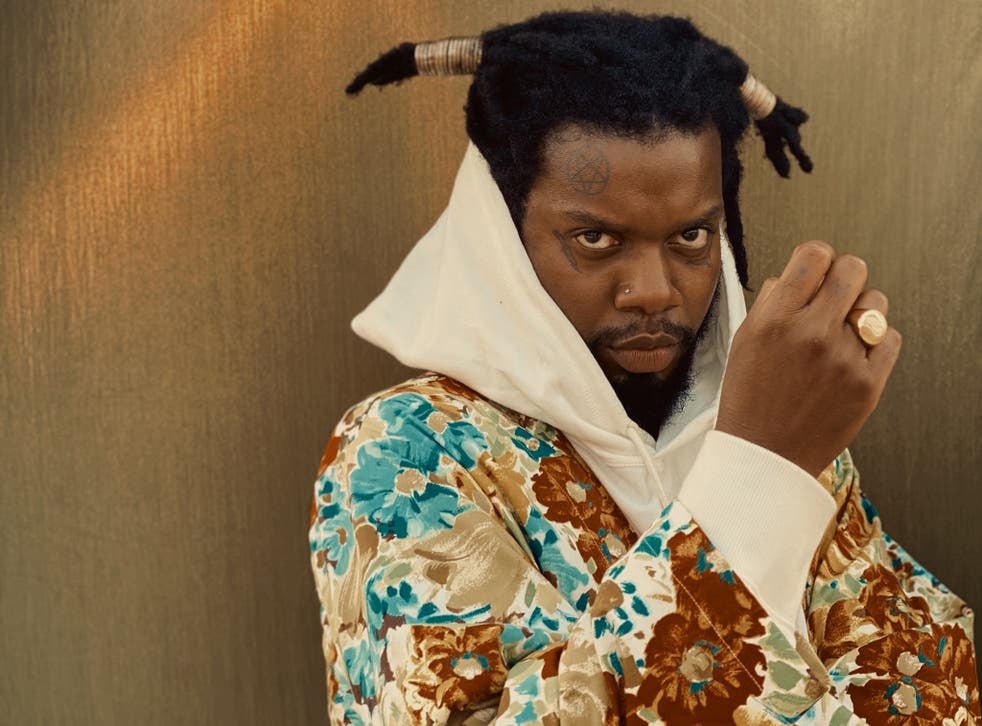 It's not every day you get compared to the Bard – but that's what the artist known as serpentwithfeet read about himself in a profile last week. The British singer Nao, guest vocalist on his tempestuous song "Heart Storm", was describing his lyrical flair in The New York Times and, much to his delight and surprise, dubbed him "the Shakespeare of alternative Black music". While it might be tempting to raise an eyebrow, five minutes into a call with the Baltimore-born musician, as he's describing how the thrill of new romance affects his songwriting, you can understand how she came to that conclusion.
"I write very honestly," he begins, on a call from his home in east Los Angeles. "I don't know if this is a product of being Cancerian, or having a lot of Gemini on my chart, as we're constantly finding sinuous ways to make sense of the world, but when I'm loving someone, or when I'm walking in love with someone, it's hard for me not to observe the magic. It's hard for me not to notice how that green sweater looks a different shade of green, now that you're in my life. It's hard for me not to think that all of the birds chirping are singing in some celebration of us finding love."
"I have an affinity for the fantastical," he continues, but it's hardly an affectation. "When I write, it's not like I want to make something 'poetic'. It's just how I feel."
Magic, biblical references, sinuosity and sensuality: this is the intriguing, irresistible world of serpentwithfeet. And that waxing poetic is on a five-star album that is among the best this year, effortless in sound and ambitious in scope. DEACON, a title that mirrors the unmissable tattoo across his neck, is a graceful glide towards greater recognition, merging  gospel and R&B to make something accessible, familiar and yet completely unique. And in its message, it's a spiritual celebration of queer Black love that is as universal as it is specific.
DEACON's lead single "Fellowship", featuring Mercury Prize winner Sampha and producer Lil Silva, was playlisted on Radio 1, and over the past year he has also stepped it up as a pop songwriter, going from being a subversive goth-gospel savant to featuring on tracks with Ty Dolla Sign, Virgil Abloh and Ellie Goulding (the latter of whom he ended up working with after he performed at her wedding). And yet, while the amount of acclaim serpent is garnering will bring him to a wider audience, he slips between spaces: indie, R&B, pop and somewhere altogether more mystical.
When serpent, as he goes by, slinked into view with his 2016 EP blisters, he was an especially striking proposition: a gay former choir boy known as Josiah Wise, with a strict Pentecostal upbringing, who had trained to be an opera singer, and who sported a giant septum piercing, facial ink (the word "SUICIDE" on his forehead, a dagger underneath his eye) and a fascination with occult. An early adopter of the glitter beard, he would bring books to his early performances, reading passages between songs, as "a way to do adult storytime". A literary streak runs in the family – his father ran a Christian bookstore, his aunt was a librarian and his mother is a bibliophile, he says.
But it was serpent's music that spoke volumes. He brought the high drama of his years both in church and in competitive choirs and formal vocal training at Philadelphia's University of the Arts to Brooklyn, where he moved in his twenties. There, he found an alternative community of musicians and put out blisters, and an album, 2018's soil, on the avant-electronic label Tri Angle. The former, produced by Haxan Cloak, had song titles like "penance" and "redemption" and hung together like a church service hymnal, amber-lit, incense burning, no tangible choruses, as he trilled about depression, hidden desire and unrequited love. He called the sound "pagan gospel". Its vulnerability could crack concrete.
The follow-up soil continued to mark serpent out as an artist with startling nuance and corrosive delicacy. Relationships appeared to be stormy. On the song "messy", he invited someone to accept his turbulent side, atop baroque chamber-pop and crunchy beats: "Each time you deny my mess (each time) / You'll find yourself closer to me, closer to me". And his voice, his knock-'em-dead voice: serpent's sentences often rush like a preacher's, but his silvery cadence comes just as much from listening to the R&B greats as it does the church: Brandy ("the vocal bible"), Janet Jackson, Beyoncé (his favourite ever song is "Get Me Bodied"), or the lithe fluidity of vocal wizard Bobby McFerrin.
His R&B vocal tends to be feather-light and favour intricacy over histrionics. Serpent is pleased the craft of this style is being appreciated again on a wider scale. "There's this wonderful video on YouTube of Pavarotti and all these other opera singers talking about the bel canto style of singing," he says, "and they're like, 'Anybody can hit the high notes, but can you [do it] gracefully?' Sometimes people don't think it takes as much skill to sing an R&B song. I know, my community knows, but some people believe that mastering R&B doesn't make you as much of a virtuoso as if you were doing bel canto.
Enjoy unlimited access to 70 million ad-free songs and podcasts with Amazon Music Sign up now for a 30-day free trial
Sign up
"But when we hear H.E.R., Jazmine Sullivan, Chloe x Halle, the list goes on, what they do is not easy or simple. To sound that great and to improvise so freely and to do it all while looking incredible, all this takes a lot of time. And I think this generation now is super here for it."
He would be too modest to say so himself but he can, of course, add himself to that list. It's no wonder that he drew the attention of Björk, his long-time mentor. Serpent took her to a gospel service in Brooklyn; she came to his performances with a notebook. He has since joined her onstage and sung on a version of her song "Blissing Me". "She would give me notes after my show," he says. "One thing she told me is to not be afraid of putting out work." There were times when he wasn't sure if a track was good enough, but the Icelandic artist told him: "'Don't hold yourself back.' She took me out for dinner, and after she told me to get over it and stop nursing the songs, she said: 'All right, now what do you want to eat?'."
In the lead up to DEACON, however, serpent felt a greater sense of ease. His anxiety and tumult fell away when he relocated from the taut chaos of New York City to the relative breeziness of Los Angeles three years ago. Moving into a new decade of his life (he's now 33), Serpent decided to change his attitude, away from dissatisfaction and towards contentment. "I've done angst – it was fun," he quips, but it was time for "letting go of the things that burden me".
When he was a young adult, he has said previously, he'd felt frustrated by "gender policing" and noted how society doesn't "like when men are vulnerable or expressive or soft". But he says that now he is embracing all these aspects of himself "with abundance – my expression of maleness, and all that is, is enough".
Softness is a key factor in his music, too. First came Apparition last year, an EP of supernatural love songs that seemed to be a baptism of the spirit. Hair grew over some of his tattoos; the septum piercing gone. Now DEACON, which has a weightlessness to the production and a tenderness to the lyrics. Its warmth is inspired in part by the music of bossa nova maestro Antônio Carlos Jobim and Stevie Wonder's New Age-y 1979 soundtrack Journey Through The Secret Life of Plants, as he details first dates, flirtations, and men he wants to grow old with. Off-white linen makes an appearance as he cavorts with his crush in his visuals. "I think the Baltimore side of me likes being direct," he says. "I'm thinking about men and I just want that to be clear."
DEACON takes pleasure in the experiences rather than reaching relationship goals; it's a mature R&B album without the anguish. There's D'Angelo-level sexiness in "Wood Boy"; he recounts chatting someone up on the dainty "Amir", with its licks of Spanish guitar, echoing that of "No Scrubs" by TLC or Nineties neo-soul records (serpent was in a short-lived neo-soul group in Philadelphia). There's lust, devotion, flirtation and – here's the Shakespeare – joyful acceptance on "Sailor's Superstition": "No we're not ashamed / But babe we don't need the rain / If the rascals of the air believe our union's fair we'll be good."
"Before, the music I was making and the language I was using was very critical of others and the state that I'm in," says serpent. "And now I'm not asking for my love life to be any more than what it is."
This is the "blessing of my thirties" that he sings about on "Fellowship". It's the final track on the album, a paean to platonic relationships, with a chorus that pierces like an arrow for those still cooped up in lockdown ("I'm grateful for the love I share with my friends," it goes, spearing the yearning to hug our mates). But serpent is mostly singing about his adventures in crushing. Black love is front and centre. On "Same Size Shoe", a song about exclusively dating Black men because they're the only ones to whom he can fully relate, produced by Bristol's Batu, he opens with the line, "Never heard truth come from skinny lips".
Serpent's men have "love handles", beards, wear "socks with sandals", are built like footballers and give great hugs, are kind, aren't distant, and – as he sings on "Old & Fine" – leave notes for the servers. These are not necessarily the types of hotties you hear about in many songs – ie realistic – although serpent is adamant that he isn't reinventing any wheel. "I don't think anything I do is revolutionary, or some novel idea," he says.
He is reverent of the lineage of queer Black culture. On Twitter, serpent wrote of Frank Ocean that he "changed the climate for R&B/pop...his narrative style & vulnerability made so much space for everyone else". Recently, he covered "Bless The Telephone" by Labi Siffre, a gay, Black British artist who was making stunning folk music in the Seventies. The video for "Same Size Shoe", meanwhile, in which serpent and a lover share cereal, watch TV and generally go about their domestic life, references, among other things, "all of the wonderful Black romantic films that came out in the Nineties", he says.
He's also "thinking about the black TV shows today like Queen Sugar and Cherish the Day, where we see families caring for each other. I'm constantly thinking about the way they even lit the skins – the skin looks really warm." He highlights too the queer Black activists and film-makers Essex Hemphill, Marlon Riggs and Joseph Beam, whose work he refers to as "sacred texts". "When I make these videos," he adds, "I'm just adding my two cents to this already brilliant canon of work."
That two cents is more like a small fortune: DEACON is a masterpiece of fearless intimacy and a reminder that there's joy everywhere. Those slivers of magic. It all comes back to love. When the global protests erupted last year, serpent tweeted: "shoutout to all the Black folx out there who are still giving their boo gentle good morning kisses or cooking dinner for their lover...we gotta keep making time for all the expressions of Black Love."
"We had a very fiery and combustive summer, which I believe was necessary," he says when I mention the tweet. "America needed to be reminded, the world needed to be reminded, about who it was. It's important that Black people remind ourselves that we've been loving each other. What's happened with racism and oppression – that has nothing to do with us. We've been helping each other, and showing up for each other. And don't let anyone say that the mess that the country has something to do with our inaction, or our lack of brilliance. Because we've been brilliant. We've been loving, we've been caring and fantastic. So let's just continue that."
'DEACON' is out now via Secretly Canadian
Register for free to continue reading
Registration is a free and easy way to support our truly independent journalism
By registering, you will also enjoy limited access to Premium articles, exclusive newsletters, commenting, and virtual events with our leading journalists
Already have an account? sign in
Register for free to continue reading
Registration is a free and easy way to support our truly independent journalism
By registering, you will also enjoy limited access to Premium articles, exclusive newsletters, commenting, and virtual events with our leading journalists
Already have an account? sign in
Join our new commenting forum
Join thought-provoking conversations, follow other Independent readers and see their replies