Shakira interview: 'Feeling sexy is empowering'
Shakira is the hottest property in Hispanic music. She also has the ear of presidents and business leaders. And she's not afraid to defend those raunchy videos
Craig McLean
Saturday 15 March 2014 10:00 Comments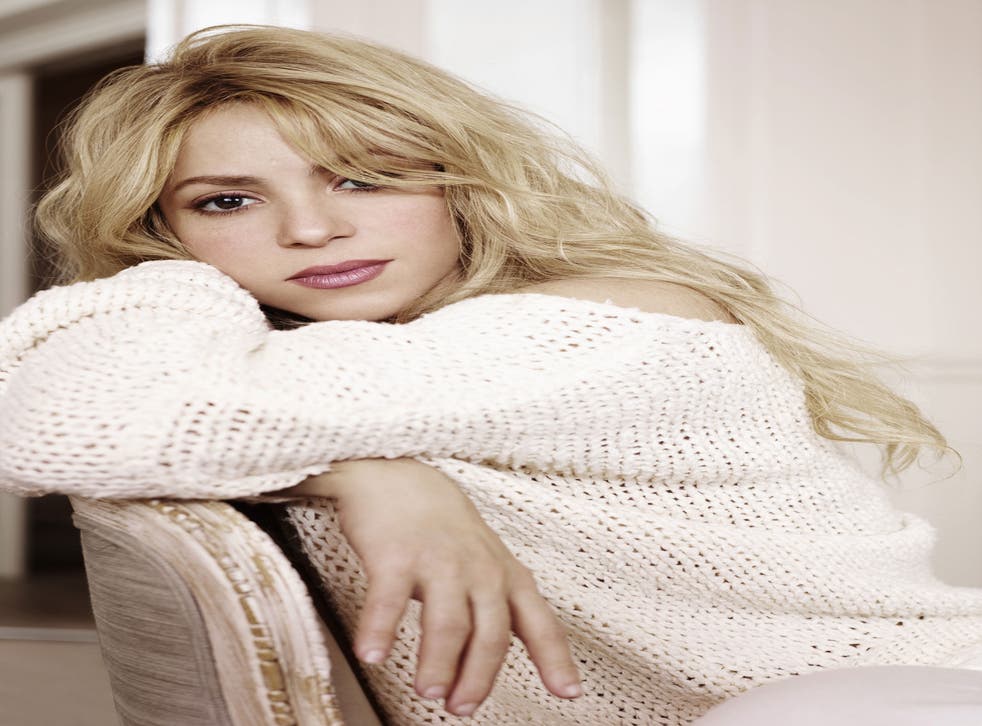 The last time I met Shakira, she stood up a big-city mayor, a one-time First Lady, a First Daughter and a former President.
It was 2010, and we were in New York. The singer was booked to speak at the Clinton Global Initiative's Annual Meeting, at a plenary session entitled Harnessing Human Potential. But she was a no-show.
To be fair, the Colombian had other things on her plate. She was also in town to perform on The David Letterman Show, alongside the actor James Franco. She'd been rehearsing 30 days straight for her just-started tour. And she was playing a sell-out concert at Madison Square Garden. But she'd found the time to write her speech: through the night. She finished at 8.30am. Alas, the effort proved too much. Shak got the shakes, felt sick and had to pull out of the seminar.
No matter. She did manage to fit in another Presidential summit. In what seemed like a New York minute she and Juan Manuel Santos, leader of Columbia, met up before announcing a $25m fund to provide early childhood education in their South American homeland.
Four years on, it seems as though Shakira's hands-on influence over the levers of power is as strong as ever.
"I was actually with President Santos and President Obama during the Summit of the Americas in Colombia last year," she tells me, more matter-of-fact than bumptious. "We were talking about the importance of investing in education, and each of the three of us gave a speech.
"I actually support President Obama's initiatives on early childhood. He has appointed me as a commissioner to consult his administration on educational excellence for Hispanics in the US. We try to find ways to improve the education system for Hispanics in America, to achieve excellence.
"President Obama is highly concerned with education," the 37-year-old adds approvingly. "He's a champion on early-childhood development strategies. So I like the work he's doing, and I support it, and I realise that he's one of very few political leaders around the world that actually has early-childhood development strategise at the top of his agenda."
There will be no standing anyone up today. Pocket-sized pop star Shakira is trapped in Barcelona's W Hotel. Yesterday she hosted a playback of her new, self-titled album for representatives of the world's press. Today the tiny dynamo has back-to-back interviews with single representatives from umpteen countries, with whom she'll discuss the two-years-in-the-making "project" on which she wrote most of the songs and produced/arranged all of them. She won't be seeing her son, one-year-old Milan, or her boyfriend, FC Barcelona defender Gerard Piqué, any time soon.
Enjoy unlimited access to 70 million ad-free songs and podcasts with Amazon Music Sign up now for a 30-day free trial
Sign up
But that's what happens when you're a Proper International Player. When, in an increasingly balkanised music market, you can claim album sales numbering 70 million, spread all over the world.
Colombian-born Shakira might be a big deal in the English-speaking territories – her 10th studio album's first single, "Can't Remember to Forget You", a duet with Rihanna, has already been viewed 183 million times on YouTube; she's a judge on the American edition of The Voice, for which she receives a reported $12m per season. But she's an even bigger deal in the Hispanic diaspora. She is, by some considerable margin, the biggest Latina entertainer in the world.
Does she, then, feel some responsibility to speak for her culture and where she comes from? "I do," comes the instant, firm reply. "I do feel that I have to use my voice for those that don't have one. I have to do the best I can in my own work to represent my culture, represent the women of my country, of Latin America. What we stand for. What we're made of. I feel like there is a part of me that represents a minority in the US, a minority around the world. People who struggle, people who want to succeed with drive and ambition."
Shakira knows of what she speaks. When she was nine and living in the coastal town of Baranquilla, her father's jewellery business collapsed, plunging their middle-class life into ruin. But Shakira herself took the reins. She signed her first record deal aged 13, then moved to the capital Bogota and became a soap actress at 15. By the time she was 20 she and her parents had relocated to Miami in pursuit of pop success in the English-speaking world. She hasn't stopped since.
"So," the continues, "people who want to try – yeah, I do feel in a way like an ambassador, for all of those."
Shakira is sat, business-like at desk in a hotel suite. Her hair is elaborately braided and swishy, her white blouse quietly luxurious. She might be famed for her four-way hips – as hymned in 2006's global smash "Hips Don't Lie" – but she's no mere show-pony. Her educational foundation, Pias Descalzos (Barefoot), which was named after her third album, has just opened its sixth school in Colombia, in Cartagena.
"It's in an area where there's a huge population of displaced people – refugees in their own country. It's a very impoverished area, where kids have no access to a high-quality education programme. So we just inaugurated this school for 1,700 students. And it's already showing the kind of transformational power that education has," she says with evident pride in her fluid English.
"It's already having an enormous social impact on this area. Before this school, there was no paved roads, or potable water, or electricity. And now all of this has changed, because of this alliance that we have created between our foundation, the private sector, and the [national] and local governments.
"And you know," adds this veteran of many a political stage, "it was recently reported that the gangs that used to hang in this area have dissolved completely since the school was built. So that is the kind of social impact that these kind of projects have. And that is why I vehemently and passionately advocate for education and for the construction of schools that are state-of-the-art – and that are open to the community… That," she concludes with a declaratory, speechifying flourish, "is the whole philosophy that we have in our foundation."
Aside from donations from Shakira herself, the school projects are part-funded by contributions from brand partners like Crest and Oral-B. Most artists these days are brand-partnered up to the eyeballs, especially ones who are managed, as Shakira is, by the super-savvy Roc Nation (Jay-Z, Rihanna), and backed by the all-powerful Live Nation (her 2012 recording/touring deal was reportedly worth $30m). But Shakira is unusual in that she insists that her corporate sponsors commit themselves ethically as well as financially.
"It's what is called philanthro-capitalism. It's the private sector caring enough to help find solutions to our common problems. It's the private sector getting involved the way they should in today's world. So that's the kind of commitment I need from commercial brands like Oral-B and Crest. And that's one of the biggest incentives I can have for me to sign a contract with one of these multi-nationals – to see this kind of commitment."
So she's leveraging her celebrity in the right way? "That's what it is," she nods. "I always felt that there had to be much more [than] just… shaking it," she chuckles, "you know, eternally. Or just making music. Or more even than the pure enjoyment of entertaining someone – being on stage, which is a tremendous rush of adrenaline. But there had to be something else to my life.
"And I feel that with this work that I do, that's how my life gets fulfilled. And how I find a purpose to my own existence. And I do feel that music is the platform.
"It's become the vehicle that allows me to use my voice to speak about those issues that need urgent attention. I can take the spotlight that shines on me and shift it towards those issues that are infinitely more important than my own issues."
All noble, dauntless, impressive stuff, for sure. But to return to that idea of "shaking it". When we spoke in 2010, Shakira's video for her single "She Wolf" was omnipresent and eye-wateringly in-your-face. As Scottish singer-songwriter KT Tunstall said to me at the time: "There were a couple of scenes from [the] "She Wolf" video that I was quite surprised by 'cause they were so explicit – ie, sorry, I'm just going to have to wipe a bit of fanny off the lens there!"
Four years on, you might say Shakira is at it again. The video for she and Rihanna's "Can't Remember to Forget You" features curvaceous Colombian and bodacious Barbadian swanning about in a mansion. Each slaps their posterior suggestively against either side of a dividing wall. In the words of one commentator – my 12-year-old daughter – "are they having a bum contest?"
Soon, tired out by the bumping and grinding, the pair collapse onto a bed together. Wearing swimsuits, high heels and jewellery. Cue some more writhing and cavorting. At least one observer – again, daughter – was perplexed: "Are they bisexual or something?"
How, I ask Shakira, does she square such imagery with her feminism?
"Ah-ha ha!" she laughs nervously. "I love your interviews. Em… I don't… I…" For once, her smooth speech falters. But she recovers quickly. "I feel like I don't have to choose, really. I don't have to be one thing or the other. I'm a multi-faceted woman, and person, like all women are – there's no black and white. We have shades of grey in the middle. And even many more colours that other people don't see!
But do such videos help boys – whether, in years to come, her infant son, or my 11-year-old (who definitely will not be seeing "Can't Remember to Forget You" any time soon)? Do they grow up respecting women if they see female artists in these positions? We don't see guys in pop videos doing this.
"Um, no. But you see baseball players grabbing each other's asses, and nobody says anything!"
OK.
"So, no, I don't think that… that I put myself in any situation in which I am objectified. But I do take advantage of, you know, feeling sensual and feeling sexy. And I think that is tremendously empowering and is not diminishing in any way. I fell that any woman who is in control, who is in touch with her femininity and sensuality, is a woman that is empowered. Is a woman who is comfortable in her own skin. Which is so important as well."
There's something in that, I suppose. In any case, perhaps Shakira had no option but to get steamy with Ri-Ri. Reportedly Piqué has banned her from making videos with men. True?
"Ha ha ha!" she laughs, tinklingly. "I'll tell you something: he said, 'can you please shut your little mouth next time you're doing interviews – because you're making me sound terrible!' And I said: 'Isn't it true? Can I go and do video with men?' And he's like, 'no!'"
Shakira gives a big, loved-up smile. She likes this in her man.
"He is definitely territorial. He's a Spanish man," she shrugs. "But I like that. He's protecting his turf. He is a defender – the last person before the goalie."
And like his partner, Piqué is equally alert to the own goal. Then again, FC Barcelona are the best team in the world, just as Shakira might be the smartest superstar-diva around.
The album 'Shakira' by Shakira (RCA) is released on 24 March
Register for free to continue reading
Registration is a free and easy way to support our truly independent journalism
By registering, you will also enjoy limited access to Premium articles, exclusive newsletters, commenting, and virtual events with our leading journalists
Already have an account? sign in
Join our new commenting forum
Join thought-provoking conversations, follow other Independent readers and see their replies