The Independent's journalism is supported by our readers. When you purchase through links on our site, we may earn commission.
Shirley Manson: 'Men need to start policing their own'
Garbage frontwoman talks her duet with Fiona Apple, the Grammys, festival lineups, and why men need to call out sexism just as much as women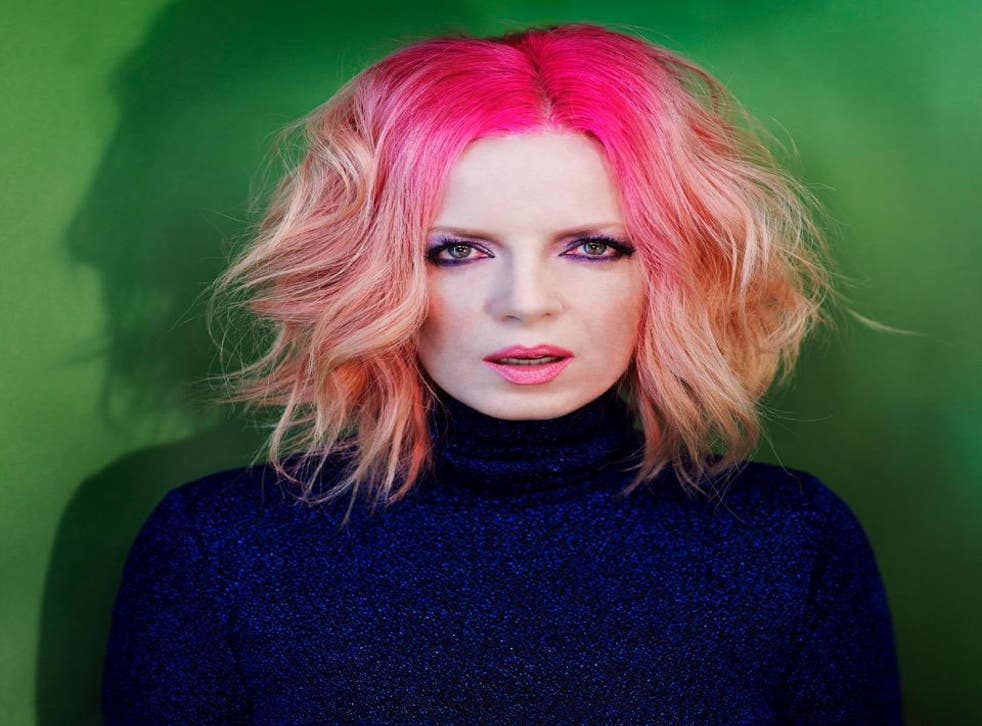 The legendary Shirley Manson of Garbage is being presented with the "Icon Award" at this year's NME awards.
It follows an incredible moment where Manson performed with Fiona Apple at the Bootleg Theater; the latter wearing a "Kneel, Portnow" shirt in reference to Grammy president Neil Portnow's post-event comment that female artists and industry figures needed to "step up" in order to be recognised; singing a cover of the 1963 Lesley Gore hit "You Don't Own Me".
Manson, who has always been vocal on supporting women both in the music industry and elsewhere, told Variety that the moment was like "a love scene in a movie where everything slows down and we were moving towards each other in slow motion".
"I was engulfed in this incredible euphoria," she continued. "I really believe Fiona has the best voice of any white female artist over the last 20 or 30 years, so to get to sing with her was just off the f**king charts."
We caught up with Mason ahead of the NME awards to see how she was feeling about the accolade, along with thoughts on Portnow's controversial remark, festival lineups, and what she's got lined up for this year.
Q&A with Shirley Manson
How are you feeling about the NME Icon award?
To be honest, I'm pretty chuffed about it. I grew up on the NME. I read it religiously, so to be acknowledged by them for my career in music feels quite poignant and grown up.
To be frank, the more I read up on the statistics surrounding the participation of female-identifying musicians in the industry, the more I consider it important for us to be seen to accept any accolades that come our way.
You know what they say: You become what you see. I hope as more of us are acknowledged by the industry that it encourages others to keep pushing through. It's tough out there and it's not for the faint of heart.
What was your first thought when you saw the Grammy President's comments about women needing to "step up"?
Enjoy unlimited access to 70 million ad-free songs and podcasts with Amazon Music Sign up now for a 30-day free trial
Sign up
My first thought on his embarrassing tirade was, "What an ignorant, sexist, misogynistic, out of touch and tone-deaf old fool". My second thought was that we should demand his resignation.
This kind of attitude and rhetoric must be stamped out. I am amazed more men haven't spoken out in defence of female artists. It's almost as though they don't think it has any bearing on them or that it doesn't matter to culture as a whole. If I were a dude, I would be so embarrassed to have my sex represented in this way. It makes men look so out of touch. Men need to start policing their own. These attitudes are so archaic, un-evolved and utterly insulting.
Meanwhile women are shut out of festival lineups around the world. They are rarely considered as serious artists beyond their physical or commercial appeal and outside of the pop format, they struggle to have their music heard on streaming platforms and traditional media outlets. In other words, if they want to dance, sing a catchy tune and act pretty they might get a chance through the pop outlets, but otherwise any non-conforming woman is shut out of the whole scene.
Take a look at the incredibly depressing stats regarding female musicians and writers represented in the industry across the board. Only 2 per cent of successful music producers are female. Less than 16 percent of all musical artists are women. These numbers are mystifying and so discouraging.
What do you think actually needs to happen so women are better acknowledged by the music industry?
The problems that women face go far beyond the music industry. This is just the tiny tip of the iceberg. Misogyny and sexism is baffling and I have no answers as to where it comes from or why it continues.
Violence against women, particularly intimate partner violence and sexual violence – is a major public health problem and a violation of women's human rights. Global estimates published by WHO indicate that about 1 in 3 (35%) of women worldwide have experienced either physical and/or sexual intimate partner violence or non-partner sexual violence in their lifetime. That speaks of a systemic, institutionalised problem that has flourished since time began. How can we possibly start to eradicate it? I don't know. If I had the answers to this question I would run for office.
I am so desperate for this situation to be " fixed". I suspect however it begins with the way we educate our children about gender, identity, expression and sexuality from a very early age. The patriarchy has created a binary system in which males often thrive and women shrink. It's all so crazy and outdated. Gender is dead. Let's start by freeing the people!
What are your plans for 2018?
Go on tour. Have fun. Stay alive. Stay curious. Be creative. Be an ally to those who might call upon me. Celebrate the 20th anniversary of our pivotal second album Version 2.0. Go on tour. Have Fun. Stay alive.
What are you listening to at the moment?
Estrons, Inara George, Dream Wife, Kene, DesiMoTheDogg, Sunflower Bean, SZA, Nova Twins…
What's the best book you read recently?
When they Call you a Terrorist by Patrisse Khan-Cullors and Asha Bandele. It is a stunning memoir but also a beautifully articulated letter of protest and outrage. I couldn't recommend it more highly.
What was the first gig you ever played and what's been the best so far?
The first gig I ever played was at the Potterrow Student Union of Edinburgh University sometime in the early 1980's with my first band, GoodBye Mr Mackenzie.
Meanwhile the best show so far is always the last one just played. In my case that would be the show I just played last weekend to benefit Girschool LA, an initiative which is attempting to encourage more women to get involved at all levels and in all areas of music whether it is in music engineering, tour managing, monitoring, lighting, production, performance or writing.
I performed with an all-female choir and all-female band including a string quartet and harpist. It was really intense because for the first time in my 35 years as a performer, I played exclusively with female-identifying musicians. At the end of the night we were joined on stage by the great Fiona Apple and we all covered the Lesley GoreClassic " You don't own me". To enjoy that moment of galvanizing, female-identifying protest felt powerful and beautiful and absolutely necessary.
The Vo5 NME awards take place on Wednesday 14 February where Shirley Manson will receive the Icon Award – you can livestream the event here. The 20th anniversary reissue of Garbage's 'Version 2.0' is released on 11 May.
Register for free to continue reading
Registration is a free and easy way to support our truly independent journalism
By registering, you will also enjoy limited access to Premium articles, exclusive newsletters, commenting, and virtual events with our leading journalists
Already have an account? sign in
Register for free to continue reading
Registration is a free and easy way to support our truly independent journalism
By registering, you will also enjoy limited access to Premium articles, exclusive newsletters, commenting, and virtual events with our leading journalists
Already have an account? sign in
Join our new commenting forum
Join thought-provoking conversations, follow other Independent readers and see their replies