Shura interview: 'God can't hate the gays – I was blessed by the Pope'
Ahead of her new album's release, the electro-pop singer tells Alexandra Pollard about her in utero encounter with the pope, meeting her girlfriend online and her hopes for a queer future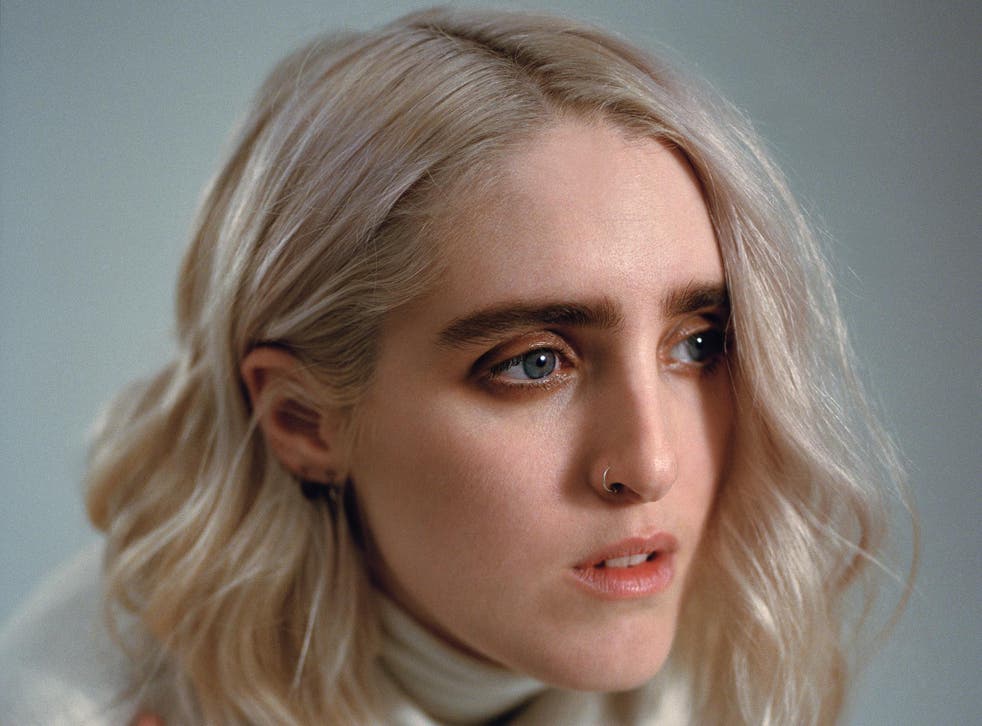 Before she was born, Shura was blessed by Pope John Paul II. "My dad was a filmmaker and he made a documentary about him," says the electro-pop singer, sipping what's left of a spilled tea at a roadside cafe in London. "My mum was going through issues with her pregnancy, so my dad told the Pope, and he blessed us. So there we go. God can't hate the gays. Both me and my twin brother are raging homosexuals."
Ever since that holy encounter, the 28-year-old has been fascinated by religion. She even considered, despite being a "staunch atheist", studying theology at university, "It's all being interested in humans and how we f*** things up," she shrugs. "Oh great, let's create a perfect image of a woman who also happens to be a virgin and a mother, which is physically impossible, and then for all eternity women will be... s***. I've always been fascinated by religion, and then obviously it's used to f*** women over, historically, and gay people, so me doubly so."
In the end, she was put off studying theology after visiting a university open day, where she discovered that everybody there wanted to become a priest. "I didn't really see how I fit in," she says, laughing, "so I did English. English is a great degree – a lot of it is to do with sex."
Sex and religion both crop up on Shura's new album, Forevher. The record comes three years after the Mancunian singer, who was born Aleksandra Denton but has gone by Shura her whole life, released her debut, Nothing's Real. She taught herself to produce music by watching YouTube tutorials while at UCL, and her early sound was ruled by her beloved Juno-106 – all drum pads and synths – which skulked beneath hushed, yearning vocals. Her first single, "Touch", was a stark, sexy banger, the viral video for which saw people of all genders make out with each other. It earned her a spot on the BBC's Sound of 2015 poll, and a top 20 album followed. But this time around, things are a little different.
The new record has piano on it, for one thing – an instrument she's always been "allergic to" – and opulent orchestral strings, too. It also has what Shura describes as a camp theatricality, and pivots between a big, poppy sensibility and a minimalist, lo-fi one – sometimes on the same track. Lead single "Religion (U Can Lay Your Hands On Me)" is a slinky shoulder roll of a song, laden with passionate blasphemy: "I wanna consecrate your body, turn the water to wine, I know you're thinking about kissing, too."
In the accompanying video, Shura dresses as a fashionista pope – with the same beige, large-brimmed hat she's wearing today – and officiates the wedding of two nuns. Was there any pushback? "A bit," she says. "You make a video where you dress up as a pope and there's lesbian nuns, that's fair game, I'm OK with that. But what was really strange was we somehow managed to activate this weird group of conspiracy theorists. Have you heard of QAnon?" I haven't. "So they think that Trump is Q, and there's a weird Washington DC paedophile ring run by [Democratic political consultant] John Podesta, and they kill kids in swimming pools. And they thought that I was making the video directly to taunt them. I had to delete a LOT of comments. They were saying that I was transgender, and it was really transphobic, really disgusting. I was expecting some angry Catholics; I was not expecting that."
For a while, the backlash made her worry about touring in the US. "Because it's not like I'm touring stadiums, where you're very far removed. We were doing club shows. I was like, 'Are we gonna sell out the tour, but because a bunch of QAnon people are gonna come and try and kill me?'" Soon after the 2016 shooting in Orlando, when a lone gunman walked into a gay nightclub and killed 49 people, Shura toured with lesbian duo Tegan and Sara. "They had security on that tour, because that was the atmosphere in a Trumpian landscape," she sighs. "It's such a weird time to write about falling in love in America." Perhaps she was being deliberately defiant in doing so? "I think that's you being kind," she says. "I think I was just writing about falling in love."
The best albums of 2019 (so far)

Show all 67
She certainly seems smitten. Forevher – whose title is an interplay between For Her, Forever, and Forever Her – was written while Shura was falling in love with her girlfriend. They met on a dating app while Shura was recording in Manhattan, and she wrote "Religion" before they'd even met in person. "The Stage" is about their first official date at a MUNA gig. "We matched, we began talking every few days, and when I got back to London we'd been talking for a couple of months. 'Religion' is a very sexy song, and I wrote it about someone I'd never had sex with, never even met. It's probably one of the most physically explicit songs and I often wonder if the reason I felt emboldened to do that was because it physically couldn't happen."
Soon, messaging every few days turned into messaging 24/7. Then they started talking on the phone. "When the phone calls got to being five hours long I just said, 'Shall I come to New York?'" she says. "'And maybe I can do some work there and we can go on a date, and hopefully it's not s***.' But it was the scariest date I've ever been on." She spent the last of her album advance on a lavish hotel room, and then quickly worried that it had been a huge mistake. "For the first 15 minutes, she didn't make eye contact with me at all, and I convinced myself she wasn't attracted to me. But it was just that she was shy and awkward." Things worked out, but writing about falling in love felt like a very vulnerable thing to do. "So I decided to make a whole record that's like that. Bar a couple of songs about death."
Enjoy unlimited access to 70 million ad-free songs and podcasts with Amazon Music Sign up now for a 30-day free trial
Sign up
When we last spoke three years ago, Shura balked at some people's suggestion that her debut album was about being a gay woman in London. "I feel like my album's just about me," she said. "I am a gay woman, and I live in London... It's not about being a gay woman in London." She feels a little differently now – not just because she lives in America. "When it's your first record, the desire is to control as much as you can," she says. "And as you grow older, you're just like... I can't control what people think. If a queer record is how people are gonna describe it, which it is, because I'm queer, then that's absolutely fine."
She craves a world where "being queer can be incidental. Not is incidental, because I think outright queerness is f***ing fabulous and we should hold onto that. But I saw Booksmart recently, and I love that the lead is just incidentally a lesbian. I got really emotional watching that. I really hope school is like that for some people. Because it wasn't for me." Instead, she watched The L Word in secret, and challenged herself to get through a viewing of She's All That without fancying Rachael Leigh Cook (she failed).
Along with Booksmart, this summer's Women's World Cup has given Shura hope for today's young girls. She played for Manchester City's youth team as a child, but quit when she was 16 and decided to try and be a musician instead. "My dad said to me, 'It's probably a good thing that women's football wasn't as big as this when you were a kid, because you probably would have ended up being a footballer,'" she recalls. "And I looked at him, and there was this really weird part of me that was like..." Her voice goes quiet. "'I would have really liked to have been a footballer.' So there's this joy that girls can grow up watching women play football and think, 'I can do that', but there's also this sadness that I missed the boat."
"But," she adds, her voice chirpy again, "plan B is really f***ing nice."
Forevher is out on Friday
Register for free to continue reading
Registration is a free and easy way to support our truly independent journalism
By registering, you will also enjoy limited access to Premium articles, exclusive newsletters, commenting, and virtual events with our leading journalists
Already have an account? sign in
Register for free to continue reading
Registration is a free and easy way to support our truly independent journalism
By registering, you will also enjoy limited access to Premium articles, exclusive newsletters, commenting, and virtual events with our leading journalists
Already have an account? sign in
Join our new commenting forum
Join thought-provoking conversations, follow other Independent readers and see their replies