The Independent's journalism is supported by our readers. When you purchase through links on our site, we may earn commission.
SikTh interview: 'The worst thing that you can say as a vocalist is 'everything's been done.' If you say that, then you've got no chance!'
SikTh stream their forthcoming mini-album Opacities exclusively with The Independent ahead of its release on 4th December. Vocalist Mikee Goodman talks about their reunion and releasing their first batch of new material in 9 years.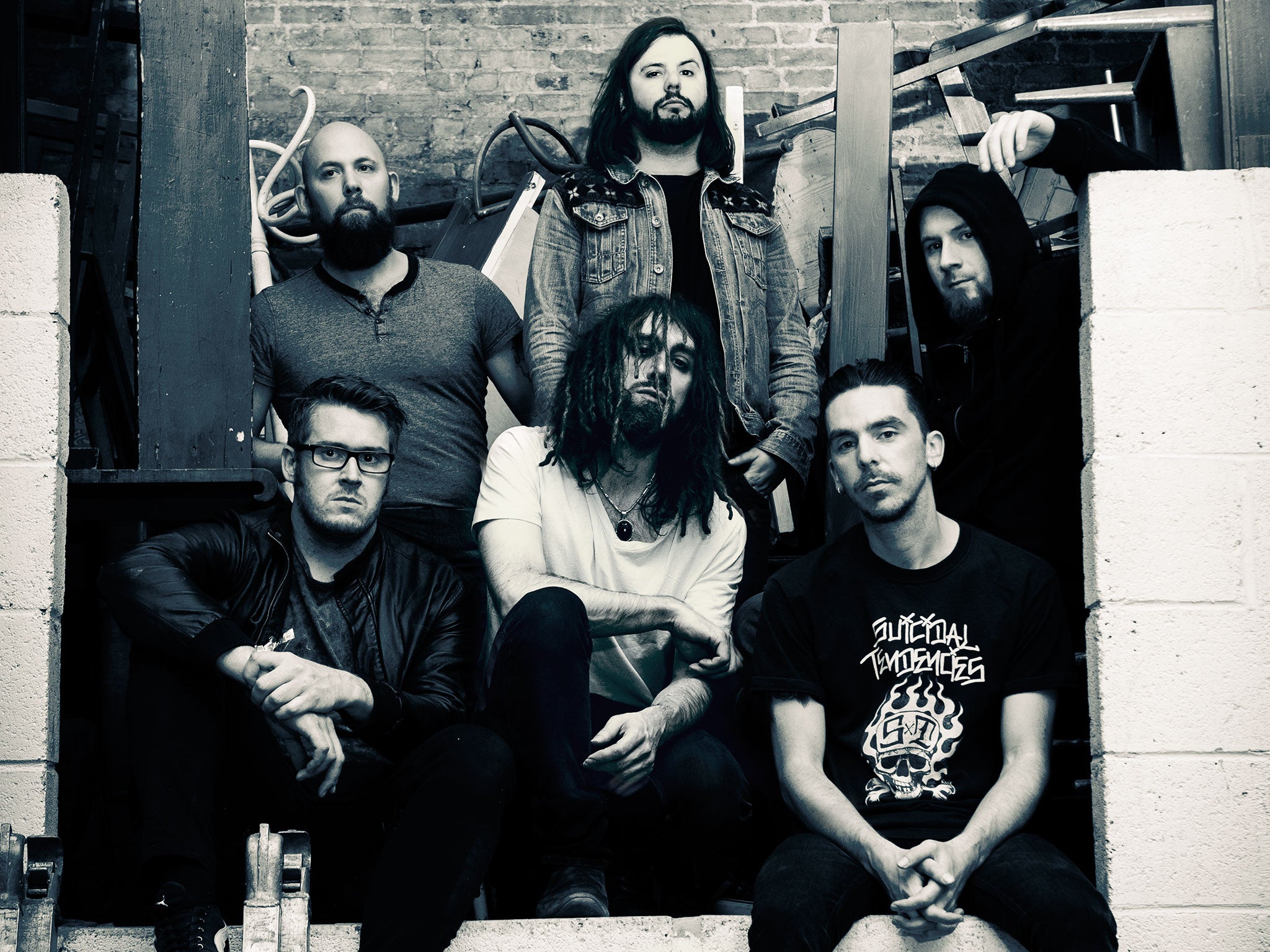 The return of SikTh has been cause for celebration amongst a fraternity of metal fans who demand complexity and depth whilst being pummelled mercilessly by riffs that you need two left feet to dance too. Their return, after 7 years away, at the hallowed grounds of Donington Park for Download Festival in 2014 was hailed as a triumph, and their subsequent UK tour saw them playing (and selling out) larger venues than they had done in their first incarnation. 'When we came back and did Download Festival it was one of the most emotional gigs that we've ever done' says vocalist, Mikee Goodman. 'Touring has been amazing on our come back. The shows have been better than ever, the crowds have been more energetic, which is really surprising in a way, but it's amazing.'
Putting SikTh's music in to a specific genre has bewildered journalists in the past, something that the band would no doubt be delighted with, but the terms metal, rock, hardcore, mathrock, avant-garde prog and scatcore have all been thrown around when describing them. In truth, SikTh sound like no one else other than SikTh and, after a nine-year absence of musical studio output, the band are back with 'mini-album' Opacities. 'We've taken it to a new level from what we've done before. I think the band realised that we do really love groove. Our favourite metal band collectively is Pantera and they're the kings of groove! We all listen to different stuff, I listen to The Doors and The Velvet Underground, I'm really into stuff like that, but Pantera are a band that we can all agree on.'
In truth, the moment Opacities comes tearing out of the speakers, it sounds like the band have never been away, their music being so ahead of the curve, that it's only beginning to sound contemporary now in 2015. Whilst SikTh were never stratospherically popular in their first incarnation, some people were clearly listening. Shortly after their initial split in 2007, a whole new wave of technical aggressive metal acts emerged, (Periphery, TesseracT, Protest The Hero and Animals as Leaders to name four) a wave that soon became boxed into the djent movement. 'Good on 'em,' says Mikee. 'If it wasn't for (those bands) we probably wouldn't have come back. No-one would have cared. I personally think they've made our band bigger, they've kind of made us come alive again because that scene has become popular and more people are into it.'
On 8 May 2007, Mikee Goodman and co-vocalist Justin Hill announced that they were leaving SikTh on account of their other musical projects and commitments. Proving too difficult to replace, the band officially split a little over a year later. Reflecting on that time now, Mikee is strikingly candid. 'I was extremely depressed in the last few years of SikTh, I really just wanted to leave. When you've got a lifestyle which involves a lot of constant pressure, it's hard to think. Everything moves so fast. I didn't feel the energy to do it anymore, the inspiration wasn't there for me and I needed to do other music. I don't think any of us were happy to be honest. We're a group of individuals. We're not a band who formed in a garage who're all best friends and jam together, we're 6 very individual personalities…that's just how we are. When I left the band I felt happier because everything slowed down, I was able to take stock in life and I was able to evaluate things.'
Mikee worked on a number of projects during SikTh's hiatus including experimental electronic/metal/rock band Outside The Coma (formerly Outpatients), the more folk-led Sad Season and an album with Iron Maiden guitarist Adrian Smith released under the name Primal Rock Rebellion. 'I got more confidence singing when I worked with Adrian' says Mikee. 'He's one of the first people I ever took musical direction from. I was always in my own world before-hand, a lot of us were, but yeah I listened to Adrian Smith!' Despite these projects, the desire to come back to SikTh proved to be strong. 'After a few years I just started to feel the buzz to do really aggressive heavy music again. I think everyone in the band grew up a bit, and that was reflected in different ways. I thought that maybe we could make this work; it doesn't need to be as intense as it once was, not if we do it on our own terms.'
The first new song to emerge was Philistine Philosophies, which premiered with a suitably creepy video directed and shot by Mikee himself. 'Gavin Sodo did all the stop-frame animation. He's got his own style of art where everything is edgy and gritty. I told him that I wanted something quite magical. That crow figure is amazing, it's so evil.' The concept of the song itself focuses on the music industry being averse to taking risks, something Mikee is overtly familiar with considering how risky a proposition SikTh seemed at their inception in 1999. "(The industry's) falling apart so badly, most of the labels are now only signing things which they've heard before because it's considered a safe bet. People are afraid they'll lose their job if they sign something that sounds different, which is anti-productive in itself." The way people listen to music has changed as well since SikTh's initial formation. "A lot of people don't have the patience to listen to a whole album now; they'll just listen to a song or part of a song and then move on to the next. That's what I'm singing about in the opening line 'We saw the golden age digitally decay'. When you write a song lyrically, you have to have a clear concept in your head. If you don't have a clear concept, the song's gonna be all over the place. So you have to really know what you're talking about. If you've got that then you can just pour it out."
Both Mikee and Justin's approach to vocals are strikingly unique and original. In a genre where vocals are so often seen as an after-thought, Mikee and Justin's ability to trade scattershot barks and vocal ticks whilst still retaining a sense of coherence and (some sort of) order is inspiring. "You just have to be open to experimentation because if your mind is open, then you can create so much more. The worst thing that you can do as a vocalist or musician is say 'everything's been done. I can't come up with anything new.' If you say that, then you've got no chance! The key to the progression of metal and music is people being open to experimentation and not being afraid. A lot of people think that they need to be taught how to do things, that they need to have a method, but you don't. If you want to come up with something creative, you conjure it in your own mind. You let it come to you, you try to improvise, explore yourself musically and in words. That's how you come up with unique and original material. Some days it might happen and other days it might not, but you have to be open to it.'
SikTh play a 5-date tour of the UK with Hacktivist and Destrage in tow on the following dates:
5th Dec Glasgow Classic Grand
6th Dec Manchester Academy 2
10th Dec Bristol Motion
11th Dec Birmingham O2 Academy
12th Dec London Forum
SikTh's new mini-album, Opacities, is released 4th December via Peaceville. Tickets for their 5-date tour of the UK are available now.
Join our commenting forum
Join thought-provoking conversations, follow other Independent readers and see their replies