The Independent's journalism is supported by our readers. When you purchase through links on our site, we may earn commission.
SikTh – The Future in Whose Eyes?: Exclusive Album Stream
The Watford mathcore sextet return with their first full-length album in 11 years and stream it 24 hours before official release, exclusively with The Independent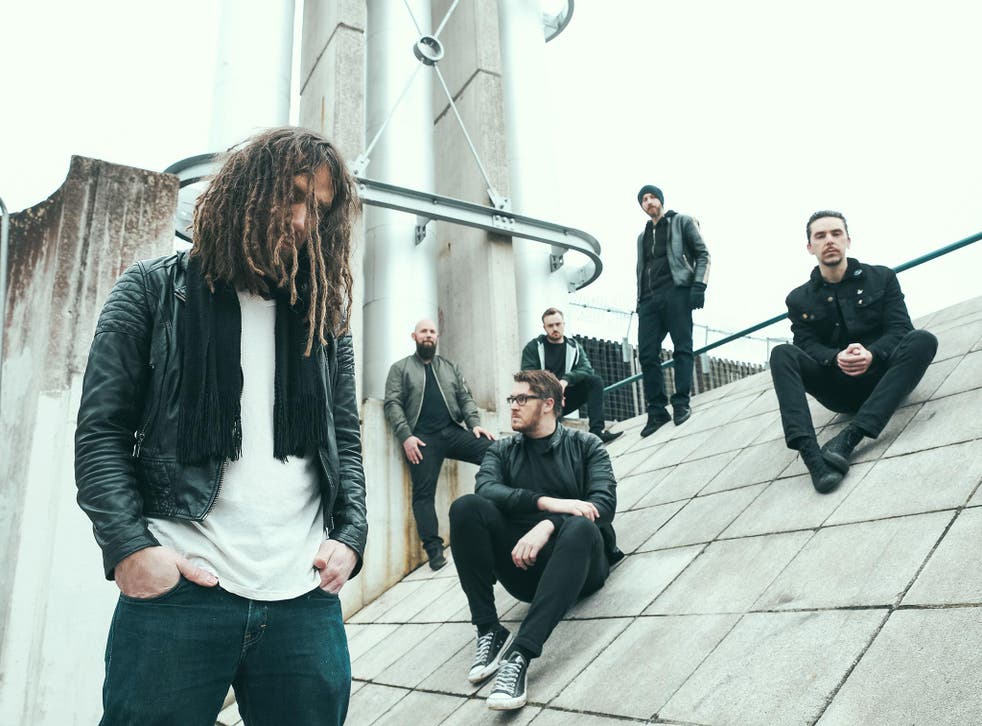 The true innovators in music are usually far too ahead of their time to get their just desserts whilst still active. When SikTh's chaotic combination of erratic pummelling riffs, unhinged scattershot vocals and rapid polyrhythmic beats emerged at the dawn of the millennium, most were simply too bamboozled by the sheer lunacy on display and quickly withdrew back to more familial grooves. Those that persevered were richly rewarded with one of the freshest, most avant-garde takes on heavy music for years. Clearly many aspiring musicians were listening, as a whole movement of technical progressive metal began to flourish, spear-headed by the likes or Periphery, TesseracT, Animals as Leaders and Protest the Hero. But after just two albums of complex, mind-boggling technical riff-wizardry, SikTh disbanded. In their wake, tech-metal and djent flourished and the Watford bruisers made the wise decision to reform at the tail end of 2013 and re-inject their unique flair and style into a genre they'd almost single-handedly created. The Future in Whose Eyes? is the first full-length album of new material to emerge since the band came off hiatus and is available to stream exclusively with The Independent 24 hours before it's official release below.
The Future in Whose Eyes? contains the most socially conscious lyrics of vocalist Mikee W Goodman's career to date, providing a searing commentary on the world from the be-dreadlocked frontman's perspective. He was particularly inspired by a 2002 documentary by acclaimed British filmmaker Adam Curtis called The Century of the Self. The 4-part television series explores how those in power have used the theories of the founder of psychoanalysis, Sigmund Freud, to attempt to control the masses in a democratic age. Mikee was particularly effected by the documentary's rhetoric about 'how society is shaped by the media and how marketing can shape people's opinions to lead them in a certain direction.'
This schism between the rich and the poor is something that Mikee has been thinking about a lot, especially since SikTh toured through some of the poorest countries in Asia on a recent tour in support of their 2015 Opacities EP. Scathing first single No Wishbones addresses the divide, providing a scathing commentary on the corruption that gulf between the rich and poor in select third world countries. 'When you see such stark poverty right next to ridiculously elaborate riches, it's difficult not to ask the question 'how is this right?' It reminds you how good we've got it in England compared to a lot of other places in the world.'
Songs such as Golden Cufflinks and Vivid contain some of the most recognisable hooks that SikTh have ever committed to tape, although the demented idiosyncratic scat style that Mikee has made his own remains distinct and instantly recognisable throughout. This is likely down to his unorthodox approach to laying down vocal lines over the top of the band's wildly abrasive anomalous music. 'I write all the rhythms and melodies first, and then I write lyrics to fit; it's a tough, time-consuming process, I have to have a clear concept and think about what I want to say very clearly and I had a lot that I wanted to say on this record.'
Mikee gives an example with the album's second track, Century of a Narcissist, a diatribe against man's continuing relationship and obsession with technology over human interaction. 'It's a comment on how I believe the evolution of technology is suppressing our creativity' he says. 'We've got to be careful that authenticity doesn't die in music and art. People are becoming more obsessed with checking their feed on social media thank talking face to face with another human being; I think it's creating a sort of zombie state.'
This symbiotic relationship between man and machine is reflected in the album's artwork; a human face augmented by robotic technology that's being destroyed from within. 'Humanity has always been self-destructive; since the beginning of time, we've invented technology specifically to destroy each other, whether it be the spear or the atomic bomb. Technology is allowing human beings to evolve but at the same time, we're devolving because of the way that we use that technology.'
3 of the 12 tracks on The Future in Whose Eyes? are spoken word vehicles for Mikee's expressive schizoid vocal style, much like Tokyo Lights, Mermaid Slur and When Will the Forest Speak? were on SikTh's previous releases. The new album sees him take a more direct lyrical approach than he has done in the past. 'I didn't censor myself as much as I usually would on this album' he says. 'In the past, I would cover things with so many metaphors that people would never be able to work out what I was saying, most of it just sounded barmy to the majority of people! But I'm thinking a lot more about what I actually want to say these days.'
The Future in Whose Eyes? is released through Millennium Nights on Friday 2nd June. SikTh play Download Festival in June and ArcTanGent Festival in August
Join our new commenting forum
Join thought-provoking conversations, follow other Independent readers and see their replies