Singing accents: From Herman's Hermits and David Bowie to Alesha Dixon
When Alesha Dixon sang 'Gaaad Save the Queen' it raised eyebrows. But she's not the only one to adopt an American accent in song. Rhodri Marsden thinks he knows why
Rhodri Marsden
Monday 06 July 2015 21:08 Comments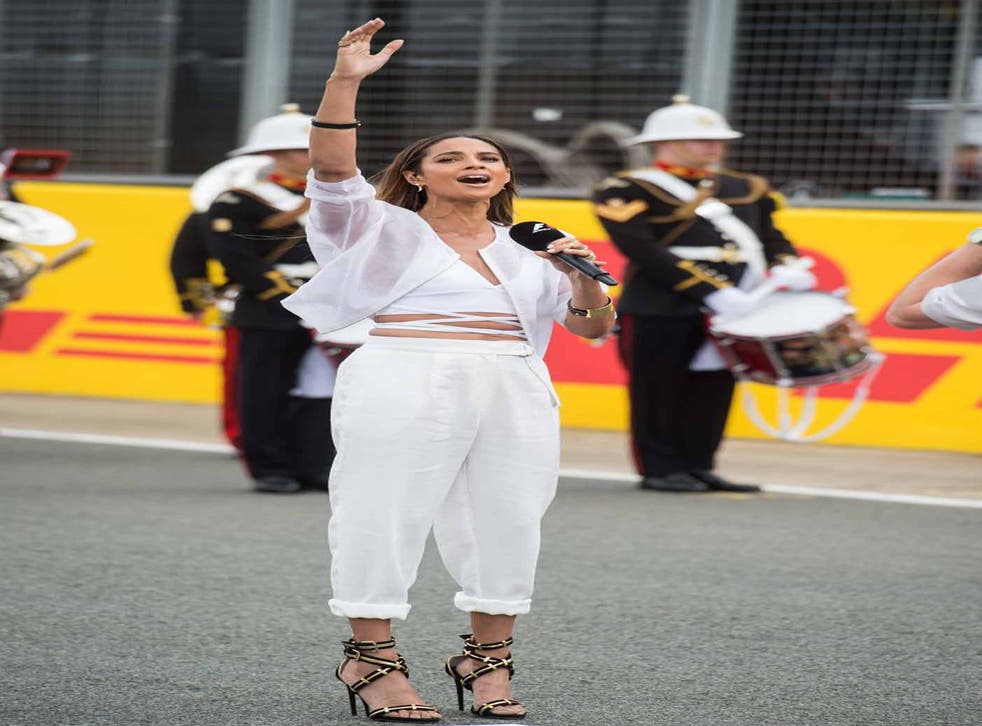 As Welwyn Garden City's very own Alesha Dixon reached the climax of her rendition of the British national anthem at Silverstone, social media once again began to reverberate with apoplectic rage. As veins bulged alarmingly in foreheads, people made some valiant attempts to sum up their fury in fewer than 140 characters. "Alesha Dixon just ruining the national anthem by sounding American awful," tweeted some chap called Andrew.
The main gripe from Formula 1 fans: Dixon had failed to sing "God Save the Queen" the way they were used to hearing it. She didn't sound like a strapping bloke attending a rugby international, or an elderly lady in the audience for a suburban am-dram production of South Pacific. No – she sounded like Alesha Dixon, pop singer, who reached number three in 2009 with the song "Breathe Slow" using that same voice. But this wasn't good enough. It was insufficiently British. And thank goodness Lewis Hamilton won the race, otherwise our towns and cities would surely have descended into widespread civil unrest.
Listening back, Dixon's main offence appears to have been daring to pronounce the word "god" as "gaaad". By doing so she stands accused of betraying her roots and trying to hoodwink us into believing she comes from a rich gospel tradition. It's hard to believe that British singers are still being chastised for singing in a similar way to their American cousins; after all, they've been doing so since the birth of rock'n'roll, from Mick Jagger to Rod Stewart to Elton John to Adele and beyond.
Some British artists are undoubtedly influenced by their favourite American records, but the "transatlantic" accent they're accused of adopting is often just a consequence of singing properly. Americans do it, too. As vowels lengthen to suit melodic phrases, accents become neutralised. The dipthongs you hear when someone from southern England says "I" or "No" inevitably change when they're sung, and would sound contrived if they didn't. Even Morrissey sings "want" as "waahnt" – and it's the same with "god". If Dixon had sung "god" the way readers of the Daily Mail wanted her to, she'd have sounded like a parish vicar suffering from hayfever. She opted not to.
Any critic of singing accents will find themselves operating double standards. Adele doesn't sing like she comes from Tottenham, but we don't demand it of her. Some artists, such as the Proclaimers or Catatonia's Cerys Matthews, choose to sing with their speaking accents and have found themselves pilloried as a consequence. People laugh at David Bowie's early single "The Laughing Gnome" – sung in a voice not dissimilar to his speaking voice – but when "Let's Dance" came out in 1983, you didn't hear anyone criticise him for failing to pronounce "dance" to rhyme with "barns".
The thing that seems to give people the hump is a perceived lack of authenticity. We might all agree that Herman's Hermits' 1965 recording of "I'm Henery the Eighth I Am" (a Northern band putting on a cockney accent for the benefit of an American audience) is faintly absurd, but does this stuff really matter? Even Billy Bragg, well-known for singing in a raw London accent, has said: "You can't sing something like [Smokey Robinson's] 'Tracks of My Tears' in a London accent… the cadences are all wrong."
Perhaps I'm biased; having played for the past 10 years in the band Scritti Politti, I've heard our singer Green Gartside (who unashamedly sings with American inflexions) talk at length about vocal style and what he sees as misguided notions of authenticity. "The idea that there was nothing transcendentally natural or pure about the voice was an important philosophical idea to me," he said in one interview. So there you go, Alesha. It's OK. Philosophers say so. Ignore the haters. You're perfectly entitled to sing the national anthem however you like.
Register for free to continue reading
Registration is a free and easy way to support our truly independent journalism
By registering, you will also enjoy limited access to Premium articles, exclusive newsletters, commenting, and virtual events with our leading journalists
Already have an account? sign in
Join our new commenting forum
Join thought-provoking conversations, follow other Independent readers and see their replies