Sleaford Mods interview: 'Everyone I know back home is racist'
Ahead of the release of their new album Eton Alive, Sleaford Mods speak to Chris Harvey about Brexit Britain, class divides, and online trolling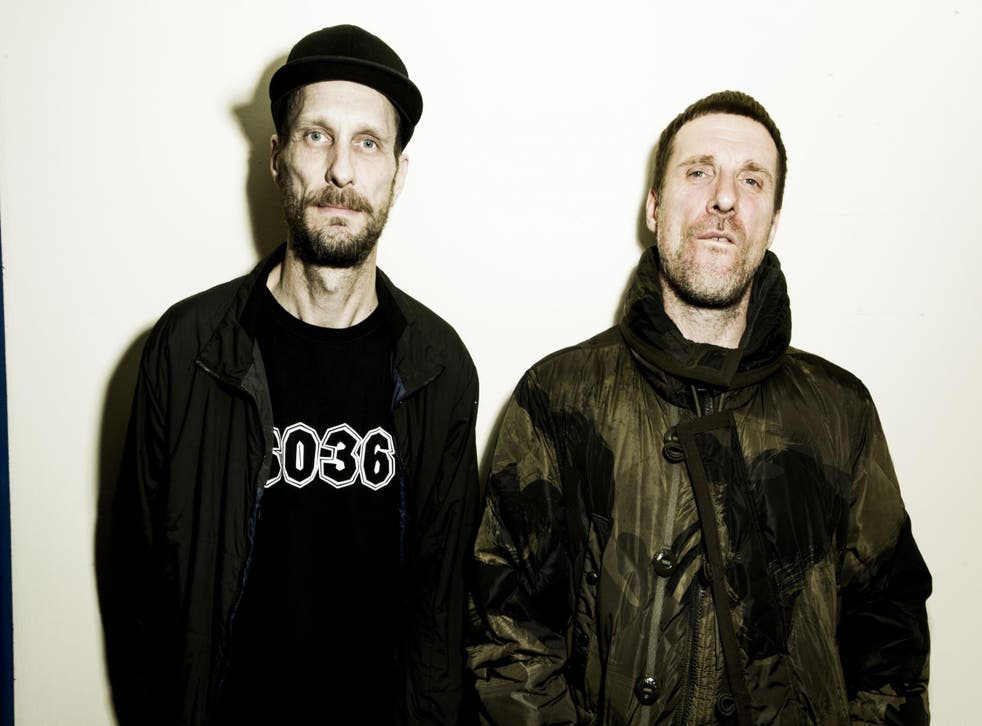 F
**king horrible." In the world of Jason Williamson, the vocal half of Sleaford Mods, these two words belong together. He uses them to describe a lot of things. Right now, though, he's sitting opposite me in a chic boutique hotel in central London. Williamson caught the train down from Nottingham. First class. It cost him £250.
Can this be the man who raged about a lifetime of being treated like s**t in unskilled jobs on the 2013 album Austerity Dogs? "I work my dreams off for two bits of ravioli / And a warm bottle of Smirnoff / Under a manager that doesn't have a f**kin' clue," he ranted on "Fizzy". The humour belonged to someone staring into a future of more of the same: "You've got to be able to sell yourself / So I stuck my life on eBay / £25 mate!"
Sleaford Mods have worked f**king hard to change that picture, though. Their violent sound is so stripped down, it's perfect. Andrew Fearn provides rudimentary beats, Williamson gets in your face with relentless spokenshouted diatribes. They've toured constantly, released four studio albums, one live album and a set of EPs since Williamson first collaborated with Fearn on Wank (2012). Their new album Eton Alive is the first release on their own label, Extreme Eating. It's a storming return after 2017's English Tapas. Part progression, part throwback, it has a furious energy that recalls 2014's Mercury Prize-nominated Divide and Exit, but on some songs, Fearn's beats have become languorous and Williamson sings. The 48-year-old has been working hard to promote it, too, in a series of very funny Twitter ads. One has him bagging up dogs**t as he talks about the release date (23 February, in case you don't fancy watching).
Success has made Williamson less angry about not having any money, he admits. Now that he lives in middle-class West Bridgford in Nottingham, with his wife Claire and two children Flora, seven, and Beau, three, he's been asking himself, "Have I become the person that I rail against?" This self-accusatory tone finds its way onto the album in "O.B.C.T.", in which the singer sees himself driving past an Oliver Bonas shop in a Chelsea tractor. But the aggression is still there, and it comes out when we talk about Brexit, and "what this Leave campaign has done to people's psychology and how other people see us". Sleaford Mods grew up in the rabidly Brexit heartland of Lincolnshire: Williamson in Grantham, where 60 per cent of people voted to leave, Fearn in Saxilby (62 per cent). Williamson was in Germany recently, he says, and "they can't get their heads around it at all – they're like, 'Why are you still getting f**ked around by a bunch of posh b***ards?'"
The 40 greatest song lyrics

Show all 40
The British are "ruled by this idea of cap-doffing and feeling good about cap-doffing", he continues, "and I think that has been so deep to our lack of revolt". As a nation, he says, after Brexit, "we'll just carry on and we'll moan, you know … I can't really see the middle classes rising up … they will try to make the best of it, whatever that may be."
That said, he can see that emotions are starting to boil up. "I reckon there'll be quite a few riots eventually, when more cuts are made, because the poor are gonna get it in the neck, aren't they? Somewhere along the line you're gonna get someone on an estate just kicking off, and it's gonna do it like it did in Tottenham."
He thinks a lot of Leave voters had a "f**k the EU" attitude, because "they haven't got an option to go over to Spain or Germany to work, these things are completely f**king unimaginable, you know, so no wonder they were alienated from it". He continues: "It's a mindset people in small towns and a lot of working class people have, people who don't leave the local area, these people live hard lives. This idea of a smaller world, of globalisation, of Europe, it's just, 'what the f**k's that?', it's a million miles away from them. So when you've got someone like Johnson or Farage, who really did strike a chord with a lot of people because of the nationalism thing, of being patriotic, it's basic maths, innit – 'yeah, I f**kin' love England'."
Where does he think the violent strain of racism associated with the Leave side of the argument comes from? "It was always there. Everyone in Grantham who I know is racist and that's a thread that's gone through and it's been suppressed. In the cities there is multiculturalism, people are a lot more open minded, but in the small towns, f**king forget it, you know."
Williamson doesn't swear quite as much in his songs these days, either, but the vitriol in his lyrics sometimes sounds as if it could tip over into physical harm. Is he a violent person? "I've never been a fighter," he says. "I've probably had two fights in my life. I stay away from 'em. The fights I have had have left me depressed, causing harm to someone else. The act of it is not to be taken lightly, punching someone, invading someone's space, it's not right. It doesn't stop me from feeling aggressive, though."
He used to be something of an online troll, he admits, but adds: "What I didn't realise when I used to troll people is the effect it had on that person, and when the tables turned, it's horrible, really cruel, it's abuse, so I'm really quite ashamed of that. I don't troll anybody any more but I am aggressive to trolls and I can be just aggressive. If I was following me, I would probably think I was a t**t."
He doesn't tee off quite so much at individuals in public as he used to, though. I ask him what he's got against Blur guitarist Graham Coxon – described on "Flipside" on Eton Alive as "like a left-wing Boris Johnson" – "Nothing at all!" he laughs, "It's just funny, isn't it?"
Sleaford Mods on being the voice of the working class
Williamson's verbal inventiveness can be headspinning, as I find out when I ask him to deconstruct the line "Inspector Gadget in deep-sea batter" from "Big Burt". He was nicknamed after the Eighties cartoon character at school, he says, "because I had a tumour on my spine removed at an early age and a bit of plastic inserted". Deep-sea batter…? "Lincolnshire, the flatlands, especially round Boston, stuck in the mid-Eighties, everything still fried twice in a deep fat fryer." It's an "absurd but complete picture" of his idea of the county, he says.
Williamson, as people never tire of pointing out, shares a home town with Margaret Thatcher. His mum had jobs in Boots and his dad worked for the council before becoming an ambulanceman. They lived on an estate and bought their council house during the Thatcher years. The young Williamson avoided bullying by making people laugh, and was obsessed with The Wizard of Oz (1939) and Roman epics starring Victor Mature, such as Demetrius and the Gladiators (1954).
His parents' separation when he was 10 had a big impact. "It was horrible," he says. "I still remember the day when my mum decided. My dad took us to Birmingham to our cousin's for the weekend to give my mum time to think about it. He was a serial womaniser. In the end, she'd just had enough."
His father took it personally, he says, and seemed to resent Jason and his sister afterwards. "We took it really badly. You don't want 'em splitting up, even if the relationship isn't great, they're still there, getting up every morning, making you some breakfast."
His mother eventually remarried, and Williamson says he picked up his swearing from his new stepfather. "He was a builder, he ramped up everything, it was c**t this, f**k that, b*****d the other. My mum didn't like it at first, but then she joined in as well in the end, so everyone was at it."
Williamson has an ear for the poetry of everyday speech. It's a singular talent that can make something as simple as "who knew" on the song "Kebab Spider" sound like a chorus that has been sitting there like a pound coin on the pavement just waiting to be picked up. Despite his verbal dexterity, though, he left school early. "I got kicked out in April 1987," he says. "I'd been caught trying to pierce my mate's ear in the toilet. The headmaster was like, you're s**t anyway, you may as well just go, don't bother with exams. This is how bleak it was, f**king horrible." He signed on for a while, briefly went back to college, dropped out, and worked in a factory making microwave meals for Marks & Spencer.
"I really did learn a lot about life there," he says. It introduced him to unskilled labour, which he did for the next 20 odd years – "I did warehouse work, had a job as a chef in Little Chef, worked as a security guard, then moved into fashion retail – I was always into clothes – worked my way up to managerial positions in a couple of them, got the sack all the time."
In between, still nursing dreams of Hollywood, he went back to college for three years to take GCSEs and a theatre studies A-level. He tried to get into drama schools, but "it was just a no-go". Abandoning plans to be an actor, and inspired by The Stone Roses, Paul Weller and Britpop, he thought, 'F**k this, I'm gonna join a band. I could sing, so I thought, I'm laughing, music'll be easy. I can get pissed and stoned, I don't have to be so disciplined." (That's all changed, by the way: Williamson has stopped drinking and taking drugs in the past few years.)
He set out with the idea that you had to be famous by 24 or it was too late. It didn't happen. He tried as part of a band, learnt to write songs, lived in Brixton for a time, moved to Nottingham, played acoustic guitar, moved on to electronica.
"Past 24, past 34… 38, 39, 40. I thought, no, I'm just gonna keep going. The idea of careerism slowly vanished… and that's when I started connecting my circumstances to what I was doing creatively." Williamson's lyrics and vocal style are recognisable in the early incarnation of Sleaford Mods that formed in 2006-07, but they're still fighting for air with samples of Sex Pistols riffs and the like. When he began working with Fearn in 2012, the latter's minimalist beats cleared a space for Williamson's voice, as if he'd just swept 30 years of crap from a sideboard. And as soon as it could be properly heard, that voice sounded real in a way that made just about everything else sound fake: "No anthems round here / Just concrete, chips, a dirty sausage / A three-pound bunch of flowers."
Eton Alive took shape differently to their previous albums. "I used to get a load of lyrics, he'd have five or six beats, and we would just go in a studio, then he'd make up more. I'd relay a sheet of lyrics over whatever beat that fitted. I had long monologues, or long rants, that'd fit anything really, but that got a bit…" Basically, after English Tapas, they started asking themselves if it was interesting any more.
They live 40 miles apart. For Eton Alive, Fearn sent beats through as he finished them. "It's paid off," Williamson says. "His ideas now are stronger, more confident, more angles to them. I would sit there and work on each one. He started sending me stuff that reminded me of Eighties R&B, like 'Joke Shop' on the last EP. It really started to enthuse me, and it pushed the sound in a new direction."
They've already started touring the record. Williamson can be manic on stage; I wonder if he gets depressed, too. "I get p**sed off a lot," he admits. "I wouldn't say I'm a manic depressive, but I get down a lot. I think a lot of people do. There's clinical depression, and there's everyday life, let's face it, it sits next to it a lot of the time – the pressures of family, children, responsibility, sobriety have taken its toll [on me] a little bit, although not as much as continuing to digest good drugs and alcohol."
Eton Alive, the new album by Sleaford Mods, is out on 22 February
Join our new commenting forum
Join thought-provoking conversations, follow other Independent readers and see their replies