sleepmakeswaves – Made of Breath Only: Exclusive Album Stream
Australian post-rock quartet follow up the universally acclaimed Love of Cartography with third album Made of Breath Only and stream it exclusively with The Independent
Remfry Dedman
Monday 20 March 2017 12:36 Comments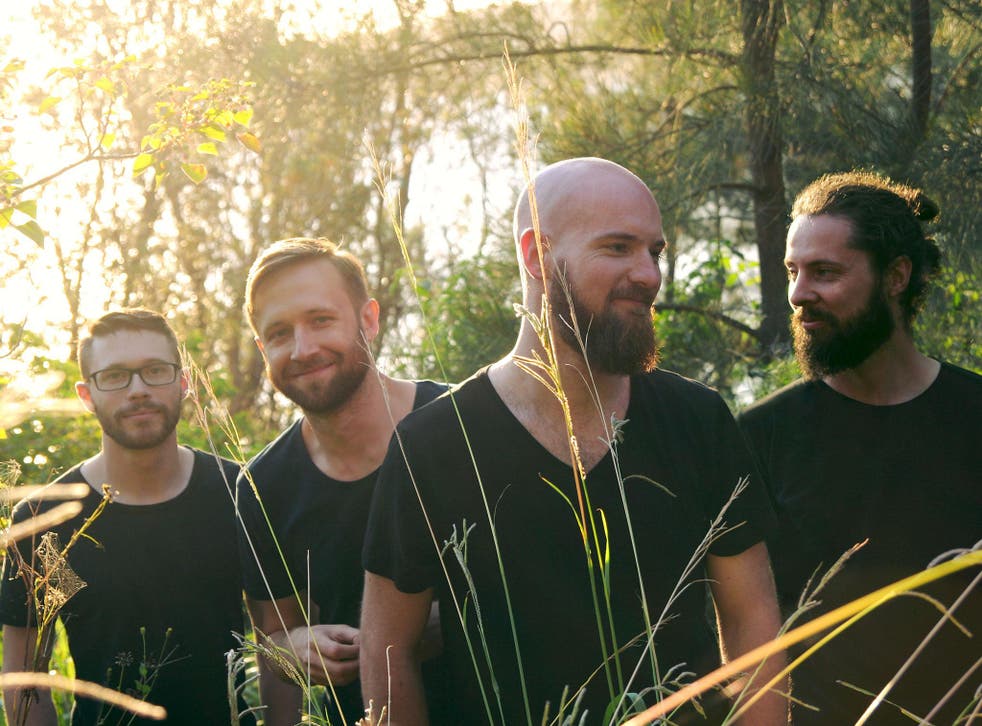 Australian post-rock quartet sleepmakeswaves are gearing up to release their third album Made of Breath Only through Birds Robe Records on 7th April but you can stream the album in full below, exclusively with The Independent. The post-rock quartet utilise electronic textures as well as the usual symphony of guitars, drums and bass to elevate their elegant compositions to transcendental peaks. The band's electrifying 2011 debut album, …and so we destroyed everything, got nominated in the 'Best Hard Rock/Heavy Metal Album' category at the Australian Record Industry Association (ARIA) awards (they lost to DZ Deathrays). It was the release of sophomore album Love of Cartography that really struck a chord with critics and fans alike, nominated this time for a whole host of awards including another ARIA (in an astonishing twist of deja-vu logic … they lost to DZ Deathrays).
In late 2016, the band put out a call to fans to help raise funds for their third album and a world tour through pre-orders via Australian crowdfunding website Pozible. They managed to raise $45,343 AUS dollars (just over £28,000) to fund the recording of the album and put funds towards a world tour a 10-date headlining tour around China, a support slot around Australia with Canadian prog-metal maverick Devin Townsend and then further touring around the UK, Europe and North America. They are also due to play at the UKs most prestigious math & post-rock festival, ArcTanGent in August.
Fully aware of the clichés that permeate the majority of the post-rock oeuvre (under influences, it simply says 'we write love songs about delay pedals') sleepmakeswaves seek to make music that progresses beyond a pale imitation of their contemporaries. Their lush enlivening arrangements surpass the bygone quiet/loud/quiet dynamic clichés of post-rock old to produce something wholly distinct and inspirational.
Guitarist Otto Wicks-Green and bassist / keyboardist Alex Wilson took the time to provide us with an exclusive track-by-track account of the album.
Our Days Were Polar
Alex: As a huge fan of both ambient music and progressive rock, I like how the album starts with impressionistic textures that hint at themes from the main song that will follow. We're all about building that dramatic tension and it's a different way for us to open a record.
Otto: We also brought on an old friend from Alabama to add some spoken word to this track. We kept in touch with Matt Finney since working with him on A Gaze Blank and Pitiless as the Sun from our debut album and we were stoked to get the opportunity to work with him again. We wanted his words to evoke the bleak frostiness of the album, and he totally nails the vibe.
Worlds Away
Otto: Riffs! This song was one of the few that came together quite quickly, and after a couple of nights of focused writing we had the framework of what would become the song. I remember this track emerged entirely unexpectedly while we were grappling with another track and writing it felt like taking a break from the other hard stuff we had to do. I took some inspiration from Thundercat in pulling together the Maj7 chords throughout the first verse.
Alex: We get called a post-rock band a fair bit, and fair enough. The ending of this song is one of the most post-rock moments on the record, a big slow build that gets hammered into the ground. I like how that feel comes off the back of a busy, technical first half.
To Light / And Then Return
Alex: This song is a bit of an ode to some post-punk/emo roots; bands like Sunny Day Real Estate, American Football and Trail of Dead. This was the first song we completed for the record. It came together in the back of a tour bus, driving around America for six weeks.
Enjoy unlimited access to 70 million ad-free songs and podcasts with Amazon Music Sign up now for a 30-day free trial
Sign up
Otto: The working title of this track for over a year was 'Silver Bullet' as at the time it felt like an ace in the hole – the first fully completed track we were happy with and were ready to sign off on. As such it became the first track we started jamming live and is now sitting happily in the set list.
Tundra
Alex: Lots of times, the core emotion for our songs comes from a mental image. For Tundra, I imagined someone struggling through a desolate landscape, not knowing if they will make it through. The forward motion of the song is relentless, but music nerds will notice we're playing 9/8 off against 4/4 as to thread some anxious tension through the riffs. King Crimson did this kind of thing a lot in the 80s and there's one riff in particular that's a tribute to them.
Otto: The shimmering reverb chords that separate the song into two halves were the first thing I contributed to the record and attempt to capture that sense that Alex refers to above. This track was a labour of love and came together in parts, but as with many of our songs, the amount of obsessive time invested in getting it right is usually worth it in the end.
The Edge of Everything
Otto: I did some reading on Antarctic and Arctic exploration as part of researching the concepts around this record and was fascinated by the story of Douglas Mawson and his ill-fated Far Eastern Party in Antarctica in the early 20th century. This song was initially inspired by his ultimately tragic journey that required an incredible amount of perseverance and endurance. The song goes through several moods and movements that reflect an epic saga, with an eventual return to something both hopeful and mournful. The opening guitar arpeggios were the first thing I'd ever written in 9/8 and it was an interesting challenge to work through the changes in a way that felt natural.
Alex: I feel that this track pushes the prog-rock envelope further than we ever have before, taking a latent influence in all our songs and fore-grounding it. We took a lot of chances on this track, given how dense it is and how many evolving, shifting sections there are. For me, songs like this live and die on the transitions. Whether or not it feels like each change in scenery happens naturally. The listener shouldn't be able to hear the seams.
Made of Breath Only
Alex: I had been idly playing the chords of this song for years, trying to find the right way to fit them in a song. I'm glad they found a home here because they have a vulnerability that balances the visceral riffing on the rest of the record. I particularly love Tim's drums here. They're brief, but really powerful.
Otto: We applied the name to this track first, then realised later it captured something special that we wanted to evoke across the whole album so we used it as the album title.
Into The Arms of Ghosts
Otto: This track started out with this momentum building chug riff that Tim brought to the table. It reminds me of Low by Foo Fighters, which was a band I grew up loving. We added the haunting modulating piano and the shimmery guitar stabs along the way, then realised we could re-purpose this melody line we had planned for an entirely different song with an entirely different feel. The end prompted our producer Nick to remark quite sincerely that the video clip should feature a man jumping out of a plane playing the guitar solo, then landing inside a stadium just as the song ends.
Alex: This song has an interesting mix of aggression and sadness to it. It was an experiment for us in how much mileage we could get out a single chord progression. Usually we're playing with lots of different changes to give a song movement. The acoustic guitar sound in the beginning of the song is actually a ukulele. Not exactly sad or aggressive, so go figure.
Midnight Sun
Alex: Our songs will often travel great sonic distances before reaching a final form. The first iterations of this, we tried to avoid being heavy entirely, aiming for something like Radiohead's Morning Bell. But the song seemed to warrant intense build and drama, bringing us back around. I had a lot of doubts about this one when writing it but it may be my favourite on the record now.
Otto: I love the sadness and space in this track. It's a touchstone for the emotion that we went into the creation of this record. Like Alex said it was another slow burner, requiring a fair amount of revision (I remember abandoning one early guitar idea because I realised in the cool light of day that it sounded like a supermarket infomercial), but all the ruthlessness was warranted, as it ended up in a place we felt was right.
Glacial
Alex: The ambient section is my way of paying tribute to the pioneering ambient musician Steve Roach, and the heavy section is very influenced by ISIS, a great metal band who were a touchstone for us when we started out. This was written separately to Midnight Sun, but they sound right sequenced so close together.
Otto: More riffs. More chug. This is a really fun track to play live. Fun fact: The firey high gain lead tones came out of a Marshall amp that Slash once owned.
Hailstones
Otto: The glitch vocal sample idea dates back to 2011, and this song actually features the very original recording that I sang into my old Maton acoustic guitar before Alex put it through the mincer. We loved the weird melancholia of it and it took us many years to adequately find a home for it. We ended up going for this post-hardcore vibe with this little Alexisonfire influenced hammer-on thing, before cascading into this massive meandering washy ending. I really love Dan's volume swells and atmospheres here, it's totally hypnotic. For me the song is about memory and nostalgia. This idea of an otherwise innocuous occurrence like a hail storm drawing us out of the present and into a different time.That no matter how hard we stretch, some things are ungraspable.
Alex: The ending of this song is really special to me. I like it because we allowed ourselves to stretch out on one feeling for a long time and let it be hypnotic and patient. And we also allowed ourselves the chance to figure it out in the studio rather than planning it to the nth degree. I think it has a special energy and Otto's sneaky vocals lift everything up for the final act.
The third album from sleepmakeswaves is available to pre-order on Vinyl, CD and Digitally
Register for free to continue reading
Registration is a free and easy way to support our truly independent journalism
By registering, you will also enjoy limited access to Premium articles, exclusive newsletters, commenting, and virtual events with our leading journalists
Already have an account? sign in
Register for free to continue reading
Registration is a free and easy way to support our truly independent journalism
By registering, you will also enjoy limited access to Premium articles, exclusive newsletters, commenting, and virtual events with our leading journalists
Already have an account? sign in
Join our new commenting forum
Join thought-provoking conversations, follow other Independent readers and see their replies