SOAK interview: 'I had severe dyslexia and they said I was never going to be able to write'
The Mercury Prize nominated artist talks new album, gay marriage and quiting college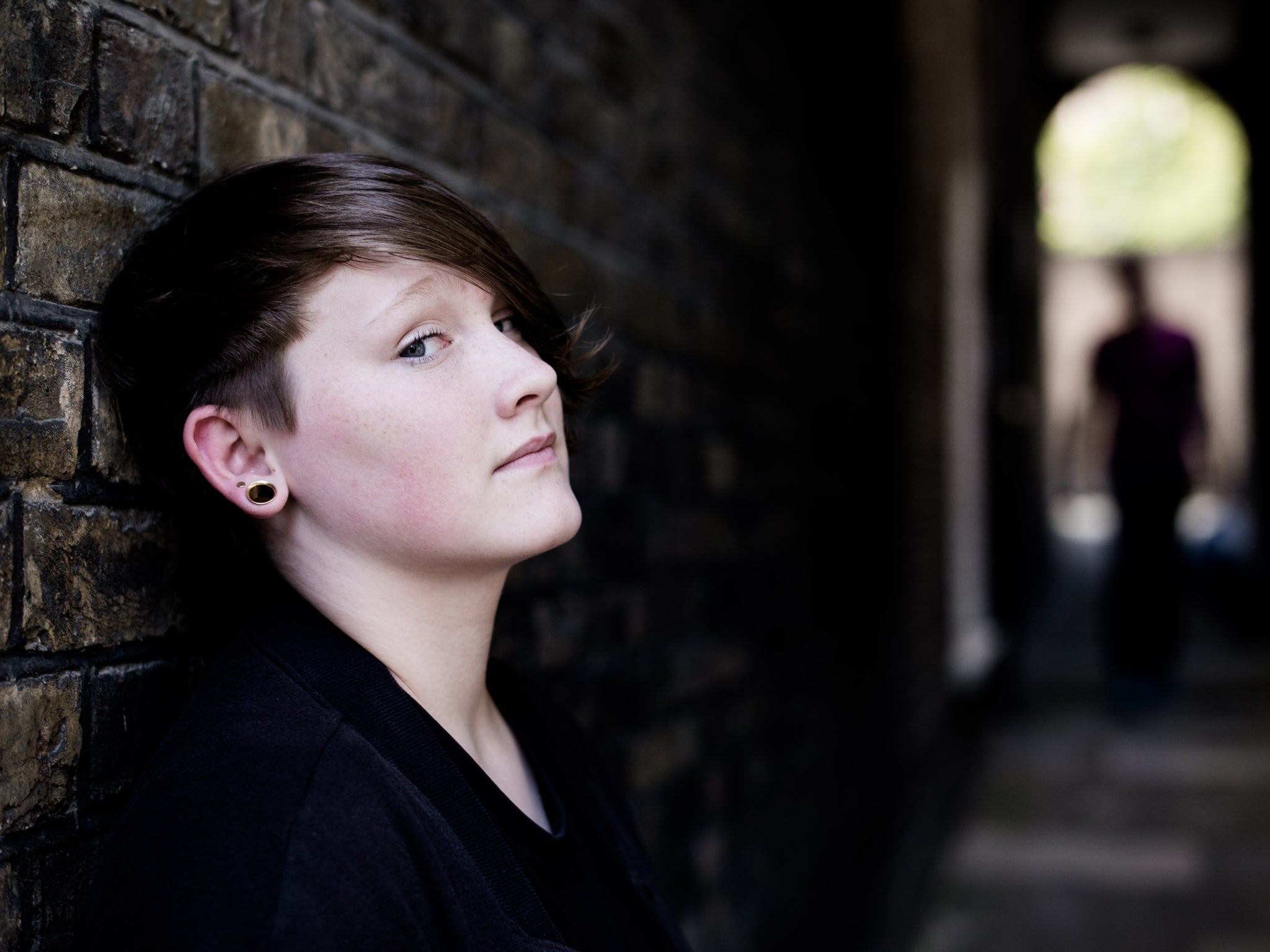 "I had a hernia when I was two because I screamed so much," says the singer-songwriter known as SOAK, as we sit side-by side in a café, facing forward, like passengers on a train. On her Twitter profile, she describes herself as "an Irish Leprechaun". Her smoky blue eyes hide behind a side-swept fringe of brown hair, which she brushes aside occasionally to focus on a cup of green tea and a giant cookie that's broken up but remains uneaten. It's too brittle, she says.
Even though eye contact happens rarely, 19-year-old Bridie Monds-Watson is more sure of herself than any other teenager I've met. There's no sign of hernia-inducing tantrums now. From her level Derry accent to her confident, well-thought-out opinions, she radiates quiet confidence. You might think that was down to a series of profile –boosting accolades this year, including the BBC's Sound Of longlist at the start of the year and then, last week, becoming one of the 12 artists on the shortlist for the Mercury Prize, but you'd be wrong. It comes from having to conquer her dyslexia as a child.
"When I was really young, like five, I had severe dyslexia and they said I was never going to be able to write. The specialists said I should go to special schools but my parents wanted me to have the same chances as my two brothers. My little brother is also dyslexic and is on the autistic spectrum..." So she went to an integrated school, attended by both Roman Catholic and Protestant students (Monds-Watson grew up post-Troubles, and says she has never met anyone who objected to another person on the grounds of their religion) there, she worked her way up to the top set in English.
At 13, Monds-Watson became "obsessed" with song-writing. "Until that point I had never been super-dedicated about anything and I never thought I was super-talented at anything either but then I started doing music and I got really into it." She spent the next three years spending all her free time writing, rehearsing, gigging and recording. One of the songs from that time, "Sea Creatures" is included on her Mercury-nominated LP, Before We Forget How to Dream. "Back then I only knew four or five chords on the guitar, so that's why it's so simplistic," she says. Narratively, though, it contains multitudes.
"I had a friend who was openly gay and being bullied and me and her were probably the only gay people in our year. There are so many different aspects of being 14 in that song like, you have that phase of 'Oh my God I want to get out of this town, I hate all of these people' and then the chorus is about people's ignorance and intolerance."
The floaty soundscape of the song is very different from the music she was listening to at the time, which included The Hoosiers and N-Dubz, or, from her parents' record collection, Led Zeppelin, Pink Floyd, Joni Mitchell and Beethoven.
She says now she likes Miley Cyrus, but prefers Taylor Swift because she's "an incredible pop songwriter" who sets an example by holding on to her own music rights "it's good message to send to kids", she says, but she is an even bigger fan of Kate Tempest, who is also her biggest supporter.
"She's amazing. She's my friend and she's incredible," she says, suddenly lighting up. "She's an incredibly intelligent person. There have been loads of occasions this summer where we've bumped into each other at festivals and she's been like, 'how you doing? Is everything good?' She understands how busy I am and she's texted me and she's been like, 'how many hours sleep did you get?' I'll say 'I got two' and she'll reply: 'I got one'... She's a very cool person."
Monds-Watson came out to her parents when she was 14 and has recently been very outspoken about gay marriage and gay rights. She was featured on a Channel 4 segment about gay marriage in Northern Ireland, the only place remaining in the UK where gay marriage isn't legal, despite a recent Ipsos MORI poll saying it now has overwhelming support in the country. Across the border, Ireland legalised same-gender marriage after a 62 per cent "yes" vote in May of this year, and a week before, Monds-Watson wrote an open letter in NME urging people to vote yes.

Enjoy unlimited access to 70 million ad-free songs and podcasts with Amazon Music
Sign up now for a 30-day free trial
Sign up

Enjoy unlimited access to 70 million ad-free songs and podcasts with Amazon Music
Sign up now for a 30-day free trial
Sign up
"I have friends who have been kicked out of their homes [because they are gay]," says the letter. "Imagine how it must feel for a young person who's already going through a tough time, then on top of that to be told 'oh, your government is going to potentially bring in laws that protect and encourage the people that discriminate against you.' It's crazy."
Culture news in pictures
Show all 33
It was the first time that she had spoken publicly about an issue close to her heart. "I've grown up and having people watch me growing up is not a natural thing to happen. So for a long while, I did have these views and opinions but I didn't want to talk about them publicly because it's so easy to have your comments manipulated but [now] I feel like if something important needs to be said then I should do it."
Monds-Watson's parents, Jimmy and Aisling Watson, are a mental-health worker and a PhD tutor in social work respectively. Monds-Watson grew up going to demonstrations with them until they separated when she was 13. "I remember from when I was six going on anti-war and anti-bomb demonstrations," she says. Her mother is also a "massive feminist... If me and my brothers ever like stepped out of line... shebang! We would be shut down like nothing else. I am really glad about that."
It usually takes decades before someone starts agreeing with their parents, but SOAK has already come full circle: "I grew up in this incredibly open environment where my parents were always my friends and I think that has had a massive impact in the way I grew up and what I believe in now is almost a direct reflection of my parents' opinions."
Her only moment of rebellion was dropping out of music college when she was 17. She had signed a publishing deal with Universal and was going down to London at least once a week for recording and writing and she was going on small tours. Things were taking off with her career.
"It's very hard when you're 16 or whatever and you come home from playing gigs and you're like 'OK. I'm just going to sit down at a desk and concentrate and pretend I want to be here.' So I stopped going." Then the college kicked her out for non-attendance. How did her parents react?
"They were not happy," she says with a laugh. "I told them I didn't want to go to school and I wanted to take advantage of all these opportunities and they were saying, well, you don't want to grow up too fast and I understood where they were coming from, after about four days it was accepted and my mum was like, 'you have to really work at this now because otherwise you'll have to ask that college if they'll let you back in. Do you really want to do it?' and I was like 'nope'."
You get the sense that it's not a decision she'll ever lose sleep over.
Join our commenting forum
Join thought-provoking conversations, follow other Independent readers and see their replies