Sparks' Ron and Russell Mael on their new album, collaborating with Franz Ferdinand and being mysterious
The two brothers from LA who formed Sparks in 1972 return with their 25th album 'Hippopotamus' and trademark moustache and stare, as well as a new musical in the pipeline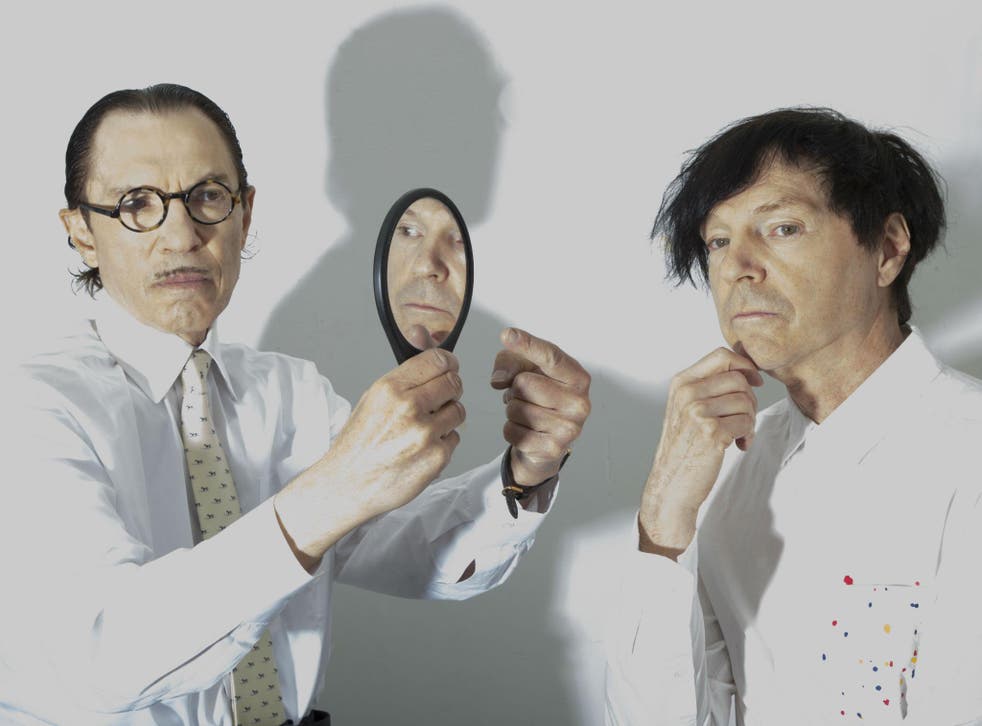 No one who saw it will ever forget Sparks's early seventies debut on Top of the Pops. Playing their breakthrough hit "This Town Ain't Big Enough for Both of Us" there was singer Russell Mael with a striking falsetto and equally striking long curls and the full rock star looks, and on the keyboards his older brother Ron. No rock star looks there, but a chilling, demonic stare and a Charlie Chaplin moustache. In the era that was still glam rock, you could say this made an impact.
I say Charlie Chaplin moustache. Ron tells me now that he was an avid fan of silent films and thought of it as either Chaplin or Oliver Hardy. Alas, not everyone saw it that way. A French TV station thought it a Hitler moustache and banned the band.
"Yes it did have some unfortunate by-products along the way. So I re-thought my facial hair direction," says Ron. "I changed the moustache a bit, it morphed into different things."
Now Sparks are back with pretty much the same old moustache and stare, same falsetto and compelling stage performance, and their 25th album, Hippopotamus. The song titles tell you all you need to know about a band that continue to break pop boundaries. The title track is of a man who finds a hippo, a giraffe, a painting by Bosch and much else in his swimming pool (as with many of the wilder Mael lyrics one can only say 'don't ask'). The single "What The Hell Is It This Time?" is about God answering a supplicant and telling him how 'overworked' he is. Or there is "Life With The Macbeths" and "So Tell me Mrs Lincoln, Aside From That How Was The Play?"
No, Ron Mael's lyrics have never been those of moons and Junes. And it's not just a conversation with a grumpy God that exercises Ron's imagination. He can also engage with the frustrations of the everyday that so few lyricists do. He certainly struck a chord with me with his track of a few years ago titled "Your call is important to us: Please Hold". Sparks continue to stretch the limits of a pop song way beyond where anyone else has ever taken them.
One of the early reviews of the new album in Classic Rock magazine uses words and phrases such as "pulsating…full throttle…operatic..grandiloquent…Stravinsky meets Wagner." That tells you quite a bit about the brothers Mael. They are compared to Wagner and Stravinsky and the comparison is by Classic Rock. These guys know how to cross genres, or throw them in the air and catch whatever lands.
It's a career of remarkable versatility. Actually starting as a band way back in 1968, they moved from their melodic, quirky, eccentric artpop of the early seventies through disco (with the 1979 huge hit "The Number One Song in Heaven") via new wave/synth pop. They recently collaborated with Franz Ferdinand on an album and tour, and among their many star fans is Morrissey who gave them an evening to perform two albums when he curated the South Bank's Meltdown festival.
More recently they did a sophisticated film score The Seduction of Ingmar Bergman, about Bergman in Hollywood (Garbo is in there too). It's a film still to be made, but the Mael brothers will soon have their work on screen anyway.
Russell reveals, almost en passant, what sounds to me like a pretty major project. "We've been working for four years on a musical called Annette," he says, "and we met the French director Leos Carax at the Cannes Film Festival and he loved it and wanted to direct it and it has escalated and has Adam Driver and Michelle Williams. Adam sings really well, we were really surprised." Ron adds: Leos has shot three of the songs with Adam Driver. We got together with Adam Driver and told him it shouldn't be a Broadway thing but should be more naturalistic with a certain pop sensibility and he totally understood that."
Enjoy unlimited access to 70 million ad-free songs and podcasts with Amazon Music Sign up now for a 30-day free trial
Sign up
That film is about a celebrity couple, a famous stand-up comedian who marries an equally famous opera singer. His career nosedives and she becomes a big star and they have a child. Meanwhile The Seduction of Ingmar Bergman is now set to come to the screen in what Russell terms "a more stylised Czech animation sort of way."
These guys are never short of ideas, and never short of stamina. They celebrated the release of their 21st album in 2008 by playing each of the 21 albums on consecutive nights in London. Hard to think of any other band or artists who would dare do that, even if they had sufficient repertoire. Or as Russell says, "Because of how harrowing it was, we are convinced that no other band will ever attempt it."
When I caught up with the brothers on the eve of the release of Hippopotamus and the eve of their British tour, they prove to be not totally unlike their stage personas. Russell, hyperactive on stage, does much of the talking and is energised, enthused and gregarious. Ron sits sphinx-like much of the time, unfailingly polite, and extremely thoughtful when he discusses his work. Maybe he doesn't have quite the deadpan scowling of his stylised stage persona, but there is certainly an otherworldy look about him as if he can't quite comprehend where, who or most probably, why he is.
And, as we are chatting, something occurs to me. For a band that has been internationally famous for nearly 45 years, no one really knows anything about them. They're brothers from Los Angeles and they make great albums and memorable stage shows, but are they married, do they have partners, families? Their biographies recount that as children in LA they were both models for mail order catalogues, they also surfed, and er that's it. Which stars, apart maybe from Bob Dylan, have managed to keep their private lives so private?
"Well we're in good company with Bob Dylan," says Russell after a bit of a pause. "But we always think that what we do with our music should be the thing and live performance and what you see on our album covers. We think the whole story of the music and the image and how we portray ourselves is more compelling. We feel the less you do know it keeps the mythology and the image in a better position. You do know about us in the type of music and the lyrics and their sensibility. Through that you do know something about our lives."
"I would be happy, "says Ron, "presenting our albums as part of a joint autobiography."
But you wouldn't even say if you have partners for example? "No, says Russell, "the vagueness is more interesting than the reality."
With the new album, says Ron, the aim was that "we wanted to do an album in which we could have a general band sound and also to have an album we could present live. After the film thing the collaboration with Franz Ferdinand made me excited again in working in that way. Our main love has always been pop music. We love the restrictions of it in a certain sense, the length and the repetitiveness. But then how much can you get away with – our intention is always to stretch ourselves. And Sparks fans expect that."
And though they once had a pop at Rupert Murdoch in song, overt politics rarely comes into their music. "It minimises the point of a song," says Ron. "Nowadays and us being Americans there's an awful lot of material there, but just to make a statement it just seems to trivialise the music and make the music a background to that statement. To us the music is the most important element and they lyrics are something that adds an extra element. We always start with the music even though people assume that the lyrics are the essence."
The pair, having made stretching the idiom and challenging themselves so much part of their history, are critical of band like The Rolling Stones who are prepared to rest on their greatest hits. Russell: "With say The Rolling Stones you can do anything in their position so we are surprised that you always know what to expect with them."
The brothers still meet up every day to work, (Russell has a studio in his home)."There's a daily routine," says Russell, "and we're pretty methodical about it. We have a work ethic. Ron shows up on time and well groomed. People say 'what do you guys do the rest of the time' but we pretty much don't do anything else. It's a full time job. Having had so many albums now you have to keep pushing yourself to come up with things that excite yourself and ultimately you hope are going to excite our audience and a new audience. And that is a bigger goal. We approach things thinking if someone had no clue about Sparks is this going to be striking and relevant?"
Brothers in pop meeting daily and getting on. That in itself is quite an achievement as Oasis and Dire Straits and others would tell you. How do they manage it? Ron says: "Part of the thing is we have a common vision of what we should be doing. And we have such different roles in what we are doing. I have no desire to be the vocalist. I have the keyboards and the writing. So we don't kind of feel unfulfilled in the collaboration."
And when they aren't working, they keep fit. Russell points out that he has to. As their songs are for the most part lyrically heavy and with few instrumental passages, performing on stage "is an athletic experience." He also looks after that falsetto voice and he goes to the gym almost daily. Ron goes for a walk every day in his local LA park. And, he tells me, each time he sees a solitary figure also walking in the park. They have never met and so never approach each other. But Ron recognises him as Brian Wilson of The Beach Boys. Each time they pass each other, and continue their walking and musing. "Imagine that", says Russell, "only Ron and Brian Wilson in this little park, walking round."
There has to be a Sparks song in that somewhere.
'Hippopotamus' is released 8 September on BMG. Sparks' UK tour starts on 18 September
Register for free to continue reading
Registration is a free and easy way to support our truly independent journalism
By registering, you will also enjoy limited access to Premium articles, exclusive newsletters, commenting, and virtual events with our leading journalists
Already have an account? sign in
Register for free to continue reading
Registration is a free and easy way to support our truly independent journalism
By registering, you will also enjoy limited access to Premium articles, exclusive newsletters, commenting, and virtual events with our leading journalists
Already have an account? sign in
Join our new commenting forum
Join thought-provoking conversations, follow other Independent readers and see their replies