!!! (Chk Chk Chk) share playlist ahead of Standon Calling festival 2017
Roisin O'Connor
Tuesday 13 June 2017 15:13 Comments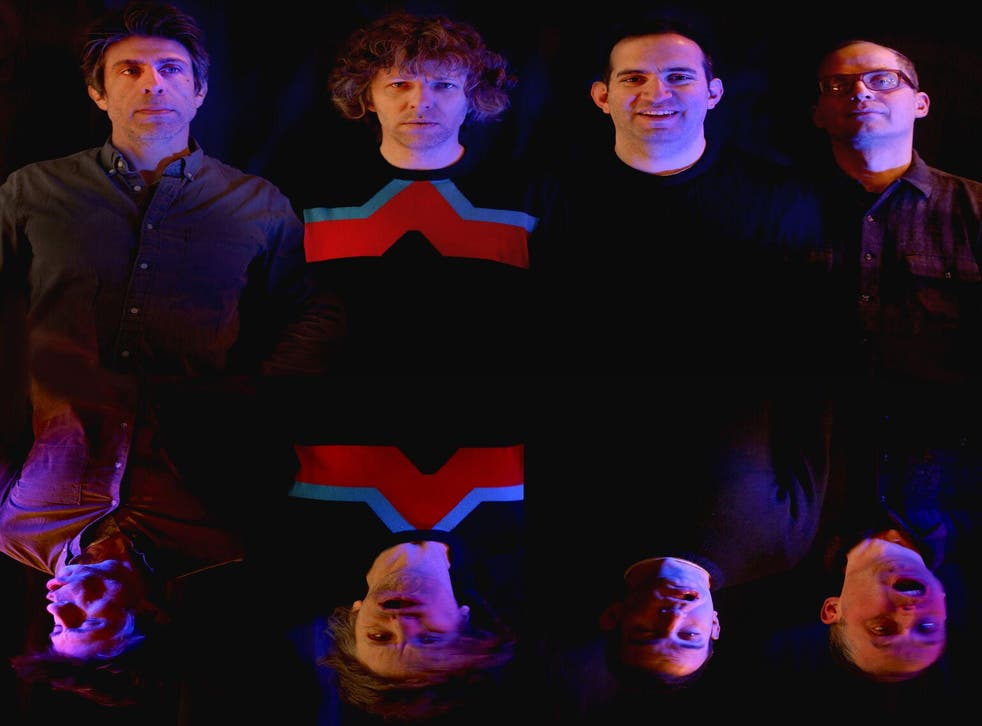 Ahead of Standon Calling festival, we asked !!! frontman Nic Offer to put together a playlist based on his favourite live performances.
Standon Calling takes place 27-30 July and will be headlined by Orbital, Clean Bandit and Grace Jones.
Also performing are Editors, Laura Mvula, Gary Numan, Kate Tempest, Nothing But Thieves, Nadia Rose, Fickle Friends and !!! (of course), the latter of whom just put out their new album Shake the Shudder.
Check out Nic's playlist below:
Depeche Mode - OMD
The first concert you ever attend is likely to be the best you ever see, or maybe I just got lucky with this one.
A "live" Depeche Mode show is questionable, but it didn't fucking matter. I had never heard anything that loud in my life. The double whammy of 2 of my favourite bands in the flesh was unfathomable to me. Gahan was a hell of a frontman and I still do the arms out spin on big festival stages in tribute to him.
Jon Spencer - Blues Explosion
I had never heard Spencer until maybe 93/94 when I saw them walk onstage to maybe 50-60 people in a club in Sacramento that easily could've held 300 more. I was punk at the time but more interested in James Brown records and he changed the forms of both via the blues, a genre I had absolutely no interest in at the time.
Anyone who gives less than he does at show isn't measuring up as a frontman to me. He was a big inspiration and the reason why I make sure to give everything at a show, even if no one is there.
Fugazi
I saw them several times and they may be the best band I've ever seen and I'm not just basing that on the time I saw them on acid.
Rarely have I seen rock be so pulsing, raw and flexible live. I felt like it was changing right in front of me. But maybe that was also just the age I was when I first saw them. I was right up front by Guy and I just couldn't believe what unfolded that night.
Enjoy unlimited access to 70 million ad-free songs and podcasts with Amazon Music Sign up now for a 30-day free trial
Sign up
D'Angelo
I saw him once on the Voodoo tour and twice this last tour and he is unlike anyone you can see these days. I love the records too, but they don't prepare u for what he can do live. It's not mellow. It's a live funk workout akin to Prince or James Brown. I've seen both of them and while not completely accurate, it's a fair enough comparison.
Thee Oh Sees
The first time I saw them was at a house party and it was like seeing the stooges play sister ray. Our drummer paul Quattrone just left us to play with them and there is literally no one I would be prouder to lose him to. I think a lot more people who wouldn't go see a band like this would really like their shows.
They pick a nuggets-y groove and lay into it for 10 minutes or so. Really trancey. We just watched Paul play with them and it was almost comparable to Fela or something.
Grace Jones
I usually like to see artists in their prime, but I think if u do see an older artist, it needs to be a diva. It needs to be someone who craves the audience's attention. That's why Mick or Iggy are still pretty good.
But Grace's style and elegance still carries well whereas their visceral energy is harder to carry across. She can be funny, ribald and that bass sounds great on big systems.
The Revolution
I just saw them a couple weeks ago and I paid the big bucks cuz I wanted to see their NYC return before they got sick of playing the old songs again. I had no idea what to expect and my expectations were completely exceeded.
They didn't really try and replace Prince, just treated it more like a singalong and focused a little more on the songs that they used to jam on. The boss may be gone but they know how the house is supposed to quake and they really fired up the crowd. I have never heard a large room full of people as quiet as when Wendy and Lisa played sometimes it snows in April.
Not a dry eye in the house I swear to fucking god. I wept. Fucking wept, I tell ya.
Nation of Ulysses/Cupid Car Club/The Make Up/Chain And The Gang
Every band I've seen Ian Svennonius in has been fantastic. If I ever had a moment where a band changed everything for me it was seeing Nation Of Ulysses.
Me and my friends changed the style of our band, our style of dress and when we couldn't find other punk bands as exciting to this we switched to the soul records that Nation of Ulysses referenced in their songs. Conceptually, there is no one cooler except for maybe public enemy. Their mystique looms large and I believe they will one day be as oft referenced as MC5 became.
There is no other frontman like him and I am certainly a little nervous to be following him at a show in Barcelona a few weeks from now.
Perfume Genius
I went to his live gig the other night and it was astounding. When that big drop happens on Otherside, holy shit! Anyone u can compare him to, doesn't quite sum it up. David Bowie, Kate Bush, Talk Talk, Joni Mitchell? Sure maybe, if not exactly stylistically, then at least in that they all are big vulnerable uncompromising visions.
!!! headline The Independent/Laundry Meadows Stage at Standon Calling, 27-30 July. !!!'s new album Shake the Shudder is out now
Register for free to continue reading
Registration is a free and easy way to support our truly independent journalism
By registering, you will also enjoy limited access to Premium articles, exclusive newsletters, commenting, and virtual events with our leading journalists
Already have an account? sign in
Join our new commenting forum
Join thought-provoking conversations, follow other Independent readers and see their replies