Super Furry Animals - still light years ahead
As Wales's kings of psychedelic pop prepare to headline the Wychwood Festival, lead singer Gruff Rhys talks to Nick Hasted about 16 years spent confounding expectations.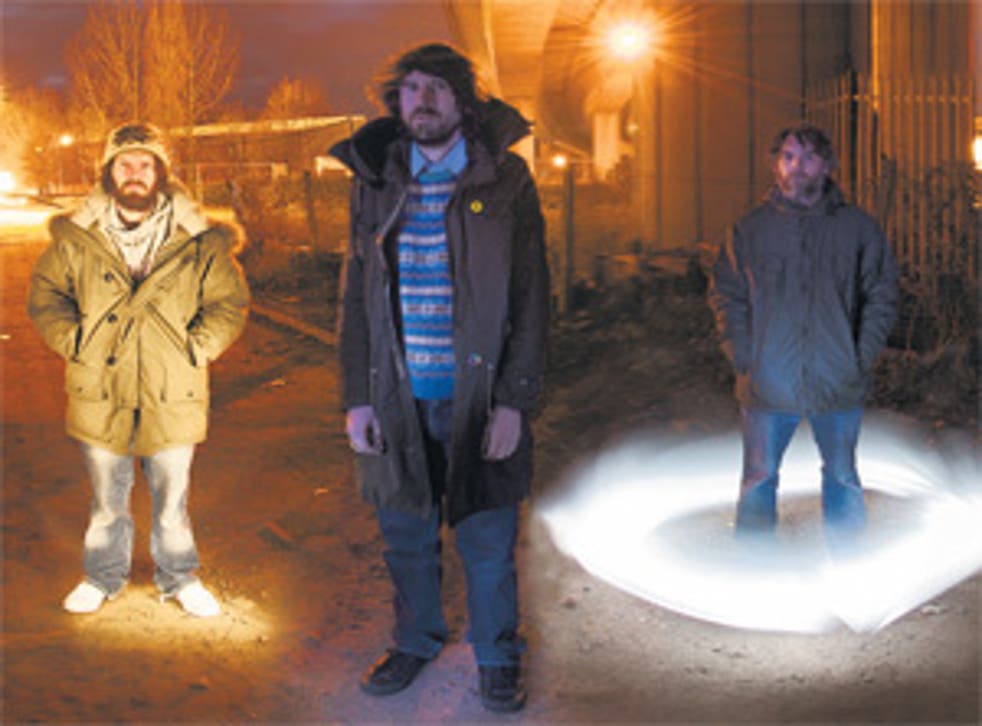 Wychwood is our first festival this year," Super Furry Animals' singer Gruff Rhys informs me. "We're committing to only playing outside from now on. Especially with this new record. We're thinking the bass frequencies might dislodge masonry. We could have lawsuits filed against us. Obviously we don't want any personal injury. It's a pragmatic decision... "
It's one of the warmest afternoons of the year. But we're talking in near-darkness in London's basement 100 Club. The heavy shadows are deepened by a spotlight as Rhys is filmed for a documentary on Creation Records, the label that launched his band. Howard Marks, the ex-drug smuggler made famous by his appearance on the sleeve of their debut Fuzzy Logic (1996) is down here too, a picture of ruddy-faced health. "Walking through the prison yard, this strange band beckoned me forth... " he booms of the Super Furries' influence on his life.
Wychwood festival-goers will only know to expect the unexpected from a band whose nine albums have included a Welsh-language Top 20 hit (Mwng, 2000) and a parade of warmly melodic, neo-psychedelic pop singles, but are best experienced live. The last time I saw them, they took over London's Royal Festival Hall for a New Year's Eve show in which their sets were incidental to the Old Man's Pub where pints were won by playing shove ha'penny, and a boudoir where scantily clad women covered your face in glitter and paint. It felt like visiting the collective head of a band who view music as part of a bigger, brighter picture.
"That was the closest we've got to a happening," Rhys says happily. "I always like festivals where the atmosphere is so great you soak in the spirit of the music without actually seeing the band. We've been inspired by people like Tropicala [the highly politicised 1960s Brazilian musical movement], who would put on elaborate, narrative stage-shows. During one concert, their leader Caetano Veloso arranged to be "shot" and emerged with blood all over his chest, as this girl clutched a pig's heart. You have to be careful with that sort of thing these days... "
Not that that stopped the Super Furries. "There was a tour where we transformed into yetis for the last song," Rhys confesses. "And at the Hammersmith Apollo we decided to sacrifice the yetis. We organised the sound of machine-gun fire, at which point these blood-packs we wore were supposed to explode. But they were the most underwhelming explosions. It was like having jam on your chest. It had no impact whatsoever. But it's worth trying these things out," he decides, brightly.
The Super Furry Animals' latest album, Dark Days/Light Years, will give them stronger material to play than its slightly disappointing predecessor, Hey Venus!, as Rhys concedes. "The drawback of what we do is that it's full of references to other bands," he says. "Our ambition is to surpass them at some point, and make music where you can't hear those influences. We're not there yet. Generally we hate earnest music. But we're absolutely sincere in what we do. When it's not sincere, then it becomes pastiche, and then it's really uncomfortable. "Suckers!" on Hey Venus! was like that. It's half-assed. We got a bit lost. We were far more comfortable making this record."
Rhys's lyrics are ambiguous throughout. "Cardiff in the Sun" for instance, seems to be about the sort of lazy, bucolic day he and I are enjoying. But then you half-hear lyrics about windows being smashed, and the whole thing becomes swallowed by an organically growing groove. Almost secretly, it's actually a protest song about the gentrification of Cardiff's docks.
"Absolutely," Rhys explains. "What they're doing's incredible – Tiger Bay, they've renamed Mermaid Quay! It had a fantastic name to begin with, which was world-famous as one of the oldest multi-cultural societies in Britain. It's insane! I hate sentimental songs. But there's an element of that. But also, with this album in particular, the songs have been chosen on musical merits alone. So I put the vocals through a load of machinery, to make the lyrics less audible and less integral. "Cardiff in the Sun" could be replaced by almost any lyric. I didn't want to make a torch song for Cardiff. I didn't feel comfortable with that at all. The music's very melodic, so I suppose that takes care of the sentimentality. To have it in the lyrics as well would kill it off completely."
"Where Do You Wanna Go", a "multi-coloured, fun take" on 19th-century attempts to found a Welsh-speaking state in the US, takes a similarly oblique tangent. Rhys's own passionate interest in Wales's cultural independence has been clear since an incensed appearance on Newsnight on the eve of the country's 1997 vote on devolution, which made everyone around him, Paxman included, look mealy-mouthed. "It's a reaction to Thatcherism, because nobody was voting for her," he says of the Welsh parliament that eventually resulted.
Enjoy unlimited access to 70 million ad-free songs and podcasts with Amazon Music Sign up now for a 30-day free trial
Sign up
But such political anger has never found its way directly into his songs. The real subject of the new album's "The Very Best of Neil Diamond", for instance, is a Diamond tape still playing in the rubble of a jet-fighter-bombed Middle Eastern home. Aside from snatches of Arabic music and militaristic phrases, you'd be hard pressed to know.
"It is clear if you read the lyrics... but they're not very audible," Rhys concedes. "Because it's got an amusing title, I didn't want to trivialise war, or suffering... " As he wrestles with this point, his eyes close for long periods as if deeply embarrassed, and pauses yawn between words. It could be a picture of the sincerity he mentioned before; the committed idealism with which his band approach their warm, funny music. "I'm not qualified to talk about war, because I haven't been party to it," he finally goes on. "I've only seen it on TV. We don't actually get to hear it. There's some guy explaining it over the top. In real time, there are all kinds of sounds and things happening. People trying to live day-to-day life through the war. If I was in a position to contribute something useful, or to offer concrete solutions... otherwise, writing about it's just showboating."
"The songs are inspired by observations of life, or what's fed to me through the media," he rallies. "And the scenario in the song "The Very Best of Neil Diamond" began when we were in hospital, and the doctor put on a Dire Straits tape during my daughter's birth. It didn't really matter. I didn't mind, because it was a beautiful moment. I don't want to sing about that because it's too intrusive. I reimagined a similar scenario, an unhappy moment, where something inappropriate happens. Because things aren't always appropriate."
Does he generally avoid hitting the nail on the head in his lyrics? "Maybe I'm just not very good at it! Maybe I'm better at making dents around the nail."
The Super Furry Animals have had an extraordinary 16 years, from the small Welsh-language label Ankst, to a spell on Columbia which seemed like a bet to see just how much major-label cash they could spend. "Sony had amazing resources," Rhys remembers wistfully. "And they had a good shot at trying to sell a SFA record. It didn't work. But we probably made 40 music videos in a period of three albums. Just in case big success didn't happen, we felt we should take full advantage of the situation. We tried out recording in Brazil. Things that don't necessarily happen in real life. Record companies spend hundreds of thousands of pounds on advertising. We redirected it into making inflatable bears."
The last few years have also seen Rhys make solo records, and Stainless Steel, the 2008 Mercury Prize-nominated album he made as Neon Neon, with producer Boom Bip. "It's so you can record a disco record about Raquel Welch without causing embarrassment to some of your closest friends [in the band]," he explains. But the Super Furries seem as resourceful as ever. Typically, Rhys is resistant to nostalgia at what they've done.
"It's great to dig out old memories," he says. "We've been incredibly fortunate, and it's great to remind yourself of that. But without being burdened by it. Never having had huge commercial success, we've never worried about the outside. It's gone incredibly fast, anyway. We were on a mission to make all these records, and we've been so consumed by doing that that we haven't noticed the time pass. We've had such intense experiences together. Our objective is still in the future."
S uper Furry Animals headline the Wychwood Festival on 29 May. 'Dark Days/Light Years' is out now on Rough Trade Records. See tomorrow's Independent for details on how you can get hold of the free Independent Wychwood download album featuring Super Furry Animals and 10 other artists appearing on the Independent Stage at Wychwood Music Festival 2009
Join our new commenting forum
Join thought-provoking conversations, follow other Independent readers and see their replies