Interview
'Thanks for giving a s***': Celebrating Swamp Dogg, a psychedelic soul original
The singer has spent the past 65 years eschewing genre and making music as his underdog alter-ego. As his controversial album Rat On! turns 50, Roisin O'Connor speaks to an unsung legend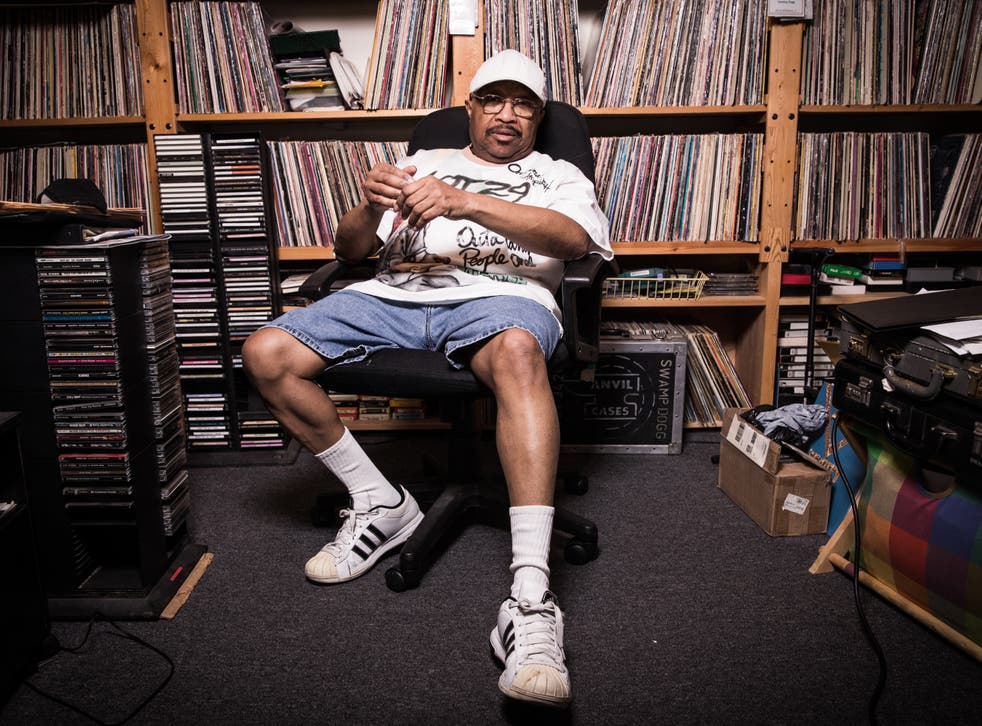 I'm gonna be 79 in July," Swamp Dogg says, huffing a sigh. "Ain't that a bitch." The artist born Jerry Williams Jr isn't a fan of the ageing process, but he fights it as best he can. He's even written a song or two about it – including the rhythm'n'blues stomper "You Ain't Never Too Old to Boogie" and "I Had a Ball (I Did It All)", a defiant, rockier swansong. "I'm looking for the magic potion, I want to be here forever," he continues, over a video call from the cool dark of his Los Angeles office, blinds closed against the blazing California sun. 
Age is a touchy subject, but Williams Jr has plenty to reflect on. This month marks 50 years since the release of one of his greatest albums, Rat On!, a genre-blurring collection of songs about love, politics, social justice, sex and sleaze powered by low-humming bass, southern-fried guitars and touches of West Coast funk. It failed to make much of a dent at the time – if Williams Jr was noticed at all by the industry it was as an eccentric oddball – and he was dropped by his label, Elektra Records, almost immediately after the album's release.  
Yet it's the work that best captures the alter ego that Williams Jr invented in 1970. He's often called one of the greatest cult American artists of the 20th century because, while he's prolific, he's hardly well-known. Most fans view him as an eccentric underdog, whose bewilderingly brilliant output over the past 65 years – a catalogue of 24 genre-defying albums spanning psychedelic soul, funk, disco, reggae, R&B, and everything in between – has kept him forever teetering on the edge of the mainstream.  
Not that he'd necessarily want it any other way. He once wrote of why his Swamp Dogg moniker appealed to him: "I came up with the name Dogg because a dog can do anything, and anything a dog does never comes as a real surprise; if he sleeps on the sofa, s***s on the rug, pisses on the drapes, chews up your slippers, humps your mother-in-law's leg, jumps on your new clothes and licks your face, he's never gotten out of character."  
By contrast, Williams Jr's career trajectory has been unexpected. Born in 1954, he spent his youth performing in clubs around Portsmouth, Virginia, where his father served as a chief petty officer in the navy. His mother, Vera Lee, was a singer who continued performing well into her nineties (Williams Jr managed her career). Aged 12, Williams Jr recorded his first song, the boogie-woogie "HTD Blues", about being stuck in a broken marriage. As a twentysomething, he continued to perform as Little Jerry Williams while selling songs to record labels and producing for the likes of Patti Labelle and Gene Pitney.  
In 1968, he was hired as the first black staff A&R at Atlantic Record, overseeing music by The Drifters and Gary US Bonds – an act of tokenism ordered by the NAACP, he says. But as a solo artist himself, he refused to be pinned down. Most labels he signed to only got one album out of him, not one of them the same as the last. It's more recently, however, that he's experienced "an artistic rebirth", as Rolling Stoneput it, when he collaborated with indie royalty Justin Vernon of Bon Iver and Poliça's Ryan Olson on 2018's Love, Loss and Autotune – his first album in four years. 
Williams Jr had been dissatisfied with the two or three albums that preceded it, feeling they all sounded the same. Now he wanted to "shock the s*** out of them", as his kettle-whistle of a voice was put through Vernon's signature vocal processor effect and brought him to a new generation of music fans. 
He says he's experienced a better appreciation for his catalogue of work in recent years – Rat On! was reissued in 2013 and was critically acclaimed. "I'm hearing more about this album now than I did 50 years ago," he says. Listening now, there are a number of songs that still feel powerfully relevant, such as the plea for equality on "Do You Believe" and the protest anthem "God Bless America For What". But at the time, his label, Elektra Records – who he says had just one other black artist on its roster when he was signed – didn't necessarily agree. When Rat On! was released, they tried to cut the last two words from the title of "God Bless America For What" from the tracklist.  
"They hated me," says Williams Jr. "But I should have known that I wasn't going to be treated that wonderfully." He'd come in for a meeting just before his album release and saw a band sitting in the lobby. When he came out, the band was still there. He asked the secretary who they were. "It was Jim Morrison with The Doors," he says. "So I went over and introduced myself. And I wondered, 'If they make Jim Morrison sit out in the lobby for over an hour, how am I going to be treated?'" 
Enjoy unlimited access to 70 million ad-free songs and podcasts with Amazon Music Sign up now for a 30-day free trial
Sign up
He thinks the Rat On! cover was what ultimately got him kicked off the label. Frequently ranked as one of the worst album covers of all time, it shows Williams sat astride a giant white rodent. "I could've been talked out of it, but they were so aggressive that I stuck to my guns," he says. "I would've changed it possibly if somebody had given me a better idea." People told him he was crazy to use it: "They went, 'Oh Swamp, why'd you do some s*** like this?" He wanted the rat to represent the white man, while he, the black man, is on top. But if you look closely, you can see the creature is smiling.  
"He's smiling because he's carrying the black man on his back, but he thinks it won't last long," Williams explains. 
Recorded at Quinvy Studios in Muscle Shoals, Alabama, Rat On! brought together some of the finest session musicians of the time, including guitarist Pete Carr and bassist Robert Popwell. Between the uplifting anthems about social justice are songs such as "Predicament 2", where Williams Jr is torn between his mistress and his wife, and the heartbroken "That Ain't My Wife", where the tables are turned and he finds his spouse in the arms of another man. Often, the instrumentation matches his delivery and the song's subject – themes of infidelity and betrayal are paired with sombre basslines, rasping horns and forlorn toots of the trumpet. His songs can be hopeful too, however – the guitar hook on "Remember I Said Tomorrow,'' about bringing soldiers back from Vietnam, is full of purpose.   
While he was politically active in the Sixties and Seventies, joining Jane Fonda on her anti-Vietnam war "Free the Army" tour, Williams Jr says it was his late wife, Yvonne, who really encouraged him to sing about politics in his music. They were married in 1963 – she was two years older than Williams and coming out of an abusive marriage with four daughters. When he told his family he was marrying a woman with four kids, there was a lot of fuss and attempts to talk him out of it. "But I did [marry her], and it worked." 
When Yvonne died in 2003, Williams Jr's friends and family urged him to get married again. "They tell you, 'It's time to move on – it's been what, six weeks? My god!' I never got over my first marriage," he says, his voice cracking a bit.  On Love, Loss and Autotune, he wrote "I'm So Lonely" about her. "I am usually," he adds, quietly.  
Williams Jr did eventually get married again, but it didn't go so well. He caved, then regretted it almost instantly. "On your wedding night, you're supposed to get it on, you know what I'm saying?" he says. "She says, 'I can't do that, I'm too tired.' And I say, 'God damn!' Anyway, we went our separate ways and I don't plan to get married again." 
He pauses. "I like talking to you because you can carry me back to where I was." 
Yvonne used to do that for him, he says. He tends to forget things, but she helped him remember people's names and what he was supposed to be doing that day. "That was the kind of the relationship we had," he says. "We did everything together. Every f***ing thing." 
One of Yvonne's favourite songs was "Please Let Me Go Round Again," a duet with Williams's friend, the late country-folk hero John Prine. It's a wonderful track – more of a conversation, really – between two men asking, with childish hope, if they could have another go at life. Prine was signed to Atlantic by Jerry Wexler and placed on William Jr's roster while he was still working as an A&R though, despite their long-standing friendship, it took them 10 years to get together to record the song. 
"Nobody liked it," he explains. "I thought, 'Well s***, I like it!'" (though clearly Prine did, too). Williams Jr included it on his 2020 country album, Sorry You Couldn't Make It, and the collaboration turned out to be the last song Prine recorded before he died. "I just wish we had extended the instrumental part for about 30 more seconds, so we could talk just a little bit more." Sorry You Couldn't Make It is the one exception in his vast catalogue where he has stuck to a singular sound – in this case, the country music that he grew up on and still adores. "I wasn't doing that to be crazy," he says of this particular deviation. "I was doing it because I wanted to do what I wanted to do, when I wanted to do it."   
Williams Jr may not be the most powerful of soul singers, but he tends to add a grit and an unfiltered emotional honesty to everything he does. And that goes for an interview with him, too. We've been talking for almost two hours, and Williams told me at the beginning that he was supposed to be sending the liner notes for a new album to his label, so I suggest we wrap things up. "What day is it?" he asks suddenly. It's a Thursday. "Seems like Sunday," he muses. "But hey! Thanks for even giving a s*** about Swamp Dogg."
Register for free to continue reading
Registration is a free and easy way to support our truly independent journalism
By registering, you will also enjoy limited access to Premium articles, exclusive newsletters, commenting, and virtual events with our leading journalists
Already have an account? sign in
Register for free to continue reading
Registration is a free and easy way to support our truly independent journalism
By registering, you will also enjoy limited access to Premium articles, exclusive newsletters, commenting, and virtual events with our leading journalists
Already have an account? sign in
Join our new commenting forum
Join thought-provoking conversations, follow other Independent readers and see their replies