Sweden - State-sponsored rock Valhalla
Fever Ray are the latest Swedish band to win critical acclaim. Why does Sweden continually produce pop sensations? And is Britain's rock status under threat? Nick Hasted finds out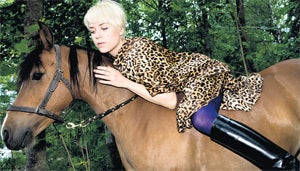 In pop music at least, Britain still imagines it rules the world. The Beatles, Kinks, Bowie and Blur are looked on as an unassailable heritage others can only envy. With the grudging exception of America, who else, we think, even counts? For the last decade, however, the savvy tweakings of classic pop and experiments into electronica we take as a birthright have been as likely to come from a country with a far smaller population, and an aptitude for rock'n'roll excess last noted when they landed here in longships. The sepulchral electronica of Fever Ray's new single "Triangle Walks" this week adds to a rich seam including Lykke Li and Loney Dear, Peter, Bjorn & John, and Robyn. Alone in mainland Europe, Sweden has taken on world pop and won.
Before The Beatles, Britain was also a grey Northern European province of American pop, with little cultural confidence to take on rock'n'roll and jazz. Acker Bilk and Tommy Steele were our rarely-exported responses to Duke Ellington and Elvis. Abba's triumph at the 1974 Eurovision Song Contest with "Waterloo" announced only the third nation to enter pop's premier league. Sweden's annual qualifying competition for Eurovision, Melodifestivalen, remains crucial to its musical calendar (Robyn is among recent competitors). But Abba's success at first seemed to take all Sweden's international air.
Roxette and Ace of Base's slick Euro-pop and Europe's absurd Euro-rock kept export earnings up in the 1980s, while being no one's idea of a cutting edge. A band who were, The Cardigans, reached their commercial peak with Gran Turismo and its attendant singles, "Erase/Rewind" and "My Favourite Game", in 1998, 16 years after Abba split. Singer Nina Persson, visually a Swedish ice maiden in the tradition of Agnetha Faltskog helped. But The Cardigans' deceptively dark wit and discomfort with the strictures of mainstream success revealed a new Sweden. Their roots lay not in The Beatles and the local folk music Benny Andersson loved before and after Abba. They were plugged into international underground pop, and a hip indie sensibility. This is the template for today's Swedish success.
Go to any record store in Stockholm or Gothenburg, and the "Svenska" Swedish-language section is dwarfed by British and American releases – The Libertines were loved there as quickly as here. Add educated Scandinavian ease with the English language and an Anglophile attitude to humour and music, and Sweden shares Britain's inbuilt advantages. Abba's early shattering of any cultural cringe may be the final factor leaving largely English-fluent Germany and Holland behind.
"Swedes are stubborn," says Victoria Bergsman, ex-singer of The Concretes and the female voice on Peter, Bjorn & John's transatlantic hit "Young Folks". "We're a very small country and want to prove we can do it. And we've seen success going right back to Abba, so everybody feels it's possible. That pushes people to create something new. Sweden also give out a lot of scholarships from their Arts Committees – you can apply for money if you want to record an album. The Swedish have seen pop can be a success, so they value it. I don't agree that Germans speak good English, by the way," she sniffs.
Sweden edges Britain in ways crucial to the new breed's success. Living there combines the sophistication and resources of a highly-developed society with the isolation of a small population wrapped in cold and dark each winter. Jose Gonzalez had valuable, ignored years in hardcore punk bands and studying biochemistry before his version of The Knife's "Heartbeat" on an HD-TV ad made him a star. Jens Lekman put out CDRs and singles in a local DIY scene, not distracted by the possibility that one mention in NME would make him a star. Peter, Bjorn & John, Fever Ray's Karin Dreijer Andersson, The Soundtrack of Our Lives and Robyn also benefited from long, rich apprenticeships before anyone noticed.
The resulting music strikes a balance between familiarity and strangeness. Listen to Lekman's 2004 breakthrough "Do You Remember the Riots?" and you are dropped into a local disturbance of which you know nothing, in oddly-accented words with the intriguing distance of someone's second language. Frida Hyvönen's lush second album Silence is Wild (2008) is another example. The sexual frankness of taking her "stiff black whip" to a pet on dominatrix metaphor "Pony" sounds all the bolder as she stiltedly sings, "My pony knows when she sees it/that does she not behave/she will get to taste it." Peter, Bjorn & John's "Young Folks" hits the heart of this foreign-familiar appeal. Its whistled hook and nagging melody are matched by Bergsman's heavily-accented, drugged-sounding guest vocal.
Another key to the success of "Young Folks" was its lo-fi animated video. Directed by fellow Stockholm band Shout Out Louds' Ted Malmros, it showed Peter, Bjorn & John were part of a wider, bohemian artistic community. Similarly, Gonzalez's dull acoustic strumming was belied by videos starring a naked, snorting pig-man for In Our Nature (2007). Hyvonen, meanwhile, has just finished a book-length collaboration with photographer Elin Berge about Thai female immigrants to Sweden's far north. This cultural hinterland can also be seen in lesser-known Peter, Bjorn & John songs such as "Erik's Fishing Trip" and "Norrlands Riviera". Being international one-hit wonders won't distract them. The trio grew up fans of the British indie scene, and its uncommercial sensibility sits naturally in Stockholm. "Now they've earned some money, they can focus on being creative," says Bergsman simply.
Karin Dreijer Andersson is crucial to Sweden's new scene. In her Fever Ray guise, her voice is emotionally distorted and sexually ambivalent, draped over Moroderesque electronics. As half of The Knife, meanwhile, she not only provided Gonzalez's breakthrough song, but inspired Robyn to buy herself out of her US major label's attempts to make her another Christina Aguilera, and self-release more personal pop, including her 2007 UK No1 "With Every Heartbeat". But Andersson is deliberately anonymous. Interviews have been conducted in masks, sleeve photos shunned. At UK shows, darkness disguised her. Having had time to learn in local 1990s band Honey is Cool, she deflects the attention UK starlets crave. Even Lykke Li, who arrived here last year wanting to be the new Madonna, has a shrieking, unhinged aura.

Enjoy unlimited access to 70 million ad-free songs and podcasts with Amazon Music
Sign up now for a 30-day free trial
Sign up

Enjoy unlimited access to 70 million ad-free songs and podcasts with Amazon Music
Sign up now for a 30-day free trial
Sign up
Another strand is far removed from fey indie or female-fronted electronic shock. While Finland and Norway revel in extreme metal that parodies Viking pasts, Swedes rock with The Hives' Stooges' strut and Oasis and Robert Plant favourite The Soundtrack Of Our Lives. The latter's September double album Communion is steeped in not only 1970s rock's swinging drive but its anti-establishment spirit.
Generalisations are starting to evaporate and even Sweden itself is being left behind. Nicolai Dunger has collaborated with Kentucky's alt.country creator Bonnie "Prince" Billy, a genre Loney Dear also visit. Nina Persson's Cardigans side-project A Camp made the baroque New York alt.rock experiments of this year's Colonia, inspired by a South African safari. The Knife's male half, Olof Dreijer, was last seen making field recordings in the Amazon for an opera about Charles Darwin. Lekman has moved to Melbourne. Most spectacularly, Bergsman, calling herself Taken By Trees, became the first Western woman to record in Pakistan for the upcoming East of Eden. An attempted kidnapping after her single status was discovered and the initial intransigence of great Sufi musicians at a woman leading recording sessions barely fazed her. As she says, Swedes are stubborn. "If you know what you want to create and are determined, you can do it wherever you are," she says. "I'd rather live in sunny California. But I had to come back to apply for more money ... "
"Waterloo" let Sweden into pop's pantheon, but such battles are long over. Its hit factories and underground experiments operate round the clock, with a government's help. Even the home of The Beatles should say thanks.
'Triangle Walks' by Fever Ray is out on Rabid Records. 'Communion' by The Soundtrack Of Our Lives is out on 24 August on Raw Power. 'East of Eden' by Taken By Trees is out on 7 September on Rough Trade
NORTHERN HIGHLIGHTS: NEW SWEDISH SENSATIONS
Wildbirds and Peacedrums
Singer Mariam Wallentin and husband-drummer Andreas Werliin play ritualistic blues straighter and stranger than obvious comparison The White Stripes, and unlike anything we've heard from Sweden.
Fever Ray
It was typically Swedish for The Knife to put themselves on hiatus the moment the influential Pitchfork website made "Silent Shout" their 2006 album of the year. Karin Dreijer Andersson keeps up the gender-morphing electronic weirdness here.
Taken by Trees
After suddenly quitting The Concretes, Victoria Bergsman guested on Peter, Bjorn & John's "Young Folks". But it's her second album under this solo guise, "East of Eden", made in Pakistan with Nusrat Fateh Ali Khan's old musicians, which will cause a stir.
Lykke Li
"Sweden is boring," this much-travelled, ambitious, Warner-signed 23-year-old (right) told The Independent last year. Constant festival appearances showcasing her child-like yet wild voice, more than her debut album "Youth Novels", made her UK reputation.
Frida Hyvonen
Last year's third album "Silence is Wild", Top 10 in Sweden, hasn't yet made the international splash it should for sexually funny and frank, musically lush small-town girl Hyvonen.
Join our commenting forum
Join thought-provoking conversations, follow other Independent readers and see their replies